aka The Big Tits Dragon; The Big Tits Dragon: Hot Spring Zombies Vs Strippers 5
(Kyonyu Doragon: Onsen Zonbi vs Sutorippa 5)
---
Japan. 2010.
Crew
Director/Screenplay – Takao Nakano, Based on the Comic-Book Kyonyu-Dragon by Rei Mikamoto, Producers – Seiji Minami & Hideaki Nishiyama, Photography (3D) – Kazuaki Yoshizawa, Visual Effects – Tsuyoshi Kazuno, Special Effects – Shinji Fujiwara, Zombie Makeup Supervisor – Hiroshi Kurosawa, Production Design – Kenichi Sasaki. Production Company – TMC co Ltd/The Big Tits Zombie Production Committee.
Cast
Sola Aoi (Lena Jodo), Risa Kasumi (Ginko), Mari Sakurai (Maria), Tamayo (Nene), Io Aikawa (Darna), Minoru Torihada (Blue Demon/Blue Ogre)
---
Plot
Lena Jodo has just returned to Japan from Mexico. With nowhere to live, she reluctantly accepts a stripping job in a nowhere town for Manjiro, a disreputable figure who owes her money. She and the four others girls on the job face a lack of clientele and are then fooled by Manjiro into working as prostitutes at the local bathhouse. They find a locked doorway in their dressing room that leads down to cellar filled with occult items. There the Goth stripper Maria picks up a copy of the Book of the Dead and reads aloud a spell for raising the dead. They return to work, thinking nothing of it, only to find themselves surrounded by zombies. The girls try to hold the zombies off, as all across the country, the dead are turning on the living, hungry for their flesh.
---
Big Tits Zombie is based on Kyonyu-Dragon, a horror manga that was originally published in 2004. While the original Japanese title of the film translates as The Big Tits Dragon: Hot Spring Zombies vs Strippers 5, it received the entirely attention grabbing title Big Tits Zombie for its English-language release. This suddenly gained it a word of mouth at various fantastic and horror film festivals.
Big Tits Zombie comes from Takao Nakano, a director who has been working in the genre of pinku (Japanese porn) films since the 1990s. Nakano has made efforts such as the ExorSister films featuring much in the way of girls being raped by tentacled creatures, the gonzo superheroine film Queen Bee Honey (2001), the bizarre sexual horror film Sexual Parasite (2004) and the manga adaptation Hop Step Jump (2009) about a bullied school kid who turns into a giant frog, while mor erecently he was been writing scripts for the various Ultraman revivals.
The zombie film has gotten big all over again in the 00s following international successes such as Dawn of the Dead (2004) and Shaun of the Dead (2004). The latter led to a spate of tongue-in-cheek zombie films with the likes of Poultrygeist: Night of the Chicken Dead (2006), Z: A Zombie Musical (2007), Zombie Cheerleader Camp (2007), Ninjas vs Zombies (2008), Attack of the Vegan Zombies! (2009), George's Intervention (2009), Romeo and Juliet vs the Living Dead (2009), Stag Night of the Dead (2009), Zombies of Mass Destruction (2009), Santa Claus vs. the Zombies (2010), Bong of the Dead (2011), Deadheads (2011), Abraham Lincoln vs. Zombies (2012), Cockneys vs Zombies (2012), Pro Wrestlers vs Zombies (2014), Zombeavers (2014), MILFs vs Zombies (2015), Scouts Guide to the Zombie Apocalypse (2015), Attack of the Lederhosen Zombies (2016), Pride and Prejudice and Zombies (2016) and Fat Ass Zombies (2020). There has even been a peculiar sub-genre of zombie stripper films with the likes of Zombies! Zombies! Zombies! (2008), Zombie Strippers! (2008) and Peelers (2016).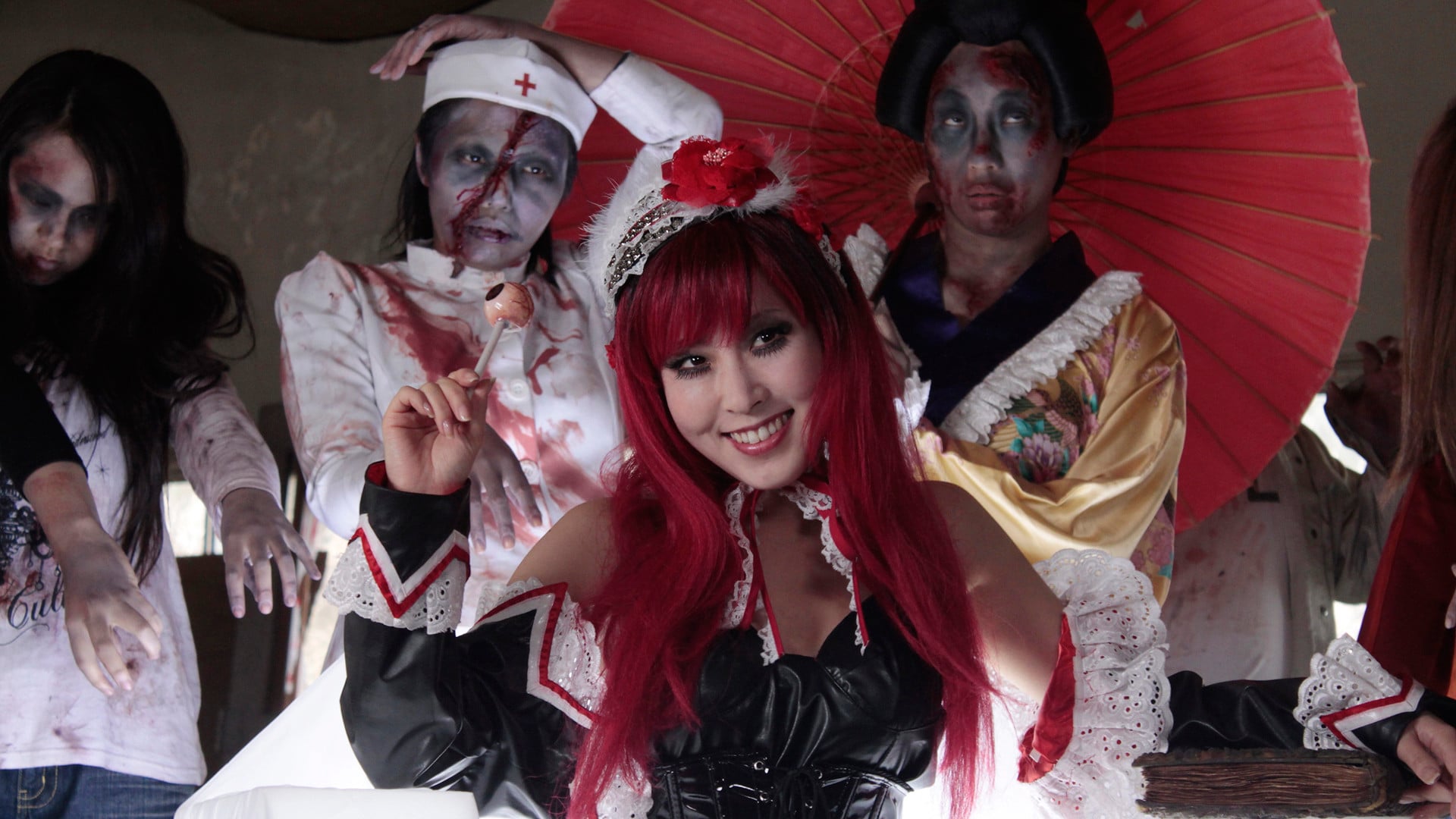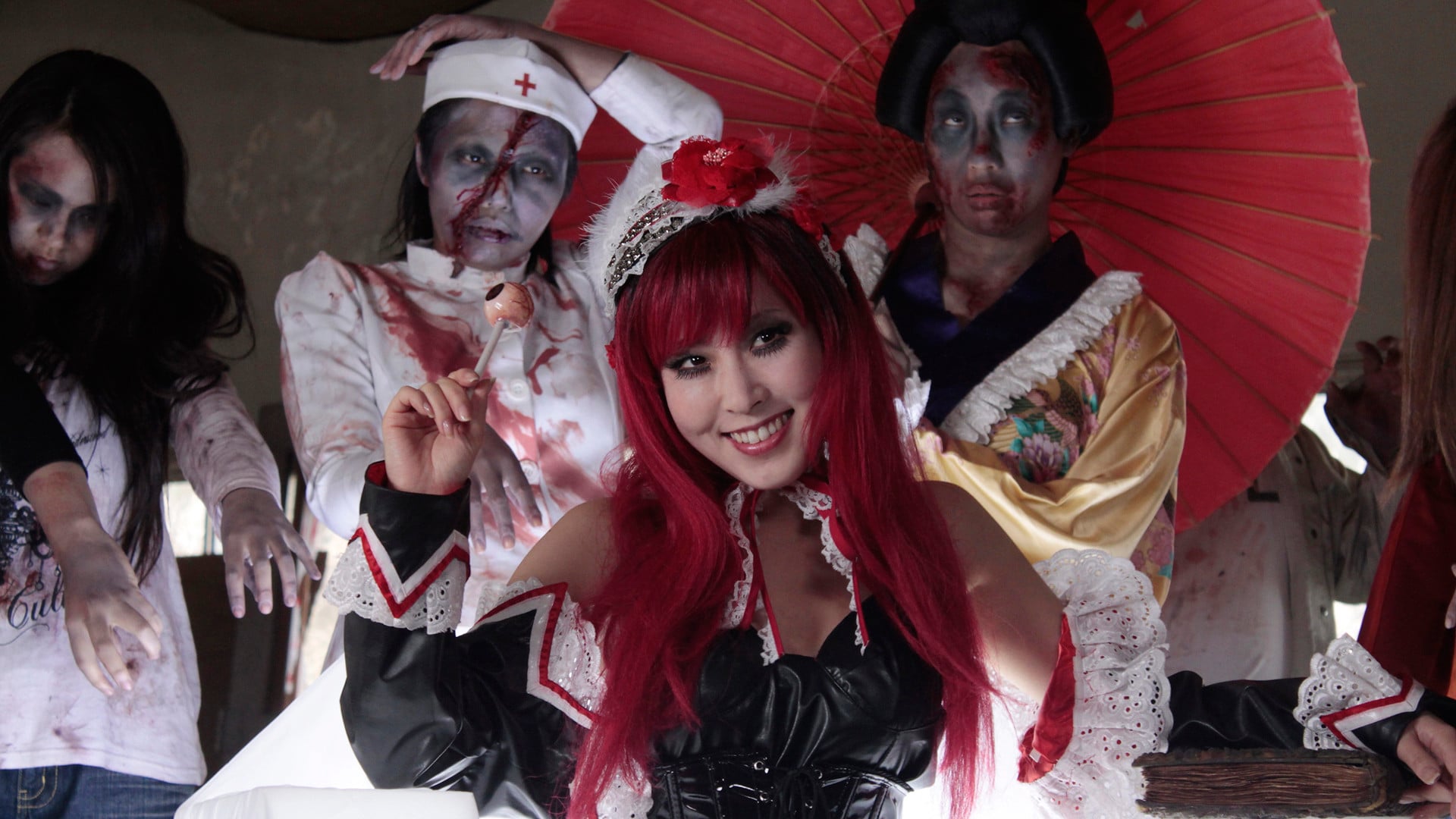 The basic set up that kicks everything into motion, involving a reading from the Book of the Dead, has largely been borrowed from The Evil Dead (1981). This is now such a generic horror movie raison d'etre that we never even learn why there is an occult shrine under the bathhouse. Like the trash classic Showgirls (1995), the film has a (hardly serious) plot about how the stripper heroines are exploited and hard done by, while at the same time taking all opportunity to show them dancing, taking their clothes off and waggling their butts into the camera. Given the title and concept, there is surprisingly little nudity to the film – a wholly gratuitous scene where two girls are fighting and naturally tear one another's tops off and a later scene where the zombies tear tops off the same two girls, but nothing more than that.
Big Tits Zombie comes with its tongue planted amusingly in cheek. The film has an amusingly tongue-in-cheek opening that sets the scene perfectly – a girl is surrounded by zombies only for Sola Aoi to arrive, outfitted in hot pants and cowboy boots, and start tearing into the zombies with a chainsaw. At one point, the film lays into amateur sociological readings of horror films, having one of the strippers start mentioning how Night of the Living Dead (1968) was an allegory for Vietnam only to be is punched out in mid-spiel. There are a number of amusingly tongue-in-cheek splatter scenes – zombies playing ping-pong with eyeballs; a scene where zombified men sit around eating sushi off a girl's naked body but with her entrails in their chopsticks. The scene that caught everybody's attention was where one of the strippers (Tamayo) turns into a zombie and then arches her back and starts belching jets of flame from out of her pussy.
Big Tits Zombie is undeniably cheaply made – the photography is grainy and sometimes poor, giving evidence of low budget and a hurried shooting schedule. The girls try not very hard to fight convincingly. The gore is often cheap-looking with dummies clearly being used and some exceedingly tatty optical effects. In the otherwise imaginative scene where Io Aikawa splits open and her body turns into a mass of tentacles, including a head that pops out on a long stem with a waggling tongue, you can clearly see the various wires holding the body parts up. Takao Nakano does get everything together in the film's own cheap enterprisingly low-budget way for the climactic zombie despatches, while the tongue-in-cheek attitude papers over many shortcomings. What you do suspect though is that without its outrageous English-retitling, Big Tits Zombie would have attained little attention. Take the title away and what would be on display only be a mildly amusing zombie film; throw it in and the film is suddenly perceived as a gonzo B-movie classic.
---
---