---
Crew
Director – Jacob Vaughan, Screenplay – Benjamin Hayes & Jacob Vaughan, Producers – Gabriel Cowan, Adele Romanski & John Suits, Photography – James Laxton, Music – Ted Masur, Visual Effects – 11:11 Mediaworks (Supervisor – Roger Hall), Special Effects Supervisor – Josh Hakian, Creatures & Makeup Effects – Fractured FX, Inc., Creature Design – Aaron Sims, Milo Puppeteers – Frank Langley & Bob Mano, Production Design – Lindsey Moran. Production Company – New Artists Alliance/Floren Shieh Productions/Duplass Brothers.
Cast
Ken Marino (Duncan Hayslip), Gillian Jacobs (Sarah Hayslip), Peter Stormare (Dr Oliver Highsmith), Patrick Warburton (Phil), Stephen Root (Roger Hayslip), Mary Kay Place (Beatrice), Steve Zissis (Dr Lawrence Tipp/Voice of Milo), Kumail Nanjiani (Bobbi), Erik Charles Nielsen (Allistair McKee), Toby Russ (Dr. Yeager)
---
Plot
Duncan Hayslip is experiencing a good deal of gastric distress and difficulty going to the toilet. His doctor relates this to the stress in his life – being demoted and placed in charge of layoffs at his office, pressure from his wife Sarah for them to get pregnant. After Duncan's co-worker Allistair is slaughtered at the office in what authorities believe to be a wild raccoon attack, Duncan goes to the kooky hypnotherapist Oliver Highsmith for help. Highsmith is witness as a large creature emerges out of Duncan's ass. Highsmith believes this to be a demon and that it is slaughtering those that are causing distress in Duncan's life. He encourages Duncan to befriend the demon, even give it a name with Duncan choosing Milo. The most crucial thing is to avoid distress; however, Duncan's life has a way of making sure this does not happen.
---
I was hoping that Bad Milo! would be a cult midnight hit. It has a premise – a demon inhabits a man's ass – that you felt would lead to some kind of bad taste/gonzo horror classic like The Evil Dead (1981), Re-Animator (1985) or Bad Taste (1988). It also comes from the Duplass Brothers Mark and Jay who have been blazing an admirable trail on the independent movie scene in the last few years, as co-directors and co-writers of The Puffy Chair (2005), the backwoods slasher comedy Baghead (2008), Cyrus (2010) and Jeff, Who Lives at Home (2011). In genre material, the Duplass Brothers have also produced the time travel film Safety Not Guaranteed (2012), the strange body snatcher/doppelganger film The One I Love (2014), the tv series Room 104 (2017– ), while Mark Duplass wrote, produced and starred in the Found Footage horror Creep (2014).
Bad Milo! has a fairly whacked premise that could have gone any of several ways. You were kind of hoping it might have ended in the territory of some of the gonzo Japanese splatter classics of the last few years – see the likes of Tokyo Gore Police (2008), Vampire Girl vs Frankenstein Girl (2009), Big Tits Zombie (2010) and Dead Sushi (2012), among others. Indeed, the gonzo Japanese cinema had also recently delivered a similarly themed film Zombie Ass: The Toilet of the Dead (2011) about parasitic creatures appearing out of people's asses.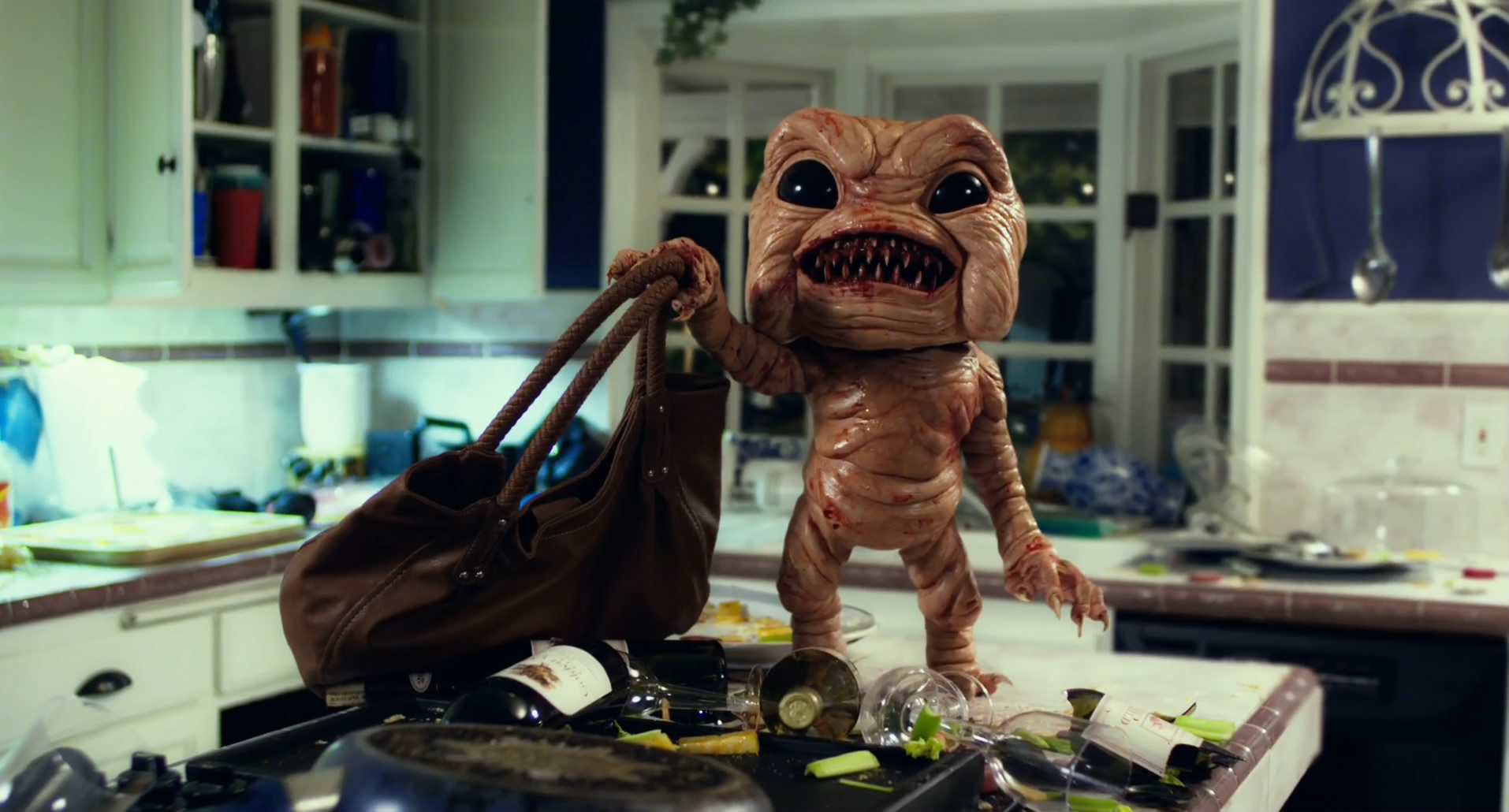 Unfortunately, Bad Milo! avoids much of its wacky potential and settles down as a dull and predictable comedy. Although there is a mild amount of splatter, more than anything you are reminded of a light 1980s comedy like My Demon Lover (1987) that simply arranges not very funny slapstick shenanigans around some makeup effects – in this case, a none too convincing puppet that is about as big a medium-sized puppy (which also leaves you wondering how it could possibly fit in and out of a man's ass without either a mountain of lubricant or major surgery).
The comedy throughout the film is strained. Debuting director Jacob Vaughan always aims for easy targets – Ken Marino's aging mother (Mary Kay Place) and her much younger boyfriend (Kumail Nanjiani); the downgrading of Ken Marino's job and his being relocated in an office in a toilet by asshole boss Patrick Warburton; Peter Stormare as a kooky psychologist with a talking parrot. There seems little that is funny in the film.
Moreover, the central idea is not that well thought out. Usually in popular fiction and theology, a demon is an entity from Hell that possesses a human and causes them to engage in evil and debased behaviour; here the demon is akin to the monkey in Monkey Shines (1988) acting as the id force of an ordinary man and going out to kill those he is angry with. Rather than as in any demonic film, Bad Milo! eventually ends with Ken Marino reconciling with his ass demon, treating it as though it were a problem child and determining to love it nonetheless despite its murderous tendencies. Frank Henenlotter's Brain Damage (1987) did the idea of a man having to find ways to accommodate the murderous parasite inside him far better than anything here.
---
---