---
Crew
Director – E.L. Katz, Screenplay – David Chirchirillo & Trent Haaga, Producers – Gabriel Cowan, Travis Stevens & John Suits, Photography – Andrew Wheeler & Sebastian Winterø, Music – Mads Heldtberg, Special Effects Supervisor – Hugo Villaseñor, Production Design – Melissa Jusufi. Production Company – Snowfort Pictures.
Cast
Pat Healy (Craig Daniels), Ethan Embry (Vince), David Koechner (Colin), Sara Paxton (Violet), Amanda Fuller (Audrey)
---
Plot
Craig Daniels and his wife Audrey are struggling financially. They receive an eviction notice from their apartment for owing rent, followed by Craig learning that he has been laid off from his job as a mechanic. Going to a bar to have a drink, he runs into Vince, an old friend he has not seen for five years who works as a debt collector. As they catch up, they are invited to join Colin who is celebrating the birthday of his wife Violet. Colin has much money to throw about and offers them bets of hundreds of dollars for things that become increasingly outrageous, which end with Craig being punched out by a bouncer. They go back to Colin's place and the bets continue. Vince takes Craig aside and tells him he wants his help to rob the large amount of cash he has seen in Colin's safe. However, when they try, Colin turns the tables and says he wants to give them the whole $250,000 on a series of bets – what he says is Violet's birthday present. These become increasingly more extreme – from breaking in to defecate in a neighbour's house to severing a pinkie finger and eating the cooked flesh of a dead dog.
---
Cheap Thrills is a film that has started burning a quiet reputation throughout most of 2013, doing the rounds in the sort of international and genre film festivals (Austin, Fantasia, South by Southwest, Toronto After Dark) where films like this get noticed, before going into full-fledged theatrical release in the US nearly a year after its premiere.
Cheap Thrills is a debut film for director E.L. Katz, who had previously written several of Adam Wingard's films – Home Sick (2007), Pop Skull (2007) and What Fun We Were Having (2011), as well as Adam Gierasch's Autopsy (2008). As has been observed elsewhere, much of 2010s genre filmmaking seems to have become a boys' club dominated by a number of directors who collaborate closely together. Katz is an aspirant director among the group – aside from his work writing for Adam Wingard, Katz has borrowed the two leads, Pat Healy and Sara Paxton, from Ti West's The Innkeepers (2011). (Both Wingard and West – core boys club members – are thanked on the end credits). As a result of Cheap Thrills, Katz was selected to direct the A is for Amateur segment of ABCs of Death 2 (2014), another boys club gathering place of these directors.
As with many of these directors' horror films, the directors like to push an audience's buttons and take things way over taboo lines. Cheap Thrills has that same kind of buzz to it. E.L. Katz crafts the film reasonably well for a first time director. The dialogue is naturalistic and he gets fantastic performances from all four of the principals – Pat Healy's milquetoast husband, Ethan Embry's rough-at-the-edges ex-con who reeks with a whiff of desperation not far beneath the surface and especially a wonderfully entertaining and gregarious performance from David Koechner, previously known as a stand-up comic and for bit parts in films that have given his face has an instant recognisability quotient even if you can't quite put a name to it.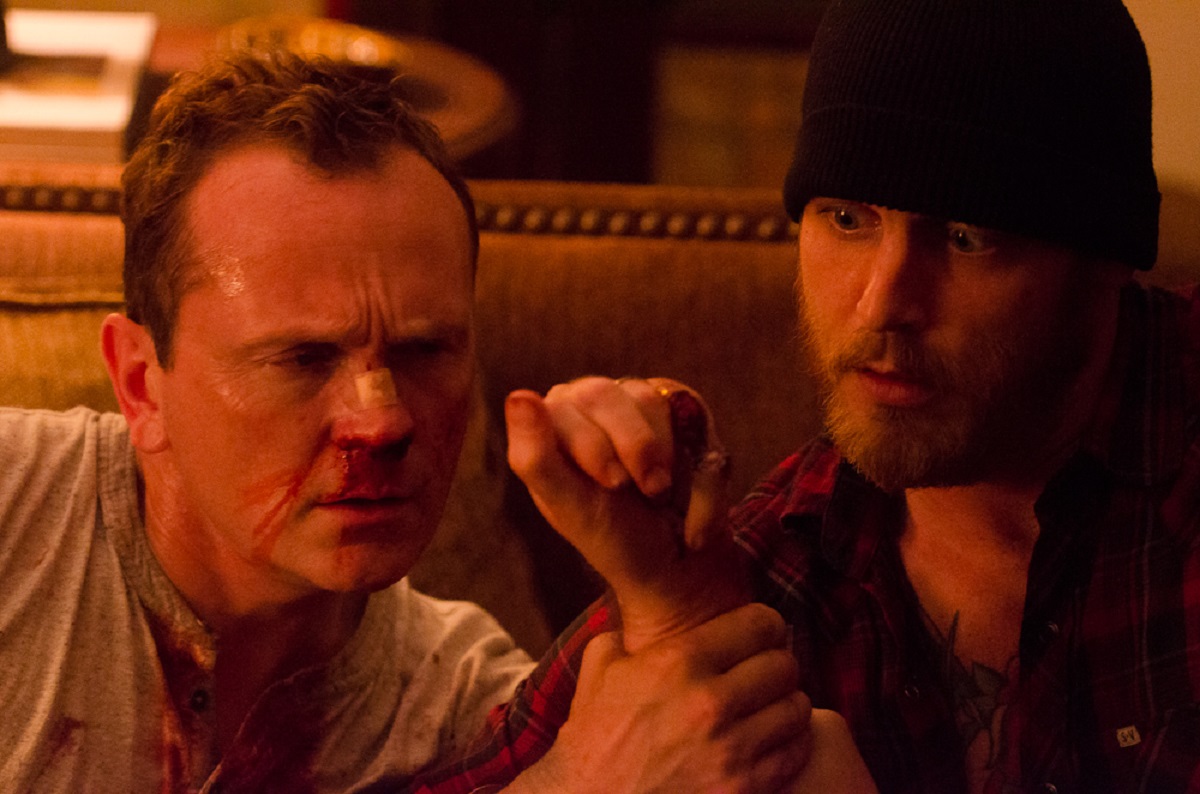 On the other hand, you keep thinking that Cheap Thrills is a film that wants to dare us to see how far across taboo lines it will go but seems awfully tame about doing so. A perfect example is the visit to a strip bar where the strippers get no more undressed than their bikinis, which only leaves you thinking how restrained this is for a film that sets out to challenge taboos. This feeling continues as we watch Pat Healy and Ethan Embry breaking into a house to shit on the floor and you only think how a real balls-to-the-wall horror would have actually shown the act with no detail spared rather than bare butts squatting but cutting away before showing anything more.
This is particular evident when it comes to the scene where married Pat Healy is bet $4500 to have sex with Sara Paxton. It is a scene where you can see Healy uncomfortably squirming at the proposition only for E.L Katz to then blow the scene. Healy is left lying on the floor while a completely clothed Sara Paxton rides him where it looks more like a ridiculous case of female-on-male rape – it surely would have been a far more uncomfortable a scene if we had seen his anguish at having to get in the driver's seat and climb on top of her. Not to mention that it promptly becomes one of the least convincing sex scenes ever directed with Healy, Paxton and David Koechner masturbating on the sideline all managing to achieve orgasm at precisely the same time.
Nevertheless, despite one's initial misgivings, E.L. Katz soon goes for broke. The scene with the two men bidding over who will chop off their pinkie finger and the eventual playing out of the act is one of the most grotesquely funny scenes that one has sat through this year. This is capped a few minutes later by the nauseating scene where they are served up microwaved dog and compete to eat it, a scene that should not be watched on a full stomach. This too comes with rich lashings of black humour, all the more so when it comes to 'the tie-breaker'. It is here that Cheap Thrills finally starts to become the film it promises to be at the outset and E.L. Katz delivers the darkly menacing, taboo-breaking film we expect of him.
E.L. Katz subsequently went on to make the gritty crime film Small Crimes (2017), as well as produced and directed episodes of The Haunting of Bly Manor (2020).
---
---