---
UK. 1967.
Crew
Director – Jim O'Connolly, Screenplay – Herman Cohen & Aben Kandel, Producer – Herman Cohen, Photography – Desmond Dickinson, Music – Patrick John Scott, Makeup – George Partleton, Art Direction – Maurice Pelling. Production Company – Herman Cohen Productions Ltd.
Cast
Joan Crawford (Monica Rivers), Ty Hardin (Frank Hawkins), Robert Hardy (Detective-Superintendent Brooks), Diana Dors (Matilda), Michael Gough (Albert Dorando), Judy Geeson (Angela Rivers), George Claydon (Bruno Fontana), Geoffrey Keen (Commissioner Dalby), Thomas Cimarro (Gustavo), Philip Madoc (Laszlo), Golda Casimir (Bearded Lady), Sydney Talfer (Harrison Liston)
---
Plot
During a performance at the Great Rivers Circus, the trapeze artist Gaspar trips and is hung by his own rope in mid-act. The circus's owner, the tough-minded Monica Rivers, presses the rest of the troupe to keep on going. She is approached by the Canadian Frank Hawkins who wants to become Gaspar's replacement and premieres with his own dazzling act. Frank is attracted to the older Monica and pushes her to become involved and make him a partner in the circus. Next, the circus's manager Albert Dorando is killed with a spike hammered through his head. As police investigate the murders, speculation is rife among the carnies as to who the killer might be with suspicion falling onto Monica and others. Other dead bodies soon accumulate.
---
Berserk was one of the films made by US producer Herman Cohen. Cohen had a good deal of success in the US with his teenage horror films I Was a Teenage Werewolf (1957), I Was a Teenage Frankenstein (1957), Blood of Dracula (1957) and How to Make a Monster (1958). Sensing the rise of the English horror film after the massive success of Hammer Films' key works The Curse of Frankenstein (1957) and Dracula/The Horror of Dracula (1958), Cohen relocated to the UK where he made a spate of films over the next decade-and-a-half beginning with Horrors of the Black Museum (1959) and continuing through the likes of Konga (1961), The Black Zoo (1963), Trog (1970) and Craze (1973)
Horrors of the Black Museum proved to be a success and Herman Cohen succeeded in milking its formula over the next decade. The talking point of Black Museum had been the sensationalistic death scenes, which were quite controversial at the time. Thus all of Cohen's subsequent films of this era were founded around sensationalistic death scenes (and usually featured Black Museum star Michael Gough as a mad killer). With Berserk, Cohen substantially borrowed the premise from the superior recent British film Circus of Horrors (1960) – that of a series of gruesome deaths set around a circus.
Berserk is intended to play on these novelty deaths – indeed, even before the opening credits of the film play we get the scene of a trapeze artist improbably being strangled by his own high-wire rope after it snaps. On the other hand, watching Berserk and expecting another Black Museum ends up somewhat of a disappointment. There is the subsequent schlockily entertaining scene where Michael Gough gets a spike hammered through his head from behind.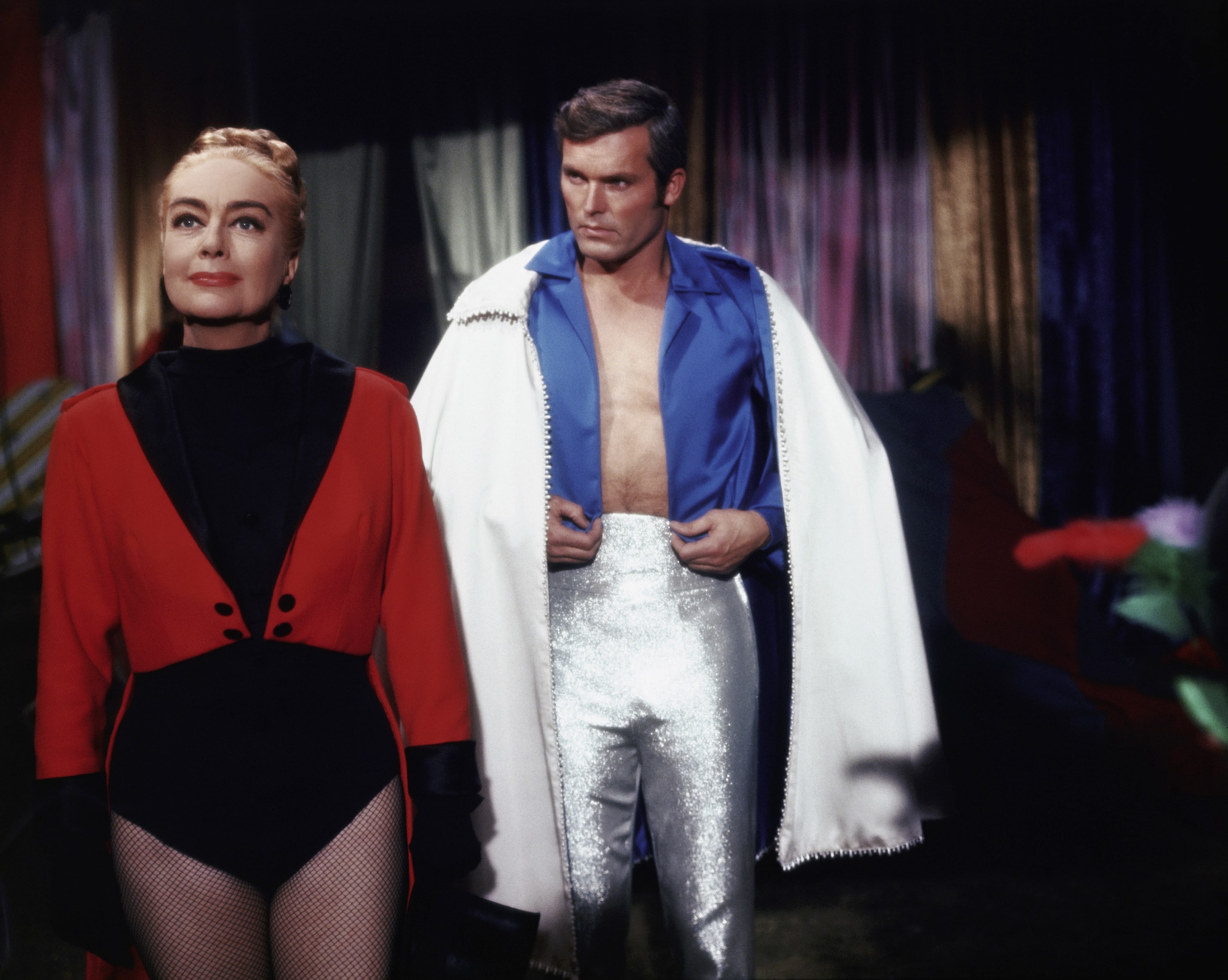 Unfortunately, after Michael Gough is killed, the film slows right down. It instead ends up becoming essentially a whodunnit as suspicion falls among the various supporting characters, all of whom are given valid reasons to be the killer. We wait an entire half-hour of running before another Black Museum-styled killing kicks in – the hardly exciting one where Diana Dors is cut in half with a buzzsaw during a magician's act (where the camera tediously cuts away before the saw even touches her body). Subsequently, all we get is the uninspiring killing of Ty Hardin with a bow and arrow during the midst of his high-wire act, which is equally underwhelming.
Much of the film in between is padded with real-life circus footage. Unless one wants to see circus performances back from the era when animal acts were not protested by the animal rights people, these prove fairly uninteresting to watch. Certainly, the film does have the benefit of its lurid appeal – there is Joan Crawford dominating the show, along with 1950s British sexpot Diana Dors doing her stuff and turning every line into a bitchy taunt (even engaged in a catfight at one point).
The whodunnit is solved by an improbable last minute revelation of who the killer is – [PLOT SPOILERS] simply daughter Judy Geeson feeling that she hasn't received enough attention from mother Joan Crawford – and her even more abrupt despatch by a seeming divine lightning bolt after she runs out into the rain. [In retrospect, this does makes amusing contrast to the revelations of abuse from Crawford's own daughter Christina and Crawford's own portrayal in the film Mommie Dearest (1981)].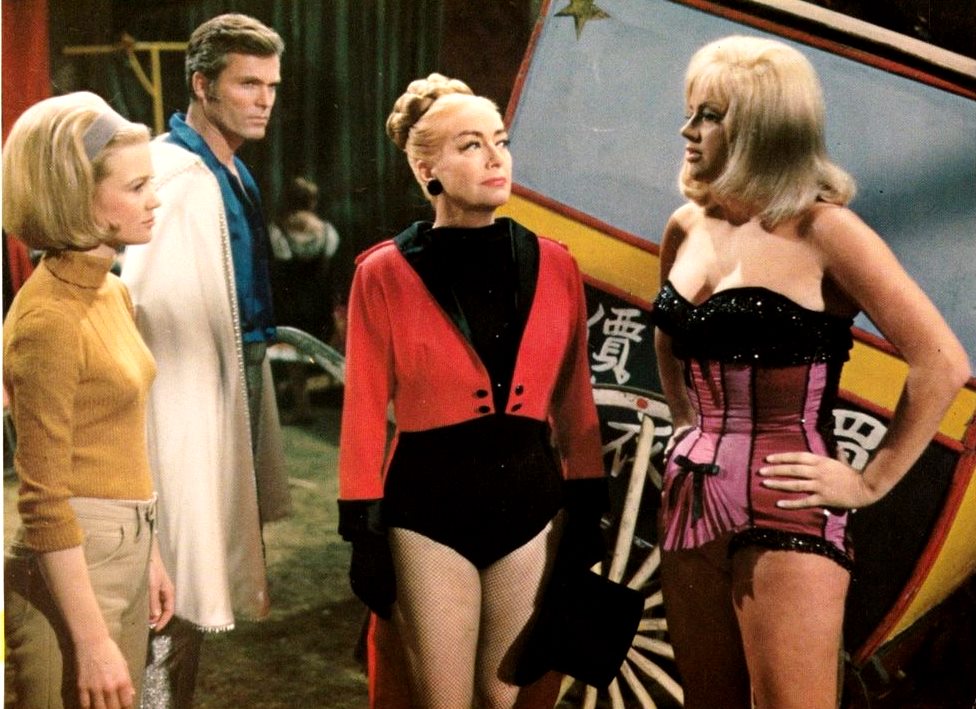 Berserk features Joan Crawford in the first of her two appearances for Herman Cohen – the other was her role in the notoriously ridiculed revived caveman film Trog. Crawford has been a star throughout the 1940s but had discovered a renewed career boost after appearing at the age of 56 in What Ever Happened to Baby Jane? (1962) as a trashed former Hollywood star going nuts. This led to a series of similar parts over the next few years in films like Strait-Jacket (1964) and I Saw What You Did (1965). Here Crawford was in the heyday of her career revival and has a ball playing to the hilt and chewing the scenery. The film also features Michael Gough who was the mainstay of Herman Cohen's British films, although his is a minor part and he is despatched fairly soon into the show.
Director Jim O'Connolly, sometimes billed as James O'Connolly, was producer of a series of British Edgar Wallace adaptations during the 1950s, as well as the British dream-programming film The Electronic Monster/Escapement (1960). He became a producer for Herman Cohen with Konga. He had directed a handful of British crime films before signing up as director to make Berserk and the non-genre crime comedy Crooks and Coronets (1969) for Cohen. His most famous work was the Ray Harryhausen dinosaur film The Valley of Gwangi (1969), while in genre material he also made the horror film Tower of Evil (1972).
Herman Cohen's other genre films include:- Bela Lugosi Meets a Brooklyn Gorilla (1952), Target Earth (1954), I Was a Teenage Werewolf (1957), I Was a Teenage Frankenstein (1957), Blood of Dracula (1957), How to Make a Monster (1958), The Headless Ghost (1959), Horrors of the Black Museum (1959), Konga (1961), The Black Zoo (1963), A Study in Terror (1965), Trog (1970) and Craze (1973).
---
---