---
UK. 1970.
Crew
Director – Freddie Francis, Screenplay – Aben Kandel, Story – Peter Bryan & John Gilling, Producer – Herman Cohen, Photography – Desmond Dickinson, Music – John Scott, Art Direction – Geoffrey Tozer. Production Company – Herman Cohen.
Cast
Joan Crawford (Dr Brockton), Joe Cornelius (Trog), Michael Gough (Sam Murdock), David Griffin (Malcolm Travers), Kim Braden (Ann Brockton), Bernard Kay (Inspector Greenham), Thorley Walters (Magistrate), Jack May (Dr Selbourne)
---
Plot
While venturing into an unmapped cave, a group of potholers are attacked by an ape-like creature. They are taken to be treated at the nearby Brockton Institute where noted anthropologist Dr Brockton becomes excited, thinking that the creature might be a prehistoric troglodyte. She succeeds in capturing the trog. She then proceeds to tame it and even operates to give it vocal chords. However, her efforts are undermined and eventually sabotaged by disgruntled fellow scientists and Sam Murdock, a religious bigot who takes her to court to demand the trog be destroyed as a dangerous animal. When he loses the trial, the angry Murdock breaks into the lab, freeing the trog. The trog runs across the countryside in confusion, where it becomes the target of a massive military manhunt.
---
Trog was one of the numerous genre films made by producer Herman Cohen. Cohen had had great success after producing hits like I Was a Teenage Werewolf (1957), I Was a Teenage Frankenstein (1957) and other such teenage-themed horrors. Cohen then relocated to England and began producing a series of barnstorming Grand Guignol psycho-thrillers, starting with Horrors of the Black Museum (1959) and continuing through the likes of Konga (1961), The Black Zoo (1963) and Berserk (1967), most of these featuring demented performances from Michael Gough.
For Berserk and Trog, Herman Cohen managed to score Joan Crawford as his star. Indeed, Trog was the last film Joan Crawford ever made. Crawford was in her sixties and by this point she had descended into lunatically over-the-top roles in B psycho-thrillers. She went on the record as saying that she realised that Trog was so bad a film that even the thought of it was something that could make her contemplate suicide had she not converted to Christian Science, and that she had decided to permanently retire from acting as a result.
In truth though, Crawford had been languishing in B movie parts for most of the 1960s – for all her derision of the role, she seemed happy earning her keep in similar such exploitation parts elsewhere. After Trog, Joan Crawford appeared in two other tv movies, started drinking a quart of vodka a day and then died of cancer in 1977. Needless to say, her presence has granted Trog the status of a bad movie favourite in recent years.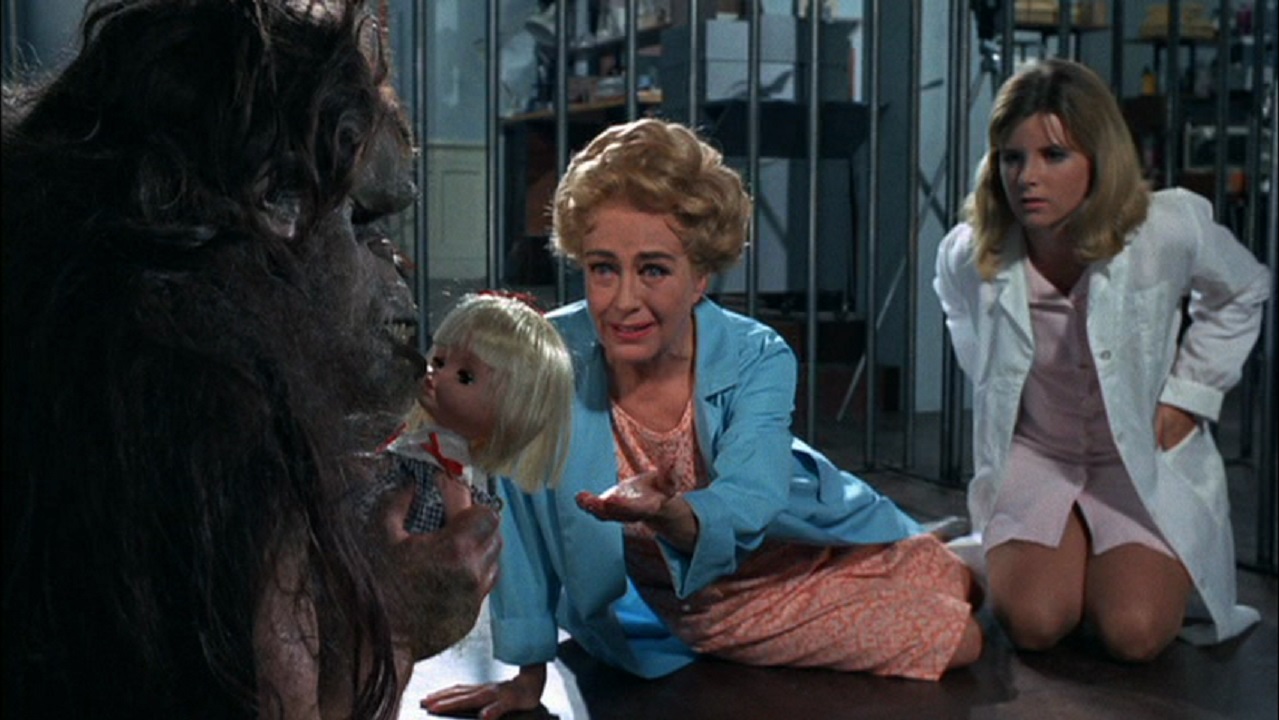 As revived caveman efforts go, Trog is a tiresome affair. It becomes quickly and wholly inundated in clichés – characters scream religious bigotry from the rafters and the Trog invariably goes down in a hail of military fire. A lengthy courtroom scene that debates science vs superstition takes up the middle and proves tedious on all points raised. The material seems to even get the better of a normally reliable director like Anglo-horror specialist Freddie Francis.
Joan Crawford's performance is fairly laughable – she seems to treat the trog more as a pet dog than a person. The scenes with her playing ball with the ape creature have a wonderfully hysterical camp value. There is good support from Herman Cohen's regular villain Michael Gough and a fine mime job from Joe Cornelius as the trog. The makeup job on Joe Cornelius is passable, although later scenes unfortunately show that this is something that ends at the neckline.
The making of Trog was briefly depicted in the first season of the tv series Feud (2017– ) concerning the rivalry between Joan Crawford and Bette Davis.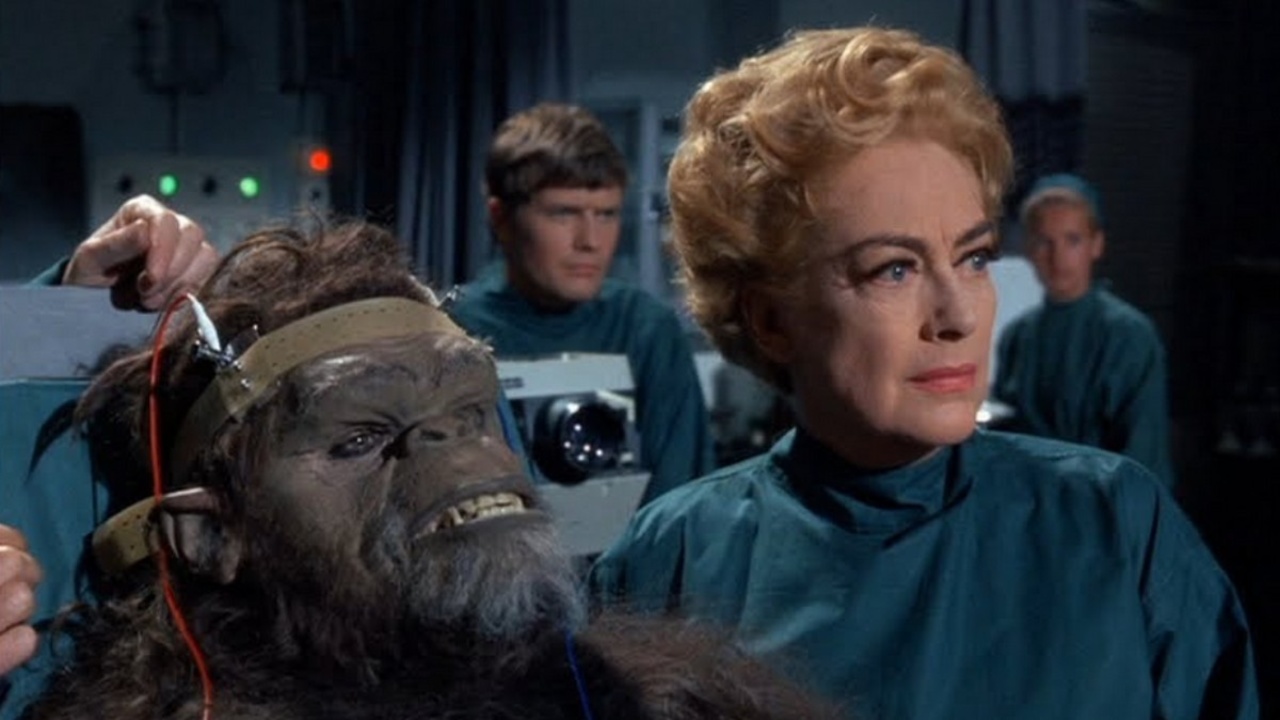 Herman Cohen's other genre films include:- Bela Lugosi Meets a Brooklyn Gorilla (1952), Target Earth (1954), I Was a Teenage Werewolf (1957), I Was a Teenage Frankenstein (1957), Blood of Dracula (1957), How to Make a Monster (1958), The Headless Ghost (1959), Horrors of the Black Museum (1959), Konga (1961), The Black Zoo (1963), A Study in Terror (1965), Berserk (1967) and Craze (1973).
Freddie Francis's other genre films are:- Vengeance/The Brain (1962), Paranoiac (1963), The Evil of Frankenstein (1964), Nightmare (1964), Dr Terror's House of Horrors (1965), Hysteria (1965), The Skull (1965), The Psychopath (1966), The Deadly Bees (1967), They Came from Beyond Space (1967), Torture Garden (1967), Dracula Has Risen from the Grave (1968), Mumsy, Nanny, Sonny & Girly (1969), The Vampire Happening (1971), Tales from the Crypt (1972), Craze (1973), The Creeping Flesh (1973), Tales That Witness Madness (1973), Legend of the Werewolf (1974), Son of Dracula (1974), The Ghoul (1975), The Doctor and the Devils (1985) and Dark Tower (1987).
---
---