aka Dominique is Dead
---
UK. 1978.
Crew
Director – Michael Anderson, Screenplay – Edward Abraham & Valerie Abraham, Based on the Novel What Beckoning Ghost by Harold Lawlor, Producers – Andrew Donally & Milton Subotsky, Photography – Ted Moore, Music – David Whitaker, Makeup – Tom Smith, Production Design – David Minty. Production Company – Sword & Sorcery Productions.
Cast
Cliff Robertson (David Ballard), Jean Simmons (Dominique Ballard), Simon Ward (Tony Calvert), Jenny Agutter (Ann Ballard), Judy Geeson (Marjorie Craven), Michael Jayston (Arnold Craven), Flora Robson (Mrs Davis), Ron Moody (Dr Rogers)
---
Plot
Dominique Ballard lives in England with her husband, wealthy American stockbroker David. She begins to think she is losing her mind. She sees visions of dead bodies and people say that she is doing things that she has no memory of doing. In desperation, she is driven to hang herself. After the funeral, David begins to be haunted by what appears to be her ghost – he sees visions of Dominique, while the piano she loved to play plays itself at night. A tombstone with his name on it is placed at the gravesite and he then starts receiving notes telling him the date he is going to die.
---
Dominique was one of the handful of films produced by Milton Subotsky, who was half of the producing team that made up Britain's Amicus Pictures, known throughout the 1960s and early 70s for their horror anthologies, including the likes of Dr Terror's House of Horrors (1965), The House That Dripped Blood (1970), Asylum (1972) and Tales from the Crypt (1972), among others. After the dissolution of Amicus in 1977, Subotsky formed Sword and Sorcery Productions and made two Amicus-styled anthologies with The Uncanny (1977) and The Monster Club (1980), as well as the tv mini-series The Martian Chronicles (1980), which was also directed by Michael Anderson, and oversaw several Stephen King adaptations with Cat's Eye (1985), Maximum Overdrive (1986), Sometimes They Come Back (1991) and The Lawnmower Man (1992).
The direction of Dominique was given over to Michael Anderson, a British-born director who had had success in the US mainstream in particular with the Academy Award-winning adaptation of Jules Verne's Around the World in 80 Days (1956). Anderson also has a long history of dabbling in genre material – and usually doing so badly. Here Anderson has also directed the likes of an adaptation of George Orwell's 1984 (1956); The Shoes of the Fisherman (1968), a political thriller concerning a near-future Pope; the terrible campy version of Doc Savage, The Man of Bronze (1975), based on the pulp hero; the dystopian sf film Logan's Run (1976); the killer whale film Orca (1977); the aforementioned Subotsky-produced tv mini-series adaptation of Ray Bradbury's The Martian Chronicles; Bells/Murder by Phone/The Calling (1981) about killer telephone calls; the excruciating Adam and Eve softcore comedy Second Time Lucky (1984); the John Varley-adapted time travel film Millennium (1989); the tv movie remake of Jules Verne's 20,000 Leagues Under the Sea (1997); and The New Adventures of Pinocchio (1999).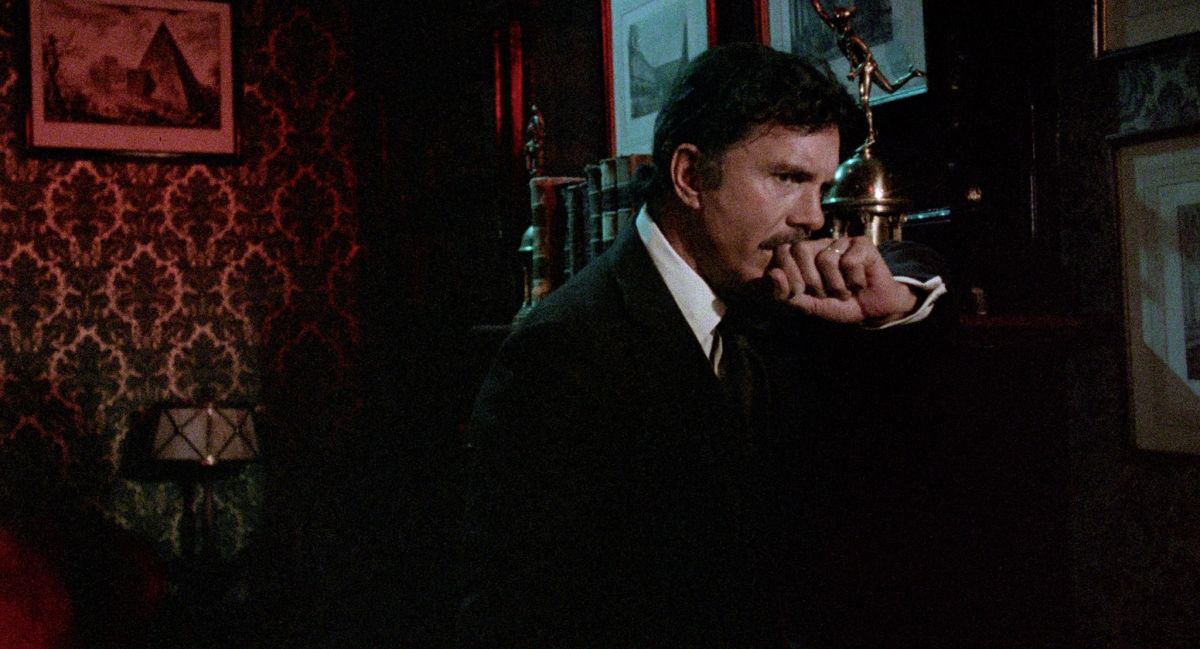 Dominique was a creaky, old-fashioned thriller made at a time when this type of creaky, old-fashioned thriller was dying out. The model for Dominique is very clearly the classic French thriller Les Diaboliques (1955) with its plot of an elaborate murder scheme dupe that involves the manufacturing of hauntings in order to drive someone crazy. The basics of Les Diaboliques and its improbably contrived scheme to drive somebody mad were borrowed by a number of psycho-thrillers made by Hammer (and a few by Amicus), William Castle and others during the 1960s.
However, that model of film had largely died away by the 1970s. Indeed, Dominique appeared the same year that Halloween (1978) kicked off the slasher film and broke entirely away from the absurdly contorted psychology and plotting improbabilities of the psycho-thriller. By contrast here, the film's eventual revelation [PLOT SPOILERS] – that the ghost was Jenny Agutter in a mask, that she and chauffeur Simon Ward conducted the scheme to pay Cliff Robertson back for driving Jean Simmons to suicide, which even then was something they also faked, with everything ending in a double-cross – seems contrived well beyond the point of basic plausibility.
Under Michael Anderson's typically leaden hand, everything in Dominique is slow moving and ploddingly sedate. You can fairly much predict the entire film's beats. Cliff Robertson also went through the same sort of improbably contrived psycho-thriller plotting thinking his wife was alive with Obsession (1976) a couple of years earlier. Here he looks stolid and vaguely troubled. He gives a brooding performance but the part is written as a complete blank. The film swings a reasonable line-up of actors from the British profession but many of them – Jenny Agutter, Judy Geeson, Michael Jayston – are underused.
---
Trailer here
Full film available online here:-
---