---
UK. 1961.
Crew
Director – John Lemont, Screenplay – Herman Cohen & Aben Kandel, Producers – Nathan Cohen & Stuart Levy, Photography – Desmond Dickinson, Music – Gerard Schurman, Makeup – Jack Craig, Art Direction – Wilfred Arnold. Production Company – Merton Park Studios.
Cast
Michael Gough (Dr Charles Decker), Margo Johns (Margaret), Claire Gordon (Sandra Banks), Jess Conrad (Bob Kenton), Austin Trevor (Dean Foster), Jack Watson (Superintendent Brown), George Pastell (Professor Tagor)
---
Plot
Dr Charles Decker returns after having been missing for a year following a plane crash in Uganda. He has discovered a serum among the natives. Using Konga, a chimpanzee he has brought back with him, he determines to perfect his theories regarding the links between plant life and human tissue and the belief that plants can be commanded by human will. He injects Konga with the serum, which causes it to increase to the size of gorilla. He then uses Konga to go out and kill rivals and those who impede his research.
---
Konga is one of the films from producer Herman Cohen. Cohen had had some success with a host of teen revisions of classic horror monster movie themes in the late 1950s, beginning with I Was a Teenage Werewolf (1957) and including the likes of I Was a Teenage Frankenstein (1957) and Blood of Dracula (1957). (There is no truth to the rumour that persistently circulates that Konga was originally to have been titled I Was a Teenage Gorilla). From 1959 onwards, Herman Cohen relocated in England and produced another series of horror films there, beginning with Horrors of the Black Museum (1959).
The lynchpin of Herman Cohen's English films was Michael Gough. Gough had great success, delivering a wonderfully cruel and demented performance as the killer crime writer in Black Museum. Cohen again casts Michael Gough here and also would in The Black Zoo (1963) and Berserk (1967), all of which headlined Gough as a demented killer.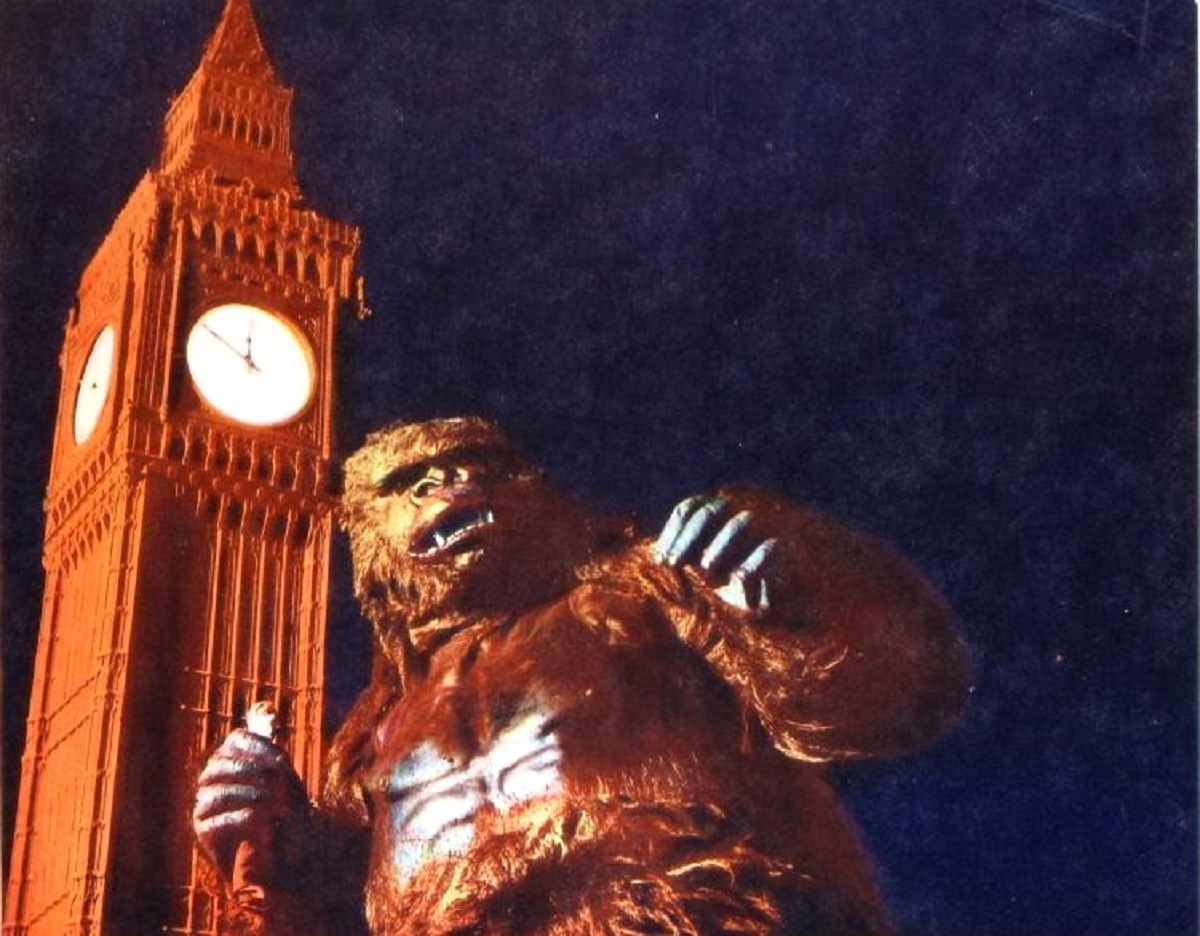 Konga is a thoroughly schlocky film. There is some wonderfully overwrought nonsense about witch doctors making plants subservient to their wills and scenes of Michael Gough walking through the conservatory throwing meat to his carnivorous plants. Gough fires the film up with a wonderfully arrogant performance.
However, the rest of Konga is routine hackwork and it is only Michael Gough's presence that enlivens it in any way. The ape suit is incredibly shabby – somehow in being enlarged from normal to human-size the ape manages to go from being a chimp into a gorilla. The terrible optically enlarged scenes with the chimpanzee rampaging have justly accorded Konga a Golden Turkey status.
Herman Cohen's other genre films include:- Bela Lugosi Meets a Brooklyn Gorilla (1952), Target Earth (1954), I Was a Teenage Werewolf (1957), I Was a Teenage Frankenstein (1957), Blood of Dracula (1957), How to Make a Monster (1958), The Headless Ghost (1959), Horrors of the Black Museum (1959), The Black Zoo (1963), A Study in Terror (1965), Berserk (1967), Trog (1970) and Craze (1973).
---
---