---
Crew
Director – Ernest Dickerson, Screenplay – Tim Metcalfe & Adam Simon, Producers – Rupert Harvey, Peter Heller & Lloyd Segan, Photography – Flavio Martinez Labiano, Music – Elia Cmiral, Visual Effects Supervisor – Ariel Shaw, Visual Effects – No Prisoners 3DFX LLC & Pixel Magic (Supervisor – Raymond McIntyre Jr), Makeup Effects – Alterian Studio (Supervisor – Tony Gardner), Production Design – Douglas Higgins. Production Company – Lloyd Segan Company/Heller Highwater.
Cast
Snoop Dogg (Jimmy Bones), Khalil Kain (Patrick Peet), Pam Grier (Pearl), Bianca Lawson (Cynthia), Clifton Powell (Jeremiah 'J-Bird' Peet), Michael T. Weiss (Officer 'Loopy Lou' Lupovich), Ricky Harris (Eddie Mack), Sean Amsing (Maurice), Merwin Mondesir (Bill Peet), Katharine Isabelle (Tia Peet), Ron Selmour (Shotgun), Deezer D (Stank), Garikayi Mutambirwa (Weaze)
---
Plot
Patrick Peet, his brother Bill and friend Maurice buy up an old rundown building in the ghetto, which they intend to refurbish and turn into a nightclub. They then learn that the building was owned by neighbourhood crime czar Jimmy Bones who was murdered in 1979 under mysterious circumstances. Patrick is warned away by Pearl, a mysterious psychic whose daughter he becomes involved with, and his father, both of whom are tied to Jimmy's disappearance. Their presence in the building then stirs up Jimmy's ghost, which comes seeking revenge against those who killed him.
---
Bones is a Halloween offering from director Ernest Dickerson. Ernest Dickerson first worked as cinematographer for Spike Lee (whom he went to university with) before debuting as director with the hood drama Juice (1992). Amid several action films, Ernest Dickerson then went onto make a couple of genre entries – the human hunting action film Surviving the Game (1994), Tales from the Crypt Presents Demon Knight (1995) and the science-fiction film Futuresport (1998).
With other 90s films resurrecting and revisiting genres from the past, it is a surprise that nobody has attempted to remake a Blaxploitation film before now. (A remake of Blacula (1972) with modern effects technology would be totally ass-kicking). There was the remake of Shaft (2000), but the less said about the better, and homages/spoofs such as Original Gangstas (1996), Undercover Brother (2002) and Black Dynamite (2009). Quentin Tarantino frequently pays homage and has resurrected the career of Blaxploitation queen Pam Grier who stars here.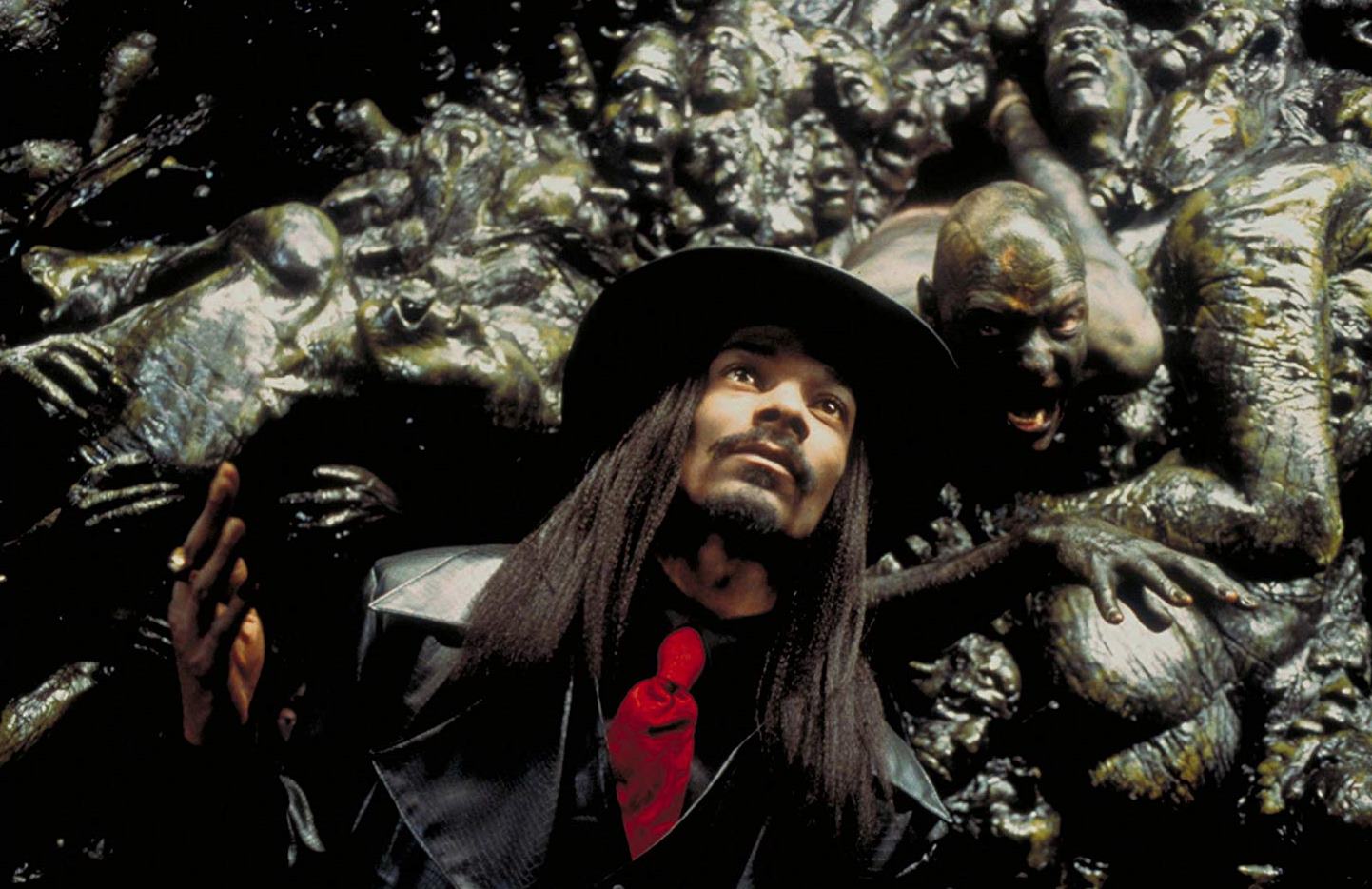 Bones is fairly much a Blaxploitation take on A Nightmare on Elm Street (1984) – where instead of a pizza-faced child molester the resurrected supernatural avenging villain is a murdered hood crime kingpin. The character of Jimmy Bones is a good deal more ambiguous than Freddy Krueger – in fact, he is seen as one of the few decent characters in his stretch of the hood who is killed because he refuses to let crack dealers in. Compare this to Freddy Krueger in Elm Street who is wholly despicable and where those who kill him are ordinary middle-class families protecting their children, which may well say something about what happens when the idea is translated across cultural/racial barriers.
Bones has been created as a vehicle for rapper Snoop Dogg. Although he has been toplined, Snoop Dogg's appearances are confined to flashback and the last quarter of the film and most of the show belongs to the young leads. Snoop Dogg has been decked out as a pimp in a truly outlandish costume that future psychotronic generations are going to find of great fascination. He comes across as an okay performer and when Ernest Dickerson finally allows him to emerge into the present-day at the end he develop an effective presence, although one tends to feel this is more due to Dickerson's framing him in stylish shots than any real acting ability. (Snoop Dogg later tried to play horror host in Snoop Dogg's Hood of Horror (2006) with disastrous results).
Ernest Dickerson's work in Surviving the Game and Demon Knight was routine so one never expected a great deal of Bones. Bones remains strictly within formula guidelines for the genre but Dickerson does not do too bad a job. He turns the ghetto – which seems to have been mostly studio-created rather than shot on location – into a strangely haunted atmosphere and frames the ghostly appearance in stylish visuals.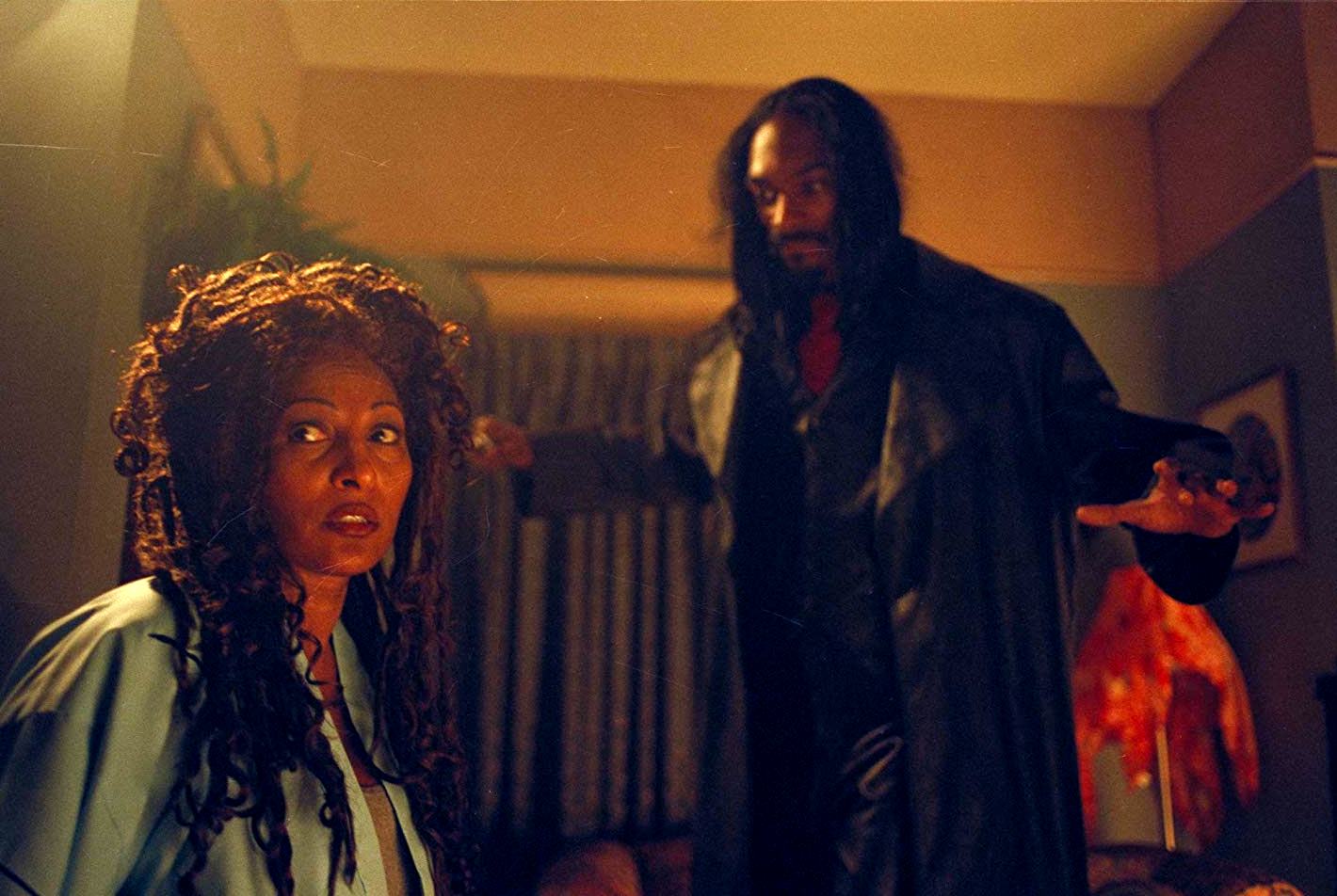 There are some undeniably effective set-pieces – a scene where a victim dreams and the walls around him become filled with the tar-covered souls of the undead reaching out to him; or of Bianca Lawson's dream of a ghostly figure molesting her under the blankets that turns into a vision of her slowly drowning in a bed of blood – a scene reminiscent of a similar love-making scene in Angel Heart (1987); and the wonderfully sardonic image of Snoop Dogg prowling the streets carrying the still-talking severed heads of his victims. Alterian Studio create some striking and novel makeup effects – a Hellraiser (1987)-esque fleshly resurrection sequence; bleeding pool tables; a talking dog vomiting up rains of maggots.
The film is long – nearly two hours rather than the usual 90 minutes and takes some time to build up and then only confines most of the action to the last quarter, but Ernest Dickerson evokes some stylish atmosphere that makes the formula run-through quite watchable.
The screenplay comes from Adam Simon, himself a genre director with the fascinatingly weird Brain Dead/Paranoia (1990) and Carnosaur (1993), as well as the horror documentary The American Nightmare (2000) and the scripts for The Haunting in Connecticut (2009) and Books of Blood (2020), as well as created/produced the tv series Salem (2014-7) and produced the alien invasion film Captive State (2019). Co-writer Tim Metcalfe is best known for creating Revenge of the Nerds (1984) and writing other genre scripts like Fright Night Part 2 (1989), Kalifornia (1993) and The Haunting in Connecticut (2009).
---
---