---
Crew
Director – Renny Harlin, Screenplay – C. Courtney Joyner, Story/Producer – Irwin Yablans, Photography – Mac Ahlberg, Music – Richard Band & Christopher L. Stone, Music Conducted by Band, Mechanical Effects – Etan Enterprises (Supervisor – Eddie Surkin), Makeup Effects – Mechanical and Makeup Imageries (Supervisor – John Carl Buechler), Production Design – Philip Duffin. Production Company – Empire Pictures/Eden, Ltd.
Cast
Lane Smith (Ethan Sharpe), Viggo Mortensen (Connie Burke/Charles Forsythe), Chelsea Field (Katherine Walker), Lincoln Kilpatrick (Burton Cresus), Ivan Kane (Joseph 'Lasagna' Lazaro), Tom 'Tiny' Lister Jr (Tiny Riddle), Stephen E. Little (Rhino), Andre De Shields (Sandor), Tom Everett (Rabbitt), Larry Flash Jenkins (Hershey), Arlen Dean Snyder (Captain Horton)
---
Plot
Due to spending cuts, the Wyoming State Penitentiary is reopened for the first time since 1968. The pitiless hard-line warden Ethan Sharpe is placed in charge and 200 prisoners are shipped in. However, when the prisoners on work detail open up the boarded-up execution chamber, they release a force of energy that moves through the prison slaughtering the inmates.
---
Prison was the first and one of the better (indeed, the only worthwhile entry) in a late 1980s mini-spate of back-from-the-electric-chair horror films. This mini-genre also included the likes of The Chair (1989), The Horror Show (1989), Shocker (1989) and The First Power (1990).
Prison was made by Charles and Albert Band's Empire Productions. The Bands and Empire had been responsible for a great many B-budget sf and horror films in the 1980s, including Ghoulies (1985), Re-Animator (1985) and Trancers (1985). This was a co-production with Irwin Yablans, a producer most known at the time for the Halloween films.
Prison was directed by Finnish émigré Renny Harlin who had previously appeared with the Finnish-American action film Born American (1986). Harlin next went onto A Nightmare on Elm Street Part IV: The Dream Master (1988) and then graduated to big-budget action films like Die Hard 2 (1990) and Cliffhanger (1993), before briefly marrying Geena Davis and directing her in a string of disasters including Cutthroat Island (1995) and The Long Kiss Goodnight (1996).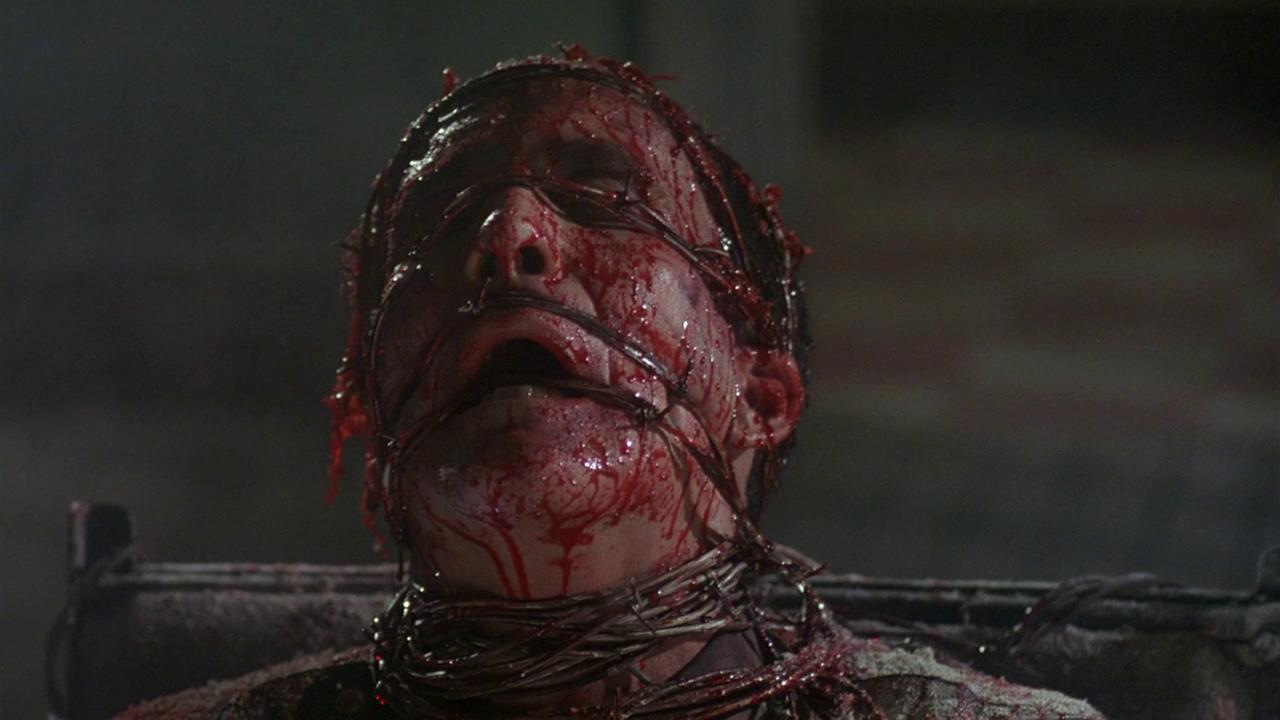 Harlin later returned to genre material to make one entertainingly awful monster movie Deep Blue Sea (1999), the much hated reshot version of Exorcist: The Beginning (2004) and assorted other works (see below for Harlin's other genre films). For the sheer mindless overinflatedness of his films, Renny Harlin ranks up there alongside Joel Schumacher, Michael Bay and Jan de Bont as one of the worst directors currently at work in Hollywood.
Frankly, Renny Harlin does a better job in Prison than he has done in any of his action films. With only a small budget, he does a marvellous job evincing a great deal of atmosphere with the use of Spielbergian light effects and by prowling his camera through the dank, subterranean depths of the jail. He creates some effective set-pieces, particularly one scene where a victim's guts are splattered over prisoners dining in the cafeteria.
Harlin also does a good job of characterising the usually faceless victims – with Lincoln Kilpatrick and Tiny Lister (then better known as the insane Hercules on Superstars of Wrestling surprisingly showing his sensitive side here) all playing well. Viggo Mortensen plays with an appealing heroic individuality and an incredible handsomeness that leaves one surprised that it took more than another decade before Mortensen went onto greater stardom with The Lord of the Rings. Lane Smith gives a good, tough performance as the pitiless warden.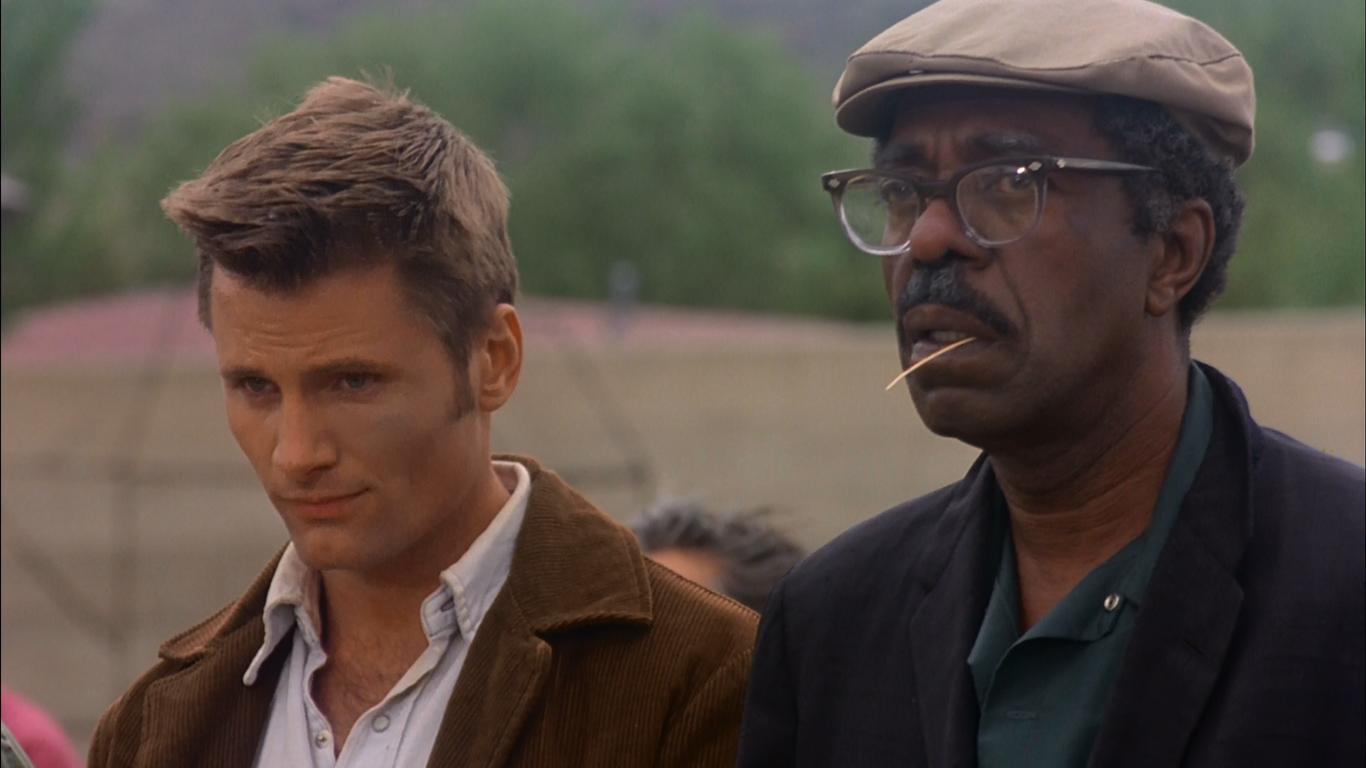 Unfortunately, everything falls down with a poor script from C. Courtney Joyner. C. Courtney Joyner is a regular contributor for the Band family, who has written various of their Puppetmaster and Trancers sequels, as well as directed the H.P. Lovecraft adaptation Lurking Fear (1994). A number of subplots are raised but never explored and one has no idea what is supposed to be happening in the end. What is the supernatural force in the prison meant to be? How is it tied to Warden Sharpe? The film hints at hidden secrets in Sharpe's past that are being revenged but clarifies none of them. If the force is supposed to be taking revenge for Sharpe's crimes, then why does it randomly kill otherwise innocent prisoners? How is Viggo Mortensen's character tied to it all? (At one point, the film seems to suggest that Viggo Mortensen is a reincarnation of the person that Sharpe killed but this issue is then forgotten about). Seemingly aware that it has no answers to these loose untied ends, the film ends with a surprising abruptness.
Renny Harlin's other genre films include:- A Nightmare on Elm Street Part IV: The Dream Master (1988); the entertainingly absurd killer shark film Deep Blue Sea (1999); as the replacement director of the much hated Exorcist: The Beginning (2004); the serial killer thriller Mindhunters (2004); the witchcraft film The Covenant (2006); The Dyatlov Pass Incident (2013); The Legend of Hercules (2014) and the Wu Xia Legend of an Ancient Sword (2018), as well as acting as producer on The Resident (2011).
---
Trailer here
Film online in several parts beginning here:-
---