USA. 1998.
Crew
Directors – Bobby Farrelly & Peter Farrelly, Screenplay – Ed Decter, Bobby Farrelly, Peter Farrelly & John Strauss, Story – Ed Decter & John Strauss, Producers – Frank Beddor, Michael Steinberg, Bradley Thomas & Charles B. Wessler, Photography – Mark Irwin, Music – Jonathan Richman, Makeup Effects – Alterian Studio. Production Company – 20th Century Fox.
Cast
Ben Stiller (Ted Stroehmann), Cameron Diaz (Mary Jensen Matthews), Matt Dillon (Pat Healy), Lee Evans (Tucker/Norm Phipps), Chris Elliott (Dom Wooginowski), W. Earl Brown (Warren Jensen), Lin Shaye (Magda), Jeffrey Tambor (Sully), Keith David (Mary's Stepfather), Harland Williams (Hitch-Hiker), Markie Post (Mrs Jensen), Jonathan Richman (Greek Chorus Singer), Tommy Larkins (Greek Chorus Drummer)
---
Plot
In 1985, beautiful Mary Jensen invites nerdish Ted Stroehmann to the prom. However, the date is disastrously curtailed when Ted catches his penis in his fly and has to be rushed to the emergency room. Thirteen years later and Ted is still fixated on Mary. Deciding to do something about his obsession, Ted hires private investigator Pat Healy to track her down in Florida. When Healy finds that Mary is beautiful and single, he lies to Ted, saying that she is fat, ugly and has children, and decides to pose as Mary's dream man to woo her himself. When Ted finds out the truth, he comes after Mary, only to find himself surrounded by a host of stalkers all obsessively fixated on Mary.
---
This stalker comedy from brothers Bobby and Peter Farrelly proved one of the biggest sleeper hits of 1998 and seemed to be an instant cult classic in the making – not unlike Harold and Maude (1971), which the film happily cites at one point. The Farrellys previous films – Dumb and Dumber (1994) and Kingpin (1996) – were physical comedies that happily revelled in their moron appeal. There's Something About Mary is not too different but the Farrelly Brothers hit with an unerring brilliance that makes the film sit like a Rolls-Royce amongst Mini Minors when it comes to the usually crass and witless subgenre of physical gross-out comedy.
There's Something About Mary is a film that dares to be nasty – much of the humour wanders into bad taste and there are a good many jokes that centre around cripples, people in wheelchairs and the intellectually handicapped. Unlike many films that set out to be bad taste – the Troma films for example – the Farrelly Brothers succeed. A number of scenes are conducted with an faultlessly black brilliance – the opening scene where Ben Stiller catches himself in his zipper keeps building and building until it is positively hysterical.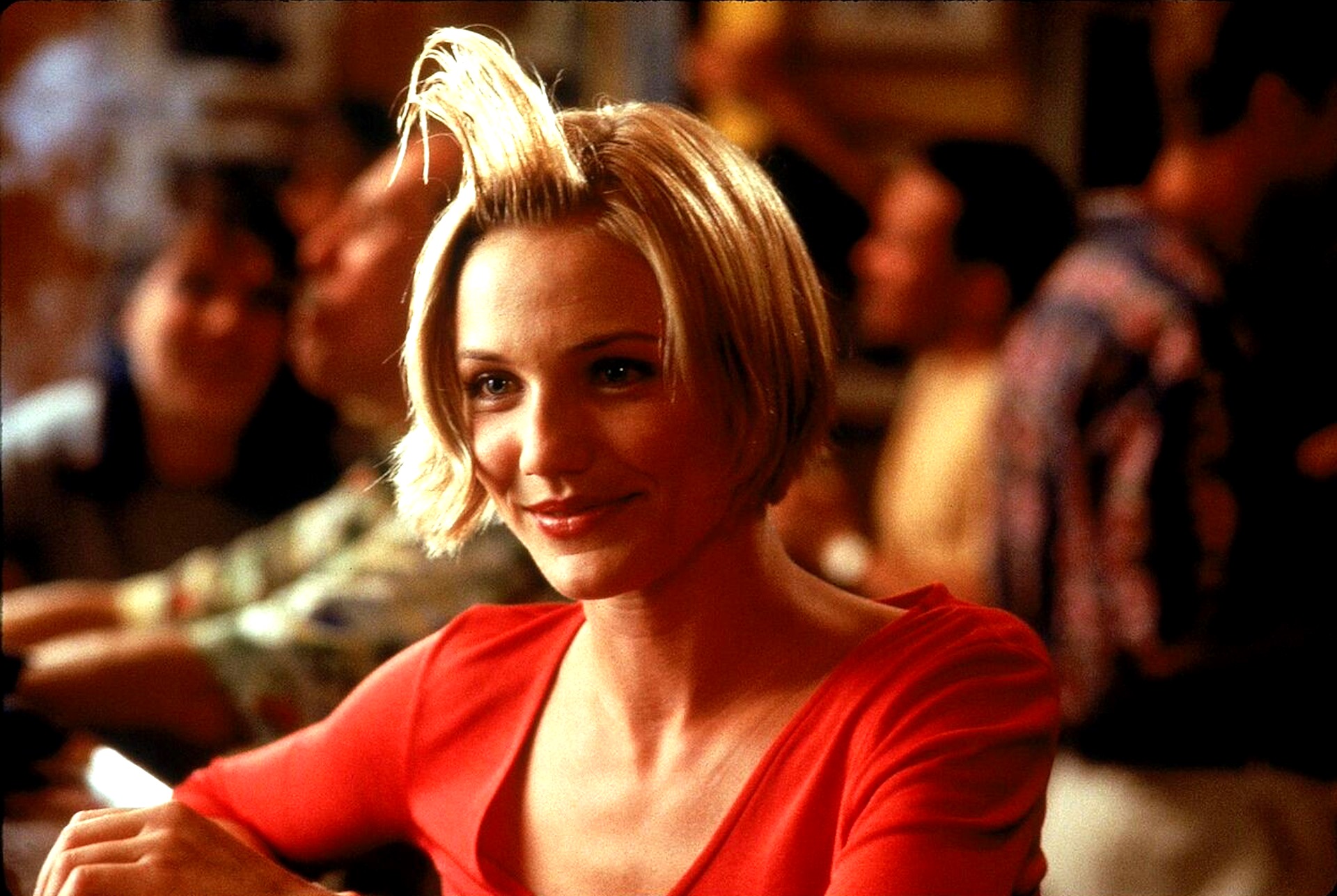 A number of other scenes – Kevin Dillon's attempts to give CPR to Lin Shaye's dog; the missing wad of masturbated semen as Ben Stiller is about to go out on his date with Cameron Diaz – are destined to go down as classic comedic moments. Some scenes like the double misinterpretation that takes place as the police interrogate Ben Stiller suspected of being a psychopath and the answers he gives, thinking they are talking about him picking up a hitch-hiker, are conducted with an immensely adroit comedic dexterity. The plot is remarkably well written for a comedy, contorting and twisting in a series of artful leaps. A comedic classic.
The Farrelly brothers have gone onto a variety of other films, including Me, Myself & Irene (2000), Stuck on You (2004), Fever Pitch (2005), The Heartbreak Kid (2007), Hall Pass (2011) and The Three Stooges (2012), although none of their subsequent films achieved the cult success or acclaim that There's Something About Mary did until Peter had a breakout success with the Academy Award-winning Green Book (2018). Their other films of genre interest are Osmosis Jones (2001), a partly animated film about the talking germs inside a man's body, and Shallow Hal (2001) wherein a man is hypnotised and starts to see ugly girls as beautiful. Peter Farrelly on his own produced and directed several segments of the comedy anthology Movie 43 (2013).
(No. 2 on the SF, Horror & Fantasy Box-Office Top 10 of 1998 list).
---
---