---
Crew
Director – Lars Damoiseaux, Screenplay – Elaine Hagenbeek & Lars Damoiseaux, Producers – Kobe Van Steenberghe & Hendrik Verthe, Photography – Daan Nieuwenhuijs, Music – Nico Renson, Visual Effects Supervisor – Felix Serwir, Special Effects – Movie FX (Supervisors – Thomas Desmet & Arne Norman), Makeup Effects – Squid Lab (Supervisor – Daphnee Beaulieux), Lizard Puppet – Proteus Workshop, Production Design – Silke De Rycke. Production Company – A Team Productions/10.80 Films/Everstory Productions/The Flanders Audiovisual Fund (VAF)/Screen Fanders/The Tax Shelter of the Federal Government of Belgium/Telenet/VTM/Voo BETV/Kinepolis Film Distribution/Raven Banner Entertainment/Casa Kafka Empowered by Belfius.
Cast
Maaike Neville (Alison Jacobs), Bart Hollanders (Michael), Benjamin Ramon (Daniel), Clara Cleymans (Janja), Annick Christiaens (Sylvia), Eric Gudon (Dr Krawczyk), Tom Audenaert (William Maier), Joshua Rubin (Yonah), Taeke Nicolai (Oksana)
---
Plot
Michael accompanies his girlfriend Alison Jacobs and her mother as they travel to the Krawczyk Klinik so that Alison can have a breast reduction operation and her mother some minor cosmetic surgery. Alison is taken off to be prepped, Wandering about, Michael, who entered med school but dropped out, is appalled at the lack of proper care and safety being demonstrated by the staff. He determines to take Alison away before she goes under. Just then the hospital is overrun by an outbreak of zombies, all part of the illicit experiments that Dr Krawczyk has been conducting. Alison, Michael and various others attempt to make it to freedom as the hospital is overrun.
---
Yummy was a Belgian horror film. It is a feature-length directorial debut for Dutch director Lars Damoiseaux who had previously made the basics as a three-minute short film Patient Zero (2016).
Yummy falls into a small body of hospital horror films that include the likes of Lars von Trier's mini-series The Kingdom (1994) and its sequel The Kingdom II (1997), Exquisite Tenderness (1995), Sublime (2007) and Autopsy (2008) to the recent likes of A Cure for Wellness (2016), The Void (2016), Nails (2017) and Fractured (2019), although surprisingly not the British Horror Hospital (1973). (For more detail see Medical Horrors).
Yummy seems to be shaping up to be another of these medical horror films at the outset. The arrival at the hospital shows a situation that looks dodgy as heck – doctors and staff who don't seem to care about basic procedures; an orderly (Benjamin Ramon) who seems more interest in getting high and makes comments about scoring with post-op breast surgery women in need of a confidence boosts; patients in a very bad state – only for former med student Bart Hollanders' appalled reaction to the situation to be dismissed by girlfriend Maaike Neville who is eager to get her cut-price operation.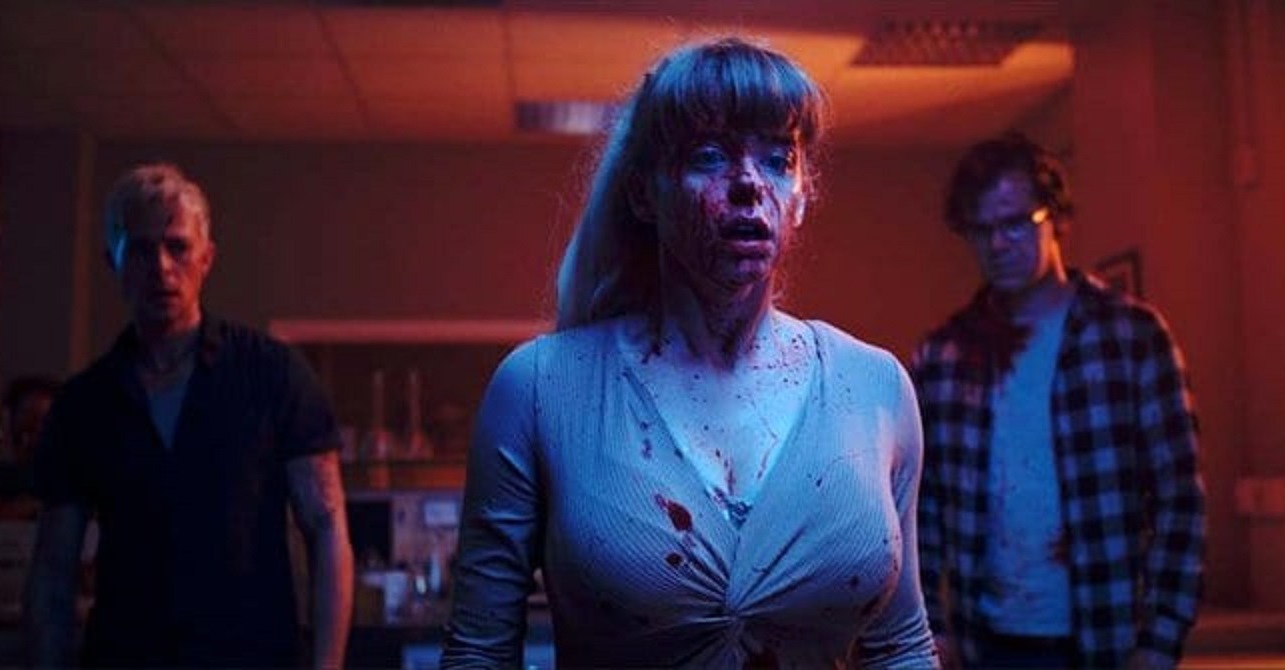 The black humour is in the vein of von Trier's The Kingdom mini-series but much cruder and more over-stressed. There is a somewhat amusing scene where Taeke Nicolai say she wants to lose her virginity to tv star Tom Audenaert and he prepares to do the deed with his new penis extension only for everything to go wrong and he end with penis severed on the floor.
Yummy then does a bait-and-switch on us. What starts as a medical horror film then becomes a Zombie Film. There is some explanation about doctor Eric Gudon conducting illicit experiments in the hospital, which serves to give justification to the proceedings. The rest of the film is a standard series of zombie attacks as the cast flee through the hospital and deal with infections, spread, outbreak etc.
What does boost the film during these scenes is some very good makeup effects including various scenes of bodies gored and cut open; scenes with Maaike Neville having to despatch her infected mother with an axe through the head; Joshua Rubin severing the stump of his arm to prevent the spread of infection; a zombie severed at the torso sitting eating her own intestines. Not to mention a nasty scene where Bart Hollanders has to sever girlfriend Maaike Neville's fingers as she tries to open a manhole cover and get to freedom just as one of the army vehicles above parks on top of it.
---
Trailer here
---