USA. 2009.
Crew
Director/Story – Harold Ramis, Screenplay – Lee Eisenberg, Harold Ramis & Gene Stupensky, Producers – Judd Apatow, Harold Ramis & Clayton Townsend, Photography – Alar Kivilo, Music – Theodore Shapiro, Visual Effects Supervisor – Jamie Dixon, Visual Effects – Hammerhead Productions, Special Effects Supervisor – Bob Shelley, Production Design – Jefferson Sage. Production Company – Columbia/Ocean Pictures/Apatow Company.
Cast
Jack Black (Zed), Michael Cera (Oh), David Cross (Cain), Oliver Platt (High Priest), Vinnie Jones (Sargon), Olivia Wilde (Princess Inanna), Juno Temple (Eema), June Diane Raphael (Maya), Hank Azaria (Abraham), Xander Berkeley (King), Matthew J. Willig (Marlak), Christopher Mintz-Plasse (Isaac), Harold Ramis (Adam), Eden Riegel (Lilith), Bill Hader (Shaman), Kyle Gass (Zaftig the Eunuch), [uncredited] Paul Rudd (Abel), Gabriel Sunday (Seth)
---
Plot
Zed is an inept caveman who is a total failure when it comes to being a hunter. His best friend Oh has equal lack of success as a gatherer. Both of them desire women of the tribe but are having little luck. In frustration, Zed eats one of the forbidden fruits from the Tree of Knowledge and afterwards thinks that he knows amazing things. The others force Zed to leave the tribe and he sets out, accompanied by Oh. In the wild, they come upon Cain and are witness as he kills his brother Abel during an argument. Cain takes them home to meet Adam but they are forced to flee with Cain after Adam finds out what happened. Cain then sells them into slavery and they find themselves reunited with the rest of the tribe who have also been enslaved. Escaping, they come across Abraham in the wilderness and Zed prevents him from sacrificing his son Isaac. They make an escape just as Abraham feels he is called upon to institute circumcision. They flee to the purportedly corrupt and degenerate nearby Sodom where they are variously captured, join the army, are wooed by the princess of the city and urged to venture into the forbidden temple. Through it all, Zed and Oh endeavour to rescue the two women of their hearts.
---
Year One brings together a blend of comedy talents that have created so many laughs between them that you would expect the offering on show to be an absolute hilarity riot. Year One comes from the production company of and is produced by Judd Apatow, the director/writer/producer who has become regarded almost overnight as one of the funniest talents in America with films like The 40 Year Old Virgin (2005), Knocked Up (2007), Superbad (2007) and Pineapple Express (2008).
Directing and co-writing is Harold Ramis, an actor with a long comedy resume reaching back to the days of SCTV (1976-81), who also wrote popular 1980s hits like National Lampoon's Animal House (1978), Meatballs (1979), Stripes (1981), Ghostbusters (1984) and Back to School (1986) and directed the likes of Caddyshack (1980), National Lampoon's Vacation (1983), Club Paradise (1986), Groundhog Day (1993), Multiplicity (1996), Analyze This (1999), Bedazzled (2000) and The Ice Harvest (2005). This was the last film that Ramis would direct before his death in 2014.
In the lead is Jack Black, who has become one of America's prime funnymen with successive hits of the 00s such as The School of Rock (2003), Nacho Libre (2006), Kung Fu Panda (2008), Tropic Thunder (2008), as well as his parody rock group Tenacious D. And then there is the shy tenderfoot with 21 year-old Michael Cera who has suddenly developed a high profile after roles in tv's Arrested Development (2003-6), Judd Apatow's Superbad, Scott Pilgrim vs. the World (2010) and especially the runaway hit of Juno (2007).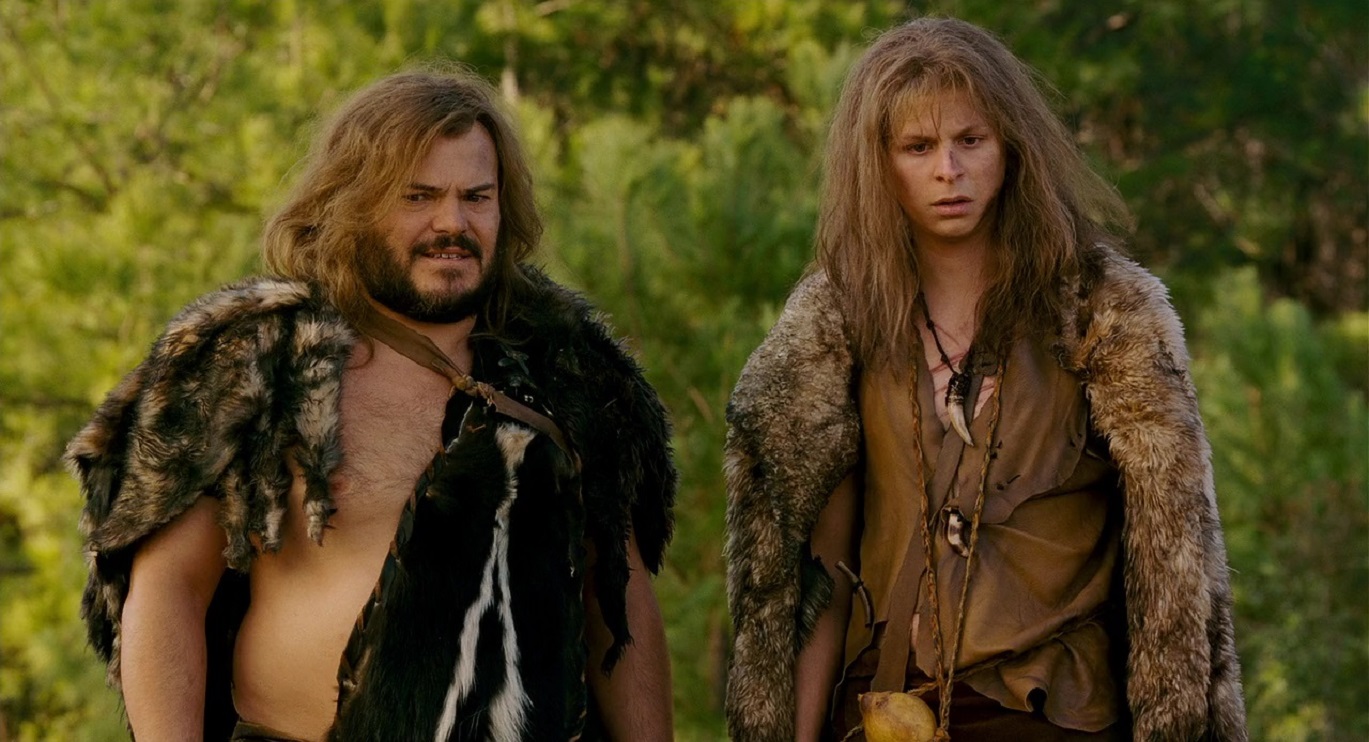 In terms of ideas, Year One feels like a collision between the prehistoric spoof Caveman (1981) wherein Ringo Starr was an inept caveman who was forced out by the bullying tribe leader, travelled through the wilds with his best friend and discovered most of the advances in civilisation, through which he attempted to win the woman he desired, and the Mel Brooks historical spoof The History of the World Part I (1981) wherein Brooks subjected various historical eras to his usual gags. Or perhaps what Year One resembles even more so than The History of the World is the largely forgotten and reportedly awful Biblical spoof Wholly Moses! (1980) in which Dudley Moore played an Old Testament prophet who comically stumbles through many of the incidents from The Bible.
Year One feels like it has all the elements present that it should have made it hilarious. It has clearly been produced on a reasonable budget that allows the construction of a well-detailed city of Ancient Sodom. However, it feels more like an effort that is trying hard but never quite makes it. Most of it seems to consist of Jack Black and Michael Cera going through the usual on-screen schtick that either is known for – but wearing furs or tunics.
Jack Black is a funny man but in watching Year One, one feels that Black's on-screen routine that peaked five years ago has started to reach its use-by date. Here Black's routines making animal noises, tasting poo, trying to make out with a lesbian Lilith, go on and on in a way that you can see the aimed-for gag but the laughs never seem to kick in, while the gags becomes overstated in the eventual exhaustion of Black and Harold Ramis in trying to make them work. Black at least has a madcap energy that keeps the show afloat – even when the film is emerging only routinely around him, he keeps going with the Jack Black thing and giving it his all, trying almost anything he can think of for a laugh.
On the other hand, Michael Cera seems miscast as Jack Black's offsider. Cera is a good performer – it is just that he is young, slim of build and his on-screen persona consists of a mix of boyish cuteness and shyly dry delivery that seems overly modest in its understatement. Cast in the very physical role of a caveman, Cera looks out-of-place. Moreover, once in the long-hair caveman wig and furs, his boyish looks seem positively effeminate. While everyone else gives passable performances, there is David Cross who has unfortunately developed one of the most obnoxious screen personas in show business. Some of Cross's scenes – like where he tries to pretend he hasn't killed Abel – are excruciating.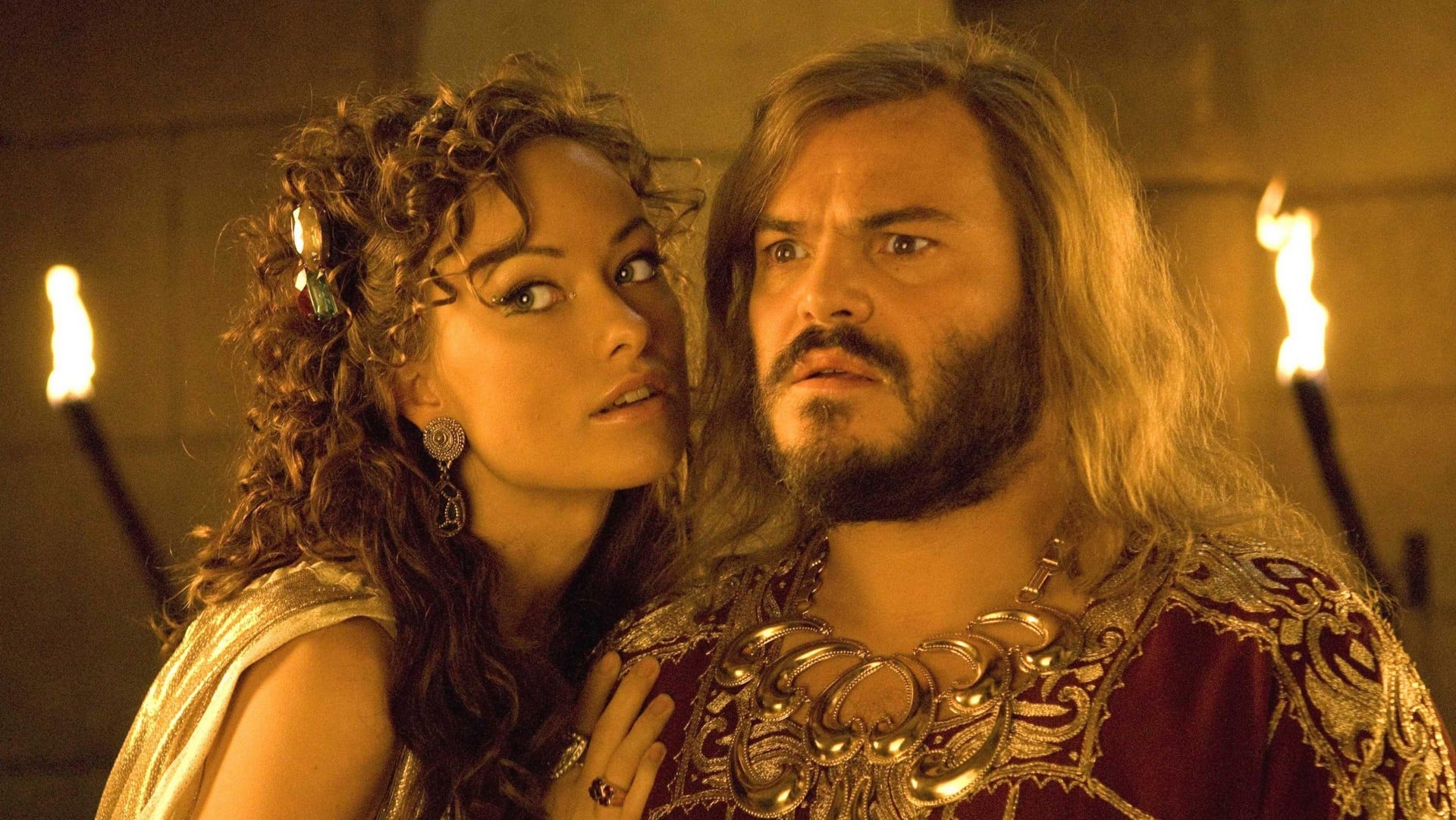 Harold Ramis passes through the material with amiable efficiency, but never raises the film to a level that produces riotous laughter. Rather, Year One is a Lowest Common Denominator comedy pitched at the box-office middle ground. The comic beats are all easy ones – Michael Cera must share a bed with Adam's son who spends the whole time farting; Jack Black sniffs and then tastes dung to get a trail; Michael Cera must fend off the attentions of a gay high priest (Oliver Platt) who insists that he massage hot oil into his extremely hair chest and stomach; Cera is hung upside down in the cells for the sole purpose of a gag where he has to urinate and it runs down into his face and mouth, and so on.
Perhaps the one interesting aspect of Year One is that it seems to have been intended as a film about atheism. A few years ago, following the success of Mel Gibson's The Passion of the Christ (2004), we had a spate of films that were about matters Christian and were pitched directly to church audiences. Behind the outward face of unsubtle mainstream comedy, Year One feels like it has been pitched as a rejoinder from the other side of the fence. It is noticeable that, though it concerns itself with various incidents from the Bible, the film only offers a mundane interpretation of events. Jack Black eats of the fruit from the Tree of Knowledge, yet though he seems to think it does, there is no clear evidence that he gains any knowledge from doing so. Abraham feels divinely ordered to sacrifice his son Isaac in the desert (as per The Book of Genesis) but it is the arrival of Jack Black as opposed to the Almighty that spares Isaac's life.
Equally, no doubt in a kick in the eye to the creationists, cavemen coexist with Adam and Eve ie. the film implies that Adam was not the first man on Earth and that humanity stretches back to an evolved prehistory. Aside from that, there are direct scenes where the film seems to speak out in favour of atheism – like a speech that Michael Cera gets in the forbidden temple where he asks "What if there is no God?" This reaches a heavy-handed point at the climax where Jack Black is acclaimed as the Chosen One by the Sodomites who expect the rain to fall because he has overthrown the high priest but where he stands up to decry such in favour of a blandly democratic "Maybe we can all be Chosen."
---