USA. 1996.
Crew
Director/Story – Martin Lawrence, Screenplay – Martin Lawrence, Kim Bass, Kenny Buford & Bentley Kyle Evans, Producers – George Jackson & Douglas McHenry, Photography – Francis Kenny, Music – Roger Troutman, Special Effects – Ultimate Effects (Supervisor – Beverly Hartigan), Production Design – Simon Dobbin. Production Company – Jackson-McHenry Productions/You Go Boy! Productions.
Cast
Martin Lawrence (Darnell Wright), Lynn Whitfield (Brandy Webb), Regina King (Mia Williams), Della Reese (Mrs Wright), Roger E. Mosley (Smitty), Bobby Brown (Tee), Malinda Williams (Erica Wright), Miguel A. Nunez Jr (Reggie), Stacii Jae Johnson (Peaches), Wendy Johnson (Gwen), Tangie Ambrose (Nikki), Simbi Khali (Adrienne)
---
Plot
Darnell Wright is a manager at the chic Chocolate Club nightspot in L.A. and a player who has several girlfriends on the go at once. He meets wealthy but standoffish Brandy Webb in the street. He becomes obsessed with her and pursues and woos her with all effort. She eventually surrenders to his charms but soon proves to be obsessive. At the same time, Darnell also realises that he is in love with his childhood friend Mia Williams. He makes the decision to tell all his other girlfriends goodbye for the sake of Mia. Brandy does not take the news well and begins stalking and harassing Darnell, faking beatings, trashing his car and then threatening Mia's life.
---
Martin Lawrence first emerged with his comedy show Martin (1992-7) and parts in the House Party films, before his career took off on the big screen after starring in Bad Boys (1995). Subsequently, Lawrence has maintained a generally amiable output of run-of-the-mill mainstream comedies with the likes of Nothing to Lose (1997), Blue Streak (1999), Life (1999), the huge hit of Big Momma's House (2000), Black Knight (2001), What's the Worst That Could Happen? (2001), National Security (2003) and Rebound (2005), where he has created a comedic persona that falls somewhere between Cuba Gooding Jr and Jim Carrey. A Thin Line Between Love and Hate was Martin Lawrence's one and only outing as director, where he also came up with the story idea and played the lead role.
With A Thin Line Between Love and Hate, Lawrence seems to be wanting to make a player fantasy and create a comedy about a man with several girlfriends, while in the latter half, he lets the film turns into a comedic variation on Fatal Attraction (1987). It is never entirely clear throughout the course of the film whether Lawrence is championing being a player or if he is tapping into the male insecurities that lie beneath it in a critical way akin to Clint Eastwood's Play Misty for Me (1971).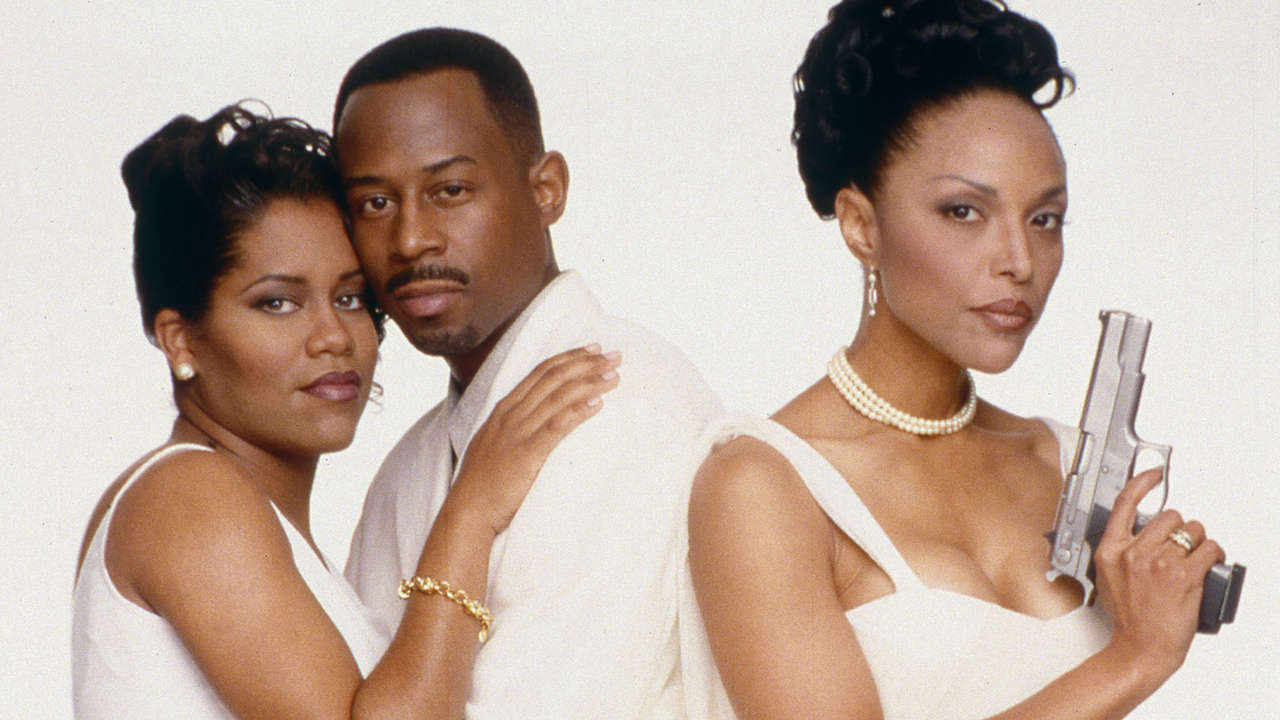 Lawrence's on-screen character seems self-absorbed. He seems to operate on a set of double-standards – he tells Lynn Whitfield that he loves her, although she is clearly expected to not take such a declaration seriously; at the same time he is seen as exercising the natural right of the man to play the field; and she is seen as being too selfish because she fears having sex with him because of her abusive ex-husband. At one point, Lawrence's character even borrows Lynn Whitfield's limo to go and seduce childhood girlfriend Regina King. As director and co-writer, Lawrence seems to regard all of this as perfectly acceptable – the film criticises none of this behaviour in any way and the film's sympathies clearly lie with Lawrence's character throughout. Typically, Lynn Whitfield's character is given no other motivation than that she is wealthy and mentally unstable.
The highly underrated Lynn Whitfield at least gives a decent performance that straddles the vagaries of the character that require her at one moment to be cold and sophisticated, the next vulnerable and then completely unstable. Beyond Whitfield though, A Thin Between and Love and Hate is disappointingly routine in all regards.
---
Trailer here
---