---
Crew
Director/Screenplay – Ping Lumprapleng, Producers – Charoen Kaithitsuwan, Nitcha-orn Palakon & Amornthep Sukmanont, Photography – Prayuk Srithongkul, Music – Chapavich Temnitikul, Visual Effects/Animation – Rift Studio & Alternate Studio (Director – Veerapatra Jinanavin), Production Design – Sakda Sakulrak. Production Company – T Moment Co., Ltd..
Cast
Theeradej Wongpuapan (Day), Ratnamon Ratchiratham (Koi), Kongkiat Khomsiri (Mayom)
---
Plot
Day is a production assistant on a film shoot at a swimming pool. He is left to clear up after the shoot wraps and relaxes in the pool on a floater unaware that the maintenance people have started draining the pool. When he wakes up, Day finds that the water in the pool has drained down below the level from where he can reach the top to climb out. As evening comes, an escaped crocodile enters the water. Day drifts back to sleep until his girlfriend Koi arrives. He awakes just as she prepares to jump off the diving board only for her to slip and crack her head. Day gets her to safety as the water drains leaving them trapped at the bottom of the pool with a hungry crocodile.
---
We have had the Animals Attack film ever since The Birds (1963) – I have an in-depth essay on the genre here with Animals Attack Films. The 2010s primarily has seen a new sub-genre of Animals Attack films that are more akin to Imprisonment Thrillers in that they feature protagonists who are trapped in confined spaces along with deadly animals. This began with Black Water (2007) and Rogue (2007), which have many similarities to The Pool, where a group of people are trapped respectively in respectively a tree and a narrow spit of sand by a marauding crocodile. Although the progenitor of these was probably Cujo (1983) with a mother and son trapped inside a car by a rabid dog.
Others have included Burning Bright (2010) about a girl and her brother trapped inside a house with a tiger; The Shallows (2016) with Blake Lively trapped on a rocky outcrop by a shark; Serpent (2017) with a couple trapped in a tent with a deadly snake; Crawl (2019) where Kaya Scodelario faces an alligator in a flooded crawlspace; and the Spanish Prey (2019) about a paralysed girl trapped in a house with a killer dog.
Like most Imprisonment Thrillers, The Pool gets its protagonists confined in a particular location and rides a dramatic rollercoaster of hopes raised and then dashed as they try to seek a means out of their plight. In this case, the pool has to be constructed some three meters deep with no built-in ladders and no shallow end (as most pools are), otherwise the film's premise simply wouldn't work.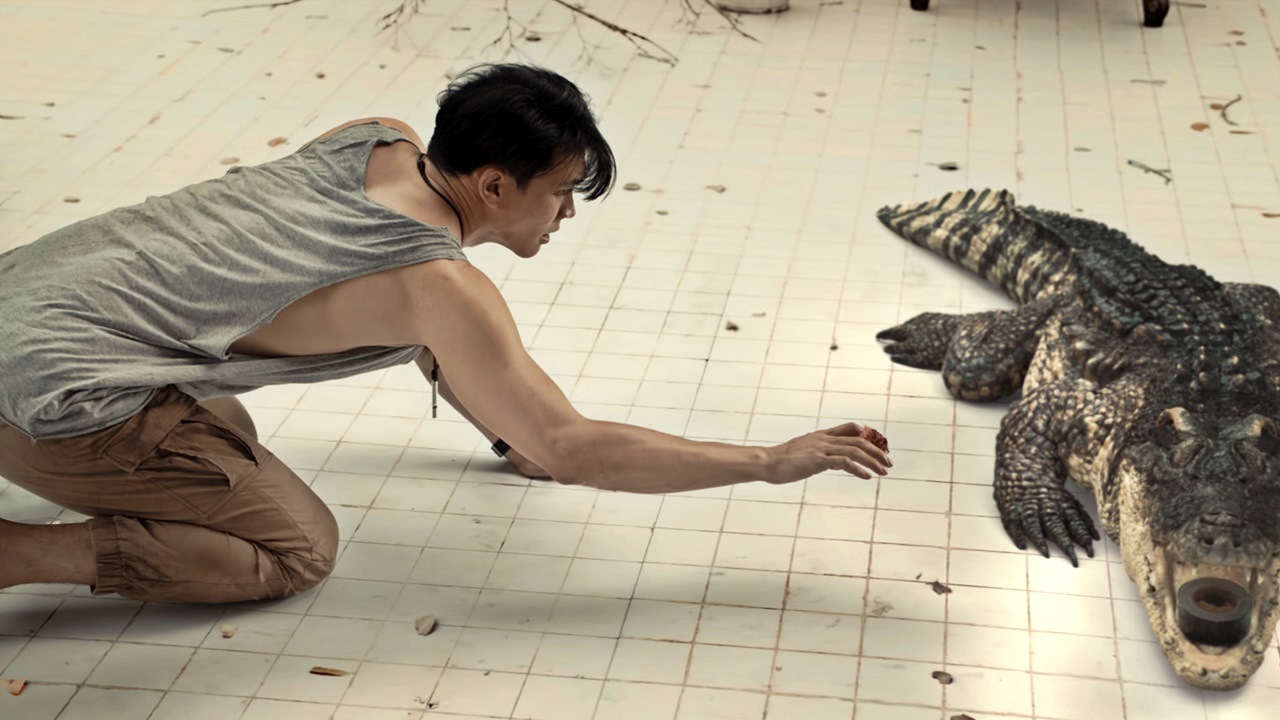 The film then places protagonist Theeradej Wongpuapan into the pool with a lurking crocodile – he is later joined by his girlfriend Ratnamon Ratchiratham who remains comatose for much of the show. The film consists of these two characters and the crocodile in a bare space around 30×50 feet. We get a series of slender hopes raised – his efforts to reach the top from the inflatable floater; the pizza left on the diving board; the dog chained nearby; the exit through the draining tunnel that is locked at the other end; and a handful of items left behind – a couch, a tree in a planter, a phone attached to its recharging cable, a syringe of insulin, a roll of masking tape.
All of these items become of vital importance and the drama of the film gripping as it rides up and down between hopes of being able to reach and/or deploy these things and then seeing the possibility snatched out of the protagonist's hands in some way. Even a ladder that gets placed down the side of the pool by the two people come to retrieve their drone is whisked away just when Theeradej Wongpuapan sees the possibility to climb out.
Director Ping Lumprapleng creates suspense with sometimes unbearable tension – like when Theeradej Wongpuapan has to reach into the sleeping crocodile's mouth to retrieve the roll of masking tape. There is a gripping climactic scene where a wounded Theeradej Wongpuapan takes on the crocodile in hand-to-hand combat at the same time as trying to save Ratnamon Ratchiratham from drowning in the culvert. The crocodile effects, all delivered by CGI, are extremely convincing.
---
Trailer here
---