aka Ouija 3: The Charlie Charlie Challenge
---
Crew
Director/Story – Derek Presley, Screenplay – Cody Berry & Tom Zembrod, Producers – Todd Jenkins, Israel Luna & Tom Zembrod, Photography – Michael John Marcinik, Music – Israel Luna, Animation – David Riddle, Special Effects – Wheeler FX (Supervisor – Tom Zembrod), Makeup Effects – Andrew Arrasmith & Shelly Denning, Production Design – Nathan Dale. Production Company – La Luna Entertainment/ITN Distribution.
Cast
Tom Zembrod (Gene the Ringmaster), Mason Dauti (Charlie), Abby Joy (Ryder Allen), Aaron Green (Skeeter), Marissa Chibli (Sarah), Amanda Knapic (Gina), Dillon Vineyard (Pete), Todd Jenkins (Paulie), Cliff McClellan (Jerry the Clown), Cody Berry (Stanley), Charlie Parker (Gwen), Jessica Willis (Rachel)
---
Plot
Gene 'The Ringmaster' runs Hangman's House of Horrors but this Halloween his business have been suffering from lack of customers, while his staff are demanding to be paid. On the news, Gene comes across an item about Ryder Allen and how two of her college roommates were supposedly killed after playing the game Charlie Charlie in which they evoke the entity known as Charlie with a series of oracular questions. He decides to capitalise on this by promoting the House of Horrors as a place to come and play Charlie Charlie. A group of friends sign in to play but soon after they start the game, something appears to be moving through the facility killing people.
---
Charlie Charlie was the first full-length film from Derek Presley. He had previously co-directed the fantastical The Wayside (2008) and the non-genre Sheltered (2015) and subsequent to this went on to make Cronus (2017). The film is co-produced by Israel Luna, director of Ticked-Off Trannies With Knives (2010) and Fright Flick (2011).
The film was inspired by so-called Charlie Charlie game. This originated in Spain as an innocent schoolyard game Juego de la Lapicera (The Pencil Game) in which two pencils are balanced atop each other and divinatory questions asked. In 2015, this was reported in a tabloid tv news item in the Dominican Republic, where the report embellished the game's supposed occult overtones. As a result of this, the hashtag #charliecharlichallenge was retweeted over 1.5 million times on Twitter. (Somewhere in the midst of this came the belief that the game emerged from Mexican traditions). A satirical news website reported that some 500 teenagers around the world had been killed playing the game and this was picked up by a number of news sites as though it was real and started to cause a minor panic for about five minutes.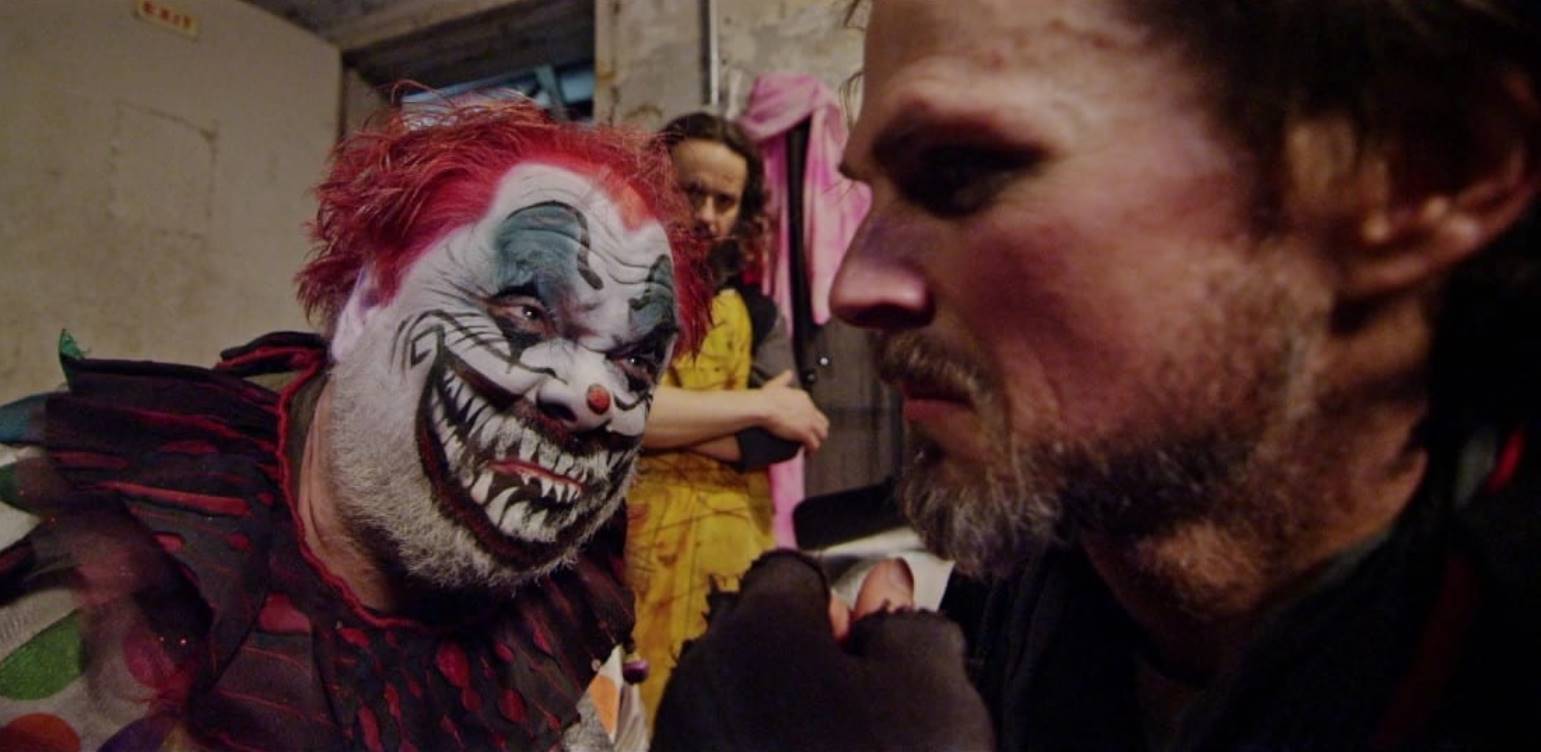 This is one of two films that sought to exploit the phenomenon. Charlie Charlie should not be confused with the identically-titled but better-budgeted, subsequently released Charlie Charlie (2017) also about a bunch of teenagers being killed by a demonic force. This may well be why this Charlie Charlie was retitled Ouija 3: The Charlie Charlie Challenge in some releases in an attempt to make us think that it is a sequel to Blumhouse's series of films Ouija (2014) and Ouija: Origin of Evil (2016). Even more confusingly, producer Israel Luna has released his own series of films with The Ouija Experiment (2013) and The Ouija Experiment 2: Theatre of Death (2017), although this is unrelated to either of those.
Charlie Charlie ends up being the lamest possible spinning out of what is already a thin idea. The setting is supposedly a Halloween haunted house – we have had several films set around such as a venue before with The Funhouse (1981), 6 Degrees of Hell (2012), The Bates Haunting (2012), The Houses October Built (2014), Hell Fest (2018) and Haunt (2019). However, the film has made minimal effort to dress the sets up with any atmosphere. A bunch of unlikeable twentysomething characters wander around but the film fails to deliver anything scary. The manifestations we get – a man dressed like a horrendous caricature of a Mexican, which heads into some very dubious racial territory, and a fat possessed clown – are feeble. What seems even less threatening is the fact that the main menace seems to be nothing more than a few wisps of green mist.
One of the worst aspects of the film is the performance from co-writer, co-producer and special effects supervisor Tom Zembrod who plays the director of the House of Horrors and gives a bizarrely over-the-top performance that is fascinating to watch in its awfulness.
---
---