---
Crew
Director/Screenplay – Tyler Perry, Producers – Will Areu, Ozzie Areu, Tyler Perry & Mark E. Swinton, Photography – Richard Vialet, Music – Philip White, Visual Effects – 4 Max Post Entertainment (Senior Supervisor – David Carriker), Special Effects Supervisor – Bruce E. Merlin, Prosthetics Design – Wesley Wofford, Production Design – Pau Wonsek. Production Company – Tyler Perry Studios/Lionsgate/T1 Film (Hong Kong) Limited.
Cast
Tyler Perry (Madea/Brian/Joe), Cassi Davis (Aunt Bam), Patrice Lovely (Hattie), Diamond White (Tiffany), Yousef Erakat (Jonathan), Taja V. Simpson (Debrah), Inanna Sarkis (Gabriella), Lexy Panterra (Leah), Tito Ortiz (Victor), Akende Munalula (Calvin), Andre Hall (Quinton), Brock O'Hurn (Horse), Hannah Stocking (Anna), Mike Tornabene (Dino), J.C. Caylen (Mikey), Alex Wassabi (Allen), Barry Stoltze (Sheriff)
---
Plot
Halloween approaches and it is Brian's daughter Tiffany's eighteenth birthday. He is upset when she is not interested in the party he has put on, even though everyone tells him is the same party he has been throwing since she was five. Brian is also upset that his ex Debrah gives Tiffany a new car as a present. Tiffany immediately drives off to visit the Upsilon Theta fraternity and hook up with Jonathan, the guy she met last Halloween. He invites her to a party at up Lake Derrick that evening. Debrah helps Tiffany to go to the party by telling Brian that she is coming to stay with her. However, Madea overhears them and informs the others who all react in outrage because the lake was where a bunch of partying teens were murdered. As the party begins, Madea, Joe, Bam and Hattie set out to drive up to the lake, Meanwhile, the partygoers are terrorised by the appearance of chainsaw wielding maniacs and a ghostly girl.
---
Tyler Perry has become one of the top African-American creative talents in the world. Perry first appeared with the self-written/produced/performed play I Know I've Been Changed (1998). The role that Perry has become most associated with is Mabel 'Madea' Simmons, the foul-mouthed, gun-toting Black woman with attitude (a role Perry claimed to base on his own mother). Perry first premiered Madea in the play I Can Do Bad All By Myself (1999) and these spilled over onto film beginning with Diary of a Mad Black Woman (2005) – this is the ninth of the films. Perry's star has grown through these and he has played in other comedy films as well as several serious dramatic films.
This was the second of Tyler Perry's Boo! films. The first Boo! A Madea Halloween (2016) was centred around Madea (played by Perry) and friends/relatives and Brian (also played by Perry) and his attempts to control his teenage daughter Diamond White after she goes off to a fraternity Halloween party. There were a few fitful horror related gags but Perry did not seem interested in the horror content. The film was sufficient success that it generated this sequel.
I have to say I don't find Tyler Perry's films that funny. It may be that I am not African-American so I am not part of the intended audience they are clearly made for. Tyler Perry is certainly an accomplished performer – you admire him for the chameleon-like change he makes between roles. On the other hand, I think other performers who take on multiple roles in films such as Peter Sellers, Alec Guinness and Eddie Murphy did this sort of thing far better.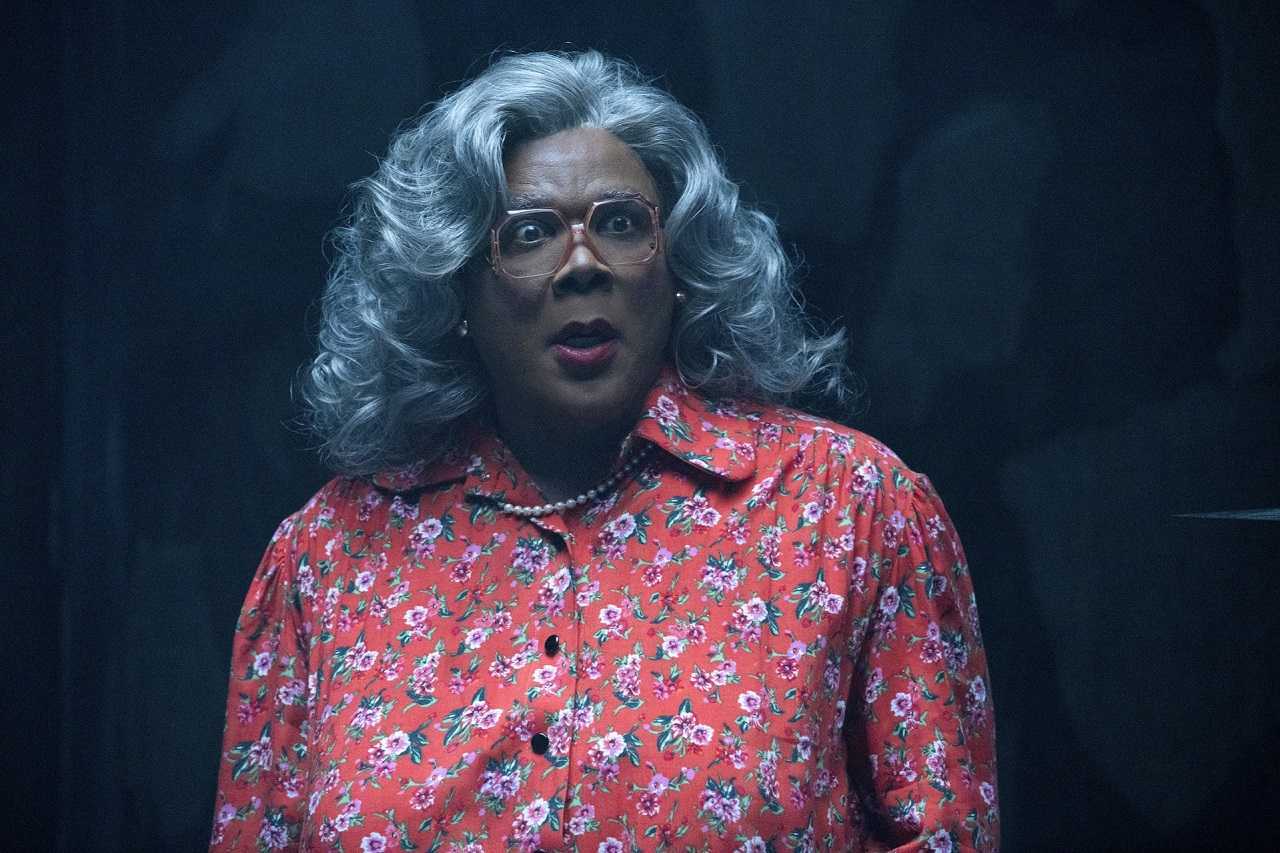 More to the point, two films in – and that's not even touching Perry's non-genre Madea films – and I am sick of the same jokes about Madea as a fugitive, Joe threatening to beat women and being a pimp, and Brian squirming as he attempts to parent in his ineffectual milquetoast way. More to the point, Madea, Joe, Bam and Hattie are allowed to take up more than half the film. It is 37 minutes before we even get to the lake, which is spent with their antics sitting around the birthday party. I mean, I suppose that is what audiences have come for but you also feel that the Halloween part of the film comes well after the Madea (and relatives) part.
Certainly, Boo! 2 is more of an actual horror film than Boo! was. In the first film, Perry seems disinterested in engaging with the horror element in any way, before opting for a mundane resolution. Here Perry takes us to a lake that was the site of a series of murders (shades of the 80s slasher film). There he has various horror tropes running around – a girl in a white dress with hair all over her face a la Sadako in Ring (1998) and sequels, as well as a chainsaw wielding maniac – in between long interludes cutting back to Madea and co and Diamond White as Brian's daughter.
What I would accuse Tyler Perry of doing is making a horror film while being indifferent to the horror genre. He borrows its tropes but is not interested in doing anything with them. Rather what his Boo! films are about is characters reacting to the appearances of various horror tropes (which is something quite different to an actual horror film).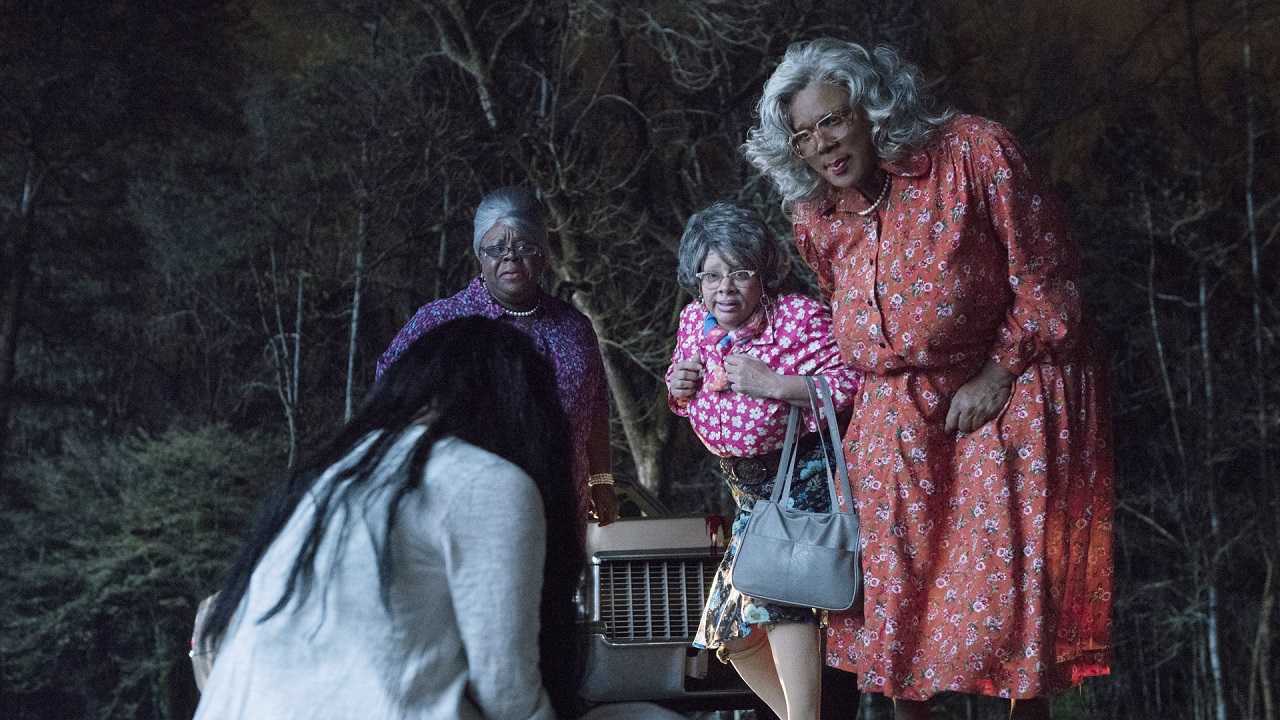 Perry's lack of interest in the horror genre is never more clearly demonstrated than at the end where he does a big twist on us all and [PLOT SPOILERS] reveals that all of the supposed haunting at the lake has been set up by Brian to teach daughter Diamond White a lesson about going off on her own and lying to him. Now if I was Brian's child I would almightily pissed off at the idea of a parent staging attacks by chainsaw-wielding maniacs while I am trying to enjoy a party just to teach me some kind of life-lesson. This does however demonstrate Tyler Perry's disinterest in the horror genre. In his Boo! films, Perry bizarrely enough regards the horror genre only as a platform to stand on and give faux lectures to a fictitious daughter about proper child rearing. (Perry by the way only became a parent in 2014 and his daughter would have been three at the time Boo! 2 was made – in other words, he has no teenage daughter of his own despite making two films in which he remonstrates audiences about how to raise them).
Not to mention the possibility of such a prank going wrong – what if just one of the numerous people present was armed or the group decided to fight back and tackle the maniac? Not to mention when partygoers are all jailed, Tito Ortiz turns to the local sheriff and tells him to let all the others out except for handsome chick magnet Brock O'Hurn. I don't know that much about smalltown American sheriffs but I think most of them would burst into laughter at the idea of a civilian dictating bail conditions to them.
The other question is if all the ghostly girls and maniacs are a set-up, when did Brian actually organise it? He goes to meet Tiffany when she gets off school, which is usually about 3 pm in the US. She runs off in her new car and then comes back to the party so there's is probably another 1-2 hours spend doing that. It is still daylight when they leave for the lake. I can only hazard a guess that it might take anywhere between a half to two hours to drive up to the lake. It is dark by the time the party at the lake is underway. So maybe Brian has between 4-5 pm after Tiffany leaves and around 7-9 pm when it gets dark to convince a group of performers to pull off a stunt where they appear as maniacs, obtain all the requisite costuming and props and rehearse their roles, not to mention scope out the area for the best places to do all of this, including obtaining the use of a spooky looking house near the party site. Quite a feat to accomplish.
---
---