---
Crew
Director – Christopher Douglas-Olen Ray, Screenplay – James Cullen Bressack & Zack Ward, Story – Sean Sellars, Producers – James Cullen Bressack, Christopher Ray & Gerald Webb, Photography – Alexander Yellen, Music – Adam Oliver, Visual Effects Supervisor – Joseph J. Lawson, Special Effects Supervisor – Vincent Guastini, Production Design – Fernando Valdes. Production Company – Deinstitutionalized, LLC/End of the Rose, LLC.
Cast
Jonathan Lipnicki (Scott), Tim Abell (Balthazar Kane), Victoria Konefal (Tracy), Ted Monte (Big Ed), Mark Christopher Lawrence (Billy), Cameron Jebo (Greg), Erin Micklow (Roxie), Nicole Fox (Carrie), Sinjin Rosa (Jake), Kevin Yarbrough (Detective Lemar), Richard Moll (Pale Man), Bill Voorhees (The Clown), Paul Logan (Valentine)
---
Plot
Eight horror fans – ranging from a memorabilia store owner to a Goth and a former Scream Queen – are offered the opportunity to win $250,000 if they come to Circus Kane. This is the house of Balthazar Kane, a famous magician who ran a circus of freaks. The eight are led into the house – only to find that it contains a series of death traps.
---
Christopher Douglas-Olen Ray (sometimes credited as just Christopher Ray) is the son of prolific B-budget director Fred Olen Ray. Christopher has become a regular director of low-budget films with the likes of Reptisaurus (2009), Megaconda (2010), Mega Shark vs. Crocosaurus (2010), Almighty Thor (2011), Shark Week (2012), 2-Headed Shark Attack (2012), Asteroid vs. Earth (2014), A House is Not a Home (2015), Mega Shark vs Kolossus (2015) and 3 Headed Shark Attack (2015). Christopher pays homage to his father's body of work here – Ted Monte goes through the film wearing a t-shirt for one of Fred Olen Ray's most famous films Hollywood Chainsaw Hookers (1988).
Circus Kane feels like Christopher Douglas-Olen Ray is trying to make a wannabe Rob Zombie film. The psychotic figures covered in cracked clown makeup look exactly like Sid Haig in House of 1000 Corpses (2003) or Richard Brake in 31 (2016). The plot of a group of people trapped in a labyrinth of death traps where the prize is their own survival is fairly much lifted from either House of 1000 Corpses or 31. Although it would be fair to say that the plot of a group of people being offered money to enter the house just as equally comes from House on Haunted Hill (1959) and/or its remake House on Haunted Hill (1999).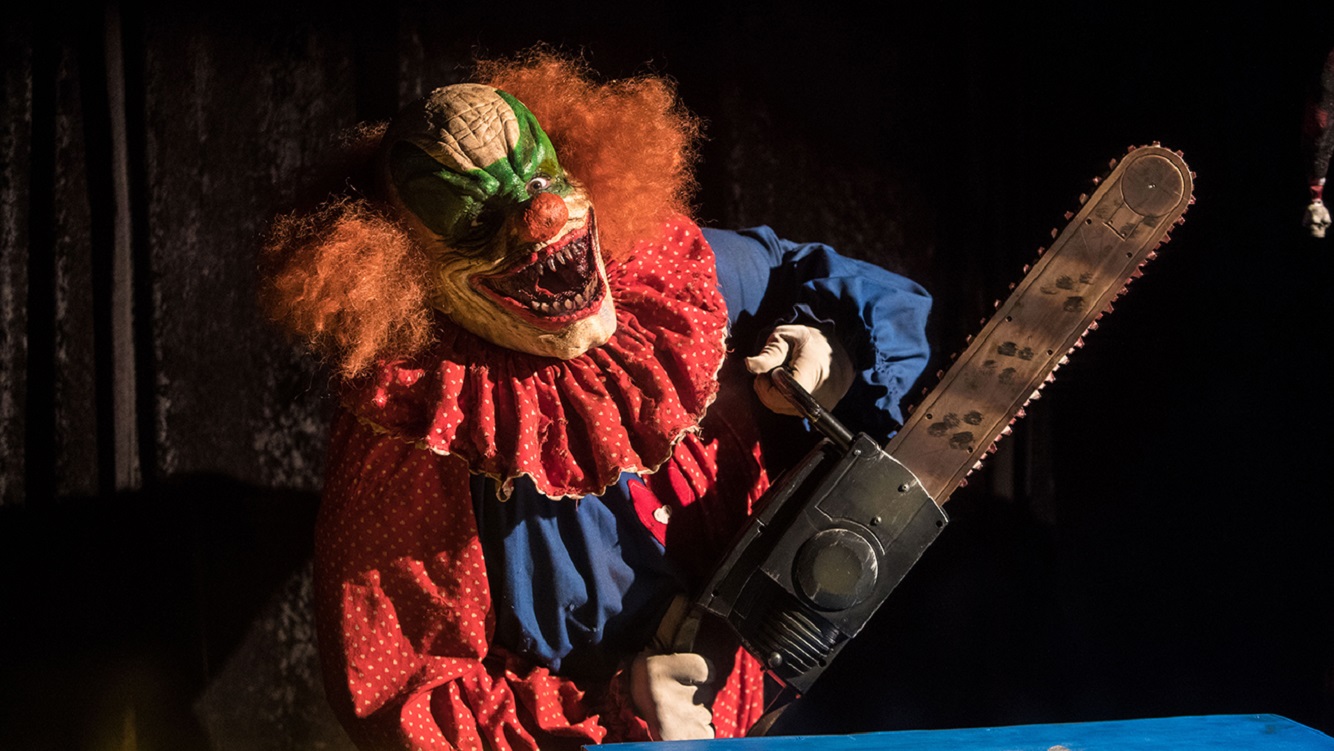 Most of Christopher Douglas-Olen Ray's other works have been made with The Asylum. Here he has teamed up with two independent production companies. This has unfortunately meant that even the penny-pinched budgets that The Asylum usually operate with are not available to him. As a result, the sets for Kane's house, which should have been a freakish highlight, look like a high-school attempt to produce a haunted house ride. For all its promising that we are going through the ultimate carnival ride, the film is utterly without atmosphere or anything in the way of horrific impact. The film also arrives at a twist ending that makes no sense.
The cast are almost all unknowns, although Ray gets in a cameos from Richard Moll who looks positively cadaverous in a single scene appearance as the butler of the house. The strangest name present is Jonathan Lipnicki, once the cute kid in films like Jerry Maguire (1996), Stuart Little (1999) and The Little Vampire (2000), now all grown up, and who clearly hasn't had much of a career since then.
---
---