---
USA. 2010.
Crew
Director/Screenplay/Music Supervisor – Israel Luna, Producers – Whitney Blake & Toni Miller, Photography – Jamie Moreno, Visual Effects Supervisor/Special Effects – Tom Zembrod, Makeup Effects – Josh Fread, Set Design – Pebbles Nugent & Chase Wade. Production Company – La Luna Entertainment/Toucan Productions.
Cast
Krystal Summers (Bubbles Cliquot), Kelexis Davenport (Pinky La'Trimm), Willam Belli (Rachel Slurr), Jenna Skyy (Tipper Sommore), Erica Andrews (Emma Grashun), Thomas Zembrod (Boner), Richard Curtin (Fergus/Prudence), Kenny Ochoa (Nacho), Gerardo Davila (Chuey), Chase Wade (Nurse Connie Lingus), Todd Jenkins (Dr Phil Laccio)
---
Plot
Transvestite dancer Bubbles Cliquot turns up to the club where she performs sporting a black eye. Afterwards, two of the other girls, Rachel Slurr and Emma Grashun, make a hot date with two guys. The guys want a third girl for their friend and so Rachel and Emma trick Bubbles into coming along. However, this turns to be a set-up by Boner, the redneck who raped and beat Bubbles after discovering that she was a guy. Boner and friends now plan to kill Bubbles. However, she is saved as the other girls from the club come to the rescue, although the effort leaves two of the girls dead and Bubbles placed in a coma. She makes a recovery some months later. However, Boner has been stalking Bubbles and now breaks into her apartment, planning to kill her. What he has not taken into account is that the trannies have undergone self-defence training and now turn the tables on Boner and his friends.
---
Ticked-Off Trannies With Knives was the third film from Dallas, Texas based independent filmmaker Israel Luna. Luna first made the horror film Is Anybody There? (2002) and went onto non-genre works such as The Deadbeat Club (2004), a portrait of aimless smalltown youths that Luna based on his own childhood, and R U Invited? (2006) about a gay gangbang, before returning to horror with Fright Flick (2011), The Ouija Experiment (2011), The Ouija Experiment 2: Theatre of Pain (2014), Dead Don't Die in Dallas (2019) and Ouija Warehouse (2021), while he has also produced Charlie Charlie (2016).
With Ticked-Off Trannies With Knives, Israel Luna was clearly hoping to gain attention with a tongue-in-cheek genre mash-up title – it reminds of one of the outrageous titles that Troma Films used to come up with – Surf Nazis Must Die (1987), Chopper Chicks in Zombietown (1991), Poultrygeist: Night of the Chicken Dead (2006) etc. In bald premise, Ticked-Off Trannies With Knives has been construed as a variation on women-take-revenge films such as Thelma and Louise (1991), Dirty Weekend (1992), Baise-Moi (2000) and Enough (2002) by way of The Adventures of Priscilla, Queen of the Desert (1994).
Ticked-Off Trannies is made on a low budget, nevertheless is slickly put together and in particular edited. Some of the fight scenes look unconvincing and amateurish but are made up by the clear enthusiasm of those enacting them, most notably once Kelexis Davenport wades into action. Maybe we could have done without the effects that Israel Luna has clearly borrowed from Grindhouse (2007) – see Death Proof (2007) and Planet Terror (2007) – of the film frequently being scratched or with the reel countdown numbers showing, which in the last few years have become cliche. Later when Luna borrows Grindhouse's Missing Reels gag – as an ultra-low-budget way of not showing an assault sequence or an amazing martial arts move that is only described – the effect is one that seems overdone by the very act of repetition.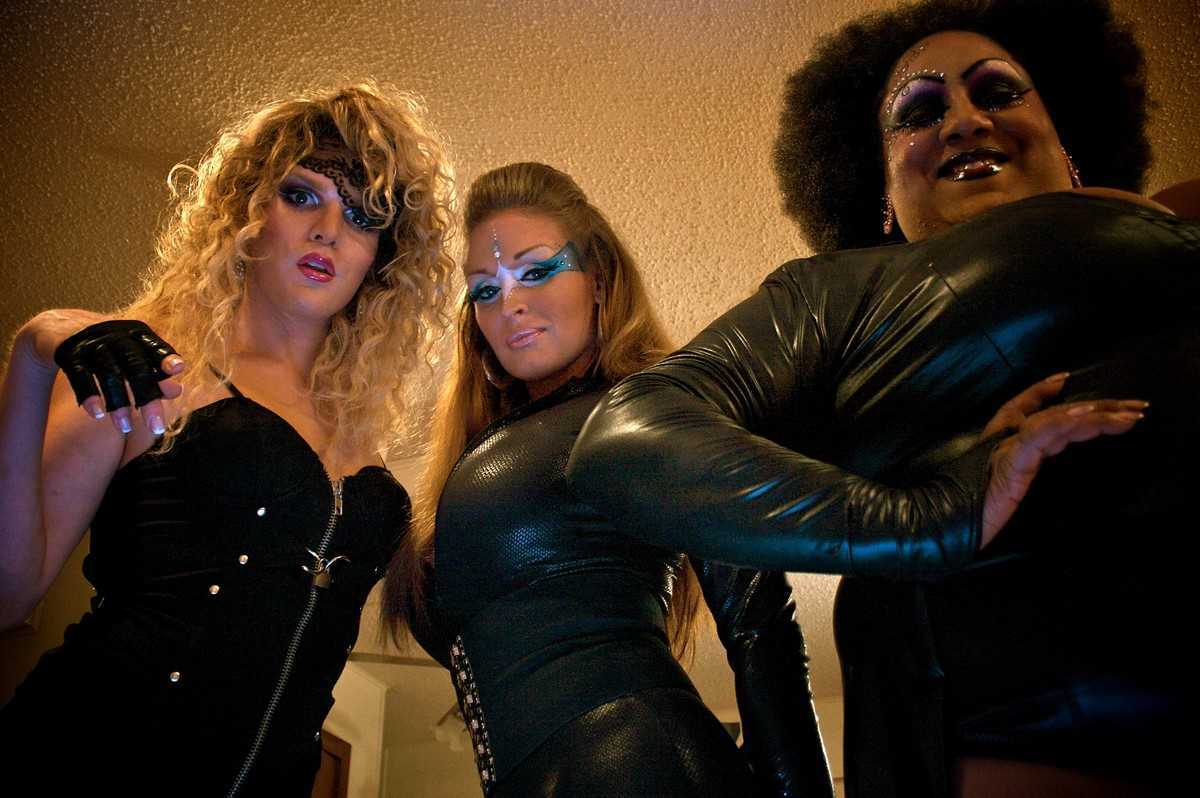 Ticked-Off Trannies With Knives has a very effective thrust – showing us the lives of the trannies, then letting us see them abused by rednecks, followed by an ending where the trannies turn the tables and take revenge. Not much different from the arc employed by the abovementioned women-get-revenge films. The lives of the trannies are shown with surprising sympathy. All of the trannies give fine performances – they are clearly in character and having an absolute ball playing their parts for all they can. Especially good are Willam Belli and in particular Kelexis Davenport whose heading into action to kick ass is a miracle to behold. Israel Luna has a clear affection for the world that the trannies live in and the film is frequently at its best when he gives them centre stage and the sometimes surprisingly heartfelt opportunity to talk about their lives, feelings and identities. During the backstage scenes or those at the bar, their mutual personas positively shine. It is this that, despite the film's clear tongue-in-cheek trash title, allows some emotional investment in the characters when they start being brutalised by the rednecks.
On the other hand, there are moments where the surprisingly seriously established world is allowed to slide into camp. One is a scene at the hospital where we encounter a nurse named Connie Lingus who comes in in a uniform more suited to an erotic ball than a hospital and an equally flirtatious doctor named Phil Laccio. This is a campy scene that feels like it does not belong in an otherwise relatively serious film. Another is the character of Richard Curtin's Fergus and his OTT gayed-up version of a martial arts master as he takes the girls, decked out in kimonos and traditional geisha makeup, into the countryside for an ultra-silly parody of a martial training sequence. Along with the gags about Krystal Summers' waking up with a lisp, these are scenes that could have easily have ended on the cutting room floor.
The best part of the film is the last third when the three thugs break in to Krystal Summers' apartment to take revenge. This section has a superb performance from Thomas Zembrod (also the film's special effects man and stunt coordinator) as the lead redneck. The film's most captivating section is the chilling scene where he gets Krystal Summers to choose one of three playing cards and then gives a detailed description of the bodily damage that he is going to inflict on her with each choice, a scene that Zembrod plays with a disturbing conviction.
The film fully hits its stride and exercises its pulp muscle during the scenes when the trannies take revenge against the three rednecks. Israel Luna shies away from the full Torture Porn potential (and no doubt the more elaborate makeup effects) that some of this might have entailed regarding switchblades impaled up anuses and the slicing off of toenails. The film still manages to wade in a demented range of slit throats, a massive kris impaled in someone's heads and so on. The final section is a complete triumph in terms of the film's attitude, intended pulp kick and wilful exploitation title.
---
---