aka Mermaid's Curse; Mermaid's Song
---
Crew
Director – Nicholas Humphries, Screenplay – Bob Woolsey, Co-Written by Meagan Hotz, Story – Jessica Leigh Clark-Bojin, Lindsay Mann & Bob Woolsey, Producers – Darren Borrowman & Dylan Thomas Collingwood, Photography – Naim Sutherland, Music – Kim Oxlund, Red Heartbreaker & Maya Saxell, Visual Effects Supervisor – Amanda Roop, Special Effects Supervisor – Jon Funk, Makeup and Creature Supervisor – Sarah Elizabeth, Production Design – Jessica Leigh Clark-Bojin & Victoria Pearson. Production Company – Done Four Productions.
Cast
Katelyn Mager (Charlotte), Brendan Taylor (George), Iwan Rheon (Randall), Barbara Wallace (Gertrude), Jessie Fraser (Emily), Steve Bradley (Tim), Trevor Gemma (Harold), Natasha Quirke (Serena), Leala Selina (Beatrice), Casey Sandquist (Sophia), Stephanie Dyck (Harriet), Kallie Jean Sorenson (Patricia)
---
Plot
It is the American Dustbowl during the 1930s Depression. After her mother commits suicide, Charlotte grows up raised by her father George who runs a Little Mermaid-themed dance revue. They are struggling to make ends meet financially. George then receives an offer from Randall to keep the business afloat, even though others warn him to avoid involvement with Randall. This requires that the girls start taking their clothes off in their routines and that George start selling their services to clients. Harold, the heavy that Randall leaves to watch over things, then starts insisting that he break in the barely teenage Charlotte. Forced to comply, Charlotte instead ends up transforming into a creature in the bedroom and slashing Harold up. Charlotte's grandmother tries to tell her that she is half-mermaid and urges her to come away and return to her natural home in the sea. George responds by locking the grandmother in the attic. As Charlotte comes to learn her true nature and Randall returns making threats, Charlotte discovers she has a song that can affect people's minds.
---
Charlotte's Song is the second film for Nicholas Humphries who has made over thirty short films since 2006 (something that cannot help but read in directorial terms as an unwillingness to move beyond adolescence). Almost all of these fall into the horror genre. One of these, Night of the Living Dead Mexicans (2008), has gained a reasonable reputation. Humphries has also previously made a seven-minute short called The Little Mermaid (2011), which has a number of similarities and a good many of the same credits as Charlotte's Song. Humphries previously made his feature-length debut with the backwoods horror Death Do Us Part (2014) and subsequently went on to make the sf film Project Ithaca (2019). In his day job, Humphries teaches direction at the Vancouver Film School.
The way that Charlotte's Song was promoted in the Vancouver International Film Festival program guide – comparing it to tv's Carnivale (2003-5), which is about as much the case in that both are dark fantasies and set during the 1930s Depression era, or Pan's Labyrinth (2006), which seems miles apart in terms of richness of allegory and sophistication of ideas – makes it seem more promising than it ends up being.
Certainly, there is the germ of a good idea at the heart of Charlotte's Song – the idea of using Hans Christian Andersen's The Little Mermaid (1837) as an allegory for a young girl's sexual awakening. This places it into similar territory as Neil Jordan's The Company of Wolves (1984), the first of the dark modern fairytales, which reworked Little Red Riding Hood as an allegorical work about a young girl on the cusp of puberty. There is some potential to the film's playing out of its ideas between the girl's discovering of her true nature and the call to return to the environment where she belongs.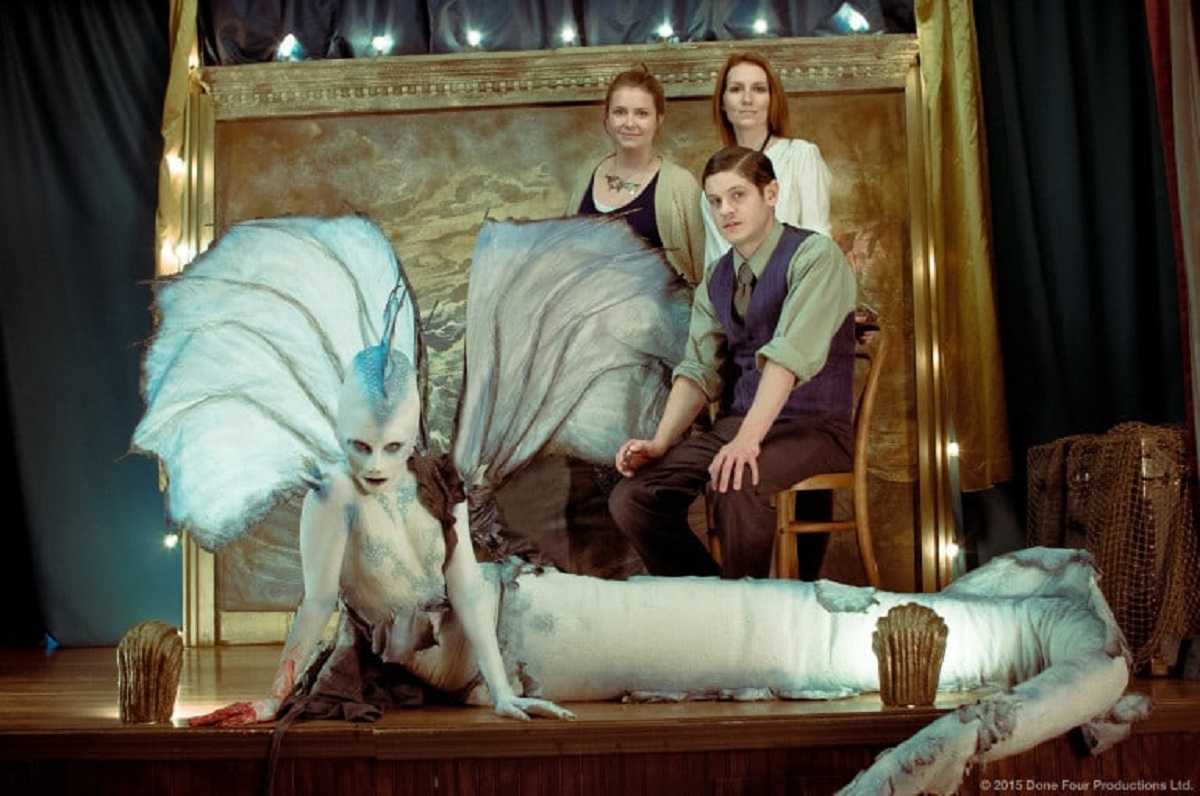 Around the same time as this was made, we saw several other films offering adult and modernised takes on The Little Mermaid, including Little Mermaid (2016) starring Rosie Mac as a mermaid who becomes a stripper and The Little Mermaid (2018), which also took place in a 1940s setting, although the strangest of these was the Polish film The Lure (2015) about mermaid sisters who become strippers. (For an overview of the mermaid film see Films About Merpeople),
That said, Charlotte's Song plays out in the most unimaginative ways. The script surrounds the central idea with a tired parade of backwater dealings, gangsters and moral compromises. While the film is technically competent and has done a fine job in creating the period on limited budget resources, it feels like it is handled by a director who has never had an original thought in his life and has merely copied all of his moves from watching movies made about the era. There are some good creature effects but there is a singular lack of anything not from the book of cliches.
A perfect example of this is the scene where the father complies and agrees to allow Trevor Gemma to break in the young Charlotte where all the scene offers is the shocked reactions of the people around her and then some transformation effects – where you feel that either the thought of being raped, not to mention the shock of finding oneself transforming into a fish creature, should have been conveyed with a lot more emotional impact that merely the display of some nifty effects and then shots of a slashed Trevor Gemma fleeing.
Even the cast, whose sole name of distinction is Iwan Rheon, the Welsh actor only known for playing a wild-eyed psychopath on tv's Game of Thrones (2011-9) and who gives the same one-note performance here, disappear into the scenery.
---
---