---
Crew
Director – Adam Massey, Screenplay – Jason Juravic, Producers – Jeff Sackman & Nicholas D. Tabarrok, Photography – Brendan Steacy, Music – Joseph Murray & Lodewijk Vos, Special Effects Supervisor – John McGillivray, Production Design – Elisa Sauve. Production Company – Darius Films.
Cast
Miranda Cosgrove (Rose Halshford), Donal Logue (Jerry Halshford), Austin Butler (Noah Henry), Jenessa Grant (Leila Markby), Tom Sizemore (Howard Markby), Michael Luckett (Marcus Garrison)
---
Plot
Twenty year-old Rose Halshford leaves Stanford University and goes to stay with her father in the new house he has brought. Rose has had mental health issues since the death of her mother but makes a decision not to take her pills. However, she soon begins to hear and see things in the house. She is certain that it is the ghost of the previous resident Rachel Garrison who mysteriously disappeared. She befriends Leila Markby, a girl her own age who lives next door. Leila's father Howard was suspected of Rachel's disappearance and as Rose delves into the disappearance, she accuses him anew. At the same time, Rose's father thinks that her obsession with something being in the house means that her mental health is falling apart again.
---
The Intruders was the second film for Canadian director Adam Massey who had earlier made A Lobster Tale (2006), a film about life in a small nowhere fishing town where Colm Meaney finds a moss with healing powers. Nine months after The Intruders, Massey also released Man Vs. (2015), a copy of a wilderness survival reality tv show about a man facing an alien monster.
The Intruders – not to be confused with the alien abduction tv mini-series Intruders (1992) or Juan Carlos Fresnadillo's boogeyman film Intruders (2011) with Clive Owen – did little to inspire me before watching. The ghost story theme that the film taps has been mined to death by medium and low-budget films in the last few years and is starting to feel as creatively exhausted as the zombie film has become. The Intruders at least offers seems to be aiming a little higher than most of its ilk. It also has the budget on hand to bring in moderately well-known names like Donal Logue and Tom Sizemore.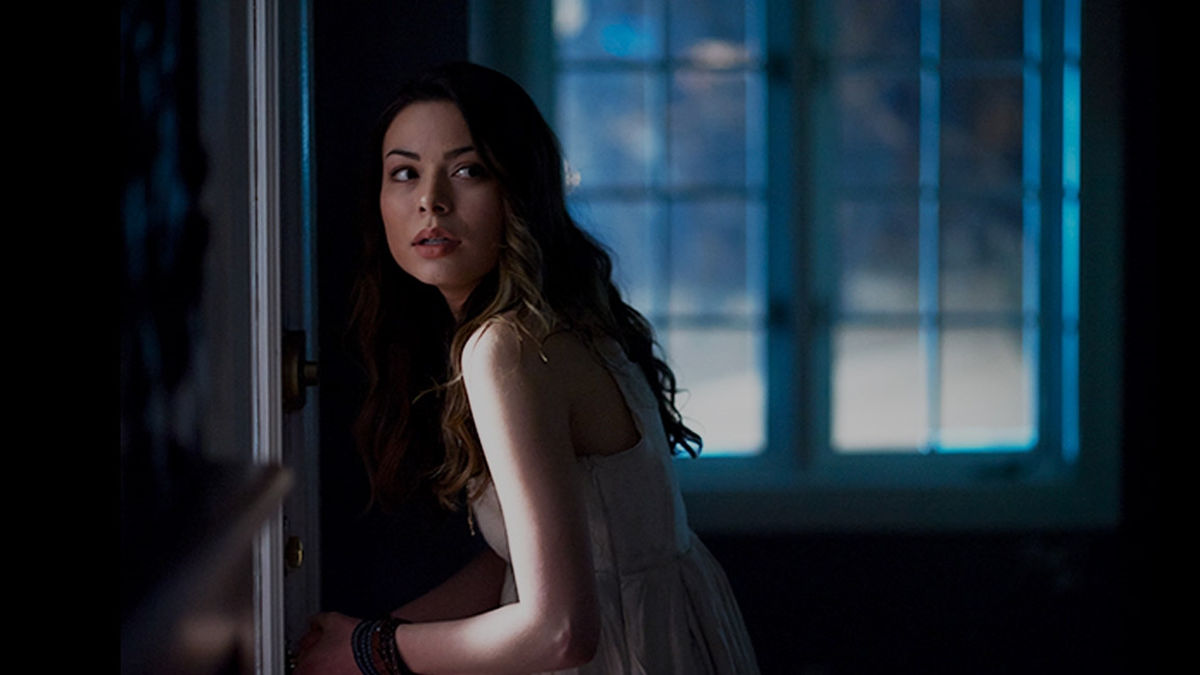 Not too unexpectedly, The Intruders transpires as true to form and traipses along highly unoriginal lines. There's the family who move into the house with a sinister past; the heroine with the history of mental instability who is immediately dismissed as having delusions by the men around her when she starts seeing things. Adam Massey goes through all the there again/gone again thing when she returns with a responsible adult and the entirely plausible set of alternate explanations that convince her that maybe it was all in her mind. At least, Miranda Cosgrove – previously the voice of one of the orphan girls in Despicable Me (2010) and sequels – is a likeable and sympathetic face in the part. Beyond that, the results are routine in every regard.
The only real surprise that the film has is that it turns out not to be the haunted house story we initially anticipate. [PLOT SPOILERS]. It joins a bunch of other films that came out around the same time, including The Pact (2012), Housebound (2014) and The Boy (2016), that reveal that what initially seems to be a haunted house film has a mundane explanation. In this case, it ties in to the film's backstory about the missing girls and the previous owner of the house, revealing that the son (Michael Luckett) has been abducting, imprisoning and killing the missing girls, and the ghostly appearances that Miranda has been seeing is him hiding in a secret room inside the house.
---
---