---
Crew
Director/Screenplay – Trevor Juras, Producers – Trevor Juras & Peter Kuplowsky, Photography – Othello J. Ubalde, Music – Tomas Jirku. Production Company – Master Caution Pictures/Low Sky Productions/Pink Donut Visuals.
Cast
Patrick McFadden (James), Andrew Hayes (Mr Vondas), Delphine Roussel (Doctor), Shaina Silver-Baird (Cindy), Ryan Austin (Roland), Lucas Mailing (Samuel), Hyun-Jin Kim (Juniper)
---
Plot
In Toronto, James is tired of working in advertising and the dullness of his life. Even after getting himself fired and taking another job cleaning ventilation ducts, he feels dissatisfied. And so he decides to pack up and go and live in the wilds. Camping in the woods, he begins to hear noises and believes that someone is playing strange games with him.
---
The Interior was a debut feature for Canadian filmmaker Trevor Juras. Before watching, I found it a difficult film to try and get a handle on. I had seen it reviewed and labelled as horror but all of the commentators were frustratingly vague about what sort of horror elements were in the film. Even some way into watching the film, I still felt unsure whether it was one I was going to write up. Even when the film did eventually coalesce in genre directions towards the end, I still felt unable to clearly put a finger on and identify the type of horror film it was. Part of this is the fact that it is made as an indie film rather than as a horror film, thus the sensibilities are more towards a certain type of experimental arts/student filmmaking than they are to genre-watchers.
The first half of the film succeeds in engaging one's interest. Trevor Juras does a rather amusing job in depicting the boredom of Patrick McFadden's life – the tedium-inducing mundanity of his advertising job and idiot boss, his attempts to get a new job or to split up with girlfriend Shaina Silver-Baird. Juras doesn't aim for laugh-out-loud moments, rather his camera sits at an oblique distance and mutedly observes the situation, leaving you unsure whether you should be laughing or not.
The second half is an abrupt change where we now see Patrick McFadden out of Toronto and (over half the Canadian continent away) in the wilds of British Columbia. The Interior of the title would seem to refer as much to the central character's mental state as the name that is given to the inland area of British Columbia by locals (while it is never specified where the film is taking place, location shooting was on Salt Spring Island off to the west of the BC coastline. Although it should be pointed out that geographically The Interior refers to the inland parts of province to the north and east of Vancouver).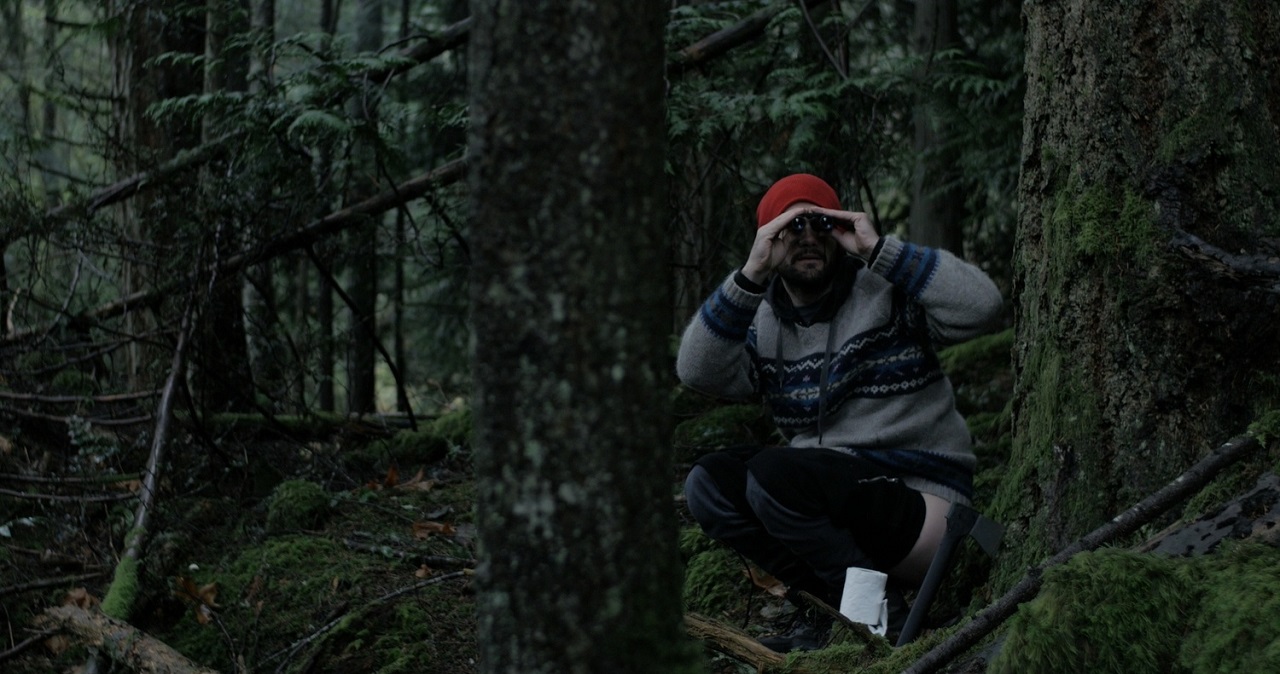 In these sections, the dry oblique humour of the first half is gone and we follow a now-bearded and almost unrecognisable Patrick McFadden as he camps in the wild. There he encounters someone or thing that seems to be taunting him – leaving his lamp switched on for him to find in the woods, pressing against the cloth of his tent as he sleeps, the elusive figure of a man in a red coat he keeps seeing at a distance.
Everything here is vague, none the more so when it comes to the climax where the dead body falls into the tent and McFadden runs through the forest pursued by something (that possibly only exists in his head). It is frustrating as while it apes the notion of the horror film, none of this section gives an audience any clue as to what it is that he is facing, or if even it is all something he is imagining.
This is a film where the filmmakers' wilful enigma and crypticism kills off what seems an otherwise promising film. In an interview, Trevor Juras admitted that he had about as much clue what is going on as the audience does. To which one would respond that it would seem clear that what he actually had was an unfinished script and needed to sit down and think more about what was going on as the only thing he succeeds in communicating to everybody watching is confusion.
---
---