---
Canada. 2015.
Crew
Director/Screenplay – Gabriel Carrer, Producers – Ry Barrett, Christian Burgess, Andrew Bussey, Martin Buroza, Gabriel Carrer, Duane Frey & Angus McLellan, Photography – Martin Buroza, Music – Glen Nicholls, Visual Effects Supervisor – Andrew Bussey, Special Effects Supervisor – Jeff Derushie, Makeup Effects – Dera Veinot, Production Design – Vincent Moksowec. Production Company – Latefox Pictures.
Cast
Ry Barrett (Bruce), Tianni Nori (Samantha), Jessica Varno (Marie), Duncan McLellan (Kent Barely), Gerritt Sepers (Righteous Musk), Bruce Turner (Allen Menace), Rich Piatowski (The Client)
---
Plot
Bruce is a cable repairman whose wife Samantha, a police officer, was shot and has been left wheelchair-ridden during an attempt to apprehend a Satanist cult. Bruce now dons riot gear and goes out into the streets, stalking and brutally beating anybody wearing the markings of the Mandrill gang. During an installation, he snaps and strangles a client he thinks is insulting his wife. Next, he finds that young Marie has taken a pendant he has lost and pursues her through the streets, determined to kill her.
---
The Demolisher was the fifth feature film for Canadian director Gabriel Carrer. He has previously made Desperate Souls (2005), If a Tree Falls (2010), Kill (2011) and In the House of Flies (2012), and the subsequent Death at Scenic Drive (2019) and For the Sake of Vicious (2020). None of these gives the appearance of having attained widespread release.
It was difficult to know how to take The Demolisher. The program guide for the Vancouver International Film Festival, where it was screening, alikened it to Drive (2011) and the works of John Carpenter and Walter Hill. The expectation was of a gritty-edged revenge thriller that came with oodles of style and tension or else redefined the genre. You expected something of a modern Death Wish (1974) or, given the poster image we get of Ry Barrett in riot gear, perhaps something like The Exterminator (1980) or even PsychoCop (1989). The title makes it feel like one of the 1980s action movie that came out in the aftermath of The Terminator (1984).
It is still difficult to get a fix as the film opens. Gabriel Carrer's style is visually sparse. Carrer contrasts scenes of Ry Barrett beating members of a gang on the street dressed in full police riot gear with those of him tending his wheelchair-ridden wife Tianni Nori, a police officer who we learn was wounded in the course of duty while improbably attempting to single-handedly stop a Satanist sacrifice (as though this is something you regularly come across in the course of patrol duties). This is interspersed with a B-plot about young Jessica Varno who acts as live-in homecare for her cousin(?)'s son – but these scenes are too brief to work out what is going on.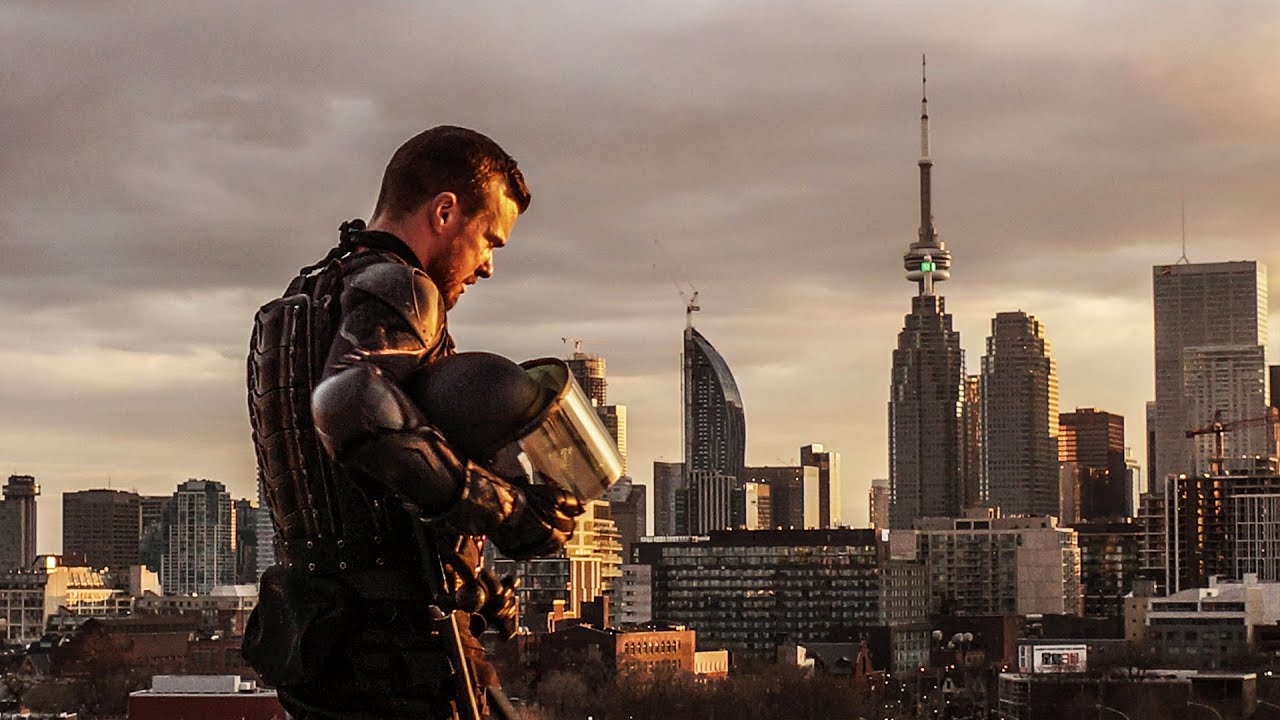 Things take a turn for the disturbing when we see Ry Barrett strangling a client (Rich Piatowski) to death after thinking he hears the man say that he has a horrible wife (or more likely 'horrible wifi'). This gives the film an undeniable jolt. It breaks it out of the assumption that Ry Barrett is a just avenger, enacting a personal vendetta for something horrible that was done to his loved ones, and into a realm where the avenger's actions are clearly mentally unbalanced. In other words, we have gone from Death Wish/The Punisher to now being in the realm of Abel Ferrara's The Driller Killer (1979). (Although, if anything, what you are reminded of is Ferrara's Ms. 45/Angel of Vengeance (1980), which concerned a rape victim who started targeting abusers but, as soon became apparent, was unbalanced and randomly killing all men).
The first half of The Demolisher has some interesting ambiguity – you are not quite sure where Ry Barrett is coming from and his home situation creates some interesting questions – but the latter half abandons all of this to become a far more routine psycho film. The bulk of this is taking up with Ry Barrett pursuing Jessica Varno through the streets, the hallways of some facility and then to the garage of a biker gang that appear out of the blue and just rescue her, all because she bought a locket that was picked up after he left it behind in a cinema. (We are never told the significance of the locket). What I did like about these scenes is that Gabriel Carrer draws it out into a directorially intensive chase sequence and delivers reasonable tension and impact. On the other hand, despite expectations of another Drive and Death Wish, that this is the only plotline the film eventually has to offer comes as a disappointment.
---
---