---
Crew
Director – Bruce McDonald, Screenplay – Pascal Trottier, Producers – Paul Lenart & Frank Siracusa, Photography – Norayr Kasper, Music – Todor Kobakov & Ian Lefeuvre, Visual Effects – Mr. X Inc. (Supervisor – Dominic Remane) & Technicolor Toronto (Supervisor – Kate McColeman), Special Effects Supervisor – Brock Joliffe, Prosthetic Supervisor – Trason Fernandes, Production Design – Andrew Berry. Production Company – Whizbang Films/Storyteller Pictures/Telefilm Canada/Ontario Media Development Corporation/The Movie Network/Movie Central/Bell Fund.
Cast
Chloe Rose (Dora Vogel), Robert Patrick (Officer Corman), Rachel Wilson (Kate Vogel), Rossif Sutherland (Dr Gabe Henry), Peter Dacunha (Remi Vogel), Luce Bilyk (Jace), Joe Silvaggio (Baghead), Emir Mokhtarieh (Buckethead), Adelaide Humphreys (Lionhead)
---
Plot
It is Halloween. Sixteen-year-old Dora Vogel just receives news that she is pregnant. She makes the decision to stay in for the evening while her mother and younger brother go out trick-or-treating. She answers the door to trick-or-treating children wearing masks. After she gives them candy, the children return and invade the house, terrorising her and announcing that they want her baby.
---
Bruce McDonald is a Canadian director who has received a more than reasonable reputation internationally. McDonald first appeared with Roadkill (1989) and had a critical and festival hit with the hilariously surreal road movie Highway 61 (1991), followed by the equally acclaimed Hard Core Logo (1996) about a washed-up punk band. McDonald has alternated tv work with films such as Dance Me Outside (1994), Picture Claire (2001), The Tracey Fragments (2007), This Movie is Broken (2010), Trigger (2010) and The Husband (2013). He made a return to genre material with the excellent horror film Pontypool (2008), his best reviewed work of the 2000s, as well as Hard Core Logo 2 (2010), which does feature some fantastic elements with a singer possessed by the spirit of the former film's dead star, and Dreamland (2019), a crime film that also features a vampire.
Any film that features the director of Pontypool returning to the horror genre is one that should sit high on your list of anticipated watchings. That said, Hellions seemed to die an unseen death. Even in Canada where Bruce McDonald is regarded as one of the country's top talents, Hellions failed to achieve much recognition – the film, for instance, did not obtain a theatrical release outside of Toronto, although did do the rounds of some festivals including Sundance and TIFF.
The film plays out like a version of The Strangers (2008) where the masked stalkers have been replaced by evil children, possibly of supernatural provenance. There is a surprising degree of similarity between Hellions and Berkshire County (2014), a more low-budget also Canadian-made film that came out three months earlier with the same theme of a girl dealing with a home invasion on Halloween night.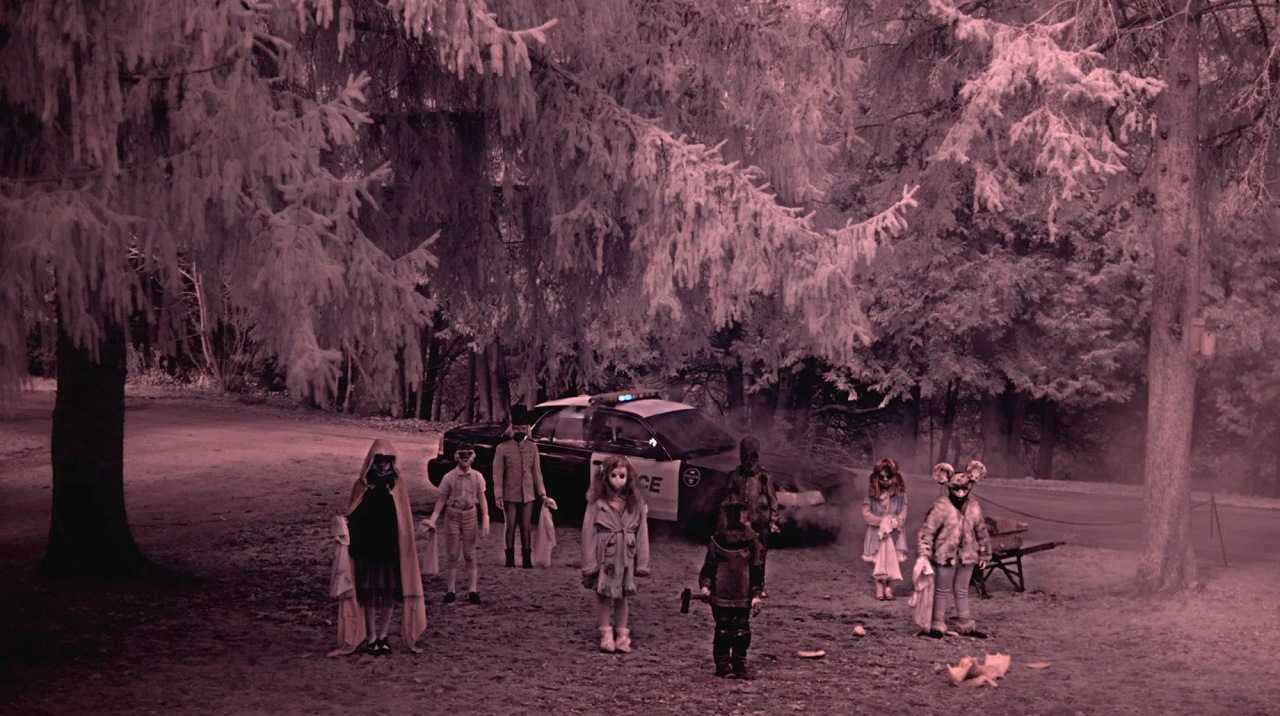 On paper, Hellions sounds like it has a foolproof premise – a young girl home alone on Halloween night is forced to deal with a horde of malevolent children determined to invade the house and snatch her unborn foetus. In synopsis, this sounds hard to get wrong; in practice though, it is often hard working out exactly what is going on in the film.
McDonald makes some stylistic choices that causes the film to go head-scratchingly sideways. One of these is that two-thirds of the film have been shot in a lighting scheme that suffuses everything in a colour that sits somewhere between mauve and pink. I cannot recall any other horror film where the entire lighting scheme was purple-pink. I have to equally say that when it comes to creating atmosphere in a film, this is a lighting scheme that may come close to killing the entire show.
I am sure also that on paper Hellions must have sounded like an excellent proposition – a horror film filled with scenes of scary tension and an eerie fairytale-like atmosphere as the children take the heroine away to a sinister purpose – but it is not one that McDonald does a great deal in conveying on screen where the dream scenes tend to slip over into what come across more as a leftover piece of 1970s acid-soaked directorial indulgence.
---
---