---
Crew
Director – Jeff Wadlow, Screenplay – Jeff Wadlow & Beau Bauman, Producer – Beau Bauman, Photography – Romeo Tirona, Music – Michael Wandmacher, Music Supervisor – Julianne Jordan, Visual Effects – CIS Hollywood (Supervisor – Julia Gaudette), Special Effects Supervisor – Andrew Carnwath, Prosthetic Effects – Captive Audience & Keith Vanderlaan, Production Design – Martina Buckley. Production Company – Hypnotic.
Cast
Julian Morris (Owen Matthews), Lindy Booth (Dodger Allen), Jon Bon Jovi (Rich Walker), Jared Padalecki (Tom), Sandra McCoy (Mercedes), Jesse Janzen (Randall Hodge), Paul James (Lewis), Kristy Wu (Regina), Ethan Cohn (Graham), Gary Cole (Charles Matthews), Anna Deavere Smith (Headmaster Tinsley), Michael Kennedy (Custodian)
---
Plot
British student Owen Matthews signs into the prestigious Westlake Preparatory Academy in the US, having been expelled from several schools in England. There he is befriended by Dodger Allen who invites him into a game called Wolf that is played among several of her student friends. In the game, one among the group is allowed to lie and the others must divert suspicion and accusation from themselves while finding the identity of the wolf. A girl has been found murdered near the school. Dodger comes up with the idea of playing Wolf with the whole school – of convincing them that there is a killer known as The Wolf who dresses in an orange ski mask and preys on campuses, slaughtering their way through the student body, and that the murdered girl was the first victim according to the killer's pattern. Owen sends this out in a bulk email and the rumour soon spreads around the school. It then appears that The Wolf is starting to kill members of their group. Owen and the others cannot be sure if it is someone within the group is doing this as part of the game or if in sending out the email they have alerted the real killer.
---
Cry Wolf is an effort that one entered into with zero expectations and a film that ended up surprising. Indeed, one came out calling Cry Wolf the exception to what would seem to be the tautological phrase of 'a good slasher film'. Cry Wolf was made independently. The cast, excepting rocker turned actor Jon Bon Jovi and a minor role from Gary Cole as Julian Morris's father, were all unknowns at the time, although Doug Liman, director of Swingers (1996), The Bourne Identity (2002) and Mr. and Mrs. Smith (2005) did sign on as executive producer.
The slasher film – in both its original variants and its modern antecedents – has never seemed to have ever been much more than a parade of novelty stalkings and killings, even when it comes to classics among the genre like Halloween (1978). What Jeff Wadlow and Beau Bauman contrive to do is add a clever and sharply observed plot to the mix as well. One might describe Cry Wolf as being a mix of The In Crowd (2000) with its preppie kids being slaughtered and of Gossip (2000) where students come up with the idea of fabricating a story to see how it spreads but with unexpected results, and more than a few nods to the slasher film as elaborate practical joke gag (or maybe not) that we saw in April Fool's Day (1986).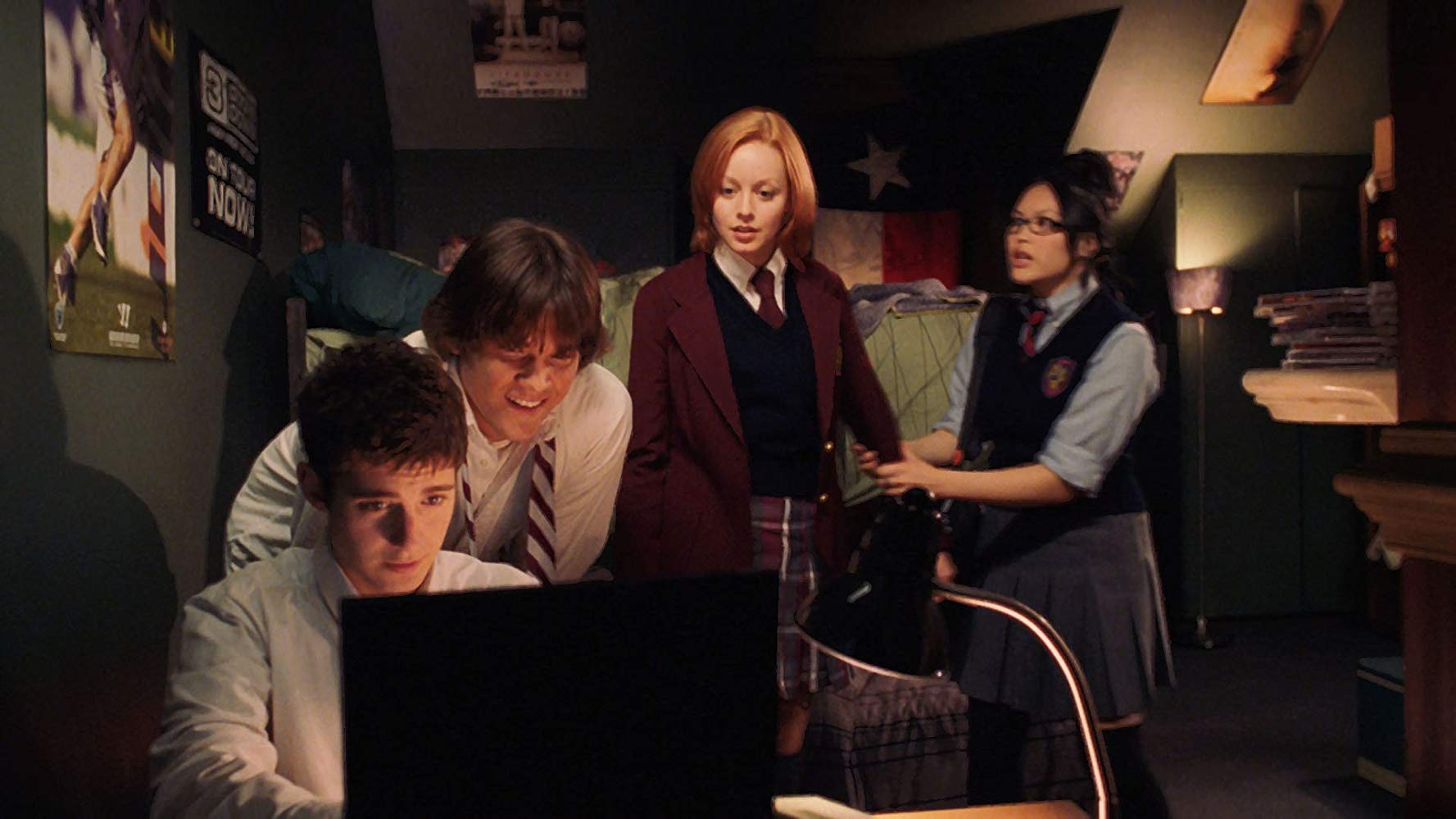 Cry Wolf is arranged around a number of twists and surprises that operate on a double level where one cannot entirely be sure whether the killings we see are real or part of a prank. The film arrives at a double twist ending that holds a more than worthwhile surprise. Jeff Wardlow also does a fine job of generating suspense – especially in the scenes where Julian Morris and Libby Booth hide in the dark in the library as someone comes towards them triggering the lights; or where Sandra McCoy comes out of the shower and takes a photo on her cellphone camera, only to unwittingly transmit an image of the killer coming up behind her.
Jeff Wadlow and Beau Bauman's strength is also in some good casting. British newcomer Julian Morris makes a fine lead, coming across as intelligent and with a good deal of natural warm charisma. Even better is Libby Booth who has a classy and alluring presence that hovers between sympathetic and potential femme fatale dangerousness. Cast as the English teacher, Jon Bon Jovi, plays down, rather than as the handsome leads is usually cast as, and does a modestly convincing job. The film is also very prettily photographed.
Jeff Wadlow has subsequently made the martial arts film Never Back Down (2008) and then returned to genre material as the director/writer of Kick-Ass 2 (2013), followed by the non-genre True Memoirs of an International Assassin (2016), Truth or Dare (2018), which has a similar premise to Cry Wolf of a deadly game that conjures demonic forces, the film remake of tv's Fantasy Island (2020) and the Halloween film The Curse of Bridge Hollow (2022). Wadlow also wrote the script for the Vin Diesel action film Bloodshot (2020). He has also acted as a producer on the tv series' Bates Motel (2013-7), The Strain (2014-7) and Are You Afraid of the Dark? (2019-21).
(Nominee for Best Original Screenplay and Best Actress (Lindy Booth) at this site's Best of 2005 Awards).
---
Trailer here
---