---
USA. 1997.
Crew
Director – Jim Gillespie, Screenplay – Kevin Williamson, Based on the Novel by Lois Duncan, Producers – Stokely Chaffin, Erik Feig & Neal H. Moritz, Photography – Dennis Crossan, Music – John Debney, Music Supervisor – Alex Steyermark, Special Effects Supervisor – John D. Milinac, Special Prosthetics – Jamie Kelman & Matthew W. Mungle, Production Design – Gary Wissner. Production Company – Mandalay Entertainment.
Cast
Jennifer Love Hewitt (Julie James), Sarah Michelle Gellar (Helen Shivers), Freddie Prinze Jr (Ray Bronson), Ryan Philippe (Barry Cox), Anne Heche (Missy Egan), Bridgette Wilson (Elsa Shivers), Johnny Galecki (Max), Muse Watson (Benjamin Willis)
---
Plot
In the fishing town of Southport, North Carolina, four friends – Julie James, Helen Shivers, Barry Cox and Ray Bronson – are returning from a beauty contest that Helen has just won. They are fooling around in the car when suddenly they hit and kill someone on the road. The guys argue for disposing of the body, lest they are charged with manslaughter and this will blight the futures the four of them are about to embark upon as they graduate. They throw the body off a pier but just as they do, it comes back to life and they are forced to drown the person. They agree among themselves never to speak about it again. One year later, Julie returns to Southport from college, a neurotic wreck. She finds a note waiting for her that says "I Know What You Did Last Summer!". The other three are also suffering with guilt over what happened. Now a mystery figure in a fisherman's rain slicker comes, determined to punish them for their guilty secret, leaving each of them taunting notes before killing them.
---
It is nice for once to see a film advertised as being "From the writer of …". In an industry where the scriptwriter is usually regarded as the lowest rung on the ladder (Hollywood in-joke – "Did you hear about the blonde who was so dumb she tried to get into Hollywood by sleeping with the scriptwriter?"), it is a refreshing change to see the scriptwriter (who is after all the principal creative force behind a film) getting some of the limelight that is usually swamped by overpaid and undertalented stars. The writer in this case is Kevin Williamson who made a big splash with Scream (1996) the year before, where his ingenue script became the object of a studio bidding war.
One never thought they would see the day when people would start to look back on the 1980s slasher cycle and such fare as the Friday the 13th (1980) and sequels with nostalgia. However, Scream proved to be an immensely enjoyable genre in-joke – a slasher film that took place in and around the conventions of the slasher film. Its success revived the slasher film for the 1990s/00s audience all over again, although in most cases the films were produced on slick budgets that belied the cheap and tattily exploitative nature of their predecessors.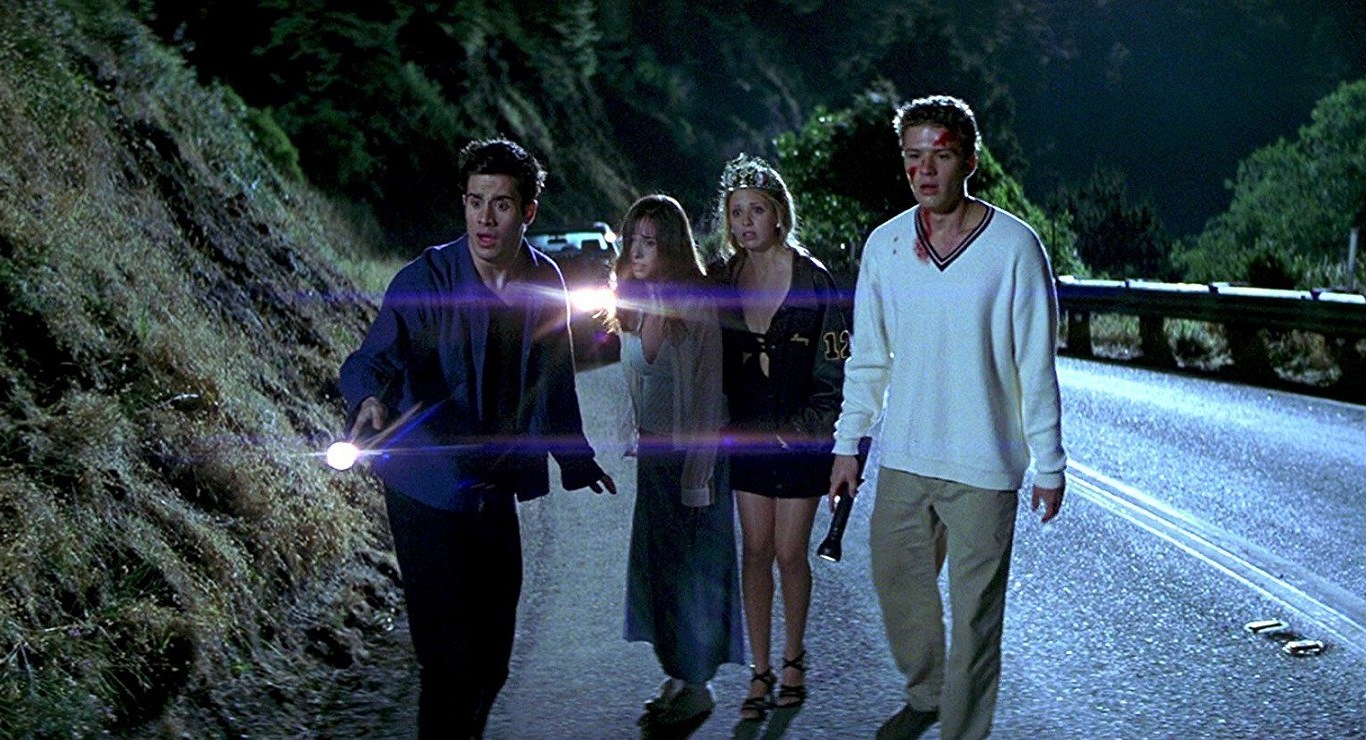 I Know What You Did Last Summer comes in the same vein as Scream, although is a more traditional film and lacks much of the wittily recursive level of genre in-joking. As in Scream, the characters still come wittily post-informed by generic conventions. Heading up to a foreboding old house two girls note, "When Jodie Foster did this a serial killer answered the door." With typical Williamson-esque regard, a campfire retelling of the story of The Hook fractures into a debate on the story's semiotic meaning – whether it is an urban myth and whether it represents a warning against promiscuity.
Kevin Williamson writes reasonable teen characterisations – as in many slasher films, the teen victims have a dark secret in their past but for once it is something that has left them emotionally devastated trying to cope. Here, Williamson also receives a boost from a fine teen cast. All four leads – Jennifer Love Hewitt, Sarah Michelle Gellar who had just started to appear in Buffy the Vampire Slayer (1997-2003) a few months earlier, Ryan Philippe and Freddie Prinze Jr – had major breaks here and went onto bigger things. All do well and give reasonable shadings to Kevin Williamson's characters. Certainly this time around, Kevin Williamson is more reliant on the genre conventions he parodied in Scream – as in most slasher films, the characters are all killed off in order of moral laxity and there is a cliched twist ending that you can see coming a long way off.
Newcomer director Jim Gillespie does a fine job in directing the suspense. There are at least two standout sequences – one where Ryan Philippe is attacked on a balcony during the beauty pageant, which is only seen by Sarah Michelle Gellar on the stage below who races through the crowd to get to him as she sees the hook being raised in shadow – only to find nothing when she gets there. Another of these is where Sarah Michelle Gellar is attacked in an alley whilst a band passes only a few feet away. The film is slickly produced, well photographed and certainly well above the heads of the spate of other slasher copycats that came out in the next few years in the wake of Scream's success.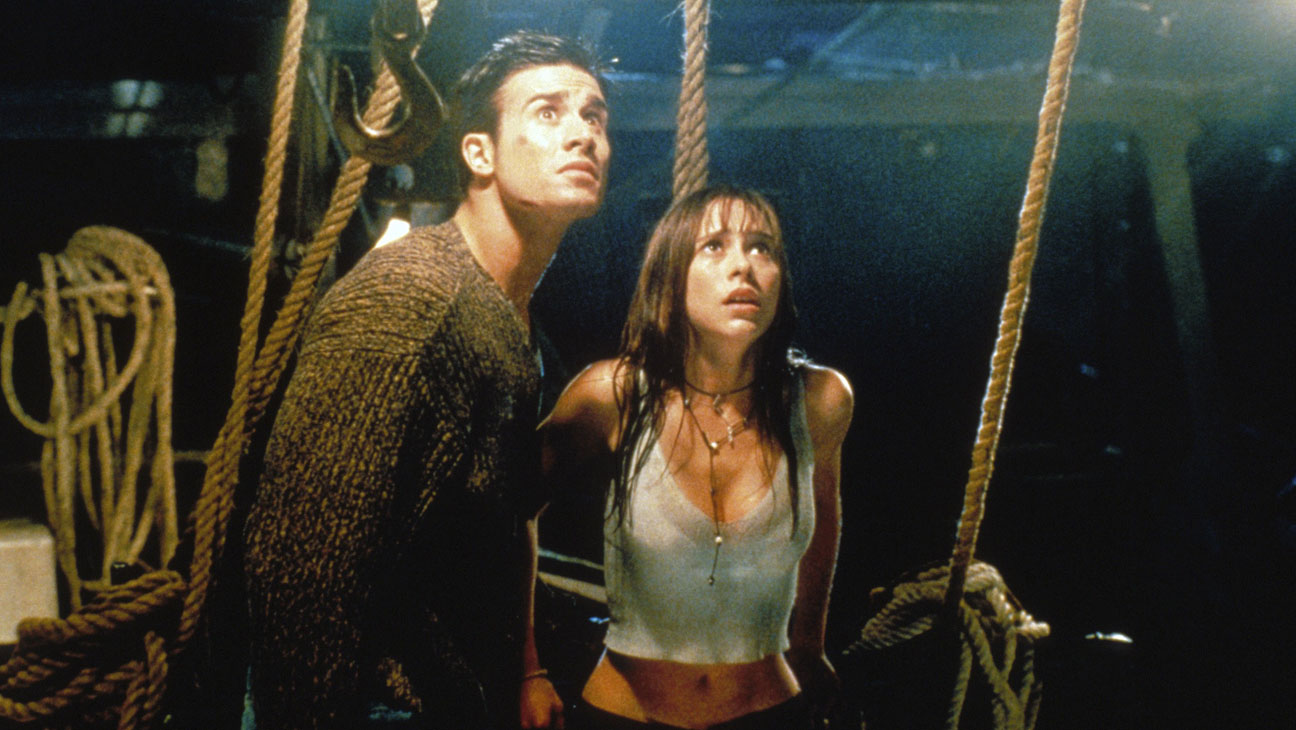 Jennifer Love Hewitt and Freddie Prinze Jr returned for a routine sequel I Still Know What You Did Last Summer (1998). There was a further sequel with I'll Always Know What You Did Last Summer (2006), although that was unconnected to the other films except in featuring a fresh group of teenagers being stalked by a similar hook figure after covering up their complicity in a crime. The film was later remade as the tv series I Know What You Did Last Summer (2021- ). I Know What You Did Last Summer was spoofed in both Scary Movie (2000) and Shriek If You Know What I Did Last Friday the 13th (2000).
Kevin Williamson's other films are:– Scream (1996) and its sequels Scream 2 (1997) and Scre4m/Scream 4 (2011); as creator of the hit non-genre teen tv series Dawson's Creek (1998-2003); as executive producer of Halloween H20: Twenty Years Later (1998); the script for the wittily self-aware alien body snatchers film The Faculty (1998); as producer of the voodoo film Venom (2005); and as writer/producer/creator of the tv series Glory Days (2002), a rather good smalltown mystery series that was naturally run over by a number of Williamson-esque deconstructions but only lasted for ten episodes; the similarly short-lived series Hidden Palms (2007); and the tv series The Vampire Diaries (2009-17), The Secret Circle (2011-2), The Following (2013-5), Stalker (2014-5), Time After Time (2017) and Tell Me a Story (2018-20). Williamson made his directorial debut (and so far only outing) on the teacher-pupil psycho-thriller Teaching Mrs. Tingle (1999). Williamson later reteamed with Wes Craven for the disappointing werewolf film Cursed (2005).
Director Jim Gillespie made his directorial debut with I Know What You Did Last Summer and subsequently went onto make the psycho-thriller D-Tox (2002), the voodoo film Venom (2005) and the non-genre action film Take Down (2016), although neither of these enjoyed the success of this film.
I Know What You Did Last Summer was based on a 1973 novel by American writer Lois Duncan who writes thrillers and sometimes horror for young adults. Duncan was unimpressed with the film, citing the fact that her thriller had been taken over by the horror elements (in the book, the group ran down a child). Lois Duncan's novels have also been adapted to the screen with Wes Craven's Summer of Fear/Stranger in Our House (tv movie, 1978), Killing Mr Griffin (tv movie, 1997), I've Been Waiting For You (tv movie, 1998), Stranger With My Face (tv movie, 2009) and Down a Dark Hall (2018).
---
---