---
Crew
Director – Jaume Collet-Serra, Screenplay – Carey W. Hayes & Chad Hayes, Based on the Play Mystery of the Wax Museum by Charles Belden, Producers – Susan Levin, Joel Silver & Robert Zemeckis, Photography – Stephen F. Windon, Music – John Ottman, Visual Effects Supervisor – John Breslin, Visual Effects – Photon VFX, Special Effects Supervisor – David Fletcher, Makeup Effects – KNB EFX Group Inc, Production Design – Graham 'Grace' Walker. Production Company – Warner Brothers/Village Roadshow/Dark Castle Entertainment.
Cast
Elisha Cuthbert (Carly), Chad Michael Murray (Nick), Brian Van Holt (Bo Sinclair/Vincent Sinclair), Paris Hilton (Paige), Jared Padalecki (Wade), Jon Abrahams (Dalton), Robert Ri'chard (Blake), Damon Herriman (Roadkill Driver)
---
Plot
A group of friends decide to drive to Baton Rouge for a sports game. After taking a detour, they become lost on a back road and decide to set up camp for the night. When they wake in the morning, they find that the fan belt on one of the cars has broken. A creepy local gives two of the group, Carly and Wade, a ride to the nearest town Ambrose, while the others go ahead to the game. In Ambrose, they meet the friendly local mechanic Bo who agrees to supply a fan belt. While waiting, they explore the town and come across the House of Wax, a museum made entirely of wax. They then realise that every inhabitant of the town is a wax figure. Next, Bo, joined by a sinister masked figure, comes, pursuing the two of them through the town. As the others return, they realise that the wax figures in the town are dead bodies encased in wax and that their pursuers intend them as the next victims.
---
House of Wax was the fifth film from Dark Castle Entertainment, a company set up by Back to the Future (1985) director Robert Zemeckis, action producer Joel Silver and Gilbert Adair, producer of Tales from the Crypt (1989-96), with the aim of producing horror films. Dark Castle have had some box-office (if not exactly critical) success with their horror films over recent years, which have included the likes of House on Haunted Hill (1999), Thir13een Ghosts (2001), Ghost Ship (2002), Gothika (2003), The Reaping (2007), Return to House on Haunted Hill (2007), The Hills Run Red (2009), Ninja Assassin (2009), Orphan (2009), Splice (2010), The Apparition (2012), The Factory (2012) and Seance (2021).
Dark Castle have a clear liking for 1950s horror films – both House on Haunted Hill and Thir13een Ghosts were remakes of earlier films by William Castle. In the same vein, House of Wax is nominally based on House of Wax (1953), a 3-D film starring Vincent Price as a mad waxworks curator who hid his face behind a mask and turned the people he murdered into his wax creations. House of Wax 1953 was in turn based on an earlier film Mystery of the Wax Museum (1933), which had starred Lionel Atwill in the role.
The first thing that one notices is that Dark Castle has thrown out almost anything to do with either House of Wax 1953 or Mystery of the Wax Museum and come up with their own film. (Although, Charles Belden, the author of the play upon which both the other films are based, does get a screen credit). There is a wax museum (which naturally goes up in flames at the end), although one can also note that the filmmakers have taken the 'house of wax' concept with an amusing literalness – a house that is literally made of wax.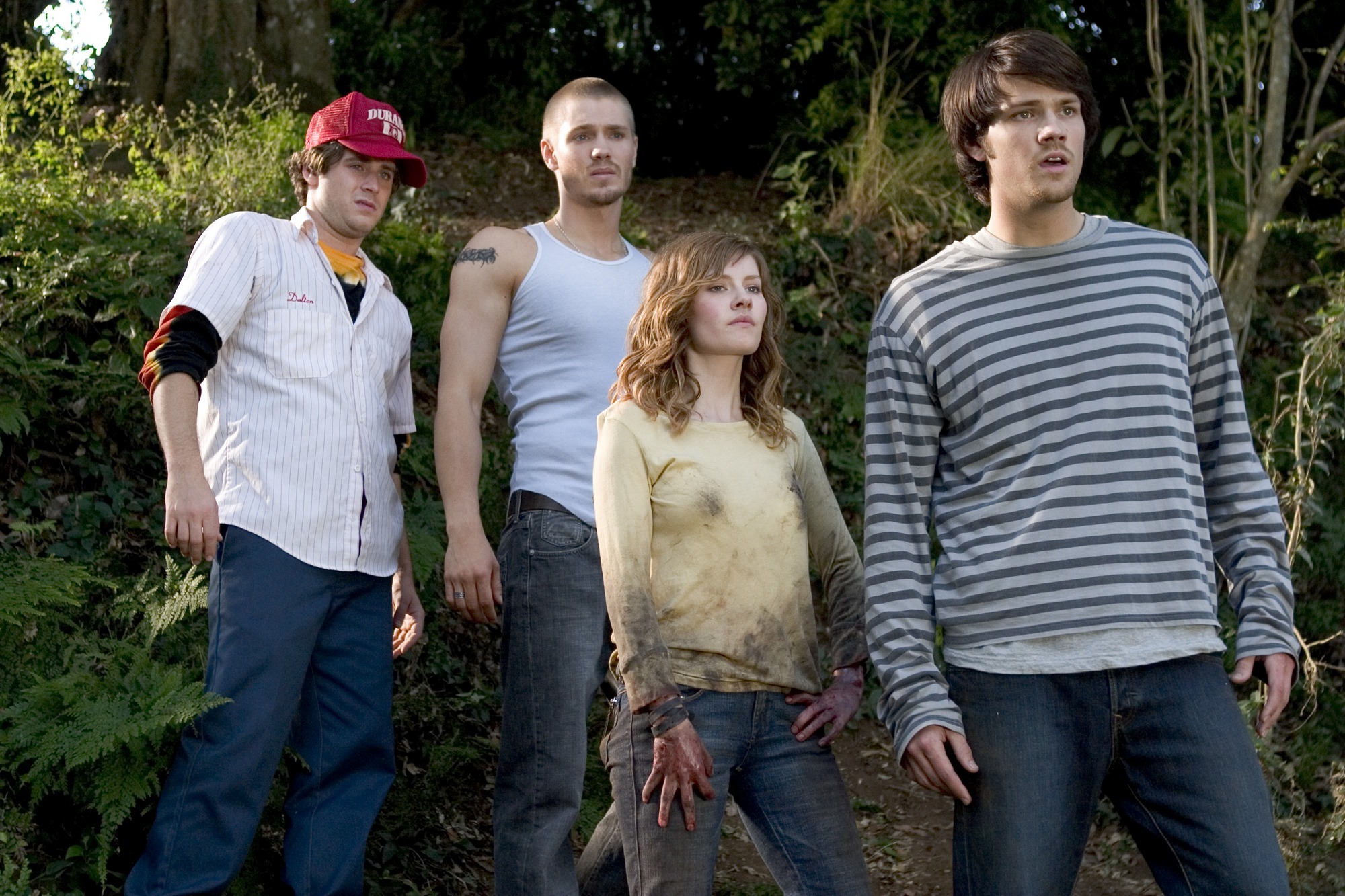 We do have human bodies being killed and encased in wax and a character who hides their deformed face behind a mask (which is naturally unveiled during the climactic scene, although not by the heroine as was the case in all previous versions). However, there is no equivalent of Vincent Price's Jarrod or Atwill's Igor, driven insane over having their beloved museum burned down. This character has now been spread over two mad killers and instead of being an unhinged waxworks curator we are given two backwoods hicks who seem to have strayed in from The Texas Chain Saw Massacre (1974).
In its place, House of Wax 2005 substitutes a plot that appears to be made up out of generic characters and clichés from the slasher movie and Backwoods Brutality cycle – the usual assemblage of partying teen/twentysomethings, the unfortunate decision to take a detour from the main road, the Backwoods hicks, the sinister old house innocently ventured into in search of help, the prologue that sets up the killers' abused childhood and so on. For a greater part of its running time, House of Wax 2005 seems like a modern slasher movie by the numbers and with nothing in the way of irony or puncturing of clichés to in any way distinguish it.
House of Wax 2005 takes a long time to build a head of steam (nearly half the film), although when it finally does, the film proves to be modestly effective. Ingénue Spanish director Jaume Collet-Serra eventually develops some shock scenes that contain a reasonable degree of tension and nastiness – the wonderfully icky scene where Chad Michael Murray finds Jared Padalecki encased in wax but still alive and starts trying to peel the wax from his face only to tear the skin away and leave the flesh of his cheek and teeth bared and exposed; Elisha Cuthbert bound to a chair and trying to free herself as Brian Van Holt and Chad Michael Murray talk on the street above her, managing to free a finger and push it up through a grille only for Van Holt to turn and snip it off with a pair of pliers and for her to then have to tear open her lips that have been glued together to call for help; Jared Padalecki placed in an unearthly metal device and showered with hot wax; the scene where Jon Abrahams falls into camera and Brian Van Holt impales a pair of gardening shears in his neck and then drags the body away, leaving the shears and severed head behind in the foreground of the frame; and Paris Hilton being pursued (in her red underwear, which is the closest that chaste modern slasher movies ever get to the gratuitous toplessness that their classic counterparts held) and impaled through the head. There is an excellent climax with the house of wax burning down and melting as the heroes try to escape while wading through oozing wax.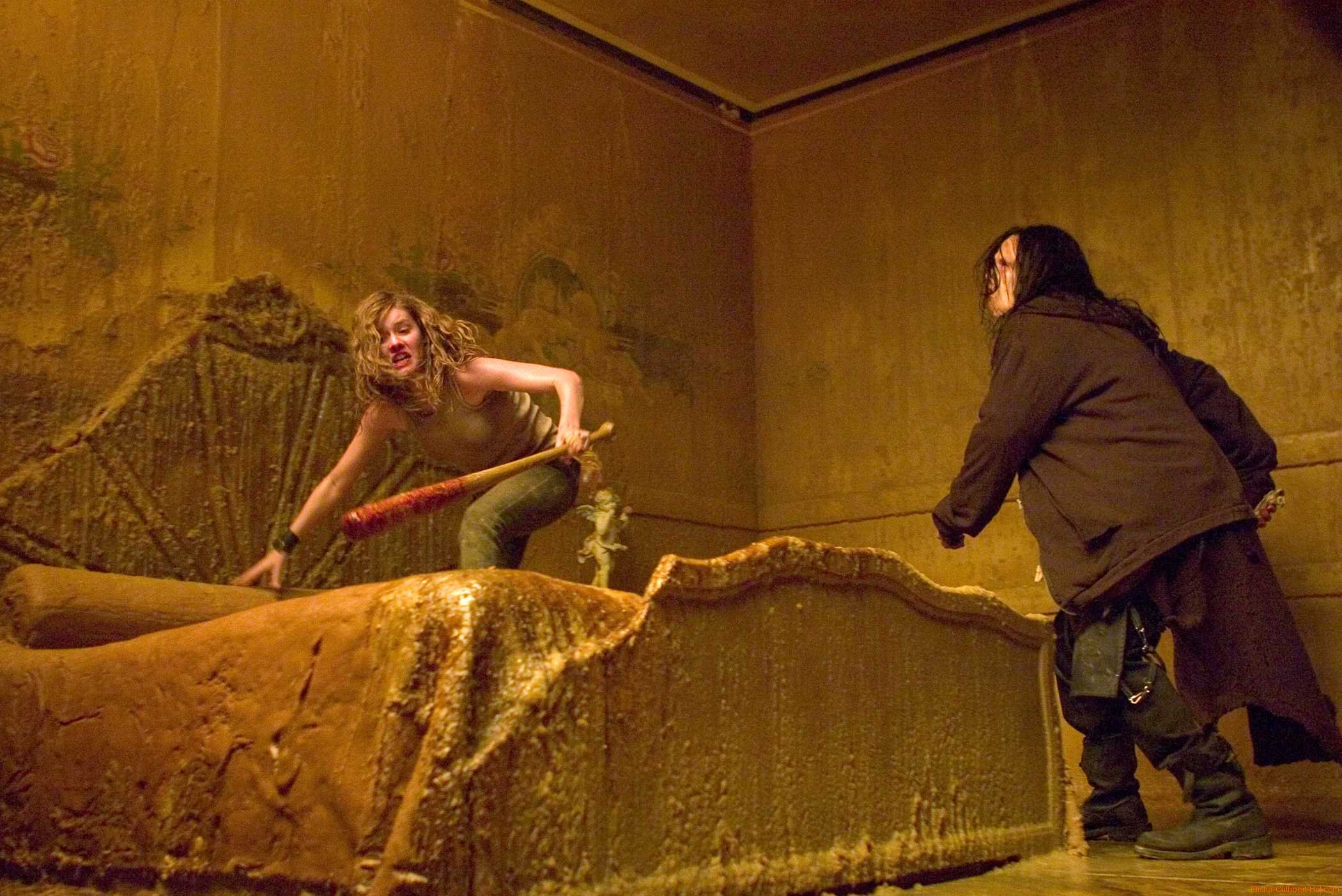 One of the talking points about House of Wax 2005 was the presence of current celebrity de jour Paris Hilton – indeed, it seemed the only point of mention in most mainstream reviews. Paris Hilton must have to be one of the most talent-free and entirely self-absorbed of all celebrities at the moment. You can only have derision for someone whose claim to fame came after a tape of her having sex ended up on the internet and who then manipulated that notoriety to become the star of the reality tv show The Simple Life (2003-4), which centred around her playing an empty-headed spoiled rich child touring real life hick America. As a result, a huge cheer that goes up from the audience when Hilton gets it on screen. You do have to wonder though if the film set out to feed into this guilty pleasure upon the part of its audience or simply cast Paris Hilton in order to exploit her celebrity.
Director Jaume Collet-Serra next went onto make the horror film Orphan (2009) and the thriller Unknown (2011), also for Dark Castle, followed by the action films Non-Stop (2014), Run All Night (2015) and The Commuter (2018), the killer shark film The Shallows (2016), the Disney theme park adaptation Jungle Cruise (2021) and the superhero film Black Adam (2022). Collet-Serra has also produced Hooked Up (2013), Mindscape (2013), Eden (2014), Curve (2015) and Extinction (2015).
The film's screenwriters, brothers Carey W. Hayes & Chad Hayes, also wrote the scripts for other genre works such as The Dark Side of the Moon (1990), The Reaping (2007), The Conjuring (2013), The Conjuring 2 (2016), The Crucifixion (2017) and The Turning (2020), while the two had also acted as producers on the tv series' The Crow: Stairway to Heaven (1998) and Beastmaster (1999-2000), plus The Conjuring spinoff Annabelle (2014).
(Nominee for Best Makeup Effects at this site's Best of 2005 Awards).
---
---