---
Crew
Director – James Mangold, Screenplay – Michael Cooney, Producer – Cathy Konrad, Photography – Phaedon Papamichael, Music – Alan Silvestri, Visual Effects – Digital Backlot, Special Effects Supervisor – Ron Bolanowski, Makeup Effects – K.N.B. EFX Group Inc (Supervisor – Gregory Nicotero), Production Design – Mark Friedberg. Production Company – Konrad Pictures.
Cast
John Cusack (Edward), Ray Liotta (Officer Rhodes), Amanda Peet (Paris Nevada), John Hawkes (Larry Washington), Clea DuVall (Ginny), John C. McGinley (George York), Alfred Molina (Dr Malick), Pruitt Taylor Vince (Malcolm Rivers), William Lee Scott (Lee Indiana), Rebecca De Mornay (Caroline Suzanne), Jake Busey (Robert Maine), Bret Loehr (Timmy York), Holmes Osborne (Judge Taylor), Carmen Argenziano (Defence Lawyer), Marshall Bell (District Attorney), Leila Kenzle (Alice York)
---
Plot
Due to a string of uncanny accidents, Edward, a limo driver who is transporting a well-known Hollywood actress, runs down a wife who is standing on the side of a remote Nevada highway as her husband is repairing a flat tire. Edward rushes the wife to a nearby motel and attempts to get help, but there the phone lines are down and the roads out flooded due to a rainstorm. Various others – a prostitute, a cop transporting a convicted killer, two newlywed teenagers – contrive to gather at the motel during the storm. Someone then starts killing off the group, leaving a motel key that counts downwards from 10 beside each body. As the search intensifies to find which of the group is the killer, it becomes apparent that each of them has secrets to hide and that all of them being there is no coincidence. At the same time in Florida, a court hearing is hastily assembled in the middle of the night to hear new evidence in the insanity plea of a mass murderer who is about to be executed the next day.
---
Identity is a slasher/psycho-thriller that became a modest sleeper success. It is rare example of a work that might otherwise have vanished amid a horde of quickly forgotten pre-summer releases but which instead benefited from word of mouth buzz, all centring around its surprise twist ending. On the face of it, there seemed nothing to suggest Identity would be more than a modest, competently made psycho-thriller of no particular standout virtue. Certainly, there is nothing on the resumes of either director James Mangold or screenwriter Michael Cooney that suggests anything remarkable.
James Mangold had previously directed the likes of Cop Land (1997) and the overhyped Girl, Interrupted (1999). Although, Mangold's subsequent films Walk the Line (2005), 3:10 to Yuma (2007) and Ford v Ferrari (2019) have enjoyed much more acclaim and higher profile. Mangold has also ventured into genre material with the time travel romance Kate & Leopold (2001), the X-Men series outings The Wolverine (2013) and Logan (2017), and Indiana Jones and the Dial of Destiny (2023).
Screenwriter Michael Cooney had previously written-directed a duo of tongue-in-cheek horror films – Jack Frost (1997) and Jack Frost 2: Revenge of the Mutant Killer Snowman (2000) featuring a psychopathic snowman and would go onto write the time-travel reality bender I Inside (2003) and the split personality/soul transference psycho-thriller Shelter/6 Souls (2010). The film is produced by James Mangold's wife Cathy Konrad who, along with all of Mangold's films, also produced Scream (1996) and sequels, and clearly knows what she is on about.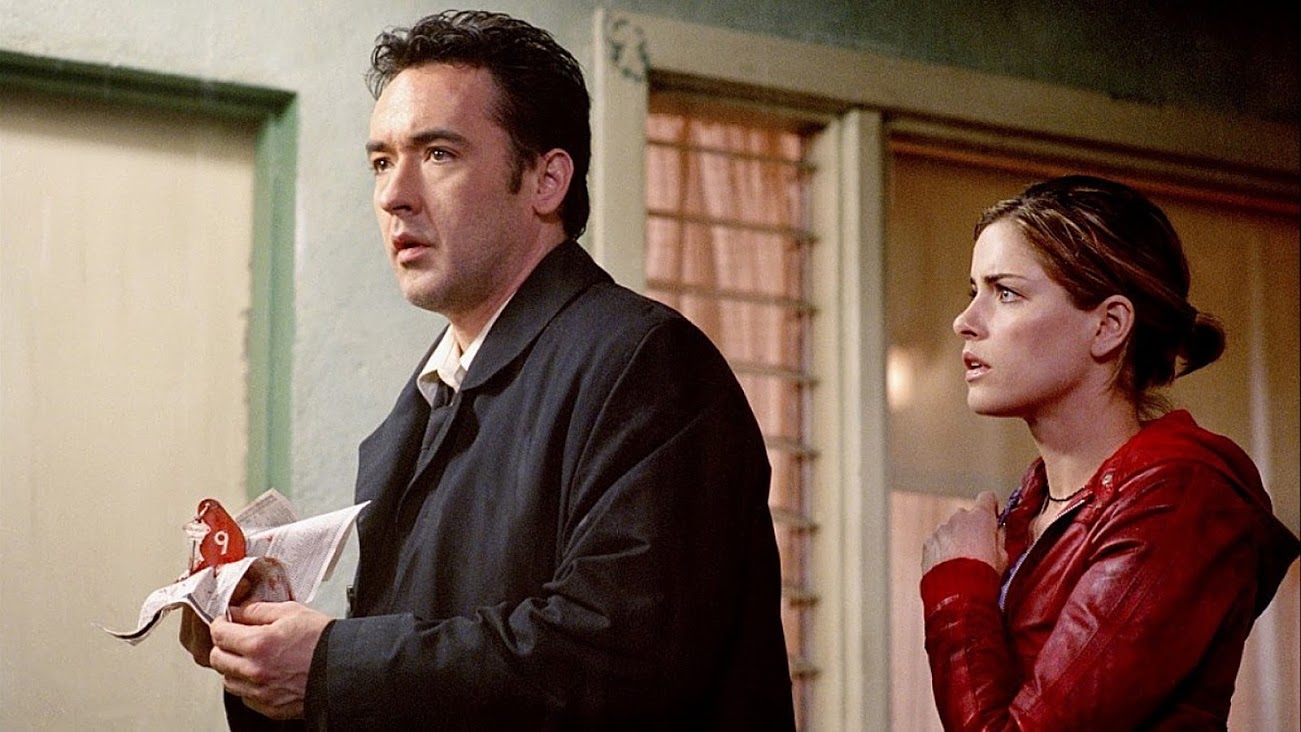 All involved do a decent job. James Mangold keeps the suspense turning to a fair degree, although there are never fully any scenes that keep one breathlessly on the edge of the seat – bar one good jump where a car comes by and casually swipes the mother away. Michael Cooney does a decent job in putting the script through a series of constant twists that keep hinting at secrets behind everybody's motive.
The film has a good cast line-up, with John Cusack, who since emerging as a 1980s Brat Packer has smartly recast himself in the 1990s as a sly ironist in intelligent, off-the-centre stage roles, solidly acquitting himself as the hero. There is fine support notedly from Amanda Peet, a scene-stealing Rebecca De Mornay and Mangold regular Pruitt Taylor Vince, whose amazingly twitchy eyes has had him typecast in these psycho roles and who plays the part here with a surprising degree of sympathy.
If that was all that Identity was, it would be merely a competent and above average psycho-thriller, albeit not a remarkable one. Maybe, if nothing else, Identity might have had it over its contemporaries due to its sheer lack of teen horror movie formula – the characters are not self-absorbed beautiful people; there is a refreshing lack of genre irony and in-referencing about the film (at most one character gets a scene comparing the situation to Agatha Christie's oft-filmed Ten Little Niggers/Indians [1939]); and James Mangold and Michael Cooney concentrate on solid dependables like character and suspense.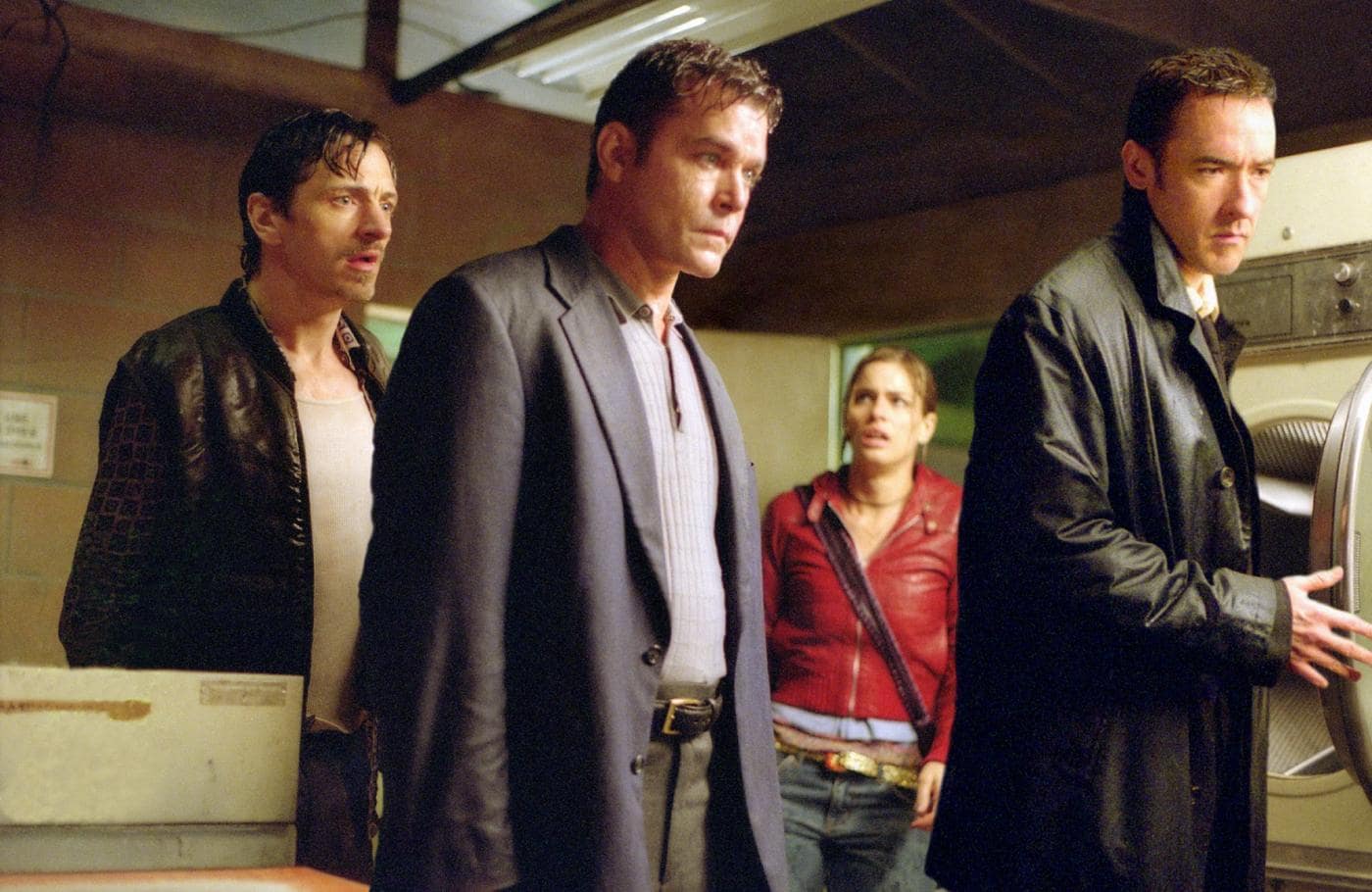 For once, Identity is a film whose effect is carried almost entirely by its script. There is a twist that comes maybe twenty minutes before the ending and it was this that proved to be the film's selling point. It is a genuine left field surprise – certainly one, even though advance word had warned one that there was a surprise in store, that I never guessed and one that turns everything on its head. It is a surprise that also sits between the genuinely jolting and the ever-so-contrived.
There is very much the sense that the film has conducted this because Identity wanted to throw its parcel in with the body of what one might term Conceptual Reversal films of recent years – the likes of Open Your Eyes (1997), Dark City (1998), Fight Club (1999), The Sixth Sense (1999), The Others (2001) and The Village (2004) – films that conduct way-out surprise reversals that eventually reveal that everything that has been happening has been a virtual simulation, or the characters are dead or imaginary. (for more detail see Films Featuring Conceptual Reversal Twists). A very similar twist was pulled with some ingenuity in the Inside No. 9 episode Thinking Out Loud (2020).
The particular twist conducted here works well and one is jolted out of their assumptions but beneath it there is also something that feels manufactured about it. (One may also question why, after the revelation of the artificiality of scenario, the film then returns to continue playing out the various pieces of suspense happening within the situation as though it were still real). There seems a forced determination upon James Mangold and Michael Cooney's part to dazzle their audience with their cleverness. This is something that is apparent from the opening and their showoffy means of introducing the various characters in an elliptical non-linear way a la Pulp Fiction (1994). The upshot is that they do succeed; it is just that sometimes the effort of their trying to do so shows through.
(Winner for Best Original Screenplay, Nominee for Best Actor (John Cusack) and Best Supporting Actress (Rebecca De Mornay) at this site's Best of 2003 Awards).
---
---