---
Crew
Director – Jeff Wadlow, Screenplay – Jillian Jacobs, Michael Reisz, Chris Roach & Jeff Wadlow, Story – Michael Reisz, Producer – Jason Blum, Photography – Jacques Jouffret, Music – Matthew Margeson, Visual Effects Supervisor – Jamison Goei, Visual Effects – Rez-Illusion, Special Effects Supervisor – Zachary A. Knight, Makeup Effects Designer – Adrien Morot, Production Design – Melanie Paizis-Jones. Production Company – Blumhouse Productions.
Cast
Lucy Hale (Olivia Barron), Violett Beane (Markie Cameron), Tyler Posey (Lucas Moreno), Hayden Szeto (Brad Chang), Landon Liboiron (Carter/Sam Meehan), Sophia Ali (Penelope Amari), Nolan Gerard Funk (Tyson Curran), Sam Lerner (Ronald 'Ronnie' Wakowski), Tom Choi (Officer Han Chang), Aurora Perrineau (Giselle Hammond), Gregg Daniel (Detective Kranis), Vera Taylor (Inez Reyes), Brady Smith (Ray Cameron), Ezmie Garcia (Inez's Granddaughter/Young Inez), Andrew Howard (Randall Himoff)
---
Plot
Olivia Barron is a student at Woodbury University. She is pressured by her best friend Markie Cameron in going to Mexico for Springbreak with their group of friends. In Mexico, Olivia meets Carter in a bar and he suggests that they all come to party with him at an old abandoned convent. There Carter challenges them to play a game of truth or dare. However, when it comes to Carter's turn, he tells them the truth – that he lured them there and doesn't care if they live or die. He flees, urging them to tell the truth and take the dares or they will die. Back in the US, Olivia starts to hallucinate the phrase 'Truth or Dare?' everywhere and see people crowding in around her asking her to take the challenge. Next Ronnie, one of the group, is challenged to strip in a bar but refuses and is promptly killed when he falls. Olivia convinces the others that the game is real and deadly. They are forced to keep playing but the dares become increasingly more dangerous and end up killing several of them. In trying to stop the game, they discover how one of the girls at the convent called up a demon against an abusive priest only for the demon to be revived after a game of truth or dare was played at the abandoned convent.
---
Blumhouse, the production company of Jason Blum have risen throughout the 2010s to corner the contemporary market on medium-budget horror films. Blumhouse have been responsible for Paranormal Activity (2007) and sequels, as well as the likes of Insidious (2010), The Purge (2013) and Happy Death Day (2017), which they have all been spun out into successful series. (See bottom of the page for Blumhouse's other films).
Jeff Wadlow has previously made the martial arts film Never Back Down (2008) and gained a certain name with the slasher film Cry Wolf (2005), He then went on to direct/write Kick-Ass 2 (2013), followed by the non-genre True Memoirs of an International Assassin (2016). Subsequent to Truth or Dare, Wadlow went on to direct the film remake of tv's Fantasy Island (2020) for Blumhouse, the Halloween film The Curse of Bridge Hollow (2022) and to write the Vin Diesel action film Bloodshot (2020). He has also acted as a producer on the tv series' Bates Motel (2013-7), The Strain (2014-7) and Are You Afraid of the Dark? (2019-21).
Just over fifteen years earlier, Wadlow made Cry Wolf, concerning a prank game played among students that suddenly turns real as a killer starts stalking the campus. I thought at the time it was a smart and original slasher film. When it comes to Truth or Dare, it appears that Wadlow has simply remade Cry Wolf with a slightly different game and where the killer stalking the students is rewritten as a demonic curse.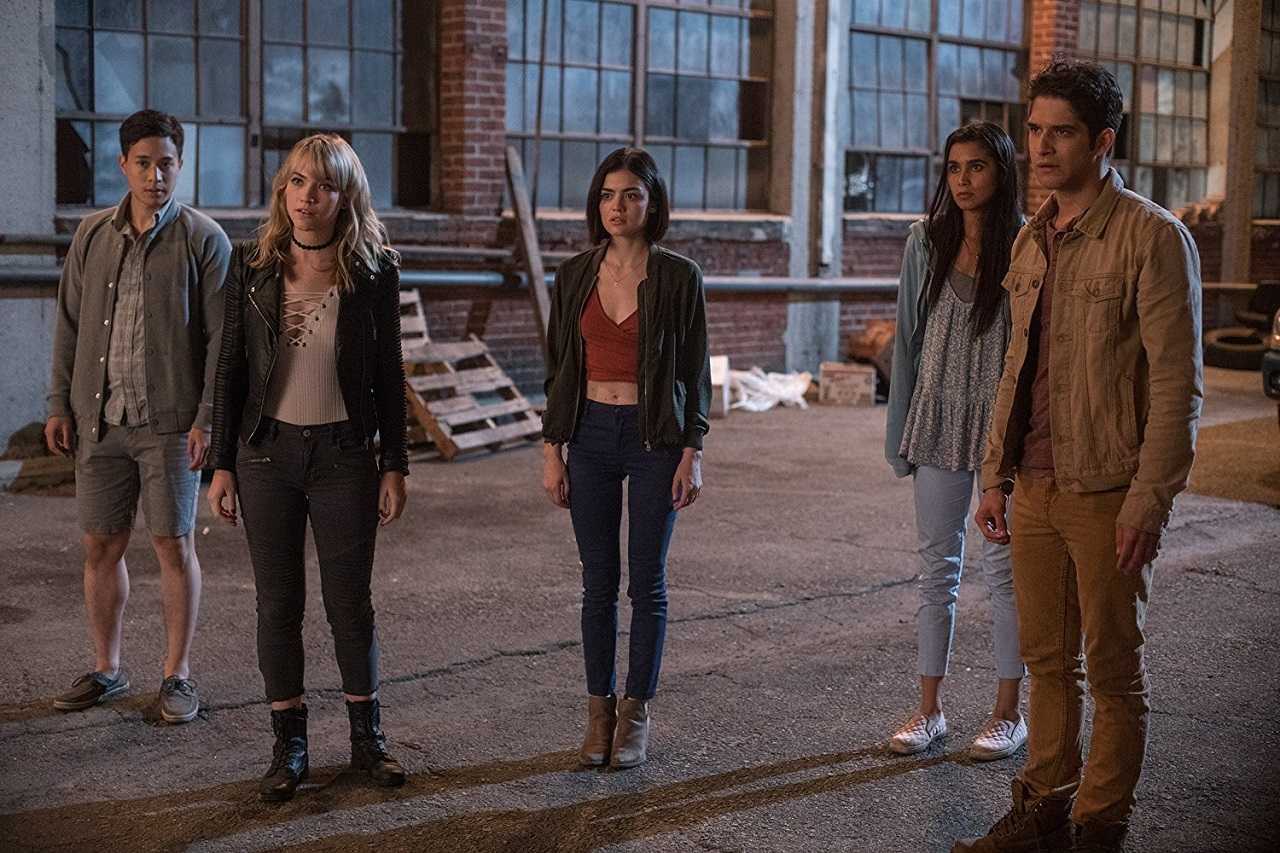 Truth or Dare is not unlike other films such as Would You Rather (2012) or Ready or Not (2019) that turn an innocent game into something deadly. There are also many resemblances to in particular films like Level Up (2016), Nerve (2016) and Blumhouse's 13 Sins (2014) about people being wound into games that require them to do increasingly more daring and deadly things. It is as though one of those films has been slung together with the formula of a teen supernatural film such as the Final Destination sequels or Blumhouse's Ouija (2014).
Based on his previous work, I have held Jeff Wadlow as a director of some promise. I wanted to like Truth or Dare. The film held my attention some way in. The typical teen stuff lacked much interest for me but the film did get a certain grip about the point that Landon Liboiron is given a truth challenge and confesses that he brought them all there to be killed and doesn't have a problem with it, while hastily beating a retreat, leaving Lucy Hale with a warning to take the dares.
The disappointment with Truth or Dare is that Jeff Wadlow does nothing imaginative with the truth or dare challenges. These are nothing exceptional – Sophia Ali walks around the ledge of a house after drinking a bottle of alcohol, Brad Chang is challenged to grab his police officer father's gun, Lucy Hale is challenged to sleep with her best friend's boyfriend. There's nothing to any of them that particularly grabs the imagination or holds you in suspense. Plus the effect of the demon taking people over and everyone displaying a Joker-like rictus grin looks lame.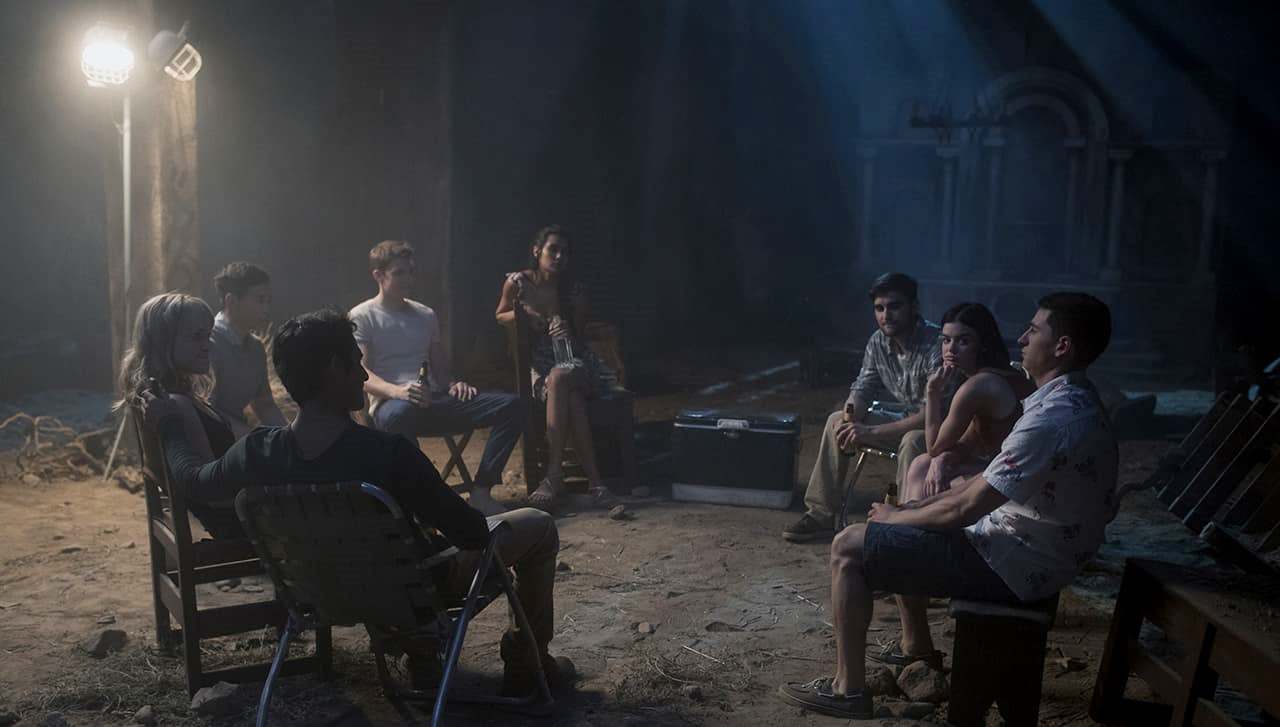 The other complaint I have about the script is just how schematic it is – it is like a mechanical exercise in Screenwriting 101. You realise afterwards that the only depths and motivations any of the characters ever have are raised with the sole intention of being used at some later point in the show.
Jason Blum and his Blumhouse production company have produced a number of other genre films including:- Hamlet (2000), Paranormal Activity (2007) and sequels, Insidious (2010) and sequels, Tooth Fairy (2010), The Bay (2012), The Lords of Salem (2012), The River (tv series, 2012), Sinister (2012) and sequel, Dark Skies (2013), Oculus (2013), The Purge (2013) and sequels, the tv mini-series Ascension (2014), Creep (2014), Jessabelle (2014), Mercy (2014), Mockingbird (2014), Not Safe for Work (2014), Ouija (2014) and sequel, 13 Sins (2014), The Town That Dreaded Sundown (2014), Unfriended/Cybernatural (2014), Area 51 (2015), The Boy Next Door (2015), Curve (2015), The Gallows (2015), The Gift (2015), Jem and the Holograms (2015), The Lazarus Effect (2015), Martyrs (2015), Visions (2015), The Visit (2015), The Darkness (2016), Hush (2016), Incarnate (2016), The Veil (2016), Viral (2016), Amityville: The Awakening (2017), Get Out (2017), Happy Death Day (2017),The Keeping Hours (2017), Split (2017), Stephanie (2017), Bloodline (2018), Cam (2018), Delirium (2018), Halloween (2018), Seven in Heaven (2018), Upgrade (2018), Black Christmas (2019), Ma (2019), Prey (2019), Don't Let Go (2019), Sweetheart (2019), Black Box (2020), The Craft: Legacy (2020), Evil Eye (2020), Fantasy Island (2020), Freaky (2020), The Hunt (2020), The Invisible Man (2020), Nocturne (2020), You Should Have Left (2020), Black As Night (2021), The Black Phone (2021), Dashcam (2021), Firestarter (2022), M3gan (2022), Mr Harrigan's Phone (2022), Nanny (2022), Soft & Quiet (2022), Run Sweetheart Run (2022), Sick (2022), They/Them (2022), Torn Hearts (2022), Unhuman (2022), The Exorcist (2023), Five Nights at Freddy's (2023) and There's Something Wrong With the Children (2023).
---
---