---
Crew
Director/Screenplay/Producer/Music – J.R. Bookwalter, Photography – Michael Tolochko, Jr., Makeup Effects – David P. Barton & Bill Morrison, Production Design – Jon Killough. Production Company – Tempe Entertainment/The Suburban Tempe Company/Amsco Studios.
Cast
Peter Ferry (Raimi), Bodgan "Don" Pecic (Dr Moulsson), Robert Kokai (Reverend Jones), Michael Grossi (Mercer), Jolie Jackunas (Kuller), Maria Markovic (Anna), Floyd Ewing Jr. (Captain Kline), Robert Graham (Dr Franklin), Jon Killough (Vincent), Scott Spiegel (Richards), Jeff Welch (Commander Carpenter), Michael Todd (Jason Jones), J.R. Bookwalter (Lloyds), Jennifer Mullen (Powers), Joe Wedlake (Dr Savini), Lester Clark (Dr Dow), Barbara Gay (Dr J), Bill Morrison (Vox)
---
Plot
The zombie apocalypse has occurred. A team of soldiers, The Zombie Squad based in Virginia, has sprung up to deal with the threat. Dr Moulsson believes that there is a serum that can neutralise the effects of the zombie virus. A unit captained by Raimi is sent to Akron, Ohio to find the formula among the files of Dr Dow. However, as they arrive at Dow's house, the team encounter members of the religious cult led by Reverend Jones who believe that the zombie apocalypse is the will of God.
---
The Dead Next Door was the first film from Ohio-based filmmaker J.R. Bookwalter. Bookwalter became an independent filmmaker throughout the 1980s and 90s with films such as Robot Ninja (1989), Kingdom of the Vampire (1991) and The Sandman (1995) and is still at work. (See below for J.R. Bookwalter's other films).
The Dead Next Door was apparently backed by Sam Raimi who placed some of his own money into it and takes an executive producer credit under the pseudonym The Master Cylinder. (In gratitude, Bookwalter names his lead soldier Raimi). Raimi associate and later director Scott Spiegel, best known for Intruder (1989), also has a small role as one of the Zombie Squad soldiers, while Bruce Campbell performs some dubbing work.
With The Dead Next Door, J.R. Bookwalter is riffing off the basics of the Zombie Film, which had been given a huge boost throughout the 1980s following the success of George Romero's Dawn of the Dead (1978). There were a number of copycat Romero-styled zombie films made throughout the decade – indeed, Sam Raimi gained his name after making one of the more inventive of these The Evil Dead (1981). Bookwalter pays much homage to the genre – aside from the lead character named Raimi, we have others named Romero and Savini, while the opening videostore sequence displays copies of Dawn of the Dead and The Evil Dead, as well as Hammer's The Curse of Frankenstein (1957).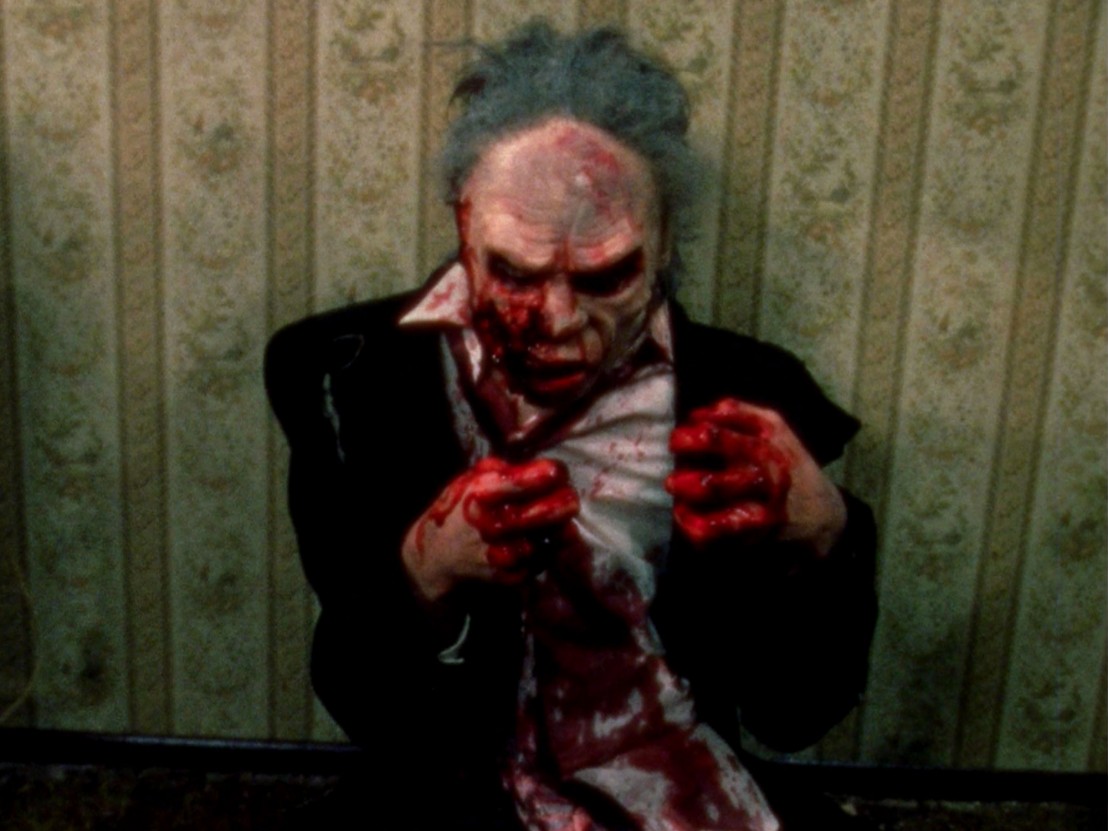 J.R. Bookwalter made The Dead Next Door with a reported budget of $75,000, which was about half of what Romero made Night of the Living Dead (1968) for two decades earlier and considerably more than most modern zombie filmmakers have at their disposal. Despite this, The Dead Next Door still looks like an amateur film. The actors are all unskilled non-professionals – as writer, Bookwalter does not do much to give them any dimensions or individuality, causing them to come across as blank. None of this need be a problem but Bookwalter's pace plods as does the script – it is never clear what the cult are trying to do, for instance – and the film emerges as average, no more. On its plus side, Bookwalter provides a reasonable level of gore effects. He also manages to go to Washington D.C. and get what look like unfaked shots of zombies outside The White House and wandering the National Mall.
J.R. Bookwalter has also directed Robot Ninja (1989), Kingdom of the Vampire (1991), Zombie Cop (1991), Humanoids from Atlantis (1992), Ozone (1995), The Sandman (1995), Polymorph (1996), Witchouse II: Blood Coven (2000), Witchouse 3: Demon Fire (2001) and Deadly Stingers (2003). He has produced a great many other films, usually through his Suburban Tempe production company, with the likes of Skinned Alive (1990), Dominion (1992), Galaxy of the Dinosaurs (1992), Maximum Impact (1992), Midnight 2 (1993), Bloodletting (1997), The Vault (2000), Final Stab (2001), Horrorvision (2001), Stitches (2001), Bleed (2002), Dead and Rotting (2002), Groom Lake (2002), Hell Asylum (2002), Jigsaw (2002), Killjoy 2: Deliverance from Evil (2002), Deadly Stingers (2003), October Moon (2005), Possessed (2005), Poisoned Sweethearts (2008) and Platoon of the Dead (2009).
---
---