---
Canada. 2017.
Crew
Director – Peter Ricq, Screenplay – Philippe Ivanusic-Vallee, Davila LeBlanc & Peter Ricq, Producer – Amber Ripley, Photography – Christopher Kempinski, Music – Humans, Visual Effects Supervisor – Andrew Hogan, Visual Effects – AJH Media & Montague Entertainment (Supervisor – Mark Montague), Special Effects Supervisor – Brant McIlroy, Production Design – Heather Lidberg. Production Company – Goodbye Productions/Trilight Entertainment/League Productions/Telefilm Canada.
Cast
Matthew Nelson-Mahood (Jason), Lizzie Boys (Summer Slade), Gabriel LaBelle (Colin Slade), Donavon Stinson (Roger Slade), Lauren Holly (Neighbour), Valerie Tran (Lisa), Taylor St. Pierre (Blonde), Bryan Demour (Brown), June B. Wild (Waitress)
---
Plot
Sixteen year-old Jason joins his best friend Colin Slade, along with Colin's older sister Summer, his father Roger and Roger's girlfriend Lisa on a trip to a cabin in the woods that Roger has rented for the weekend. While wandering about and exploring the area, Jason, Colin and Summer stray onto the neighbouring property. As they watch, the woman who lives there, whom they had earlier seen at a diner, brings two guys back ostensibly for an orgy. Instead, she gives the guys drugged wine and then allows their unconscious bodies to be devoured by zombies she keeps locked up. Spotted by her, Jason, Colin and Summer run back to their cabin and try to get help from a wasted Roger and Lisa. Roger drunkenly insists on going over next door to find out what is going on. Meanwhile, the neighbouring woman comes hunting them with her zombies.
---
Dead Shack is low-budget Canadian-made film from Peter Ricq who had previously created the animated series' The League of Super Evil (2009-12) and Freaktown (2016– ) and co-directed the documentary Come Together (2016).
I have to confess up front that I had no expectations whatsoever of Dead Shack – the title seemed about as generic as it is possible to get and did nothing to make the film stand out. I have to also say that I was surprised by what a good little film Dead Shack is. As I had done all but the most minimal reading on it beforehand (in order to maintain surprises), I did not realise it was also a zombie film. This is a genre that has started seeming badly played out in the last few years – be it the straight zombie film feeling creatively exhausted or the gonzo zombie parody/title mash-up starting to seem a little desperate for ideas. However, as with a handful of films of recent – The Girl with All the Gifts (2016), Here Alone (2016), Cargo (2017), The Cured (2017) – the film manages to find some great new things to do with the genre.
Peter Ricq manages to do several things different to the usual zombie film. For one, quite possibly for budgetary reasons, he does not concern himself with any widespread outbreak, rather the total number of zombies could be counted on one's hand and the entire location is contained to only two neighbouring cabins in the woods. Indeed, there is zero explanation as to why Lauren Holly (the only recognisable name present) is harbouring zombies of her family and what turned them.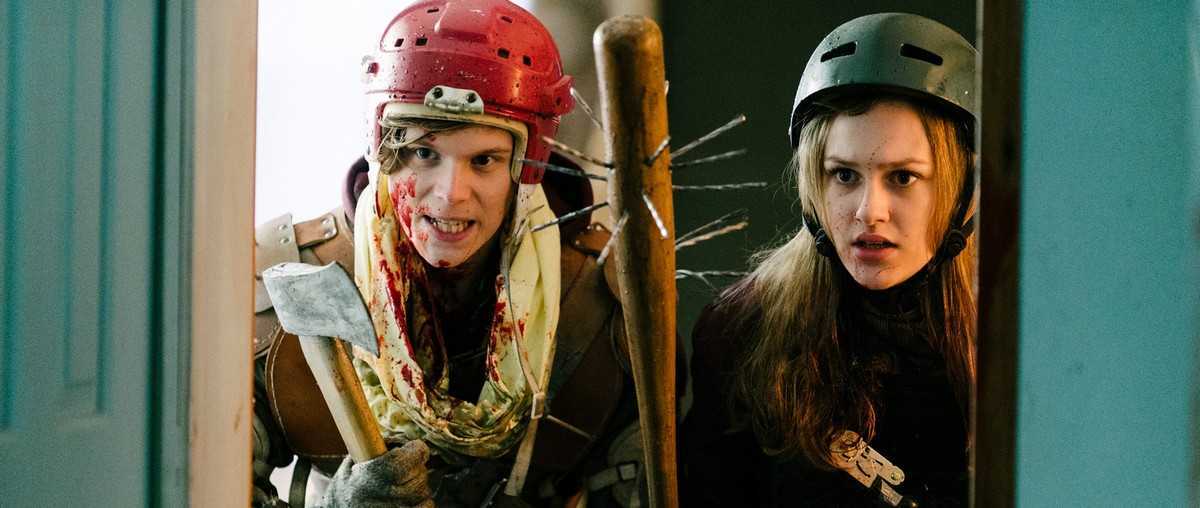 What makes Dead Shack is the sense of humour and its characters. The principal characters are wonderfully delineated and all of the actors give great performances. For once, we get a film in which three kids (or at least teenagers) are the central characters and you are not cringing at their precociousness or at the film's pandering to the Young Adult demographic. Ricq spends a reasonable amount of time establishing them in the build-up before bringing the zombies to centre stage. In these scenes, we get to instantly like the characters – Matthew Nelson-Mahood as the nerdy, socially awkward Jason; Gabriel LaBelle as the sarcastic motormouth best friend; Lizzie Boys as the bitchy older sister that Jason has a crush on; Donavon Stinson as the hapless father, constantly joking and trying to fit in. The banter between the four, the witty ways that Gabriel LaBelle keeps shooting down Matthew Nelson-Mahood's hopeless crush in front of his sister – add something highly endearing.
This set-up all comes before Ricq throws the characters into the midst of a WTF situation where they witness Lauren Holly luring the two jocks from the diner and then feeding them to the zombies she keeps, before the three kids are spotted. The funniest parts of the film are the ones where the panicked kids run back to their cabin and try to tell father Donavon Stinson, who has been drinking with his girlfriend, what happened. This leads to an hilarious series of scenes where Stinson drunkenly decides to head off confront the neighbour and even wanders inside her house. It is a scene where at every moment you are expecting something horrible to happen at the same time as you are laughing. Ricq loves spinning the scenes through a series of whiplash reversals – at the same time as Stinson is at the other house, Lauren Holly is attacking back at their cabin; Matthew Nelson-Mahood and Lizzie Boys hearing something in the closet, attacking it with an axe, only to find they have hacked into one of the still-alive jocks. It is a take on the zombie film that bursts with a refreshing originality.
---
---