---
Crew
Director – Grant Harvey, Screenplay – Steve Mussicotte & Christina Ray, Producers – Paula Devonshire, Grant Harvey & Steve Hoban, Photography – Michael Marshall, Music – Alex Khaskin, Special Effects Supervisor – Leo Wieser, Makeup Effects – KNB EFX Group Inc. (Supervisors – Howard Berger, Robert Kurtzman & Greg Nicotero), Production Design – Todd Cherniawsky. Production Company – Lions Gate Films/49 Films/Combustion Productions/Nice Doggie Films Inc Alberta/Telefilm Canada/Canadian Audio-Visual Certification Office/The Government of Ontario – The Ontario Film and Television Tax Credit/Alberta Film Development Program of the Alberta Foundation for the Arts/Movie Central, A Corus Entertainment Company.
Cast
Katharine Isabelle (Ginger Fitzgerald), Emily Perkins (Brigitte Fitzgerald), Tom McManus (Wallace Rowlands), Nathaniel Arcand (Hunter), J.R. Bourne (James), Hugh Dillon (Reverend Gilbert), Adrien Dorval (Seamus), Matthew Walker (Doc Murphy), Edna Rain (Elder), Fabian Bird (Milo), Brendan Fletcher (Finn MacIntyre), David LaHaye (Claude)
---
Plot
1815, in the frozen wilderness between Hudson Bay and York. Two teenage sisters, Brigitte and Ginger Fitzgerald, stumble on together after their parents have been killed in an accident. They come across an old Indian woman who gives them a dire prophetic warning. Shortly after that, an Indian hunter guides Brigitte and Ginger to Fort Bailey, owned by the Northern Legion Trading Company. The men at the fort are fearful and unwilling to admit the girls until the captain Wallace Rowlands insists they do. By night, the fort is attacked by fierce wolf creatures that are slowly whittling the men's numbers down. Ginger discovers that Rowlands keeps his son Geoffrey hidden and that Geoffrey has become a hideously deformed part-beast. During one attack, Ginger is bitten by Geoffrey but the girls keep this a secret when they see the other men shoot one of their own number after he is bitten by the wolf creatures. Brigitte sees that Ginger is now starting to turn into a wolf creature too. She realises that the Indian woman's prophecy about one of the girls having to kill the other is slowly coming true.
---
Ginger Snaps Back: The Beginning was the third in the trilogy of films that began with Ginger Snaps (2000), which was a sharp and witty deconstruction of the werewolf theme. Ginger Snaps Back was filmed back-to-back with an earlier sequel, Ginger Snaps: Unleashed (2004), and acts as a prequel to the other two films. In this regard, the Ginger Snaps trilogy reminds somewhat of the trilogy of vampire films begun with From Dusk Till Dawn (1996). In both of these series, the first two films follow on from each other while the third entry, From Dusk Till Dawn 3: The Hangman's Daughter (2000) and Ginger Snaps Back: The Beginning, takes the premise back into a 19th Century setting. Actresses Katharine Isabelle and Emily Perkins are present in all three Ginger Snaps films.
Unlike The Hangman's Daughter, Ginger Snaps Back: The Beginning cannot be considered a prequel proper. The 19th Century setting is initially confusing as you keep scratching your head and wondering what we are doing back nearly 200 years earlier with two identical sisters who also happen to be called Brigitte and Ginger Fitzgerald. Not to mention a plot that mirrors Ginger Snaps where Ginger is bitten by a werewolf and Brigitte spends the film trying to deal with the transformation. You sort of have to ignore this and shrug it off as one of those coincidences that occur in genre cinema – the sort that allows every generation of the Frankenstein family to be mad scientists. Essentially you have to regard Ginger Snaps Back: The Beginning as a retelling of the plot of Ginger Snaps but transplanted into a 19th Century setting.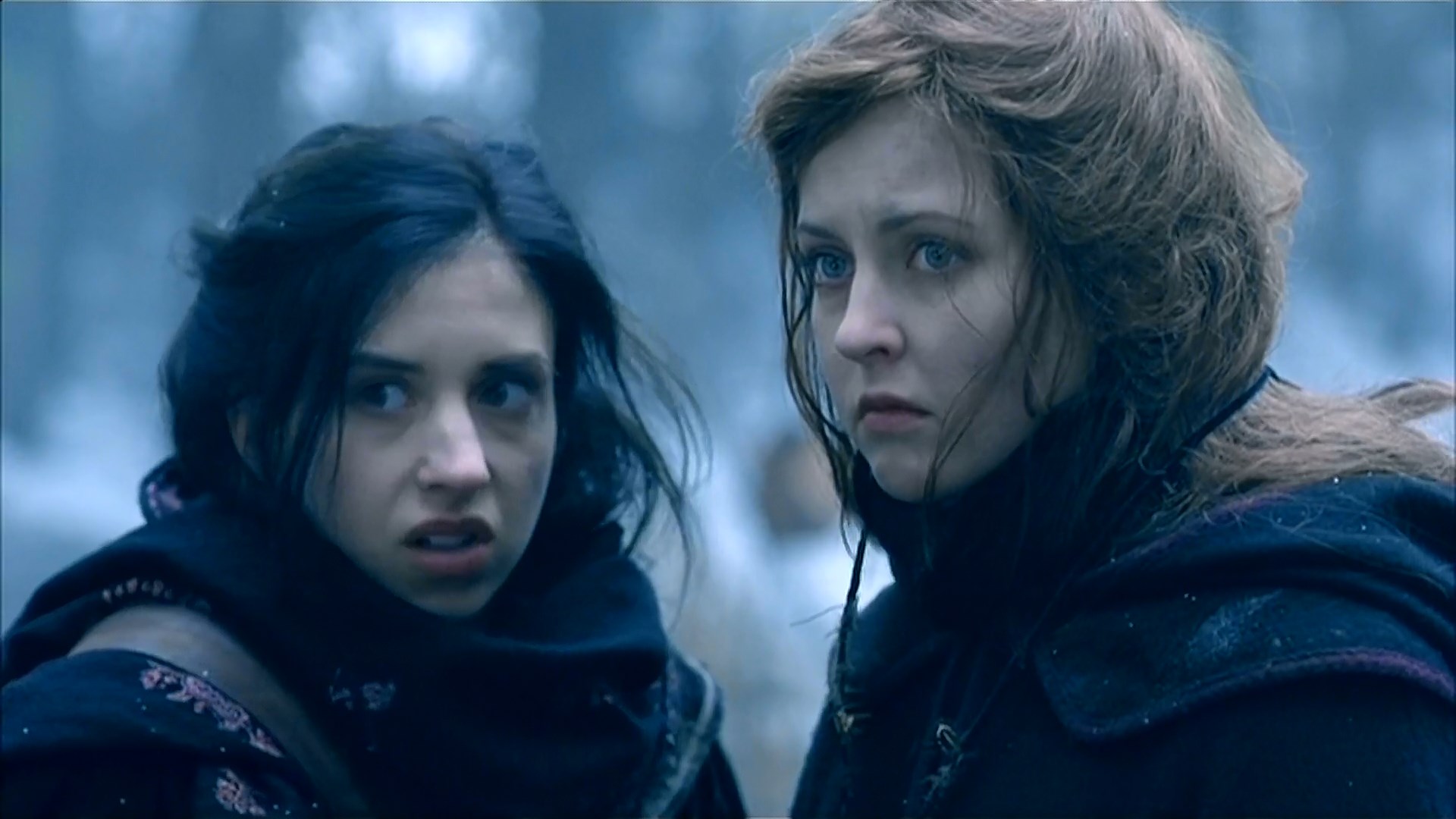 Ginger Snaps Back: The Beginning takes place entirely in and around an old fort that was built on location in Alberta. In terms of setting, Ginger Snaps Back: The Beginning is like a much better version of what the failed Ravenous (1999) tried to be. The film quickly comes to absorb one its atmosphere. Director Grant Harvey, who was second unit director on the original Ginger Snaps, creates a particularly good opening during the girls' arrival at the fort. This is a marvellous piece of scene setting where Harvey makes both the wintry wasteland and the locals that inhabit the place seem as equally cold, hostile and unwelcoming.
Harvey does a spectacularly good job of creating an atmosphere of creepy foreboding and grim suspense, of portraying a group of men at the end of their respective mental tethers and feeling that they are damned. The mood of constant dread is seamlessnessly sustained throughout. In fact, one might argue that Ginger Snaps Back: The Beginning is the best of all the Ginger Snaps films in terms of maintaining its atmosphere. The supporting performances from the men at the outpost are all extremely good.
Director Grant Harvey subsequently went onto direct the alien invasion comedy Freezer Burn (2008) and co-directed A Christmas Horror Story (2015).
---
---