aka Gallery of Horror
---
Crew
Director – David L. Hewitt, Screenplay – Gary R. Heacock & David Prentiss, Stories – Russ Jones, Producers – Ray Dorn & David L. Hewitt, Photography – Austin McKinney, Makeup – Jean Lister, Art Direction – Ray Dorn. Production Company – Borealis Enterprises, Inc./Dorad Corporation.
Cast
John Carradine (Narrator). The Witches Clock:– Roger Gentry (Bob Farrell), Karen Joy (Julie Farrell), John Carradine (Tristram Halbin), Vic McGee (Dr Bernard Finchley). King Vampire:– Ron Doyle (John Brenner), Ron Brogan (Marsh), Margaret Moore (Mrs O'Shea), Roger Gentry (Mob Leader). Monster Raid:– Roger Gentry (Dr James Sevard), Rochelle Hudson (Helen Spalding), Ron Doyle (Dr Charles Spalding), Vic McGee (Desmond). Spark of Life:– Lon Chaney [Jr] (Dr Mendell), Ron Doyle (Dr Cushing), Joey Benson (Dr Sedgewick), Vic McGee (Amos Duncan). Count Dracula:– Roger Gentry (Jonathan Harker), Mitch Evans (The Count), Karen Joy (Vampire), Vic McGee (The Burgermeister), Gray Daniels (The Coachman)
---
Plot
The Witches Clock:– Bob and Julie Farrell buy a big old mansion in Massachusetts that is going cheaply and move in. They learn stories of the witches that used to live there. Bob finds an old grandfather clock in the basement and sets it going again whereupon they receive a visit from a sinister caretaker who used to tend the house. King Vampire:– Victorian London is plagued by the so-called Vampire Killings. Police inspector John Brenner sets out to find the King Vampire responsible. Monster Raid:– Dr Charles Spalding is experimenting to find a means to resurrect life. His colleague Dr Sevard is having an affair with Spalding's wife in an effort to steal the secrets from him. Spark of Life:– Dr Mendell tells two of his students about the experiments of Baron Erik von Frankenstein. They decide to repeat them by resurrecting a cadaver and blackmail Mendell into helping. However, after doing so, they find that the man they have resurrected is a multiple murderer. Count Dracula:– Jonathan Harker travels to Transylvania to sell the deed to Carfax Abbey to Count Dracula. Dracula's woman proves to be a vampire that tries to drink Harker's blood and is then pursued by villagers for the killings she has conducted.
---
David L. Hewitt's name might not be as well-known as that of Edward D. Wood Jr, or any of the other competitors in the same ballpark like Al Adamson or Larry Buchanan. However, Hewitt was responsible for some of the most miserable and cheap films of the 1960s and 70s, including The Wizard of Mars (1965), Journey to the Center of Time (1967), The Mighty Gorga (1970) and The Lucifer Complex (1978). Into the 1980s and 1990s, Hewitt retired from directing but continued to contribute effects to various cheap productions. He even managed to work on a number of A-budget films including Willow (1988) and Honey, I Shrunk the Kids (1989).
England's Amicus Films had great success with the anthology film Dr Terror's House of Horrors (1965) and over the next few years went on to make a series of other horror anthologies. David L. Hewitt has clearly attempted to jump aboard the success of Dr Terror's House of Horrors by offering up Dr Terror's Gallery of Horrors, even though there is no relation between the two films other than both being horror anthologies. (Today this had been turned into a business model by The Asylum who made a whole string of soundalike films, which they call 'Mockbusters').
I am not aware whether Amicus or the US distributors brought any lawsuit against Hewitt and co but the film was later retitled just Gallery of Horror and the 'Dr Terror' name was dropped. The IMDB insists that the film's title is Gallery of Horror and makes no mention of the 'Dr Terror' prefix. However, if you Google pictures of the posters from the film's original release, you will see that it was always called Dr Terror's Galley of Horrors. Like House of Horrors, it also tells five stories, all of which are variants on popular horror themes. These are drawn from stories by Russ Jones, the comic-book artist who is best known as the creator of Creepy (1964-82) magazine.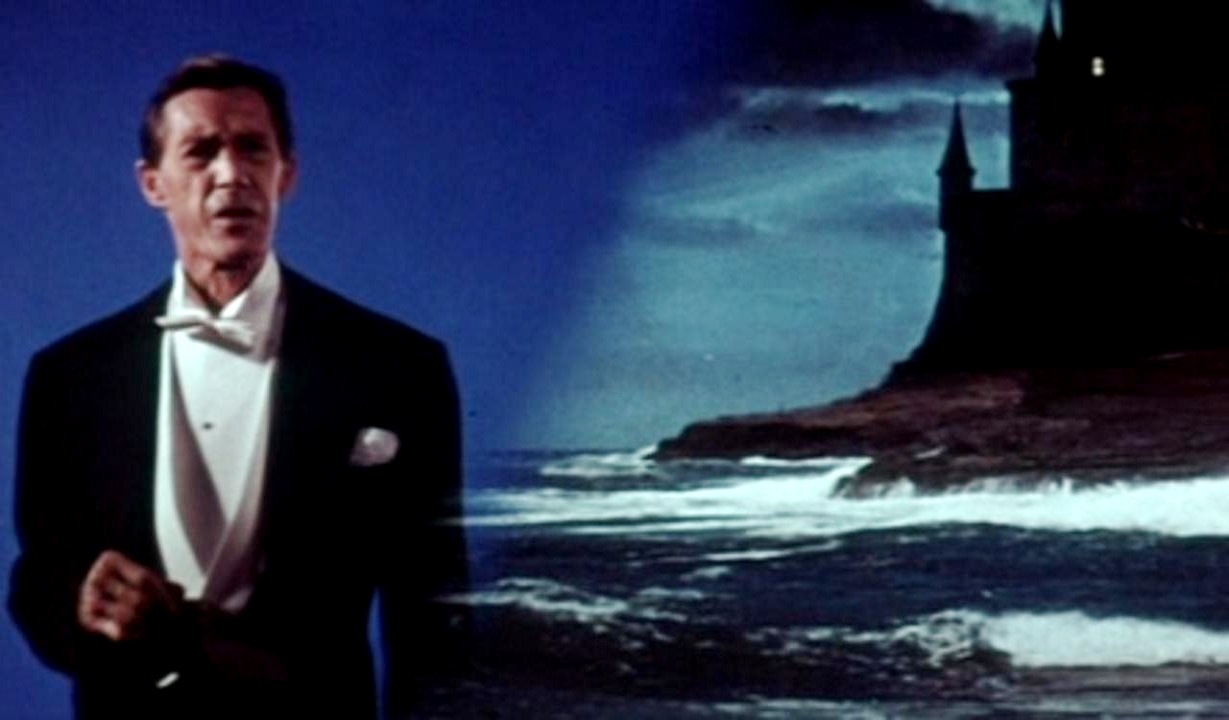 Dr Terror's Gallery of Horrors was one of the films that both John Carradine and Lon Chaney Jr made in the latter years of their careers (although they do not have any scenes together). Carradine found some fame as Dracula in two of the Universal monster bashes of the 1940s and thereafter eked out a living appearing in some of the cheapest films ever made. He appears as the narrator between episodes, as well as the caretaker in the first episode. Lon Chaney Jr was Universal's The Wolf Man (1941) and, like Carradine, spent the rest of his career up until his death appearing in some bottom of the barrel films. Chaney only appears as the doctor in the Spark of Life episode.
Dr Terror's Galley of Horrors is often pointed to as an example of one of the cheapest and worst films that Carradine and Chaney were in. In truth, while it is sometimes undeniably cheap, it is at least serviceably so. There were worst films that either appeared in – Carradine's Horror of the Blood Monsters (1970) and Vampire Hookers (1978) or Chaney's House of Black Death (1965), Hillbillys in a Haunted House (1967) and Dracula vs Frankenstein (1971) being good examples.
The first of the episodes The Witches Clock suffers from an unfocused plot. Something to do with the witches who lived in the house in the past, John Carradine being its eternal caretaker who turns up to greet each new resident and the restarting of the clock setting events into motion again, although it is not quite clear what this means to the present-day residents. This is an episode that might have worked at full length – building up sinister events surrounding the clock, gradually revealing the background about the witches – where you suspect it would have come out something along the lines of a film like City of the Dead/Horror Hotel (1959).
The second segment King Vampire feels like a weak attempt to copy the essence of the Hammer film using limited 19th Century sets and people with terrible fake British accents. This story arrives at a particularly weak twist ending.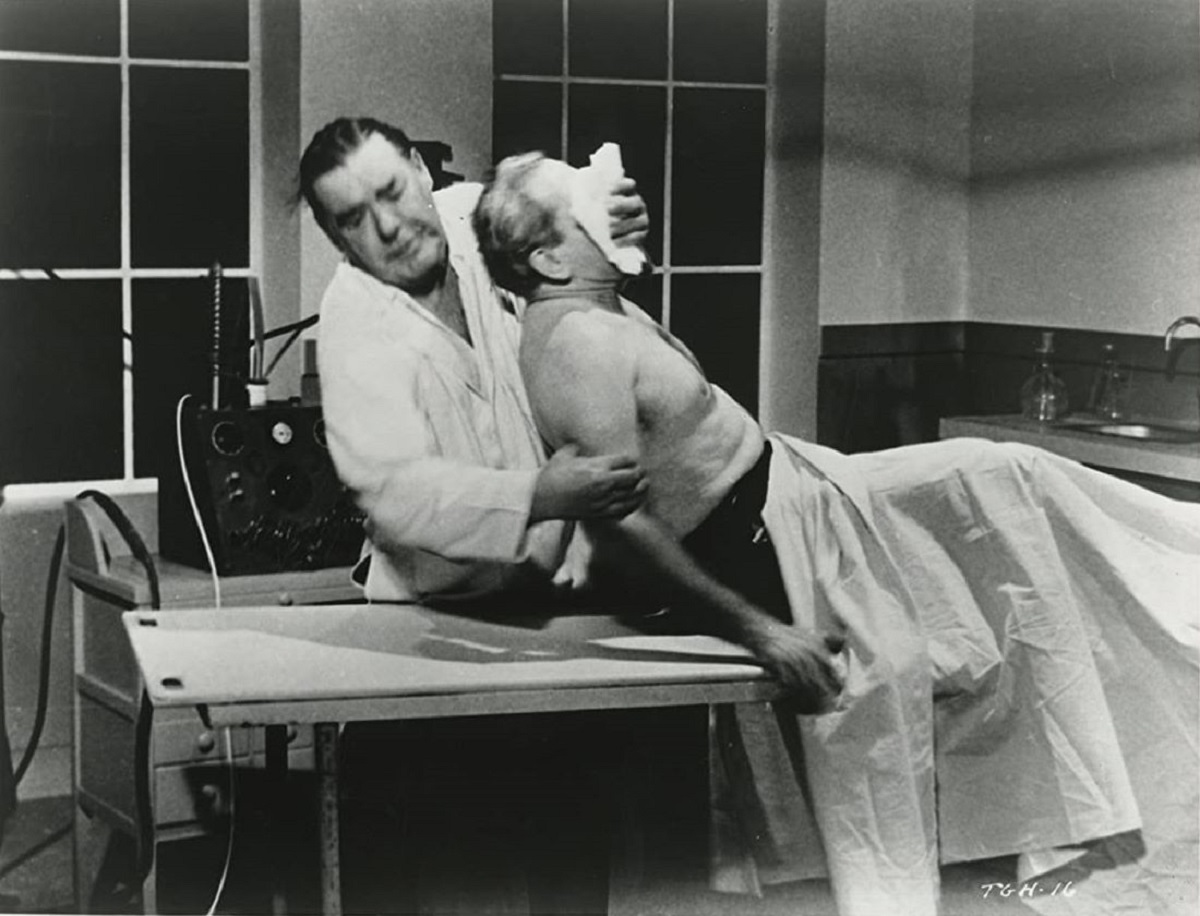 Monster Raid feels like an attempt to copy Roger Corman's Edgar Allan Poe films. The whole film is dependent on a stock footage to represent the exteriors and this segment makes a good deal of use of repeated scenes of a horse and carriage racing along a cliff above the ocean and matte shots of a castle. Much of the narrative in the episode is conveyed by this stock footage and voiceover narration. The story also arrives at another weak ending.
Spark of Life is a loose take on the Frankenstein film – or at least it involves resurrection experiments that are said to be based on those of Baron Frankenstein. None of the stories work very well but this at least arrives at an ending that places the students and Lon Chaney Jr's doctor into a difficult moral situation.
Count Dracula (or Count Alucard as John Carradine refers to in his introduction) is the novelty of the film futilely trying to reduce Bram Stoker's Dracula (1897) to something that can be told in fifteen minutes. All that we really get is a potted recount of the novel's prologue where Jonathan Harker arrives at Castle Dracula to transfer the deed to Carfax Abbey to Count Dracula. Even then the segment widely differs from the book and introduces a bunch of new elements. We do get Jonathan's journey there by coach (where we learn that Transylvania is beside the ocean and has palm trees), his dining with Dracula and the appearance of one of Dracula's traditional three wives who tries to put the bite on Jonathan. Thereafter, the segment abandons Stoker and heads in its own direction with a bunch of torch-waving villagers arriving at the castle door to hunt the bride, followed by a mildly amusing twist ending where Jonathan turns out to be a werewolf who turns and eliminates Dracula as competition.
---
Trailer here
Full film available here
---