---
Crew
Director/Screenplay – Anthony DiBlasi, Based on the Short Story by Clive Barker, Producers – Laura Apelian, Clive Barker, Joe Daley, Jorge Saralegui, Nigel Thomas & Charlotte Walls, Photography – Sam McCurdy, Music – Theo Green, Visual Effects – MFX London and Post Office (Supervisors – Clare Cheetham & Jonathan Cheetham), Physical Effects/Prosthetics – Artem (Supervisor – Mike Kelt, Prosthetic Supervisor – Chris Fitzgerald), Makeup Design – Jacqueline Fowler, Production Design – Chris Lowe. Production Company – Matador Pictures/Midnight Picture Show/Cinema Three/Regent Capital/Newbridge Film Capital/E-Motion and Motion Investment Capital/Pepper Post/Plum Films.
Cast
Shaun Evans (Quaid), Jackson Rathbone (Stephen Grace), Hanne Steen (Cheryl Fromm), Laura Donnelly (Abbie), Jonathan Redwin (Joshua Shaw), Vivian Gray (Tabitha Swan)
---
Plot
Film student Stephen Grace meets the charismatic philosophy lecturer Quaid who recruits him for a research project into the nature of fear. They request volunteers and bring them in to discuss their worst fears on camera. Abby, a fellow student who has a disfiguring birthmark all over her face and body, wants Stephen but he rejects her because he is interested in Cheryl. Quaid becomes dissatisfied with the responses people are giving. He then takes a videotape that Stephen made where Abby undresses to show her birthmark and plays it on the school's monitors, humiliating her with her greatest fear. Pushing things even further, Quaid knocks interviewees unconscious and imprisons them where they are forced to confront their greatest fears.
---
Dread is an adaptation of a Clive Barker short story – the original can be found in Volume II of Barker's ground-breaking multi-volume collection The Books of Blood (1985). Director/screenwriter Anthony DiBlasi has been a producer of several other Clive Barker films, The Plague (2006), The Midnight Meat Train (2008) and Book of Blood (2009). After making his directorial debut with Dread, DiBlasi went onto direct the likes of Cassadaga (2011), the thriller Missionary (2013), an episode of the anthology The Profane Exhibit (2013), Last Shift (2014), Most Likely to Die (2015), Her Last Will (2016) and Extremity (2018).
Anthony DiBlasi rearranges the Barker story somewhat – the incident with the vegetarian girl locked up and forced to eat a steak is moved from the opening of the story to become the culminating act of the film, while the scene with the student who is forced to relive a nightmare of deafness was originally Quaid's torture of Stephen.
As a concept for a film, the premise of an experiment in fear is somewhat gimmicky – it makes you automatically think of a slick, superficial US-made thriller like Gossip (2000) or Chain Letter (2010). Even not knowing anything about the short story, Dread takes a long time to seem like it is going anywhere and clue you into the fact that it is horror – you are not sure if it is padding the story out or just creating backstory.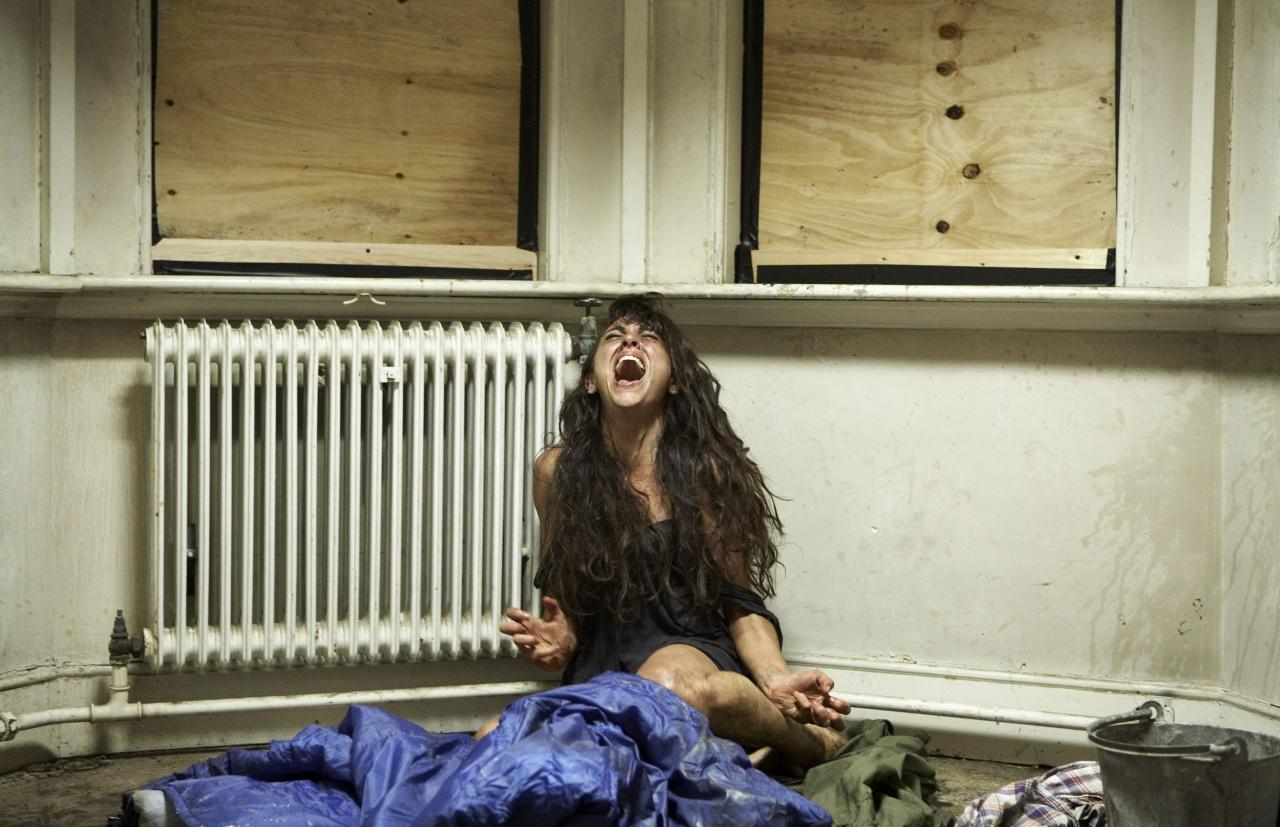 Nevertheless, Dread starts to become fascinating about the point that Laura Donnelly strips down for Jackson Rathbone and stands there in her underwear showing the disfiguring birthmarks all over one side of her body. There is something horrible to the subsequent scenes where Shaun Evans broadcasts the tape of her stripping all over the school and then of Laura Donnelly getting into a bath to scrub her skin with bleach.
Dread finally hits its horror stride during the climactic scenes where Shaun Evans locks Hanne Steen in a room with a steak left in front of her to eat and we move through her progressive mental disintegration until she comes to the point where she sinks her teeth into the steak that is now rotting and crawling with maggots. DiBlasi substitutes Barker's ending for a final nasty sting where Shaun Evans drags a dead body into Hanne Steen's room of imprisonment and dumps it in front of her, "Let's see how hungry you'll have to be to get through that."
Other films adapted from the works of Clive Barker include:- Candyman (1992), from Barker's story The Forbidden (1985), featuring a supernatural boogey man, which has produced two sequels; one of the stories in the tv movie Quicksilver Highway (1997); The Midnight Meat Train (2008); and Book of Blood (2009); and Books of Blood (2020). Clive Barker has directed three films – Hellraiser (1987), which produced numerous sequels, Nightbreed (1990) and Lord of Illusions (1995). Barker has also written two original screenplays with Underworld/Transmutations (1986) and Rawhead Rex (1987), acted as Executive Producer on Gods and Monsters (1998), wrote the story and produced Saint Sinner (2002) and produced The Plague (2006) and the remake of Hellraiser (2022).
---
---