USA. 1997.
Crew
Director/Teleplay – Mick Garris, Based on the Short Stories Chattery Teeth by Stephen King and The Body Politic by Clive Barker, Producers – Mick Garris & Ron Mitchell, Photography – Shelly Johnson, Music – Mark Mothersbaugh, Visual Effects – Flash Film Works, Inc. (Supervisor – William Mesa), Special Effects Supervisor – Mark Byers, Animatronics/Prosthetics – Steve Johnson's XFX, Inc. (Prosthetics Supervisor – Leon Ladernach, Animatronics Supervisor – Bob Newton), Production Design – Craig Stearns. Production Company – National Studios, Inc.
Cast
Christopher Lloyd (Aaron Quicksilver), Missy Crider (Olivia Harmon Parker), Raphael Sbarge (Kerry Parker), Matt Frewer (Charlie). Chattery Teeth:– Raphael Sbarge (Bill Hogan), Silas Weir Mitchell (Bryan Adams), Bill Bolender (Scooter), Veronica Cartwright (Myra). The Body Politic:– Matt Frewer (Dr Charles George), Bill Nunn (Len), Cynthia Garris (Ellen George), Sherry O'Keefe (Harriet Da Vinci)
---
Plot
1:– Heading away on their honeymoon, newlyweds Olivia Harmon and Kerry Parker become stranded in the Nevada Desert when their car breaks down. As Kerry walks to get help, the strange Aaron Quicksilver stops by in his car and trailer. He invites Olivia to dine with him and tells her one of the stories he collects on his journeys up and down the highway. Chattery Teeth:– While travelling the desert highway, salesman Bill Hogan is caught in a dust storm. He stops by a diner and on a whim buys a strange set of toy wind-up chattering teeth. He offers a ride to hitchhiker Bryan Adams but soon after they set out Adams pulls a knife on Bill. They end up crashing, leaving Bill trapped belted into his seat in the overturned van. As Adams threatens him, Bill receives strange aid from the chattery teeth, which have a life of their own. 2:– At a circus fairground, the pickpocket Charlie flees into Quicksilver's freakshow of exhibits where Quicksilver tells him a story about the Hand of Glory he has on display. The Body Politic:– Charles George is a successful plastic surgeon but suddenly finds that his hands are developing a will of their own. As George sleeps, the hands start plotting together. George comes around to find the hands strangling his wife because she overheard them talking. The hands then drag George to the kitchen where the left hand grabs a meat cleaver and liberates the right. The hand runs out into the world where it plans to start a revolution to free other hands.
---
Mick Garris has strong potential to be in the running for worst director currently at work in Hollywood. Garris first appeared with scripts for Batteries Not Included (1987), The Fly II (1989), Hocus Pocus (1993) and as director of Critters 2 (1988) and Psycho IV: The Beginning (1990). However, it is with his Stephen King adaptations that Garris has become most associated, he being the most prolific interpreter of King's work to date. These include at current count Sleepwalkers (1992), The Stand (tv mini-series, 1994), half of Quicksilver Highway here, the remake of The Shining (tv mini-series, 1997), Riding the Bullet (2004), Desperation (tv mini-series, 2006) and Bag of Bones (tv mini-series, 2011). Some of these turned out okay – The Shining, Desperation – but the majority of Mick Garris's work is loud, unsubtle and full of infuriatingly in-your-face jumps that irritate more than they ever spook you.
Mick Garris has also had much experience in the televised fantastic anthology format. One of his first industry jobs was as story editor on the Steven Spielberg produced tv series Amazing Stories (1985-7), for which he also wrote nine episodes. Subsequent to this, Garris returned to the anthology format as creator, executive producer and guiding hand behind the Masters of Horror (2005-7) series and its less successful cousin Masters of Science Fiction (2007), followed by a further horror anthology Fear Itself (2008-9).
Quicksilver Highway gives the impression of having been intended as a pilot for an anthology series that never ended up selling. Garris adapts two stories, Chattery Teeth (1992) from Stephen King and The Body Politic (1992) from Clive Barker, who around the time was considered the No 2 name in horror next to King. Both stories are 45 minutes apiece and were almost certainly originally intended to fill a one-hour timeslot of a presumed tv series. Christopher Lloyd is wound in as a narrator character, which is customary for most of these anthology series (although Lloyd is an actor better known for his comic crazy man style and never gets the essential ghoulish or dark threat that a role like this requires).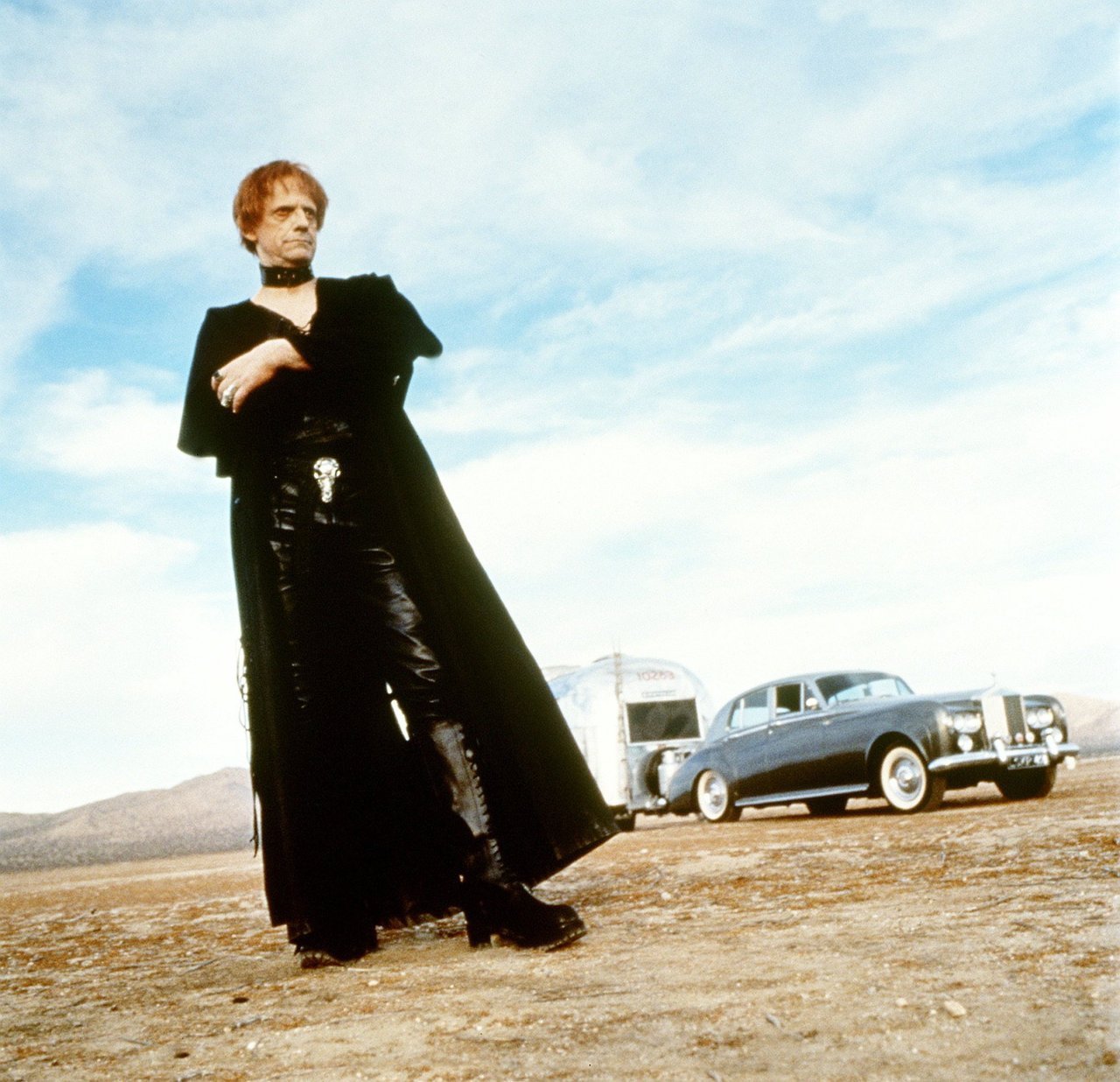 Whenever he is in the director's chair, Mick Garris always seems to swing between the absurdly over-the-top and occasionally judiciously restrained effect – although the over-the-top swings are inclined to dominate. Quicksilver Highway seems to sit at the mid-point of the pendulum's swing, tending generally towards the restrained, if ultimately producing nothing remarkable. The first segment, Chattery Teeth, comes with a passable set-up. Mick Garris's handling is okay, if nothing to write home about. However, the segment is stuck with an incredibly absurd central idea – a set of plastic wind-up teeth that come to life and start attacking people. The entire episode teeters between whether one finds the sight of a set of wind-up plastic teeth with legs attacking someone and dragging bodies off into the desert risible or not.
The two episodes seem linked by the loose theme of body parts (or plastic simulations of them) gaining a life of their own. If Chattery Teeth had a credibility problem with its central happening, then this goes into orbit with the second story The Body Politic. The film's credibility point sinks in a bad way when we get to images of Matt Frewer asleep in bed as his hands start having conspiratorial finger puppet conversations about how to escape.
n the other hand, Mick Garris's over-the-top style actually becomes the saving grace of The Body Politic, turning the episode into something like a madcap full-length version of the sequence in The Evil Dead 2 (1987) where Bruce Campbell is attacked by his own hand. There are some highly amusing scenes with Matt Frewer under attack by his hand as it punches and tries to strangle him, or with he having to tap out the numbers on a phone with his nose to call for help and then the hand dragging him across the floor and raising a meat cleaver to free its other self. It is Garris's finding the basic absurdity of the second story that ends up making Quicksilver Highway work.
Other Stephen King genre adaptations include:- Carrie (1976), Salem's Lot (1979), The Shining (1980), Christine (1983), Cujo (1983), The Dead Zone (1983), Children of the Corn (1984), Firestarter (1984), Cat's Eye (1985), Silver Bullet (1985), The Running Man (1987), Pet Semetary (1989), Graveyard Shift (1990), It (tv mini-series, 1990), Misery (1990), a segment of Tales from the Darkside: The Movie (1990), Sometimes They Come Back (1991), The Lawnmower Man (1992), The Dark Half (1993), Needful Things (1993), The Tommyknockers (tv mini-series, 1993), The Stand (tv mini-series, 1994), The Langoliers (tv mini-series, 1995), The Mangler (1995), Thinner (1996), The Night Flier (1997), The Shining (tv mini-series, 1997), Trucks (1997), Apt Pupil (1998), The Green Mile (1999), The Dead Zone (tv series, 2001-2), Hearts in Atlantis (2001), Carrie (tv mini-series, 2002), Dreamcatcher (2003), Riding the Bullet (2004), 'Salem's Lot (tv mini-series, 2004), Secret Window (2004), Desperation (tv mini-series, 2006), Nightmares & Dreamscapes: From the Stories of Stephen King (tv mini-series, 2006), 1408 (2007), The Mist (2007), Children of the Corn (2009), Everything's Eventual (2009), the tv series Haven (2010-5), Bag of Bones (tv mini-series, 2011), Carrie (2013), Under the Dome (tv series, 2013-5), Big Driver (2014), A Good Marriage (2014), Mercy (2014), Cell (2016), 11.22.63 (tv mini-series, 2016), The Dark Tower (2017), Gerald's Game (2017), It (2017), The Mist (tv series, 2017), Mr. Mercedes (tv series, 2017– ), 1922 (2017), Castle Rock (tv series, 2018– ) and Pet Semetary (2019). Stephen King had also written a number of original screen works with Creepshow (1982), Golden Years (tv mini-series, 1991), Sleepwalkers (1992), Storm of the Century (tv mini-series, 1999), Rose Red (tv mini-series, 2002) and the tv series Kingdom Hospital (2004), as well as adapted his own works with the screenplays for Cat's Eye, Silver Bullet, Pet Semetary, The Stand, The Shining, Desperation, Children of the Corn 2009, A Good Marriage and Cell. King also directed one film with Maximum Overdrive (1986).
Clive Barker has also directed/written Hellraiser (1987), Nightbreed (1990) and Lord of Illusions (1995). Other adaptations of Clive Barker work include Candyman (1992), which produced two sequels, The Midnight Meat Train (2008), Book of Blood (2009) and Dread (2009). Barker has also written the screenplays for – Underworld/Transmutations (1986) and Rawhead Rex (1987), acted as Executive Producer on Gods and Monsters (1998); wrote and produced Saint Sinner (2002); and produced The Plague (2006).
(Review copy provided by Kathy Tipping)
---
Trailer here
---