---
Crew
Director – Anthony DiBlasi, Screenplay/Producers – Scott Poiley & Bruce Wood, Story – Bruce Wood, Photography – Jose Zambrano Cassella, Music – Dani Donadi, Visual Effects Supervisor – Diego Torroija, Makeup Effects – Lee A. Grimes, Production Design – Nicole Balzarini. Production Company – PoileyWood Entertainment.
Cast
Kelen Coleman (Lily Morel), Kevin Alejandro (Mike Hernandez), Louise Fletcher (Claire Andersen), Rus Blackwell (Christian Burton), Lucas Beck (Thomas Andersen), Lucius Baston (Officer Hall), Amy LoCicero (Jennifer Eastman), Sarah Sculco (Michelle Morel), Rachel DuRose (Haley Hernandez), Avis-Marie Barnes (Susan Baker), Hank Stone (Maxwell), Carlos A. Navarro (Todd), Amy Hicks-Bevly (Cherise Henderson)
---
Plot
Lily Morel is a deaf art teacher who is raising her teenage sister Michelle following the death of their parents. Michelle is then killed in an accident at the school. Afterwards, Lily uproots and takes a teaching job at Cassadaga University run by old friend Claire Andersen at a former plantation house in Volusia, Florida. There Lily meets and is attracted to EMT worker Mike Hernandez, the father of one of her pupils. While out with Mike's friends, they decide to visit Susan Baker, a psychic who runs a class at Cassadaga. Lily is eager to contact Michelle but afterwards begins to have visions of the dead trying to give her messages. These lead her on the trail of someone connected to Cassadaga who is abducting women and removing their limbs to turn them into living marionettes.
---
Director Anthony DiBlasi has become a rising name to watch out for in recent years. DiBlasi first emerged as an executive producer of several Clive Barker films, The Plague (2006), The Midnight Meat Train (2008) and Book of Blood (2009), before making his directing/screenwriting debut with the Barker-adaptation Dread (2009). This was followed by Cassadaga. DiBlasi subsequently, went onto a more than reasonable directorial career with the thriller Missionary (2013), an episode of the horror anthology The Profane Exhibit (2013), the haunted precinct film Last Shift (2014), the slasher film Most Likely to Die (2015), the thriller Her Last Will (2016) and Extremity (2018) set aorund an extreme haunt, as well as producing Exhume (2017) for his regular co-writer/co-producer Scott Poiley.
Cassadaga is a film where it took me a long time to work out where it was going. There is a long lead-in with Kelen Coleman – who must be the only other deaf heroine in a horror film prior to Mike Flanagan's Hush (2016) – losing her sister (how she dies is something the film never quite makes clear) and then moving to Florida. (I was surprised to find in researching the background of the film that Cassadaga is an actual town in Florida – according to US census data, the town's population is only 66. It advertises itself as 'The Psychic Capital of the US' and boasts a number of mediums and psychics – although with a population only in the double digits, clearly not that many of them).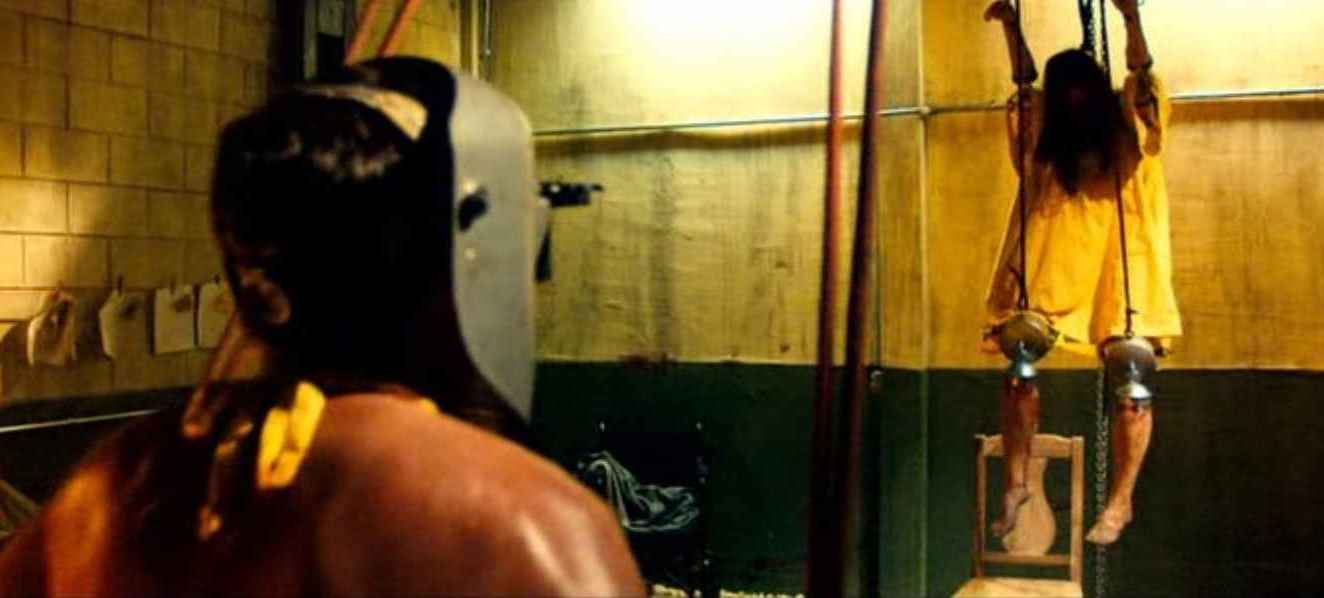 It takes a long time before we get to the scenes where Kelen Coleman visits a psychic (where you do have to admit that the film makes an interestingly different rationalisation of mediumship than most other films on the subject). It is only after this – some 35 minutes into the film – that Kelen Coleman gains her mediumistic abilities.
Kelen Coleman's story is interspersed with a B plot with an unseen killer keeping a woman prisoner hostage. In the film's most outré images, the woman wakes up to find that her arms and legs have been severed and replaced with mannequin limbs turning her into a giant-sized marionette on strings. The point where the film segues into Kelen Coleman using her newfound abilities to track who at the university is abducting and making people into puppets are the least satisfying aspects of the film. They make Cassadaga into no more than a regular clairvoyant murder mystery a la the likes of Baffled! (1972), Eyes of Laura Mars (1978), In Dreams (1999), The Gift (2000) et al – the plot of the clairvoyant gaining a window into the mind of a killer is a regular plot in many of these.
Events unfold slowly and it is only near the end when Kelen Coleman's story merges with that of the marionette maker. And when it does, it feels that neither story is granted the satisfactory telling they deserve, even despite the film's longer than standard 148 minute running time. Now if they had given a whole film over to the marionette maker, this would have been something outlandish.
---
---