USA. 2009.
Crew
Director – Eric Bross, Screenplay – Mark L. Smith, Producer – Hal Lieberman, Photography – Horacio Marquinez, Music – Jerome Dillon, Visual Effects – HTV/Illuminate (Supervisor – AJ Ullman), Special Effects Supervisor – Tom Ceglia, Makeup Effects – Justin Raleigh, Production Design – Stephen McCabe. Production Company – Stage Six Films.
Cast
Agnes Bruckner (Jessica Pruitt), David Moscow (Gordon), Scott G. Anderson (Smith), Ajay Smith (Tanner), Trevor Wright (Caleb), Brian Klugman (Reece), Beau Billingslea (Otis), Juanita Jennings (Doris), Nelson Lee (Groom), Gwendoline Yeo (Bride)
---
Plot
After police closed down the Pinewood Motel, hundreds of snuff videotapes were found there. This is the story of the first of these that was made back in 2004. Gordon and Reece were running the Meadow View motel and had an illicit operation secretly videotaping couples having sex and afterwards selling the tapes. They then inadvertently taped the serial killer known only as Smith killing a prostitute. Knocking Smith out, they debated what to do but he persuaded them to let him continue doing his work, to film the killings and then sell the tapes as snuff movies. Next to sign into the motel was Caleb and his girlfriend Jessica on their way to ask her parents' permission to marry, accompanied by their friend Tanner. Once in their room, they discovered that they were being taped. As they attempted to flee, they were attacked and brutalised by Gordon, Smith and Reece.
---
Vacancy (2007) was a modest venture into the Torture Porn cycle started by Saw (2004), Hostel (2005) and their ilk. Tamer than the others, it was commercially calculated and, while doing nothing groundbreaking with the genre, was a passable effort. Despite being labelled Vacancy 2, this is actually a prequel that supposedly tells the story of how the psycho motelier of the original came to be (even though this is a different motel and features a different set of characters).
The script is from Mark L. Smith who wrote the first film. Direction has been handed over to Eric Bross who has previously directed The Chippendale Murder (2000) and Vampire Bats (2005) and the subsequent The Boy Who Cried Werewolf (2010).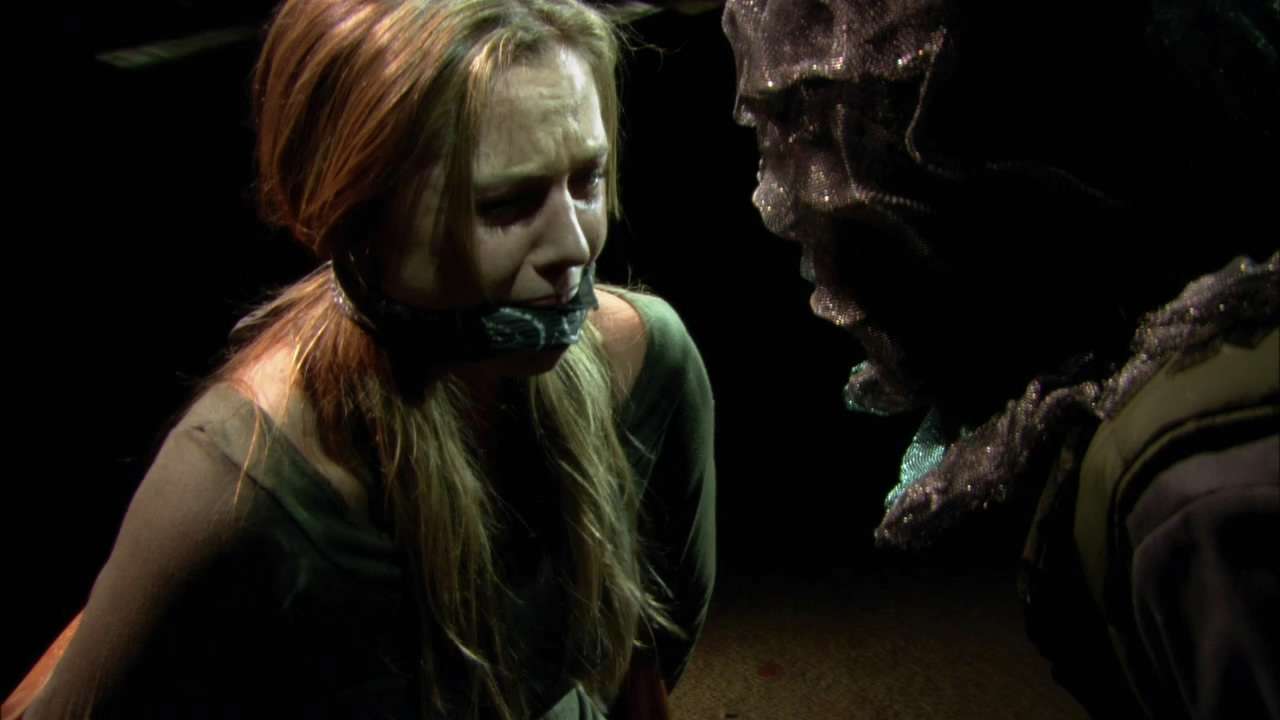 In an arena where sequels are tossed off to anything that is even remotely successful, sometimes not even that, Vacancy 2: The First Cut survives somewhat better than the average sequel. There is an interesting opening that plays with expectations from the first film – we are led to suspect that a newlywed couple that turn up are about to become victims and we see the moteliers watching on closed circuit monitors before it is revealed that they are only making hidden camera porn. This is thrown on its head when Scott G. Anderson comes in with a hooker and, as they watch, kills her and the moteliers are suddenly left not knowing what to do with him or the incident they have caught on tape.
It is noticeable that, while Vacancy featured a married couple somewhere in their mid-thirties, Vacancy 2: The First Cut has dropped the central couple's ages by a good decade into their twenties so that the sequel now settles into the arena of a teen horror film. What you cannot deny is that, even though The First Cut is formulaic, Eric Bross directs with a fair degree of tension and viscerality. In fact, you could say that Bross pushes the sequel into far more of a brutal extreme than the original ever did. Of course, the story has now moved away from the basic snuff movie thriller that the original was to become another copy of The Texas Chain Saw Massacre (1974) about a group of young people being hunted, tortured and butchered. To this extent, Eric Bross works up a fair head of steam.
---
Trailer here
---