---
Republic of Ireland/UK. 1986.
Crew
Director/Screenplay – Robin Hardy, Based on the Novel Goosefoot by Patrick McGinley, Producer – Mark Forstater, Photography – Frank Gell, Music – Stanislas Syrewicz, Special Effects – Gerry Johnstone, Makeup – Nick Dudman, Art Director – John Lucas. Production Company – Mark Forstater Productions/New Irish Film Productions/ITC Entertainment.
Cast
Moira Harris (Patricia Teeling), Timothy Bottoms (Danny Sullivan), Christopher Cazenove (Inspector Seamus McMyler), John Kavanagh (Robert Foxley), Bairbre Ni Chaoimh (Monica Quigley), Mick Lally (Uncle Lar)
---
Plot
Naive country girl Patricia Teeling moves to Dublin to take up a teaching position. There she becomes the focus of attention from several men, including fellow teacher Robert Foxley and her upstairs neighbour, married American writer Danny Sullivan. At the same time, the city is threatened by a serial killer who romances his victims with poetry before stabbing them. Danny's wife becomes the next victim. Patricia is at first excited and then fearful when she starts to receive a series of anonymous phone calls and poems.
---
This Republic of Ireland-made film certainly does the 1980s psycho-stalker cliches with a difference. Not that one could tell that The Fantasist is a psycho film from its title – it sounds either like a more whimsical version of Portnoy's Complaint (1972) or a remake of The Secret Life of Walter Mitty (1947).
The Fantasist is not entirely successful – but not for want of trying. Director Robin Hardy, who had previously made the great The Wicker Man (1973), achieves some subtlety, littering the background with all manner of clues linking various people to the killings – a balloon like the one John Kavanagh gives Moira Harris being found among one victim's things and the picture that the killer sends victims left in the background of other people's rooms. Some of the characters sketches are good – like the funny parody of wine-tasting and in particular a haunting story told by Mick Lally about his employer's wife's murder.
Moira Harris (who is actually an American actress) has an appealing lilt of brogue and brings a warm presence to the film. Her frightened scenes before the killer and her romantic longeurs are extremely convincing. Ultimately though, the film does play on the cliche of the unfulfilled Irish virgin, seeming to confirm and crudely solicit to Catholic sexual guilts – with Moira Harris's newfound sexual liberation invariably attracting a deadly killer who romances his women victims before disposing of them and the film seeming to suggest that her availability has invited such.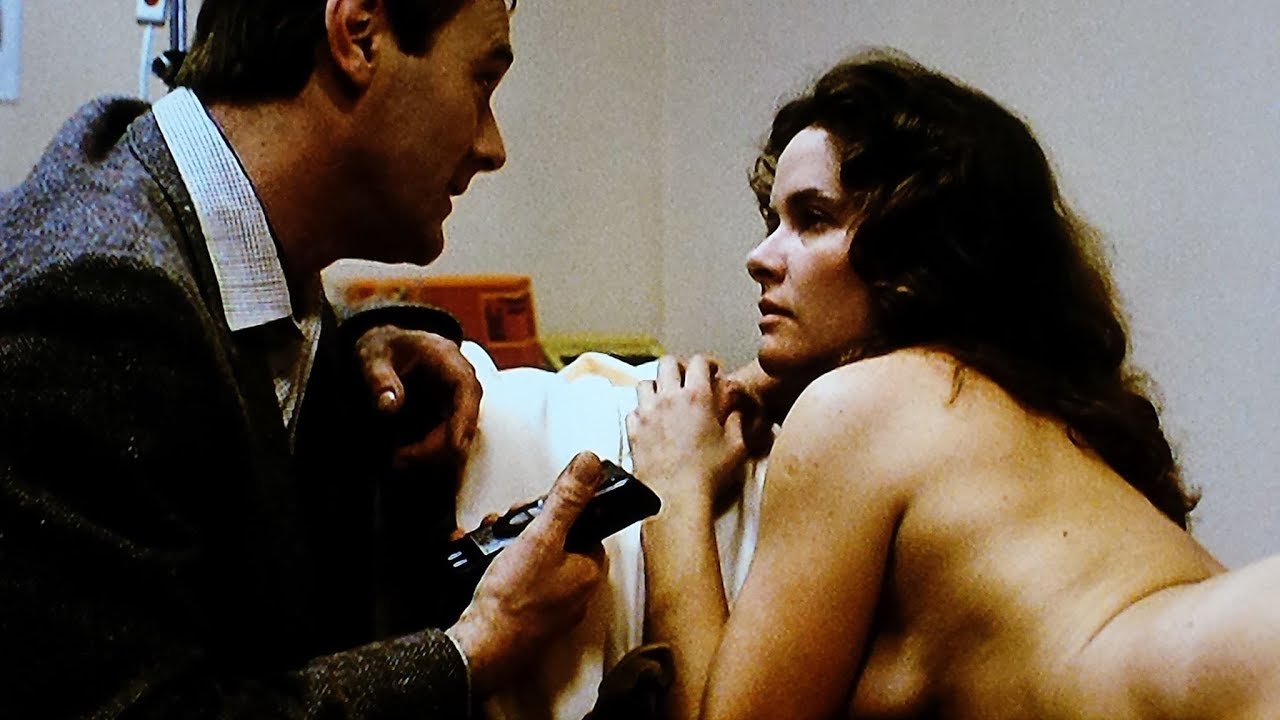 There are times when Robin Hardy's touches are crude – like the cutting between the killing of the first victim and the carving of a roast. He constantly teeters over into scenes of immense silliness – like during the often scary climactic confrontation where the killer takes time out to play patty-cake on Moira Harris's bare ass. There is an absurd performance from Timothy Bottoms who makes obscene phone calls in funny accents and forces Moira Harris to hide coins in her underwear then goes searching for them with a divining rod.
The film does gain its feet in a genuinely weird ending where the killer produces a knife – "Do knives interest you at all? Nothing – not gold, not silver, not even platinum – is quite as beautiful as tempered steel" – and forces Moira Harris to model for nude photos (which are posed with a genuine eroticism) where she overcomes him by offering herself to him. His final dispatch – with he hanging from the rail of the ferry with his foot caught in a strap, where she disposes of him by simply undoing his false leg – is rather funny.
Director Robin Hardy had previously made the cult classic The Wicker Man. Aside from writing the script for The Bull Dance/Forbidden Sun (1989), this was the only other film he made up until The Wicker Tree (2011).
---