---
USA. 1986.
Crew
Director/Screenplay – Carol Frank, Producer – Ron Diamond, Photography – Marc Reshovsky, Music – Michael Wetherwax, Art Direction – Susan Emshwiller. Production Company – Concorde Pictures.
Cast
Angela O'Neill (Beth), Wendy Martel (Linda), Pamela Ross (Sara), Nicole Rio (Tracy), John C. Russell (Bobby Henkel), Vincent Bilancio (John), Marcus Vaughter (Andy), Joe Nassi (Craig), Gillian Frank (Dr Lindsey), Mary Anne (Mrs Lawrence), Fitshough Houston (Detective Gilbert), Axel Roberts (Larry)
---
Plot
Beth returns to her sonority house following the death of the aunt who raised her. As she does so, she is troubled by a series of dreams in which she is attacked by a knife-wielding killer. At the same time, Bobby Henkel makes an escape from the insane asylum where he is confined. As Beth and three other girls stay in at the sorority house over a holiday weekend and are joined by several boys, Bobby sneaks in and begins to slaughter everyone present, coming after Beth with a particular purpose.
---
Sorority House Massacre was one of the Slasher Films that came out amid the genre's great 1980s heyday. It was produced by Roger Corman's Concorde Pictures. Corman had begun a habit back with The Slumber Party Massacre (1982) and sequels of hiring women directors – quite possibly as a way of offsetting the ardent feminist complaints of the day that slasher films were objectifying women in showing them being killed usually in a state of undress. Here he does the same with Carol Frank who had worked as an assistant director on The Slumber Party Massacre, although has never gone on to make any other films.
Sorority House Massacre is a routine and unremarkable slasher effort. It was a late entry that came after the point the slasher cycle had peaked and was starting to fade from rapid over-exhaustion of the seam. It shouldn't have bothered as it adds nothing whatsoever to the cycle. Carol Frank's direction is unremarkable. The stalking sequences are strictly average and there is little that stands out in any way. Her stylistic effects are copied shots from other films – in particular, the POV shots from the killer stalking people about accompanied by spooky music (which begin before the killer has even escaped from the asylum).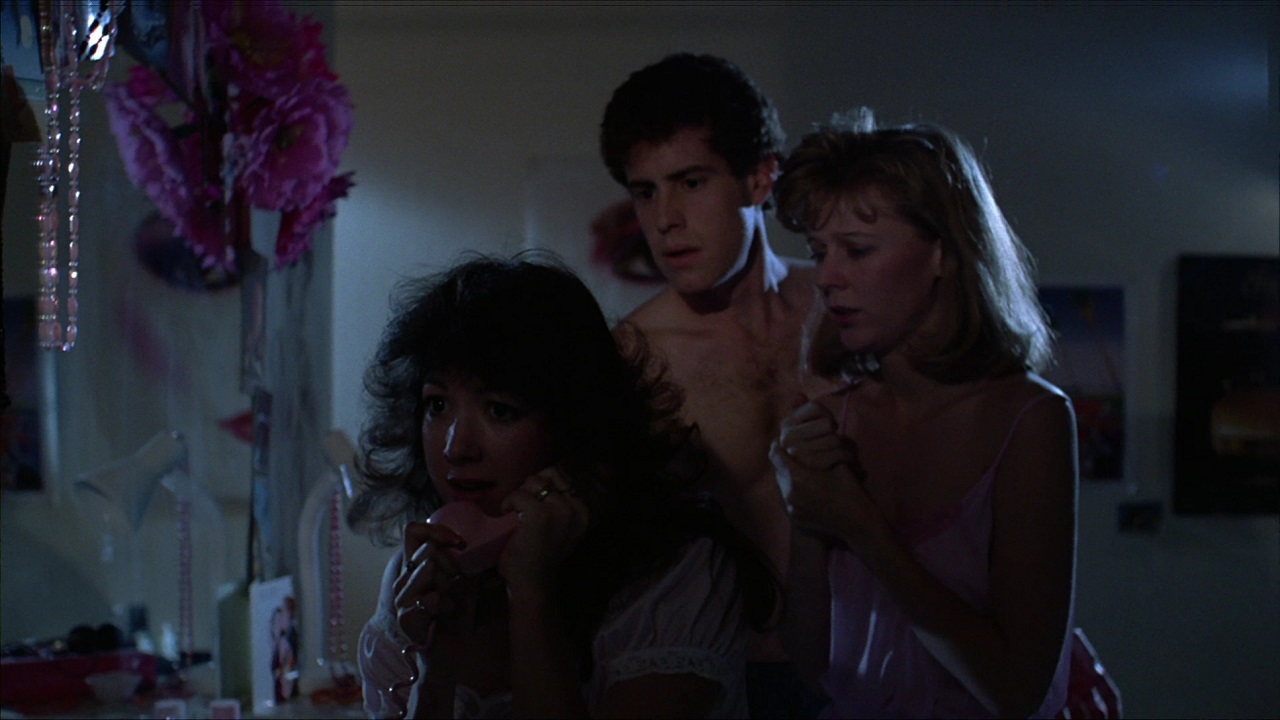 Much of the film is indebted to Halloween (1978), which was the cornerstone that every slasher film of the 1980s drew from. More so than most other entries though, Sorority House Massacre seems to directly copy plot elements directly from Halloween – the killer escaped from an asylum and making his way back home, killing everybody along the way and seeming to have a preference for teenage girls and their boyfriends. Added to this is the central twist from Halloween II (1981) where the killer has come back hunting his sister. All that is lacking is any equivalent of Donald Pleasance's fanatically pursuing psychologist.
There were two sequels, Sorority House Massacre II (1990) and Hard to Die/Sorority House Massacre 3 (1990), both made by B-budget hack Jim Wynorski.
---
Trailer here
---