---
Crew
Director – Tate Taylor, Screenplay – Scotty Landes, Producers – Jason Blum, John Norris & Tate Taylor, Photography – Christina Voros, Music – Gregory Tripi, Visual Effects – VFX Legion (Supervisors – James David Hattin, Gregory Punchatz & Nate Smalley), Special Effects Supervisor – David Nami, Makeup Effects – Robert Kurtzman MUFX (Supervisor – Robert Kurtzman), Production Design – Marc Fischella. Production Company – Blumhouse/Wyolah
Cast
Octavia Spencer (Sue Ann Ellington), Diana Silvers (Maggie Thompson), Juliette Lewis (Erica Thompson), Corey Fogelmanis (Andy Hawkins), McKaley Miller (Haley), Luke Evans (Ben Hawkins), Gianni Paolo (Chaz), Dante Brown (Darrell), Tanyell Waivers (Genie Ellington), Dominic Burgess (Stu), Tate Taylor (Office Grainger), Missi Pyle (Mercedes), Heather Marie Pate (Ashley), Allison Janney (Dr Brooks), Kyanna Simone Simpson (Young Sue Ann), Matthew Welch (Young Ben)
---
Plot
Sixteen year-old Maggie Thompson's mother Erica has moved back to the town she grew up in in Mississippi and takes a job as a waitress at a local casino. Maggie makes friends at school and is soon attracted to Andy Hawkins. Her friends are looking for an adult to buy alcohol for them and persuade local veterinary assistant Sue Ann Ellington to do so. Sue Ann, or Ma as they nickname her, invites them to come back and party in her basement. Encouraged, Sue Ann turns the basement into a party zone for them. However, the others soon find Sue Ann obsessive in her attentions. As Sue Ann starts to become stalkerish, the teens discover that she holds resentments over cruel pranks played on her by their parents.
---
Blumhouse, the production company of Jason Blum have risen throughout the 2010s to corner the contemporary market on medium-budget horror films. Blumhouse have been responsible for Paranormal Activity (2007) and sequels, as well as the likes of Insidious (2010), The Purge (2013) and Happy Death Day (2017), which they have all been spun out into successful series. (See bottom of the page for Blumhouse's other films).
Blumhouse have a habit of luring in directors used to A-budget studio fare – the likes of James Wan, M. Night Shyamalan, Rob Cohen, Brad Peyton, Iain Softley – and offering them the opportunity to get a smaller budgeted film in the can with less fuss and greater creative control. In this case, they have co-opted Tate Taylor, a director from Mississippi known for Pretty Ugly People (2008), the big hit of The Help (2011) and the likes of Get On Up (2014) and The Girl on the Train (2016). The Help in particular pushed Octavia Spencer, this film's lead actress, to prominence and earned her an Academy Award.
The film that Tate Taylor delivers with Ma emerges as an oddity on screen. It starts out seeming about a group of teens meeting an over-friendly woman who starts to reveal stalkerish tendencies (although the group react to this in several ways, including telling her to go away and throwing things at her, none of them ever seem to consider stopping going out to her place to party). It is only in the latter sections that the film reveals itself as the revenge thriller it has been angling to be. A more formulaic thriller would probably not have spent so much time involving us with the teenagers and their lives before cutting to the chase.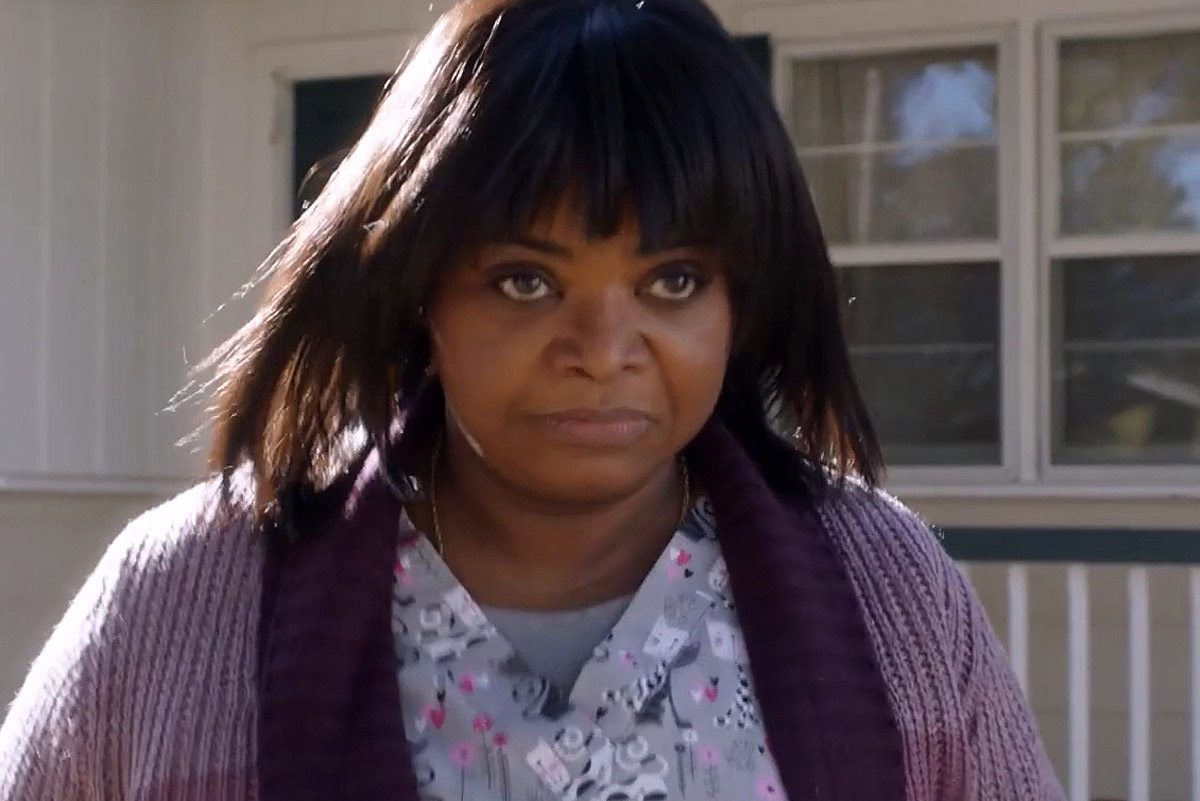 And then there is the Octavia Spencer factor. She has been talented actress – winning Academy Awards attention for The Help, Hidden Figures (2016) and The Shape of Water (2017), she was even cast as God in The Shack (2017). Furthermore, Spencer also produces Ma. I do have to say that I think she is miscast in the part of Ma. Certainly, when needed to, she produces a series of menacing sidelong glances and cold silences. On the other hand, seeing a frumpy 47-year-old getting down and dancing with the teenagers and kung fu kicking over a stack of soda cans has something faintly ludicrous to it.
Furthermore, Ma ventures into the murky waters of racial politics. Blumhouse had a massive success two years earlier with Get Out (2017), a horror film that fearlessly delved into race relations and was widely applauded for doing so. Your immediate impression is that Ma is conceived in the same vein – featuring an African-American actress as lead and from the director of the race relations drama The Help. But oh boy.
I would love to have been a fly on the wall during the pitch sessions that went on for Ma. Were the people involved giving in to the demands of their star and her desire to do something messed up (as was stated in the publicity)? Did they believe they were making some kind of work about a downtrodden African-American woman standing up against treatment by white people? Did anybody actually consider how the idea of a crazy Black woman attacking white teens might read as some kind of wildly racist stereotype? Or were they hoping that said crazy Black woman might become an identification figure for African-American audiences? Or were they simply hoping that audiences would be colour blind, not see any of this and just read Ma as an ordinary psycho film? If the latter were the case, a scene where Octavia Spencer paints an imprisoned Dante Brown's face with white paint and says "There can only be one of us here," turns the film into something that seems to inflame these racial readings. On the other hand, the film leaves you unclear as to whether it is being sneakingly subversive or a wildly histrionic take on race relations.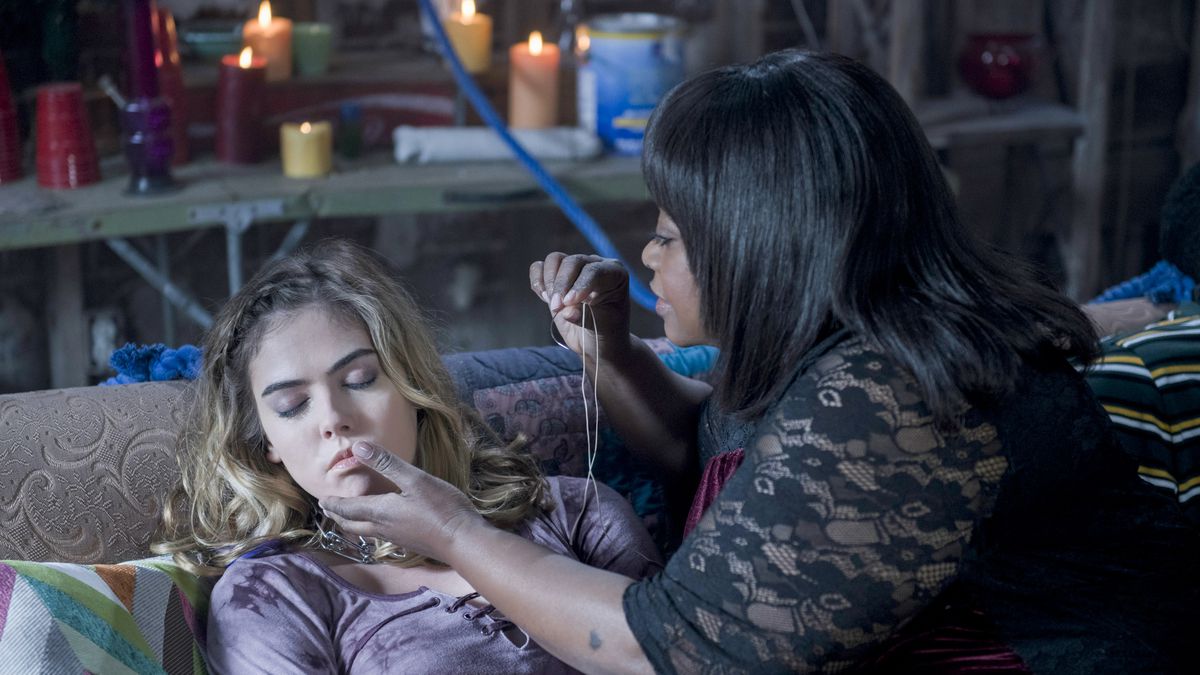 The other part of the film I had an issue with was its demonisation of the socially awkward. Aside from the film's all over the map racial politics, Octavia Spencer is 5'2" and of fuller figure. In giving us a psycho who is short, dumpy, wears glasses and is socially unsure of herself, the film seems to be creating a walking talking cliche. (To add to this, Octavia also seems to have a case of Munchausens By Proxy in regard to the treatment of her daughter). Even the flashback scene where we see the cruel prank that was played on Sue Ann, we find that her humiliation was … being tricked into blowing the class nerd (who is also portrayed as clueless and socially dorky). In typical psycho movie motivation, Sue Ann's humiliation as a teenager becomes the impetus for her to hatch an elaborate revenge plot in adult life in which she tortures and kills several of her tormentors and their children.
The problem with this (and that of many psycho films that have the tormented snapping) is that it essentially makes the initial bullies and tormentors into innocent victims who are being targeted by a deranged crazy. Imagine for instance if Ma were a film in which Octavia Spencer was someone who had been the victim of a brutal assault. If we follow the film's sympathies, the victim of the assault and her desire to exact justice against her attackers makes her a bitter, angry loner while her assailants are portrayed as well adjusted adults who are merely being harassed by an unbalanced crazy.
Juliette Lewis displays some remorse at the end by saying "What happened to you should have never happened. I should have stopped it" – a scene where clearly in saying so she has discharged her feelings of regret and the rest is all meant to clearly be about Octavia stepping over the bounds into psychopathology by her unwillingness to dismiss this as an incident the rest of them have put behind them. Imagine if a film like Death Wish (1974) or I Spit on Your Grave (1978) took the point-of-view of Camille Keaton's rapists or the thugs who attacked Charles Bronson's family and showed how they were leading average everyday lives until they had to deal with this crazy who seemed hellbent on revenge. Imagine if Bronson or Keaton were told "that should have never happened" and then expected to sort themselves out and that be the end of things.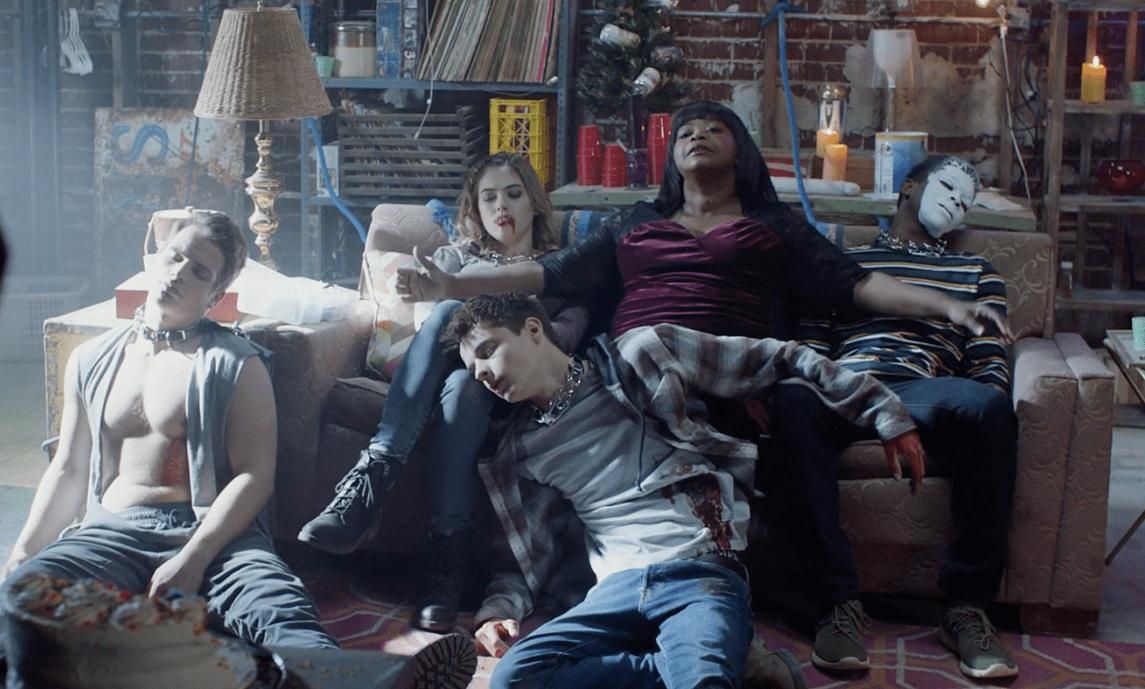 Certainly, the film does become somewhat entertaining when it gets into full on psycho territory in the latter sections with Octavia Spencer running a jogging Missi Pyle over in her pick-up; threatening to cut a bound Luke Evans' dick off and then giving him IV of dog's blood; and finally torturing the imprisoned teens by placing an iron on Gianni Paolo's stomach, sewing McKaley Miller's lips shut and most controversially the scene where she paints Dante Brown's face white.
Jason Blum and his Blumhouse production company have produced a number of other genre films including:- Hamlet (2000), Paranormal Activity (2007) and sequels, Insidious (2010) and sequels, Tooth Fairy (2010), The Bay (2012), The Lords of Salem (2012), The River (tv series, 2012), Sinister (2012) and sequel, Dark Skies (2013), Oculus (2013), The Purge (2013) and sequels, the tv mini-series Ascension (2014), Creep (2014), Jessabelle (2014), Mercy (2014), Mockingbird (2014), Not Safe for Work (2014), Ouija (2014) and sequel, 13 Sins (2014), The Town That Dreaded Sundown (2014), Unfriended/Cybernatural (2014), Area 51 (2015), The Boy Next Door (2015), Curve (2015), The Gallows (2015), The Gift (2015), Jem and the Holograms (2015), The Lazarus Effect (2015), Martyrs (2015), Visions (2015), The Visit (2015), The Darkness (2016), Hush (2016), Incarnate (2016), The Veil (2016), Viral (2016), Amityville: The Awakening (2017), Get Out (2017), Happy Death Day (2017), The Keeping Hours (2017), Split (2017), Stephanie (2017), Bloodline (2018), Cam (2018), Delirium (2018), Halloween (2018), Seven in Heaven (2018), Truth or Dare (2018), Upgrade (2018), Black Christmas (2019), Prey (2019), Don't Let Go (2019), Sweetheart (2019), Black Box (2020), The Craft: Legacy (2020), Evil Eye (2020), Fantasy Island (2020), Freaky (2020), The Hunt (2020), The Invisible Man (2020), Nocturne (2020), You Should Have Left (2020), Black As Night (2021), The Black Phone (2021), Dashcam (2021), Firestarter (2022), M3gan (2022), Mr Harrigan's Phone (2022), Nanny (2022), Soft & Quiet (2022), Run Sweetheart Run (2022), Sick (2022), They/Them (2022), Torn Hearts (2022), Unhuman (2022), The Exorcist (2023), Five Nights at Freddy's (2023) and There's Something Wrong With the Children (2023).
---
---