---
Crew
Director/Screenplay – David Blyth, Producer/Visual Effects – Craig Parkes, Photography – Marc Mateo, Music – Jed Town, Makeup Effects – John Howard, Art Direction – Bruce Alexander. Production Company – ILA Film Productions/Mandala Films.
Cast
Yoson An (Jason Chen), Rebekah Palmer (Skye), Fiona Feng (May Ling), Catheryn Wu (Alice Chen), Geeling Ching [Geeling Ng] (Madam Yin), Ian Mune (Frank), David Lim (Uncle Jimmy), Robert Wong (Mr Zing), Charles Chan (Mr Yin)
---
Plot
Jason Chen, the son of Chinese immigrants to New Zealand, is implored by his aging mother to marry and make his late father happy. His mother has set up a meeting with marriage broker Madam Yin to select a bride for him. After consultation, May Ling is chosen. However, Jason has been dating a Caucasian girl Skye for over a year but has not told his mother. Torn between Skye and his obligations to his mother, Jason and others begin to see the ghost of May Ling everywhere.
---
I have followed with interest the career of New Zealand director David Blyth ever since discovering his zombie splatter film Death Warmed Up (1984). Blyth has had an uneven career path since then. His venture to the US on the back of Death Warmed Up was a bust and he quit The Horror Show (1989) a few days in, although the subsequent Red Blooded American Girl (1990) turned out not too badly.
On the other hand, one has been waiting since then for Blyth to fulfil the promise he showed with Death Warmed Up. All his subsequent films, the children's film Grampire/My Grandfather is a Vampire (1992), the thrillers Red Blooded (1996) and Exposure (2001) and the horror film Wound (2010), have been wash-outs. Blyth feels less and less like an edgily interesting director than a bottom feeder barely eking out a living in the industry. With Ghost Bride, it is surely time to give up hoping that David Blyth will ever manage to produce anything interesting again.
Ghost Bride reminds of the fad we had a few years ago of a bunch of films – The Ring (2002), The Grudge (2004), Pulse (2006), One Missed Call (2008) and others – that set out to remake principally Japanese horror films. More than that, Ghost Bride feels like Ghost Month (2007), an equally weak, low-budgeted attempt to jump aboard this fad and appropriate Chinese culture to make a horror film about Westerners coming up against elements of the Asian supernatural.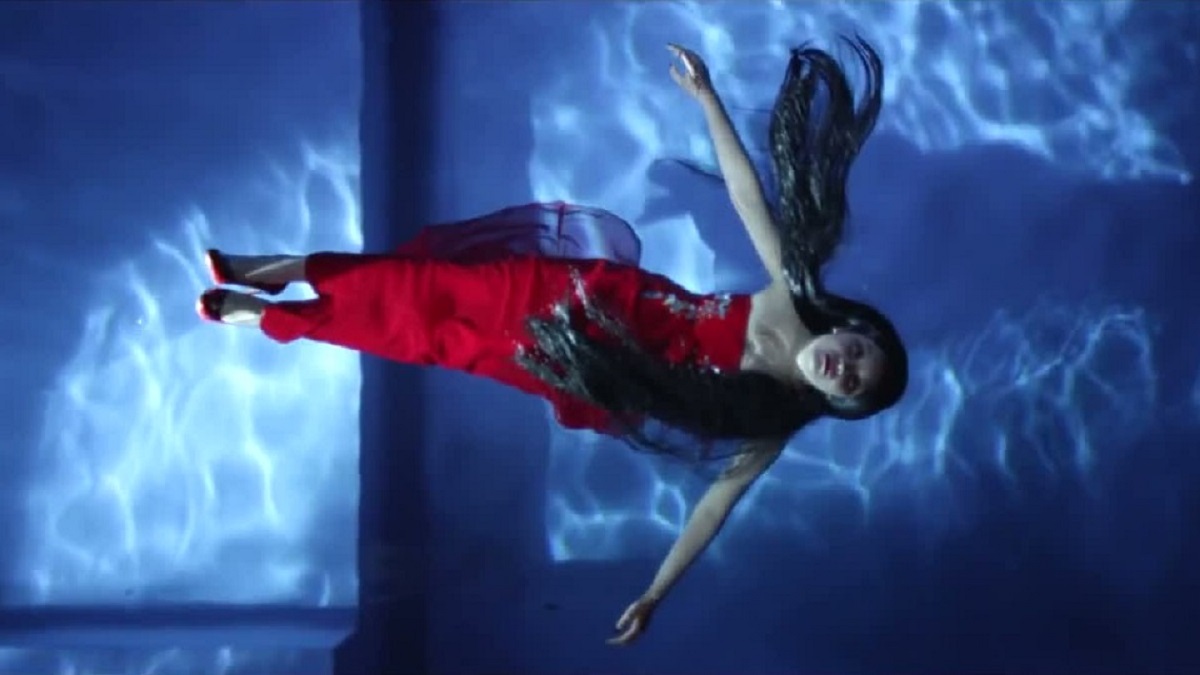 At its best, Ghost Bride suggests something like the charming stop-motion animated Corpse Bride (2005) played as a straight ghost story. Both here and in Ghost Month though, all that has happened is that a few elements of Eastern supernatural have been grafted onto a standard ghost story.
All of Ghost Bride falls flat. Neither Yoson An nor his girlfriend Rebekah Palmer seem very good actors, while Blyth's writing of their characters leave the two of them stranded high and dry. The lines they are given are frequently vacant: "Sometimes I feel I am outside looking in at you" and "You're telling me this dead body is a ghost you're meant to marry?"
Blyth's direction mostly consists of perpetually trying to generate something spooky and ominous out of fairly ordinary happenings with the sole addition of a score and lighting to try and drum up some effect. It is a film that proceeds through everything with utterly bland affect before reaching an ending that one could hardly care less about.
---
---