aka Moonrise; My Grandfather Is a Vampire
---
Crew
Director – David Blyth, Screenplay – Michael Heath, Producer – Murray Newey, Photography – Kevin Heyward, Music – Jim Manzie & Pat Regan, Special Effects – Action Associates Ltd (Supervisor – Kevin Chisnall), Production Design – Kim Sinclair. Production Company – Tucker Production Co/The New Zealand Film Commission/Murray Newey/Moonrise Productions
Cast
Al Lewis (Vernon T. Cooger), Milan Borich (Christopher Kanziora), Justin Gocke (Lonnie Cooger), Pat Evison (Lea Cooger), Noel Appleby (Ernie Noad)
---
Plot
Lonnie Cooger returns to New Zealand from the USA to stay with his aunt and his beloved grandfather Vernon. He is saddened when, not long after he arrives, his grandfather dies. Just after the funeral, Lonnie and his best friend Kanziora are startled to see Vernon rise up out of his coffin. The old man tells them that he is a vampire – although one that is very different from the way vampires are portrayed in the movies. However, after seeing Vernon back from the dead, Lonnie's aunt's boyfriend starts sharpening his garden stakes.
---
New Zealand director David Blyth made a moderate international ripple with his zombie splatter film Death Warmed Up (1984). This brought several offers to work in the American mainstream but Blyth's subsequent output has never fulfilled that promise. There was a collaboration with Sean S. Cunningham – The Horror Show (1989) – that he ended up being fired from and then the okay medical vampire film Red Blooded American Girl (1990) and a couple of thrillers. After his career in America failed go anywhere, Blyth returned to New Zealand to make this children's vampire film. Subsequent to Grampire, Blyth's only output has been a handful of episodes of US tv series and Bound for Pleasure (2004), a documentary on BDSM for New Zealand television. It was a number of years before Blyth returned to make another feature film with the confusing Wound (2010) followed by Ghost Bride (2013).
Grampire was one of several efforts following the success of Fright Night (1985) and The Lost Boys (1987) to attempt to make vampire films for teens and children. There is nothing wrong with the idea of a vampire film for children – Angela Summer-Bodenburg had success with her series of Little Vampire books. Unfortunately, David Blyth approaches the exercise at a cartoon level – in fact, Noel Appleby with bulging pot belly and squat eyes could almost be a cartoon figure in live action.
However, in stripping the vampire of virtually everything except its immortality, Blyth has created a vampire film that is literally bloodless (and considering Al Lewis's age, also toothless). It is a warm fuzzy vampire film where there's no threat, just a good deal of silly running around trying to avoid the buffoonish vampire hunter. If one is going to make a vampire film then take away everything a vampire film is supposed to be, one wonders what the point of the exercise is.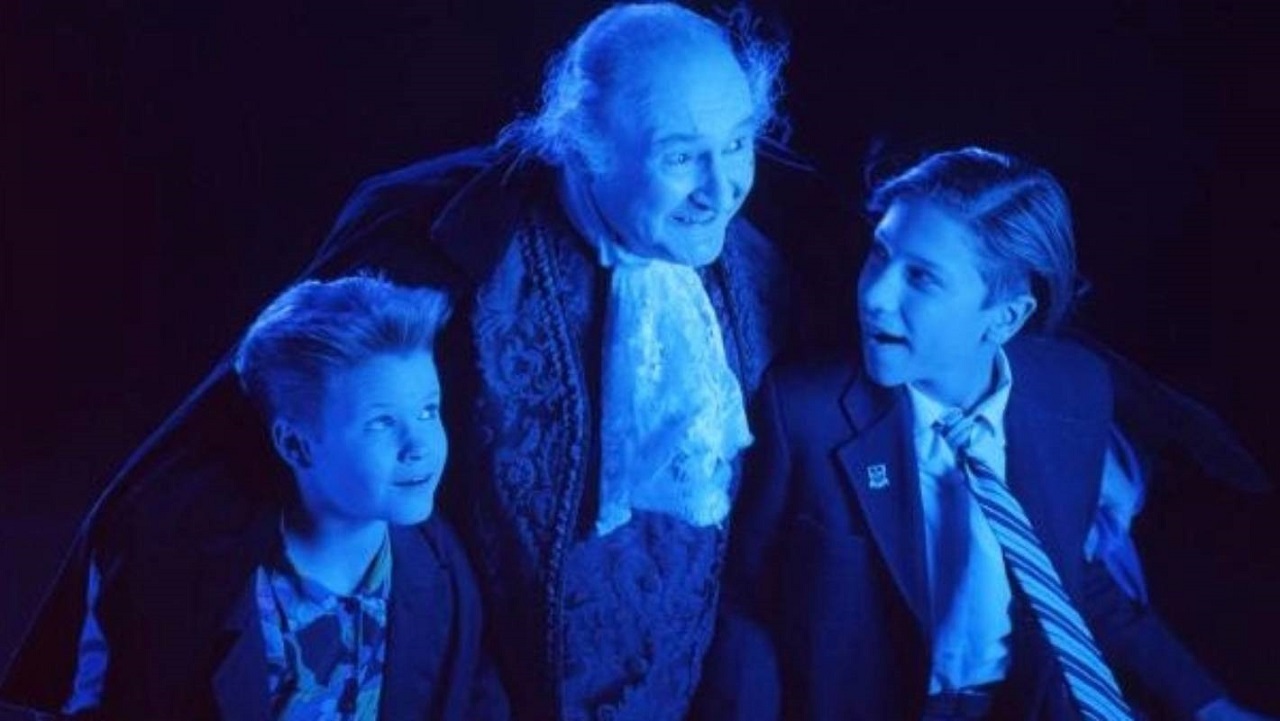 Noel Appleby's vampire hunter does add a certain amusing Kiwi parochialism, he charging into action in a black singlet and at the end heading off to the pie-cart to get a good feed. However, Grampire is still a silly film – 81 year-old Al Lewis, best known as Grandpa on tv's The Munsters (1964-6), spends the entire time cackling his head off as though he were addicted to dental intoxicants. The funeral is the film's height of silliness with a woman guest for no apparent reason trying to do erotic things with the food and the boys being possessed to play an electric organ to give atmosphere as Al Lewis rises from the coffin.
Grampire is almost saved by the classy professional photography, a striking electric blue lighting scheme, which creates an atmosphere of perpetual midnight and helps enormously in disguising the B-budget. There are momentary images, like the scene of Al Lewis, Justin Gocke and Milan Borich dancing in slow-motion to Mozart's Magic Flute, which attain an image of wistful adolescent nostalgia that one senses David Blyth originally wanted to achieve.
The importing of Justin Gocke, previously a regular on tv's Santa Barbara (1984-93), is a bad case of trying to make local material acceptable to the US market – it is one supposes inevitable, but did they have to choose someone with such an abrasive accent?
---
---