---
Crew
Director/Screenplay – David Blyth, Producers – Andrew Beattie & David Blyth, Photography – Marc Mateo, Music – Jed Town, Makeup Effects – Heath Mortlock & Karl Otto. Production Company – Ila Film Productions
Cast
Kate O'Rourke (Susan Purdue), Te Kaea Beri (Tanya), Campbell Coolley (Master John), Sandy Lowe (Mistress Ruth), Brendan Gregory (Neil), Ian Mune (Dr Nelson)
---
Plot
Susan Purdue's father returns to Auckland, New Zealand from England to see her after many years. Haunted by the sexual abuse she suffered as a child, Susan kills him and buries the body in the backyard. Susan is a submissive in a BDSM relationship. She is then visited by Tanya, her now teenage daughter that she was told had died at birth. Tanya proceeds to take over Susan's life, even though others insist that Tanya only exists in Susan's mentally ill mind.
---
New Zealander David Blyth is a director that has always hovered on the edge of interest. He made a strong appearance with works like Angel Mine (1977) about suburban kinksters and the gory zombie film Death Warmed Up (1984), which showed promise enough to have him employed in the US. This promise panned out unevenly after The Horror Show (1989) from which he was fired, the okay medical vampire film Red Blooded American Girl (1991), the non-genre Red Blooded (1996) and the thriller Exposure (2001), in between returning to New Zealand to make the children's film Grampire/My Grandfather is a Vampire (1992). Since the 1990s, Blyth's output has been extremely sporadic. Wound represents David Blyth's first feature film in a decade that he has spent sporadically turning out tv documentaries. He subsequently went onto make Ghost Bride (2013).
Wound made the rounds of a number of international horror and fantastic film festivals and gained fair word of mouth. Blyth seems determined to create controversy. In the opening scenes, we get images of Kate O'Rourke being visited by her father, knocking him out, trying him up and then cutting his dick off with a pair of scissors, while going on about the sexual abuse she suffered as a child.
Blyth then segues into a scene where Kate O'Rourke appears to be a professional submissive who is being visited by her master (Campbell Coolley) and being required to take part in a BDSM scenario. (It is no particular secret to anyone who has followed David Blyth's career that he has an active participatory interest in BDSM – and clearly takes the opportunity here to allow such free expression on screen).
Subsequently, we get several of Kate O'Rourke's other BDSM scenarios and visits to fetish clubs, not to mention the outrageous image of an unconscious Te Kaea Beri passed out the floor of a nightclub bathroom being humped by the naked tattooed buttocks of a DJ wearing a pig mask. There is also a grotesque scene where Kate O'Rourke – or at least a mocked-up version of her womb – gushes forth torrents of blood and then gives birth to two full-grown women.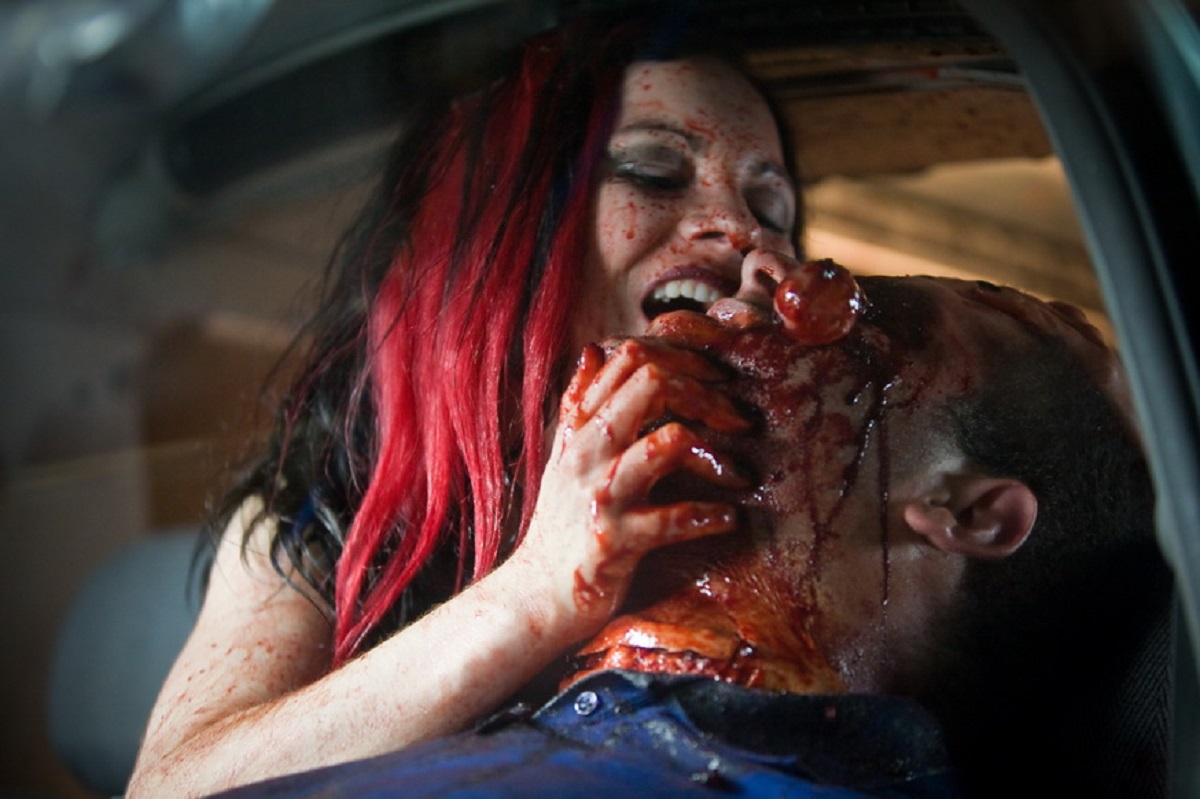 Wound also left me disappointed. For a film that sets out to court controversy, it manages to be surprisingly dull. It failed the test that it usually takes for me to get into something – unless a film peaks my interest or gives a clear indication where it is going by the 30-minute mark, I will switch off (unless it is a work I am writing about). By this point, all that Wound seemed to be was a randomly interspersed series of horror scenes and fetish scenarios without any clear overriding narrative. Not that story and script seem to have held a great deal of importance in some of David Blyth's other works – the near plotless Death Warmed Up being case in point. And not that much of this improves throughout the rest of the film.
Eventually, it becomes apparent that David Blyth has intended Wound as some variant on the Nicolas Roeg-Dennis Potter collaboration Track 29 (1988) wherein a disturbed Theresa Russell believed that a possibly imaginary Gary Oldman had turned up as the long lost son she never knew she had. Blyth is constantly cutting back and forward between illusion and reality a la Repulsion (1965). Unlike a Repulsion or a Track 29 though, the effect is not one of striking contrast or delineation between the real and imagined but of randomness and confusion – if Te Kaea Beri is in Kate O'Rourke's imagination, then why does the film detail her point-of-view for much of the time? At most, what we seem to be in the midst of is an amateur level film filled with surrealist shock effect and pretensions to significance.
[PLOT SPOILERS] Wound reaches a disappointingly predictable deathdream resolution that has been seen in far too many films of recent years – beginning with An Occurrence at Owl Creek Bridge (1961) and passing through the likes of Carnival of Souls (1962), Haunts of the Very Rich (1972), Seizure/Queen of Evil (1974), The Survivor (1981), Sole Survivor (1983), Siesta (1987), Jacob's Ladder (1990), Final Approach (1991), A Pure Formality (1994), The Others (2001), Soul Survivors (2001), The Brown Bunny (2003), Dead End (2003), I Pass for Human (2004), Hidden (2005), Reeker (2005), Stay (2005), The Escapist (2008), Passengers (2008), The Haunting of Winchester House (2009), Someone's Knocking at the Door (2009), The Last Seven (2010), A Fish (2012), Leones (2012), 7500 (2014), The Abandoned/The Confines (2015), Shadow People (2016) and Alone (2017), plus the finale of tv's Lost (2004-10) and, of course, The Sixth Sense (1999) – where all the random shock and surrealism is explained away as images of Kate O'Rourke's life passing as she lies dying. At this point, after having been used in so many other films, the revelation that this is what is happening is frustratingly cliched. (For more detail see Deathdream Endings).
---
---