---
Crew
Director/Screenplay – Travis Stevens, Story – Trent Haaga, Greg Newman & Travis Stevens, Based on a Story by Ben Parker & Paul Johnstone, Producers – Giles Edwards, Nicola Goelzhauser, Greg Newman & Travis Stevens, Photography – Scott Thiele, Music – Steve Albini, Alison Chesley & Tim Midyett, Special Effects Supervisor – Dan Martin, Production Design – Courtney Andujar & Hillary Andujar. Production Company – Queensbury Pictures/Center Road LLC.
Cast
Phil Brooks (Don Koch), Trieste Kelly Dunn (Liz Koch), Sarah Brooks (Sarah), Karen Woditsch (Ellie Mueller), Travis Delgado (Milo Stone), Marshall Bean (Geary McCabe), Anish Jethmalani (Attorney Manny Bharara), Bishop Stevens (Patrolman Weaver), Elissa Dowling (Sadie)
---
Plot
Don Koch moves into a house he has bought in Portsmith, Illinois and begins renovating it. He is wanting to have it ready for when his pregnant wife Liz arrives in a few weeks' time. As he works, Don notices many strange things around the house, including discovering an entire third floor balcony above the bedroom. He also meets Sarah, a local girl who proves flirtatious and sleeps with Don. As Sarah works her way into Don's world, the house itself begins to exert malevolent influence.
---
Girl on the Third Floor was a directorial debut for Travis Stevens. Stevens is better known as a producer with medium-budget horror films like Summer's Blood (2009), A Horrible Way to Die (2010), Little Deaths (2011), World of the Dead: The Zombie Diaries (2011), The Aggression Scale (2012), The Thompsons (2012), Big Ass Spider! (2013), Cheap Thrills (2013), Jodorowsky's Dune (2013), Starry Eyes (2014), We Are Still Here (2015) and Hover (2018).
The film is made as a starring vehicle for wrestler C.M. Punk who appears under his birth name Phil Brooks. Punk came to fame as a WWE wrestler in the mid-2000s and became a champion for several years running. Punk/Brooks seems to be branching out as an actor – around the same time as this, he also made an appearance in the Soska Sisters' Rabid (2019). Cast as no more than a regular guy, Brooks gives a reasonable performance. Indeed, he may well be the first wrestler turned actor who actually can act – Dwayne Johnson's larger-than-life cartoon persona doesn't really count as acting.
In the director's chair, Travis Stevens creates a reasonable and mysterious atmosphere. You are drawn in as we watch various scenes of Phil Brooks engaged in home renovation. The fact that much of the film is about him at work gives it a certain obsessiveness – the film rarely travels outside of the house, or at least its backyard or looking out at the church across the street.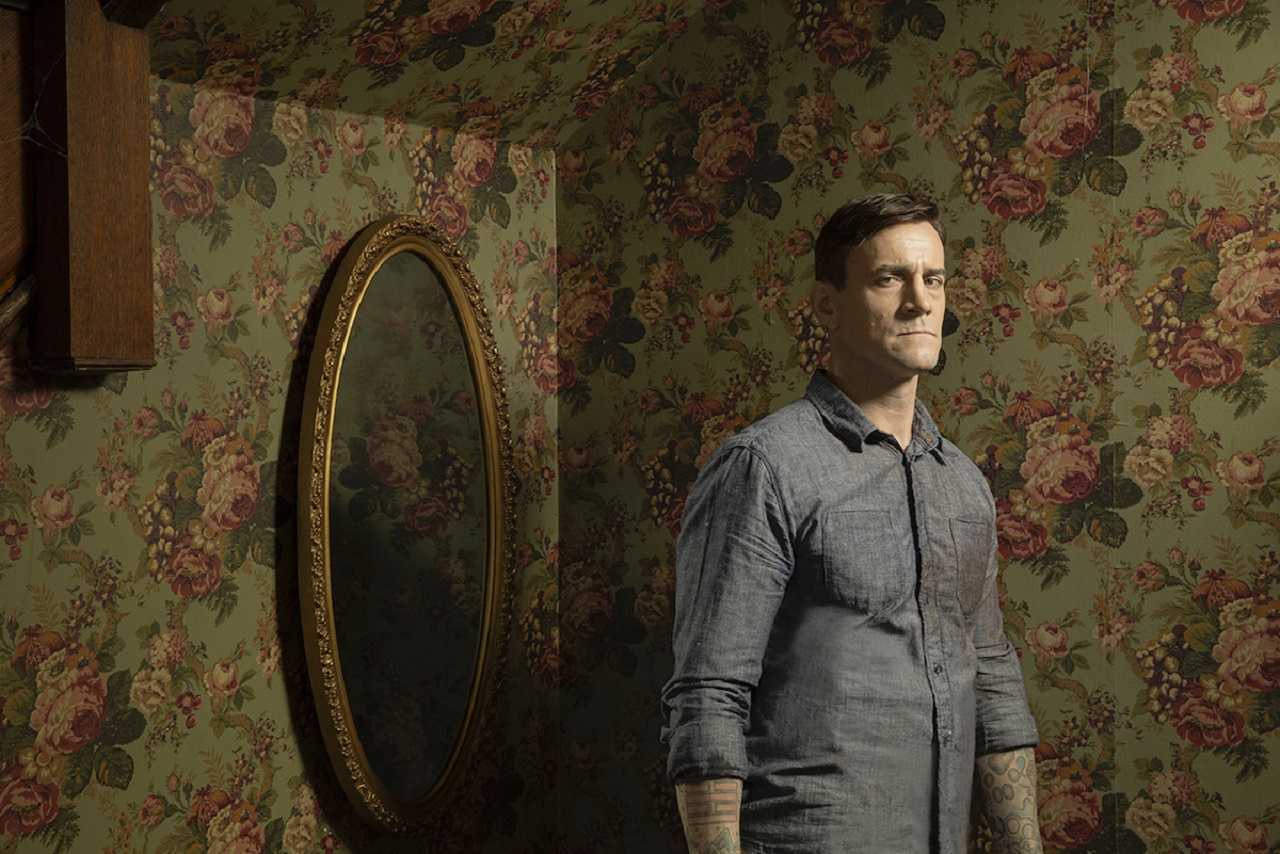 Exactly what the house is is another question altogether – you get the impression that it is something akin to the house in Burnt Offerings (1976) that feeds on the misery and suffering of the people living in it. It manifests hidden interior balconies, while murdered bodies have an unnerving habit of turning up inside the walls. There are stories about people who lived there in the past going missing, which suggests that we are watching some kind of haunted house story, something the final shot seems to confirm. Exactly what though is never made clear. Things become less ambiguous and interesting in the latter scenes once wife Trieste Kelly Dunn arrives whereupon the film becomes no more than a progression of pop-up shocks.
The film is given considerable sizzle by Sarah Brooks (apparently no relation to Phil) as the mystery girl. Brooks gives a performance that oozes seductivity with every movement she makes and projects considerable allure whenever she is onscreen. Exactly who or what she is and where she comes from is a mystery too. I thought initially she might be the girl who was killed in the house but they have different names. An equally possible suggestion is that she is some kind of embodiment of the house.
In reading up on his background, I find that Phil Brooks is an advocate of the Straight Edge movement (part of a hardcore punk movement that rejects drug use and casual sex). It is not too hard to see the film as being some personal allegory about one man with a chequered past trying to resist the temptations of alcohol and straying from monogamous commitment.
Subsequent to this, Travis Stevens went on to direct the horror films Jakob's Wife (2021) and A Wounded Fawn (2022).
---
---