---
UK. 2016.
Crew
Director – Stuart W. Bedford, Screenplay/Producers – Stuart W. Bedford, Giovanni Gentile & Stu Jopia, Story – Stu Jopia, Photography – Shane De Almeida, Music – Jeanmichelnoir, Special Effects Supervisor – Andrew Savage, Makeup Effects – Ella Noble-Jones. Production Company – 2 Headed Snake/Blue Fox Entertainment/Xlrator Media.
Cast
Alan Mulhall (Sam Baker), Stu Jopia (Curly Santa), Giovanni Gentile (Larry Santa), Liam W. Ashcroft (Moe Santa), Claire Crossland (Roxy Muller), Julia Walsh (Mona O'Connor), Garry McMahon (Paul O'Connor), Jonny Hirst (Jon Latham), Marcella Hazell (Val Lawton), Emma Hind (May Johnston)
---
Plot
It is Christmas Day. Homeless man Jon Latham encounters Sam Baker while he is dumpster diving. Jon offers him a place to stay at a disused courthouse building where he has set up shelter for other homeless in the city. There Jon encounters many who are thankful for what Sam has done in helping turn their lives around. As the group celebrate Christmas Dinner, three psychos dressed in Santa suits enter, chain the doors shut and begin slaughtering everybody. Various survivors hide, try to find a means of escape and fight back as the killer Santas come hunting and toying with them.
---
Beginning with the All Through the House episode of Tales from The Crypt (1972), the Christmas horror film has grown unto the point it has now become its own genre niche. The majority of the films in this vein have been Christmas slashers as with the likes of Black Christmas/Silent Night, Evil Night (1974), Christmas Evil (1980), To All a Good Night (1980), Silent Night, Deadly Night (1984) and sequels, Santa Claws (1996), Psycho Santa (2003), Black Christmas (2006), Deadly Little Christmas (2009), Silent Night (2012) and All Through the House (2015) There have been other Christmas horror films too with the likes of Jack Frost (1997), Santa's Slay (2006), the Finnish-made Rare Exports (2010), Santa Claus vs. the Zombies (2010), and recently a number of Krampus films beginning with the high-profile Krampus (2015). We have even had an entire anthology of Christmas horror stories with A Christmas Horror Story (2015). (For more detail see Christmas Films).
Good Tidings is, as far as I am aware, the first British-made entry into the Christmas horror niche. It was a directorial debut for Stuart W. Bedford. The film was shot in actual disused courthouse in Southport in the Merseyside area.
Good Tidings was an unknown when I sat down to watch it in that I had no idea what to expect. I was soon taken aback at what was on display. Most of the abovementioned Christmas horror films operate in terms of being anti-Christmas spirit films. In other words, they are works that delight in trashing the heavily commercialised and sentimentalised symbolism of Christmas tradition, peeling its facade away to show something nasty lurking beneath. In effect, they act as anathema for those fed up with the groupthink that requires everybody to step in line and celebrate family, tradition, togetherness and so on.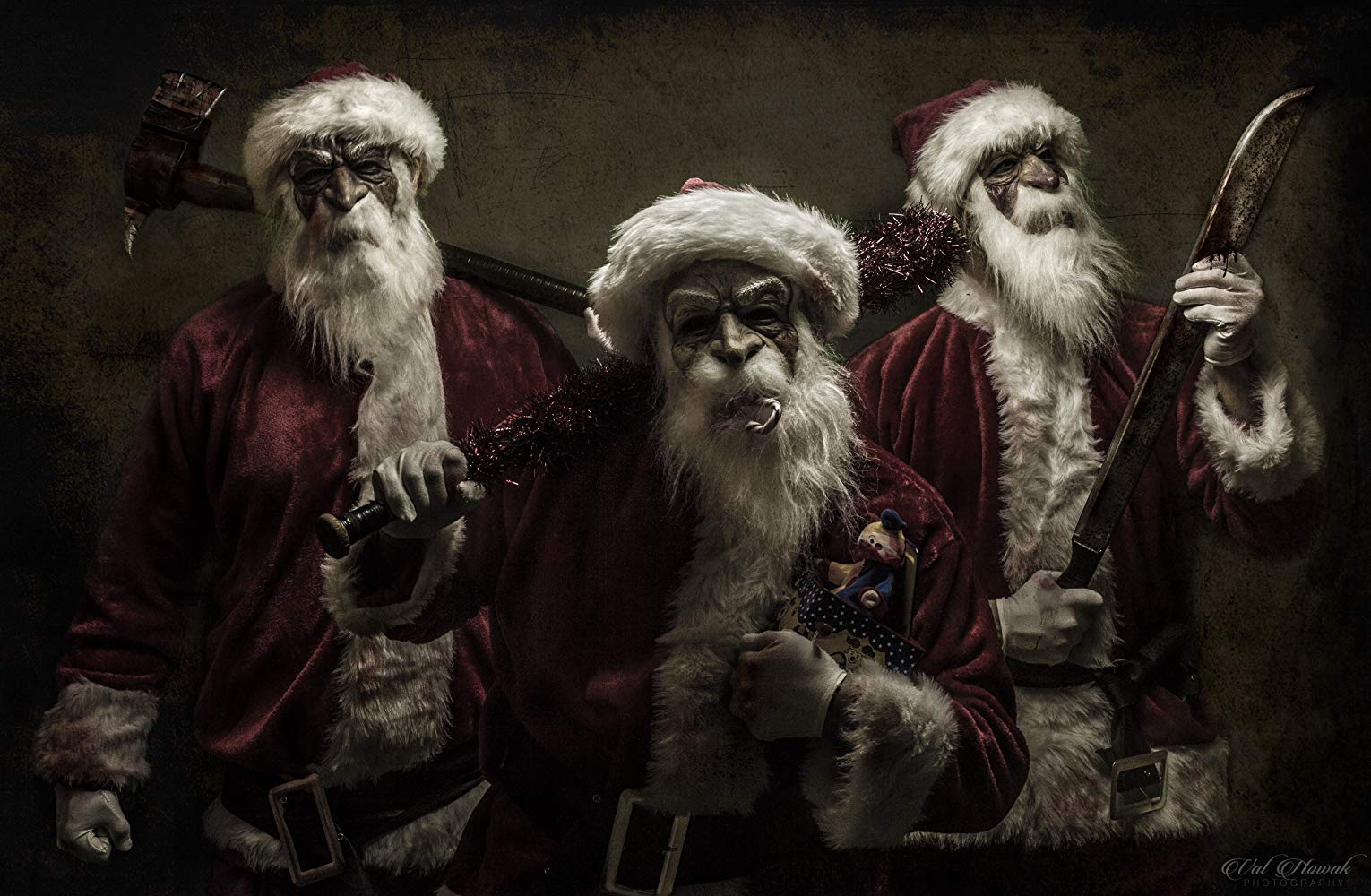 Even given that these Christmas horror films are supposed to represent the opposite of the wholesomeness of Christmas spirit, one is taken aback at the way Good Tidings pushes its elements to a level that most of these other Christmas horrors balk at. In the opening scene, we see a drunken Santa stumbling around his backyard with a bottle of whiskey and his pants down, before being set upon by the three maniacs (we are never given any explanation of who they are but the fact they are clad in bedsheets suggests they are escapees from an asylum) who kick and beat him before decapitating him with a shovel (and drive off in his Morris Minor!). The most outrageous scene though is the one in mid-film where an imprisoned Julia Walsh is forced to kiss her husband's severed head.
Good Tidings is not perfect. Some of the Christmas-related deaths are on the lame side – impalement by a small bite-sized candy cane or a set of flimsy Christmas ornaments that have been booby-trapped and set up to hit someone in the face as they come through a door. On the other hand, this is made up for by the scenes where the film goes for broke – particularly unnerving are some of these with the Santas toying with people. Despite occasional touches of amateurism, Stuart W. Bedford displays a considerable confidence throughout. Particularly good is his handling of the actors, the best of these being Alan Mulhall who you could easily see going on to a mainstream career elsewhere.
The one issue that did balk as a little false for me was the creation of a shelter for the homeless and down-and-outs. While I think the idea (repurposing unused buildings as homeless shelters) is an excellent one, the society within the community seems so utopian as to be almost unbelievable. As someone who has managed similar establishments in the past, what seems missing to me is a lot of residents with mental health and/or substance dependency issues. Not to mention a good many internal squabblings and fights over matters of trivia. That said, some of the writing – especially a scene early in the show where Claire Crossland talks to Alan Mulhall expressing gratitude and trying to connect with him on a personal level – is uncommonly good, a far cry away from the stock characters you usually see in the aforementioned Christmas slashers.
---
---