---
Crew
Director/Screenplay – Todd Nunes, Producers – Stephen J. Readmond & Christopher Stanley, Photography – Ryan J. Anderson, Music – Irving Victoria, Special Effects/Makeup Effects – Josh McCarron, Production Design – Melissa Black. Production Company – The Readmond Company.
Cast
Ashley Mary Nunes (Rachel Kimmel), Melynda Kiring (Mrs Garrett), Jessica Cameron (Sheila Hayes), Natalie Montera (Gia Williams), Lito Velasco (Killer), Cathy Garrett (Abby), Jason Rayer (Cody), Johanna Rae (Beth), Matt Poeschl (Blake), Danica Riner (Sarah), Jennifer Wenger (Mandy), Tamra Garrett (Mrs King)
---
Plot
Rachel Kimmel returns home to stay with the grandmother who raised her for Christmas. She is asked to go and help her neighbour Mrs Garrett. Someone dressed in a Santa Claus suit is stalking and killing people around the neighbourhood. Left in Mrs Garrett's home, Rachel and two of her friends find that the killer Santa is now targeting them. As Rachel digs deeper, she finds that this is Mrs Garrett's son Jamie who was left deranged due to his disturbed upbringing and that this in turn is linked to her own childhood.
---
Almost every second Christmas season sees the release of some Yuletide-themed film and even more in the way of insipid Christmas-themed made-for-tv movies. I have reviewed many of these but get switched off by the treacly family sentiments. On the other side of the coin, there is a whole sub-genre of anti-Christmas films. These range from the Gothic beauty of Henry Selick's The Nightmare Before Christmas (1993) to the gleeful mean-spiritedness of Bad Santa (2003) and my personal favourite, the various Futurama (1999-2003) Christmas specials with a killer robot Santa. The Christmas slasher film has almost grown to become its own genre niche with the likes of the All Through the House segment of Tales from the Crypt (1972), Black Christmas/Silent Night, Evil Night (1974), Silent Night, Deadly Night (1984) and sequels, To All a Good Night (1980), Christmas Evil/You Better Watch Out (1980), Black Christmas (2006), Silent Night (2012) and Good Tidings (2016). There have been other Christmas horror films too with the likes of Jack Frost (1997), Santa's Slay (2006), Santa Claus vs. the Zombies (2010), Krampus (2015) and the Finnish-made Rare Exports (2010) with its rampaging Santa Claus monster, even two anthologies of Christmas horror stories with A Christmas Horror Story (2015) and Unholy Night (2019).
All Through the House – which notedly takes its title of the first psycho Santa film, the Joan Collins episode of Tales from the Crypt – comes from Todd Nunes. Nunes had previously made his directing/writing debut with the horror film Scary Larry (2014). This suitably impressed producer Stephen J. Readmond that he gave Nunes the money to make another film. Nunes wrote this based on an earlier short film Here Comes the Santa (2011), which is a dry rehearsal for the plot of All Through the House and features both Ashley Mary Nunes, Todd's sister, and Melynda Kiring playing the same roles they do here.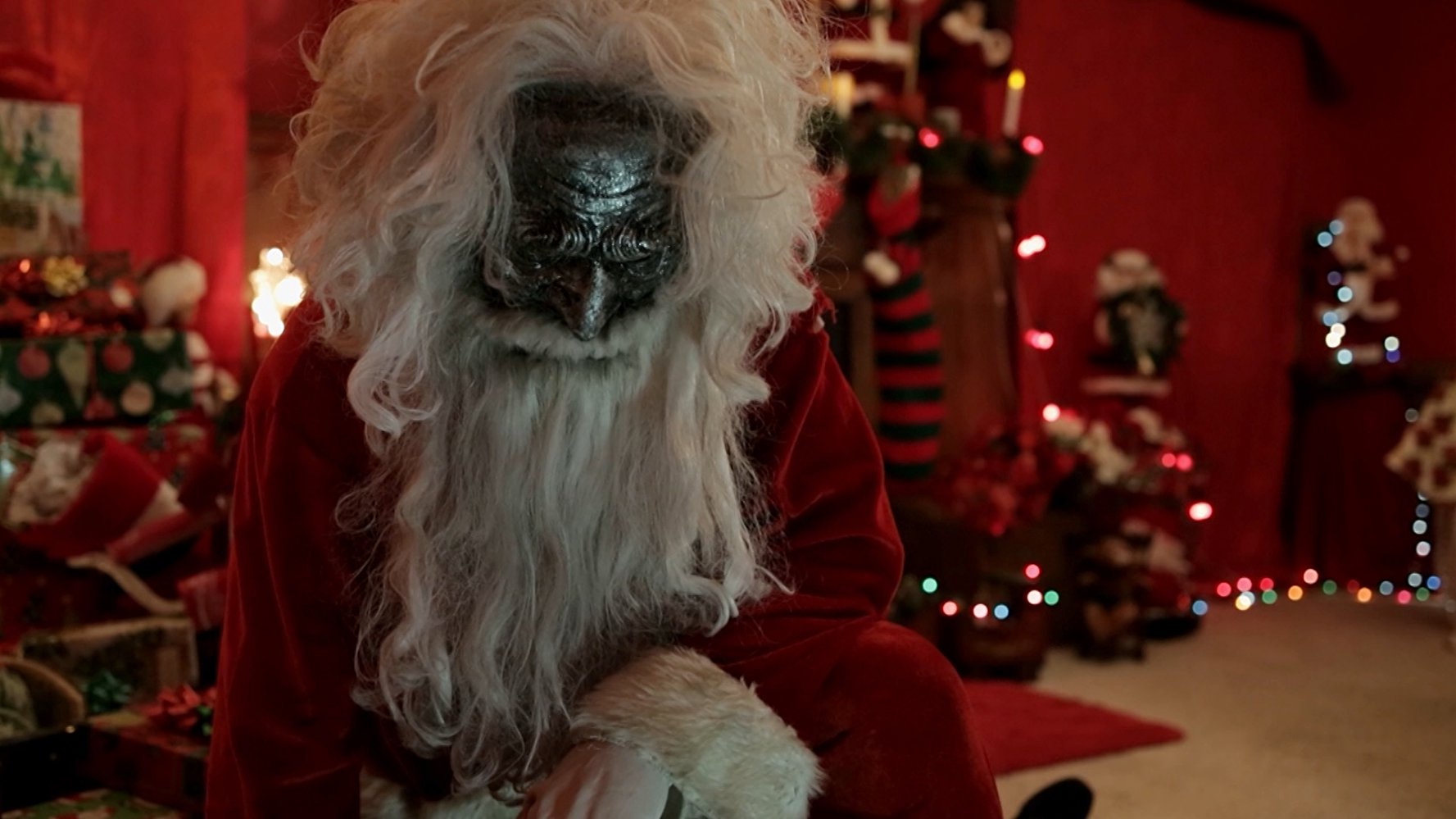 When it comes to the horror genre, Todd Nunes certainly knows his material. All Through the House comes well steeped in the conventions of the genre. Aside from tapping the resonant killer Santa theme, the plot reads like a well-oiled rehearsal of the slasher template – the Halloween (1978)-like motif of the hulking killer escaped from the asylum and returned home on a holiday date, while hiding his face behind a mask and saying nothing as he slaughters his way around the neighbourhood. There is all the standard post-Psycho (1960) twisted sexuality involving gender role confusions and overbearing mothers, while the film also follows the basic twist introduced by Halloween II (1981) in revealing that the Final Girl (Ashley Mary Nunes) has a blood relationship to the killer that she never knew about.
Nunes delivers all of this with a strong and instinctive hand. The film leaps in with an enthusiastic level of gore – stranglings, severed dicks, a showering woman getting a knife stabbed through the boobs. Nunes even repeats the scene from Alone in the Dark (1982) with a girl on a bed being stabbed at up through the mattress by a killer hiding underneath. This is not a film that reinvents the slasher genre, just does a good and strong run through of all we expect it to.
(Screening at the Shivers Cinemafantastique Film Festival)
---
---