---
Crew
Director – Charles E. Sellier Jr, Screenplay – Michael Hickey, Story – Paul Caimi, Producer – Ira Richard Barmak, Photography – Henning Schellerup, Music – Perry Botkin, Special Effects Supervisor – Rick Josephson, Makeup Effects – Karl Wesson, Production Design – Dian Perryman. Production Company – Slayride Inc.
Cast
Robert Brian Wilson (Billy Chapman), Lilyan Chauvin (Mother Superior), Gilver McCormick (Sister Margaret), Danny Wagner (Billy at 8), H.E.D. Redford (Captain Richards), Britt Leach (Jerome Sims), Toni Nero (Pamela), Linnea Quigley (Denise), Will Hare (Grandpa), Tara Buckman (Ellie Chapman), Jeff Hansen (Jim Chapman), Randy Stumpf (Andy), Leo Geter (Tommy), Charles Dierkop (Killer Santa), Jonathon Best (Billy at 5), Nancy Borgenicht (Mrs Randall)
---
Plot
Christmas, 1971. Five year-old Billy Chapman goes to see his grandfather in a psychiatric institution. While his parents are away, Billy's grandfather asks him if he has been good and warns him that Santa punishes bad children. Driving home, they are stopped by a man dressed in a Santa suit who has just robbed a convenience store. The man shoots Billy's father then rapes his mother and slits her throat. Billy thinks that this is Santa come to punish him. Afterwards, he is placed in a Catholic orphanage where he is subject to cruel abuse by the authoritarian mother superior. Growing into a strapping teenager, Billy is given a job in the storeroom at a toy store. When the store's Santa falls ill, the manager makes Billy put on the Santa suit. This causes Billy's mind to snap. He kills all those in the store and then goes out into the street with an axe dressed as Santa, determined to punish those who have been bad.
---
Silent Night, Deadly Night attracted considerable controversy when it came out. Concerned parent groups picketed theatres where it was showing, demanding its banning for turning such a lovable family icon as Santa Claus into a psycho. The film was for a time withdrawn but this did not stop the producers exploiting the controversy and turning out a series of sequels (see below). In fact, Silent Night, Deadly Night was one of a host of films tailing on the success of Halloween (1978) and Friday the 13th (1980). Like many other copycat slasher films, it exploits a holiday date. In fact, it was one of several slasher films that came out around this time exploiting the Christmas date – others included To All a Good Night (1980) and Christmas Evil/You Better Watch Out (1980).
As slasher films go, Silent Night, Deadly Night is above average. It is certainly made by someone with a darkly sardonic, decidedly non-sentimental take on Christmas. The opening scene cuts from the young boy being scared by his grandfather who warns him that Santa punishes naughty children to a man in a Santa suit conducting a convenience store hold-up only to find "$31! Merry fucking Christmas," and shooting the clerk. We then see the killer Santa stopping the boy's parents' car on the highway, shooting the father, raping the mother and slitting her throat and then coming after the kid, who believes it is Santa come to punish him, as carols plays on the soundtrack throughout. The jumble of imagery and reversals, not to mention the sheer outrage the scene contains, takes one aback. The subsequent scenes, portraying the cruelty and systematic abuse that goes on at a Catholic orphanage, do an excellent and for once credible job in establishing the cod psychological motivation upon which these slasher films thrive.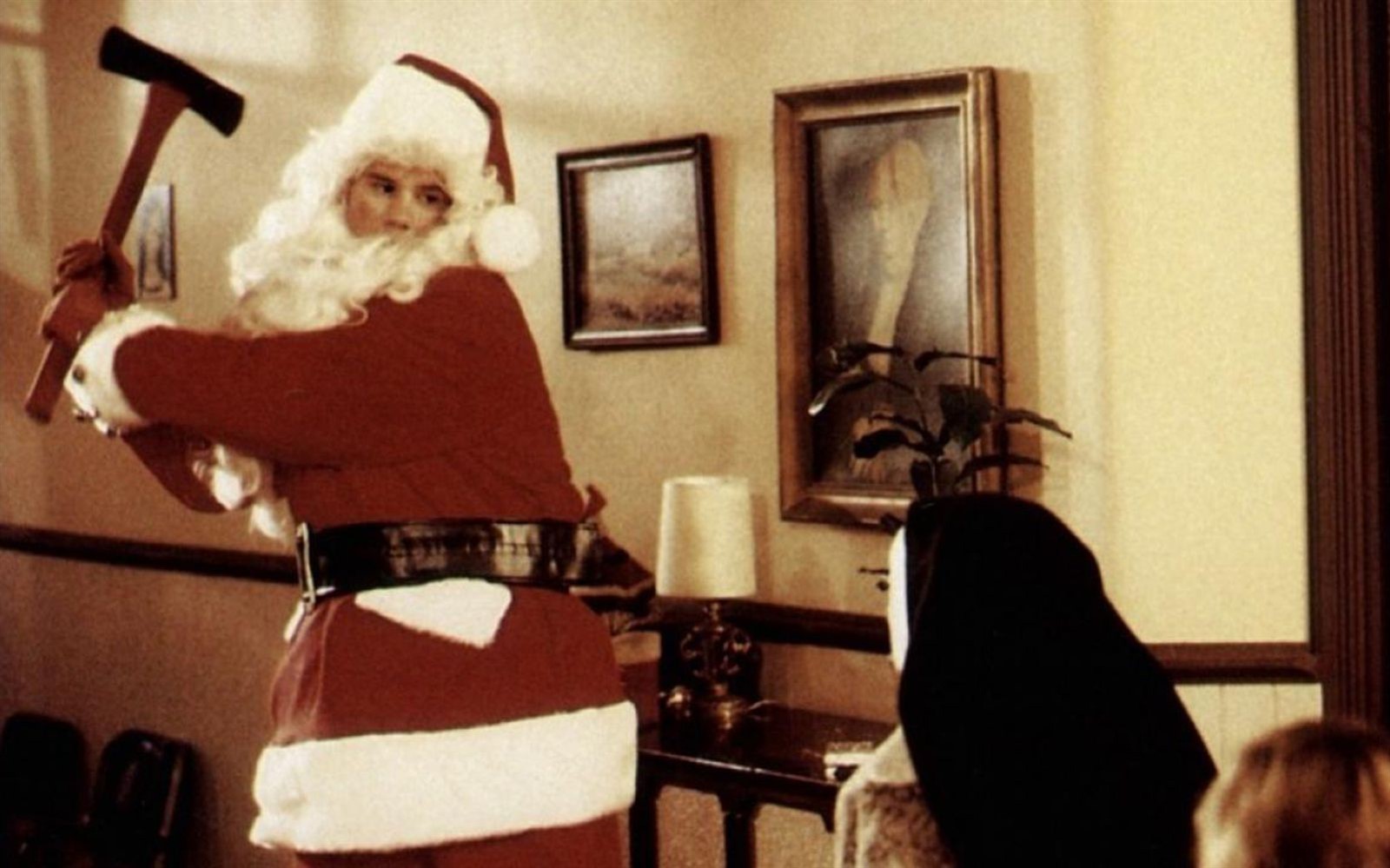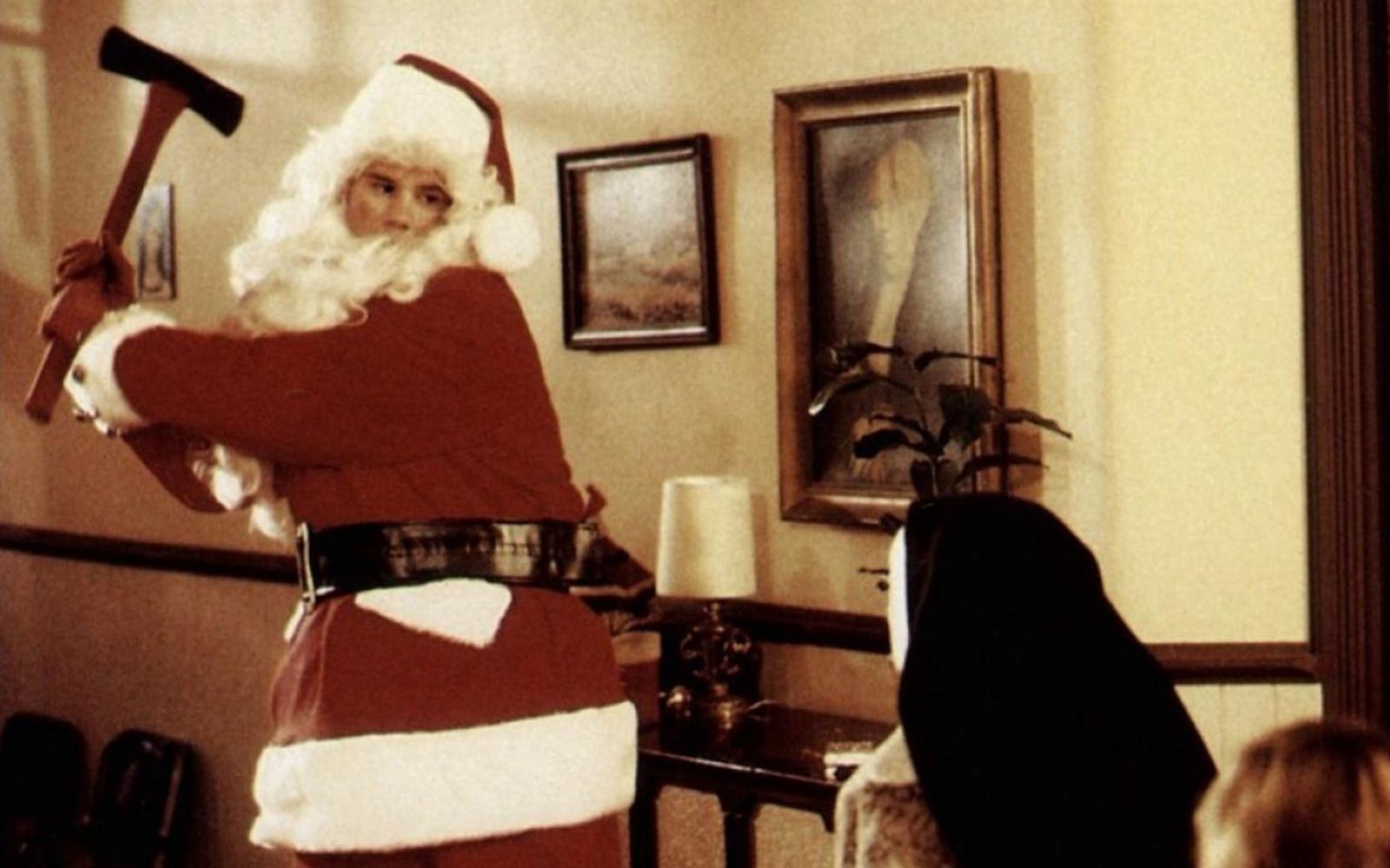 Thereafter the film follows standard slasher movie formula. All of the scenes with Robert Brian Wilson stalking victims come with a Christmas theme – thus he strangles one victim with Christmas tree lights; impales a topless woman on a pair of mounted deer antlers; beheads two sledding bullies. Beneath it all, there is a darkly acerbic anti-Christmas spirit – none more so than the scenes of Robert Brian Wilson as Santa threatening a misbehaving child sitting on his lap with punishment or stalking one victim through a toy store while chanting "Twas the night before Christmas …" Here even the cops, in their hunt for the psycho, manage with iconoclastic regard to shoot the wrong Santa outside a children's school, not just Santa but one that also happens to be a Catholic priest who is dressed as Santa.
The Christmas slasher film has almost grown to become its own genre niche. The very first of these was the All Through the House segment of Tales from the Crypt (1972) and there have also been the likes of Black Christmas/Silent Night, Evil Night (1974), Santa Claws (1996), Psycho Santa (2003), Black Christmas (2006), Deadly Little Christmas (2009), Silent Night (2012), All Through the House (2015) and Good Tidings (2016). There have been other Christmas horror films too with the likes of Jack Frost (1997), Santa's Slay (2006), the Finnish-made Rare Exports (2010), Santa Claus vs. the Zombies (2010), and recently a number of Krampus films beginning with the high-profile Krampus (2015), even two anthologies of Christmas horror stories with A Christmas Horror Story (2015) and Unholy Night (2019).
The sequels were:– the hilariously bad Silent Night, Deadly Night Part 2 (1987), which featured the killer's brother; Silent Night, Deadly Night III: You Better Watch Out (1989), wherein the killer brother is brought back to life; Brian Yuzna's entertainingly gonzo but almost entirely unrelated Silent Night, Deadly Night 4: The Initiation (1990), featuring the activity of an Egyptian witch cult; and Silent Night, Deadly Night 5: The Toy Maker (1992), with Mickey Rooney as a toymaker who creates living toys. Silent Night (2012) was a very loose reworking of the original.
---
---