---
Crew
Director/Screenplay – Julia Ducournau, Producer – Jean-Christopher Reymond, Photography – Ruben Impens, Music – Jim Williams, Visual Effects – Mac Guff (Supervisor – Martial Villachon), Special Effects – Essefix/Les Versaillais (Supervisors – Jean-Baptiste Bonetto & Germain Louvel), Makeup Effects Supervisor – Olivier Afonso, Makeup Effects – CLSFX Atelier G9, Production Design – Laurie Colson & Lise Peault. Production Company – Kazak Productions/Frakas Productions/Arte France Cinema/Voo et BeTV/Canal+/Cine+/Arte France/Wild Bunch International/Diaphana.
Cast
Agathe Rousselle (Alexia/Adrien), Vincent Lindon (Vincent), Garance Marillier (Justine), Lais Salamen (Rayane), Myriem Akhediou (Adrien's Mother), Adele Guigue (Alexia 7 Years Old), Bertrand Bonello (Alexia's Father), Thibault Cathalifaud (Fan)
---
Plot
As a child, Alexia distracts her father while driving only to cause them to have a car accident. She is rushed to hospital, necessitating a titanium plate be surgically placed in her skull. As an adult, Alexia works as a dancer performing highly sexualised routines at car shows and has a dedicated following. When one fan professes his love and tries to kiss her, Alexia stabs him and then disposes of the body. After doing so, she gets into one of the cars she was dancing on and has sex with it. Afterwards, she discovers that she is pregnant. She goes on to kill a group of people at a party. Listed as wanted by police, she cuts her hair, tapes her breasts down and disguises herself as a male, pretending to be Adrien, the missing son of the fire captain Vincent. Vincent welcomes her as his long lost son and takes Alexia to live with him at the fire station. However, it becomes difficult for Alexia to keep her growing pregnancy a secret, while others on the fire crew recognise her as a fugitive from the law.
---
Titane was the second film from Julia Ducournau who had previously made Raw (2016) in which Garance Marillier discovers a taste for human flesh. Just as Raw had, Titane caused controversy with its content, especially after Julia Ducournau won the Palme d'Or at that year's Cannes Film Festival.
My attention was first drawn to Titane by the outlandish description of the scene where the heroine has sex with a car and gets pregnant. This led to the idea of something completely mind-boggling – maybe that Julia Ducournau had created some kind of successor to the equally outrageous mix of sex and cars that we had in David Cronenberg's also Cannes-acclaimed Crash (1996)?
We have had cars with personalities in everything from the Herbie the Love Bug films to Cars (2006) and evil cars from The Car (1977) through Christine (1983) and others – see Fantastical Vehicles – but Julia Ducournau takes this to another whole level. The nearest comparison I might make is to the extraordinary fusion of machine and sexual fetishism we had in Tetsuo: The Iron Man (1989). Or maybe of the horny computer desiring to procreate with a woman in Demon Seed (1977). I was anticipating sinking into watching a bizarre film about car-human sexual relations. The disappointment is that after the car sex scene, the car drops out of the show and is forgotten.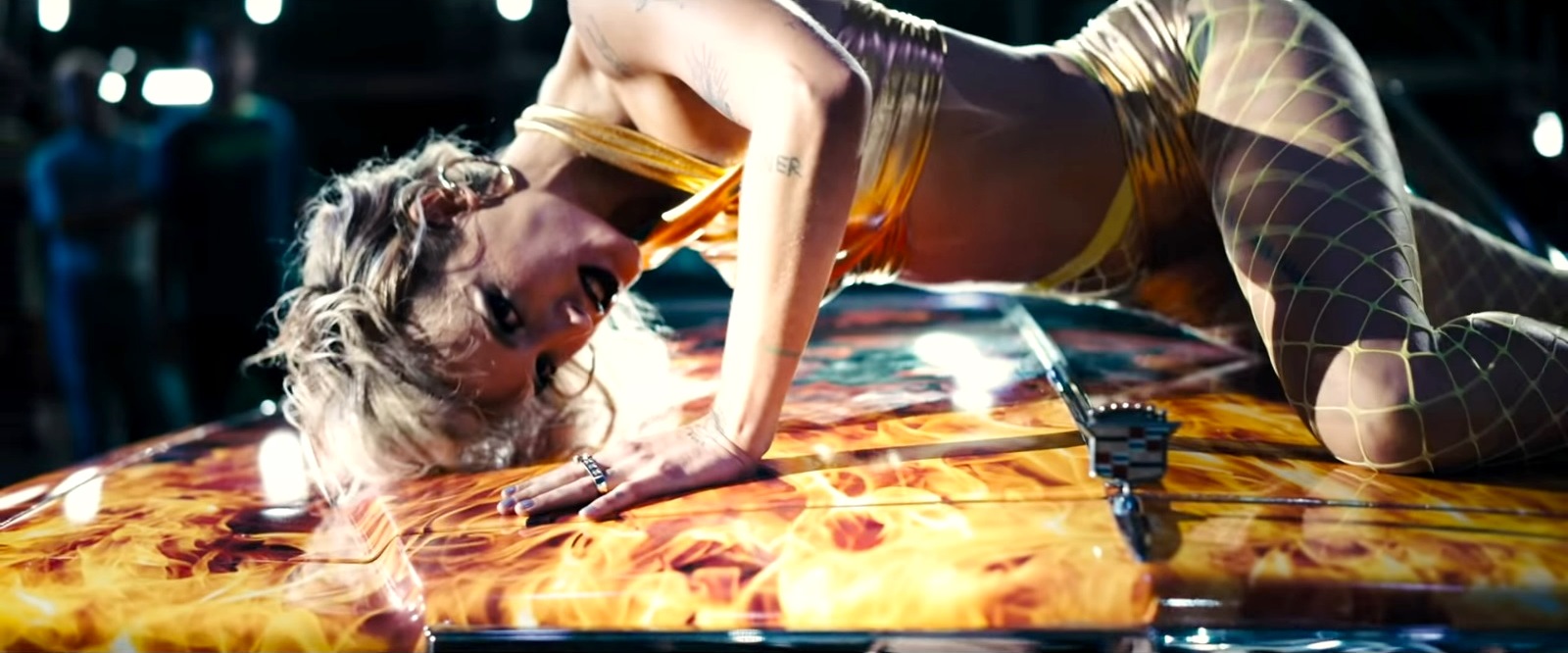 The rest of the film leaves you with the pleasing sense of having no idea where it is going. The film is often a mix of abrupt dogleg changes and things that happen without clearly apparent motivation. The film opens on a prologue where we meet Alexia as a child and she is caught in a car accident after distracting her father while he is driving. We then see her undergoing surgery and having a steel plate implanted in her head (the titane of the title – titane being French for titanium). Immediately after being released from the hospital, she goes and hugs the car.
We are then introduced to Agathe Rousselle as the adult Alexia who works as a model and gives erotic dance routines atop vehicles at car shows. Equally, for reasons we are never given, she seems to have a contempt for the men and women who are attracted to her. We see her variously stab a fan who professes his love for her in the neck, try to bite off Garance Marillier's nipple as they make out with and then kill Garance and a party of people. What motivates her to do so is something to which we are never privy. In between these is the outrageous scene where Agathe Rouselle has sex with the car, which consists of it rocking wildly while she is bound in the backseat with seatbelts. After discovering she is pregnant, she develops the disconcerting habit of leaking motor oil.
Just when we think we are in for a film about a female Serial Killer, Julia Ducournau doglegs off at another tangent as Agathe Rousselle gets the idea to hide from the law after noting her resemblance to a Missing Persons poster whereupon she tapes her breasts down and cuts her hair to disguise herself as a male. (Her pregnancy bump, despite being quite sizeable when we see her nude, seems to have a magical ability to hide or not be noticed when she is wearing nothing more than a towel in front of Vincent Lindon or he is carrying her on his shoulders and she gyrating her ass in an erotic dance atop a fire truck).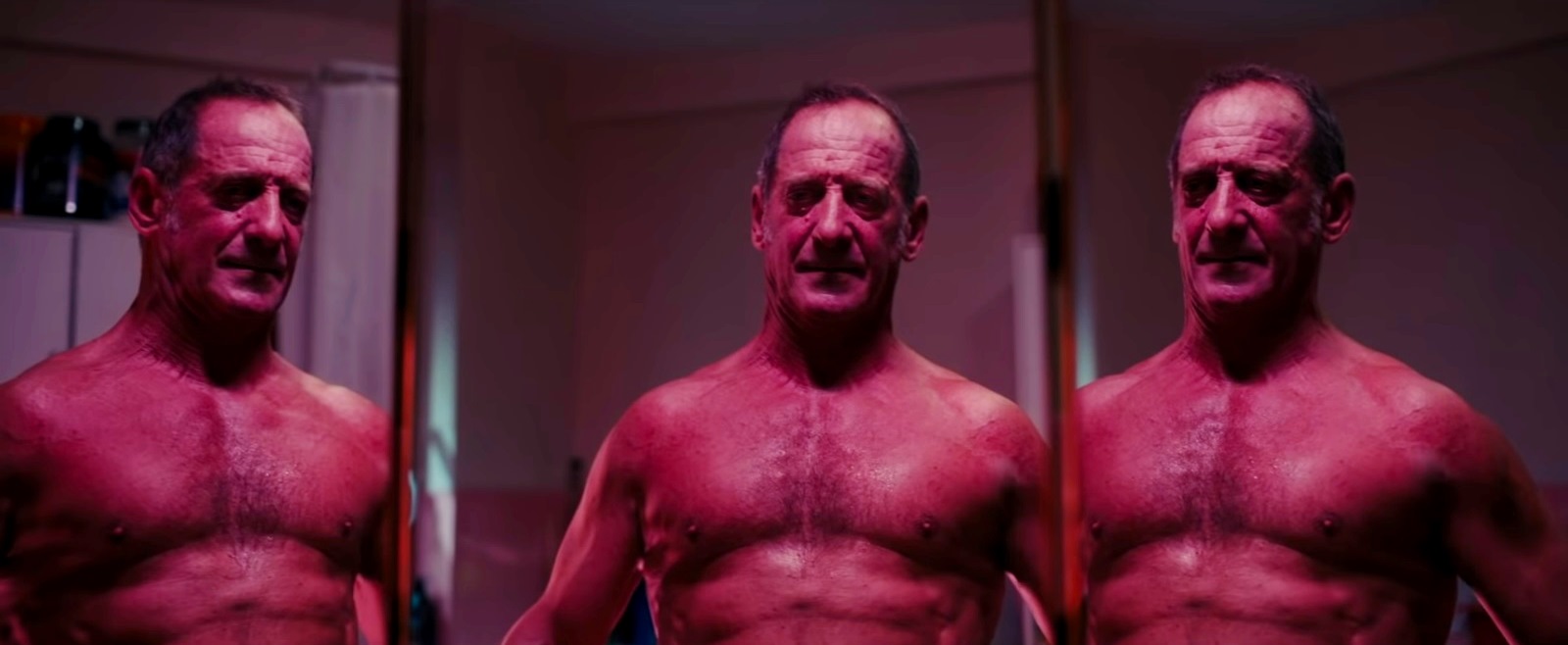 Thereafter Titane settles down into being a film about the peculiar relationship between Agathe Rousselle masquerading as a male and Vincent Lindon, the father of the missing boy she is impersonating, who becomes fiercely attached to her. The film ends with her giving birth to the child. In the fadeout we see is studded with metal along its spine.
The key thing you are left pondering is – what does it all mean? I am not sure what the sex with cars bit is all about – it reads as maybe the mixture of eroticism we get in ads that pose beautiful women alongside cars taken to an absurd extreme where the model and car have sex and she gets knocked up. As to the rest of the film, my take away from it was that it was a meditation on gender roles and gender fluidity. In a quite remarkable performance, Agathe Rousselle goes from presenting herself as a hyper-sexualised figure gyrating in an erotic dance atop a car to deciding to hide herself by posing as a male – with broken nose, shaven head and gaunt hollow eyes, she seems a figure who is an alien in her own body. This is contrasted to Vincent Lindon as the father who seems to be trying to maintain a flagging virility and prevent his age catching up with him via the injection of steroids – all so he can compete in a hyper-masculine world amid the younger firefighters who are depicted as engaging in a dance stripped to the waist that emphasises an underlying homo-eroticism.
In all of this, the message I take away is that Julia Ducournau is saying the one that many trans activists are pushing right now – that gender roles are all matters of what we believe in our minds or roles we choose to adopt. Or in the case of Vincent Lindon and his injections, they are roles that are socially prescribed and some people are under a pressure to maintain. The ending of the film where Agathe Rouselle reveals herself to the firemen with her dance and then to Vincent as she starts to go into labour is perhaps critical of these attitudes in saying that deep down despite what gender roles we choose that is something that will always be betrayed by biology.
(Winner in this site's Top 10 Films of 2021 list. Winner for Best Supporting Actor (Vincent Lindon), Nominee for Best Actress (Agathe Roesselle) at this site's Best of 2021 Awards).
---
Trailer here
---