---
Crew
Director – Paco Plaza, Screenplay – Alberto Marini & Elena Serra, Story – Alfredo Conde, Producers – Julio Fernandez & Brian Yuzna, Photography – Javier Salmones, Music – Mikel Solas, Digital Effects – Filmtel S.A. (Supervisor – Jaume Vilaseca), Atmospheric and Impact Effects – Molina Efectos Especiales S.A., Makeup Effects Supervisor – Pepe Quetglas, Werewolf Transformation Effects – DDT Efectos Especiales, Production Design – Balter Gallart. Production Company – Filmax International/Fantastic Factory/Castelao Productions.
Cast
Julian Sands (Manuel Romasanta), Elsa Pataky (Barbara Pereira), John Sharian (Antonio), Gary Piquer (District Attorney Luciano), David Gant (Professor Philips), Maru Valdivielso (Maria Pereira), Luna McGill (Teresa Pereira), Reg Wilson (Judge)
---
Plot
1851 in the Galicia region of Spain. The district is plagued by a series of killings that may be caused by a wolf. A British professor is asked by the judiciary to track the creature responsible. Barbara Pereira's sister Maria leaves to marry the travelling salesman Manuel Romasanta. She departs in his caravan along with her daughter Teresa but once in the forest Romasanta suddenly turns on the two of them. Romasanta returns and seduces Barbara. Barbara then finds proof in Romasanta's caravan that Maria and Teresa are dead. She is saved by the enigmatic huntsman Antonio who tells her that Romasanta is a werewolf. Antonio is arrested for the murders but Barbara leads authorities to track down and arrest Romasanta. Placed on trial, Romasanta's defence is that he is a werewolf.
---
Romasanta: The Werewolf Hunt is a film from American director Brian Yuzna's Spain-based Fantastic Factory production company, which specializes in genre material. The director is Francisco 'Paco' Plaza, who had previously ventured into horror with his second film, the Ramsey Campbell adaptation Second Name (2002).
Romasanta: The Werewolf Hunt is based on the supposedly true story of Manuel Blanco Romasanta, a travelling salesman in 19th Century Spain who seduced and killed many women. he was tried in court in Allariz in 1852 where his unique defence was that he was a werewolf. The DVD extras menu interviews for Romasanta makes much of how this was a true story. I have been unable to track down any English-language reference material about the life of Manuel Blanco Romasanta, so have to go with the filmmakers' word that Romasanta was a real character, as opposed to a fictional character pretending to be real a la The Texas Chain Saw Massacre (1974). (All net searches on Romasanta only lead to reviews for the film, although there does appear to be an entry for Romasanta in the Spanish-language Wikipedia). Although, for all its apparent sense of historical credibility, the film does have a whopping anachronism in having David Gant's professor lecturing on genetics alongside phrenology in 1851, when the term genetics was not even coined until 1905 and the notion of DNA never emerged until the 1950s.
Certain comparison can be made between Romasanta: The Werewolf Hunt and Brotherhood of the Wolf (2001), which was set in 18th Century rural France rather than 19th Century rural Spain and concerned the efforts made by authorities to hunt down a possibly supernatural wolf creature terrorizing the region. Where Brotherhood of the Wolf was dragged down into near absurdity by over-the-top direction, Romasanta is a far better attempt to tell a similar story.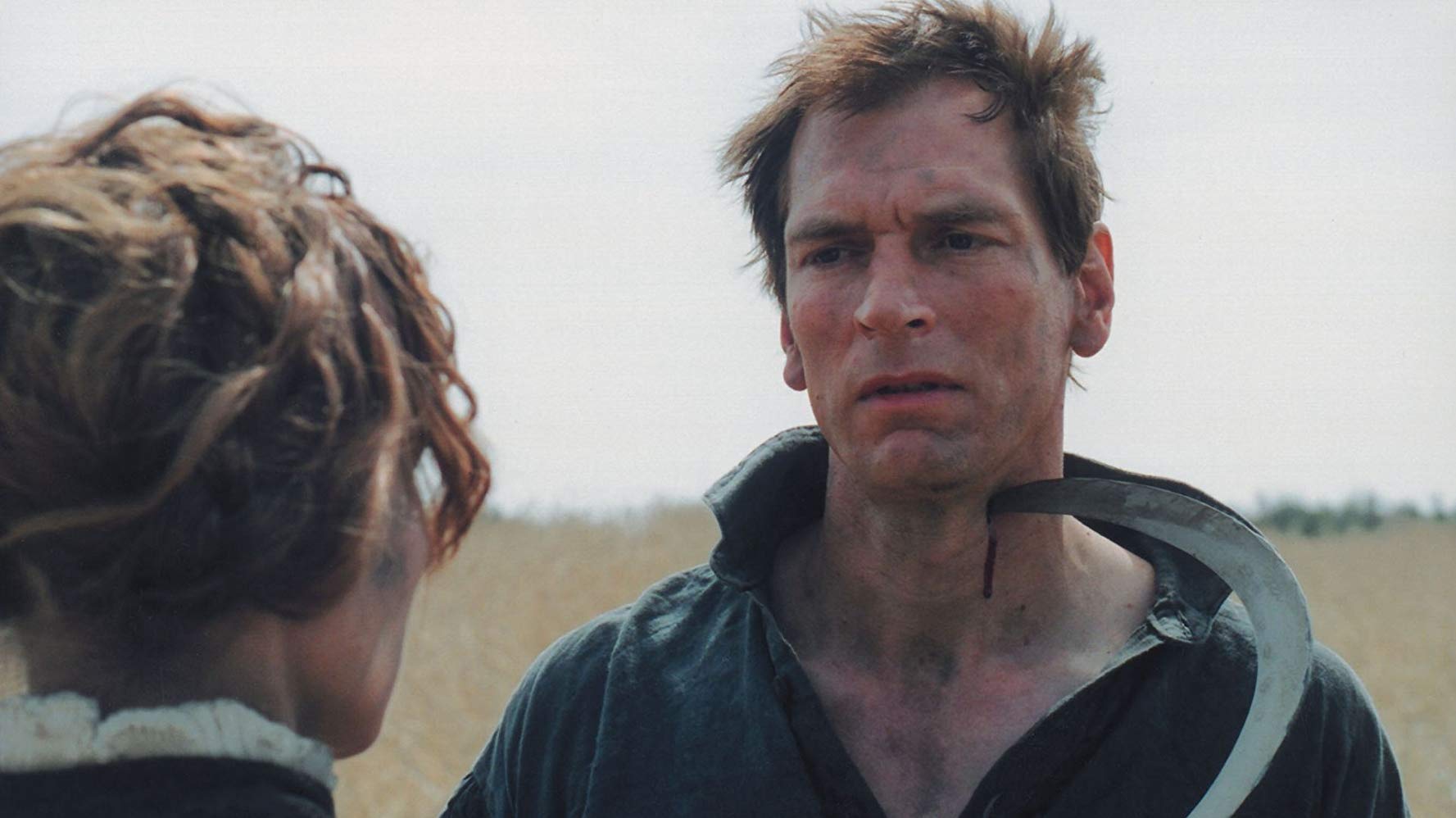 Romasanta works due to director Paco Plaza who has a exquisitely rich sense of mise-en-scene. The film is beautifully photographed and full of lushly textured period detail, amid which Plaza conjures a softness and intimacy. The film is full of vivid images – Elsa Pataky in a burning caravan as it runs through the forest; the grim discovery of the corpses with the fat burned out and then an abrupt cut to Julian Sands heating the fat in the woods; and the beautiful sensuality to the scenes with Julian Sands seducing Elsa Pataky. Paco Plaza also has an indirect way of telling his story where he does not immediately let us know what is going on and things are not always clearly spelt out. It is only until some time in that the various initially disparate elements – Elsa Pataky saying goodbye to her sister, John Sharian's hunter, the district attorney's investigation, Elsa Pataky's seduction – start to become clear.
The point where Romasanta starts to become its most interesting is the point where any other werewolf film might end – the discovery and arrest of Julian Sands (most other werewolf films would probably substitute a chase and his killing). At this point, the film suddenly heads off in a fascinating direction where Julian Sands is placed on trial and his defence is that he is a werewolf who is not responsible for his condition. There is a considerable fascination to these scenes. Although things don't end there either – these are followed by scenes where David Gant's professor tries to hypnotically regress Julian Sands to re-enact the murders and then insists that he can cure him of lycanthropy.
On the minus side, one was a little disappointed that Romasanta did not play more on the ambiguity of the central character' claims. In that we have never had any scientifically witnessed example of a man transforming into a wolf and that most biologists would insist that such a thing is impossible, one would have to regard the actuality of the historical Romasanta's claim that he was a werewolf with a high degree of scepticism ie. that there was almost certainly another more mundane explanation to his activities such as that he was under some psychological delusion or compulsion. It would have been nice to have seen a film that vied between rational and supernatural explanations as in works like Cat People (1942) or tv's The X Files (1993-2002, 2016-8).
One of the best aspects of Romasanta: The Werewolf Hunt is Julian Sands' performance in the title role. Julian Sands is someone who has appeared in a good many horror and B-movie parts in recent years where he has perfected a hammy and overwrought method of acting. At the outset here, he is shown with a great deal of charm, but this is abruptly turned on its head the moment we see him killing the bird in the woods and dismissing it "It's only a bird." Later scenes show Sands with a genuine sexually charged menace. He comes into his own particularly during the courtroom scenes where he manages to hold the entire film with his performance. Elsa Pataky also gives a performance that is both strong and vulnerable.
When it comes to the werewolf scenes, Fantastic Factory happily return to the air bladder transformation effects that were all the heyday in the 1980s in films like The Howling (1981), An American Werewolf in London (1981) and The Company of Wolves (1984) rather than the inferior CGI effects that came to replace these a few years later. The film features a wonderfully atmospheric set-piece where we see the wolf creature turn back into Julian Sands – where we see rain wash the fur off the wolf's body, the body tear open, bones slowly growing sinews, and then a roaring Sands tearing his way out of the skein of skin.
Paco Plaza subsequently went onto co-direct the zombie mockumentary [Rec] (2007) and its sequel [Rec] ² (2009) and to solo directed a further sequel with [Rec]³: Genesis (2012), followed by true-life supernatural manifestation film Veronica (2017) and The Grandmother (2021) about a sinister senior.
(Nominee for Best Cinematography at this site's Best of 2004 Awards).
---
---