---
Crew
Director/Screenplay – Nacho Vigalondo, Producers – Belen Atienza, Mercedes Gamero, Enrique Lopez Lavigne & Mikael Lejarza, Photography – Jon D. Dominguez, Music – Jorge Magaz, Visual Effects Supervisor – David Heras, Visual Effects – User T38, Special Effects Supervisor – Raul Romanillos, Makeup Effects – Plan 9 FX (Supervisors – Oscar del Monte & Nacho Diaz), Art Direction – Javier Alvarino & Soledad Sesena. Production Company – Cinedigm/Antena 3/Canal+/ETB/Instituto de Credito Oficial/Audio Visual S.G.R./Wild Bunch/Atresmedia Cine/Apaches Entertainment/Sayaka Producciones/La Panda Productions/Spectrevision.
Cast
Elijah Wood (Nick Chambers), Sasha Grey (Jill Goddard), Neil Maskell (Chord), Adam Quintero (Pierre), Ivan Gonzalez (Tony Hillman), Daniel Perez Prada (Triop), Jaime Olias (Dave), Nacho Vigalondo (Richy Gabilondo)
---
Plot
Nick Chambers, the webmaster of a fansite devoted to the actress Jill Goddard, has won a competition to have dinner with Jill and been flown in for the premiere of her new film 'Dark Sky: The Third Wave'. As he watches the streaming feed from the press conference by laptop in his hotel room, Nick is contacted in a video conversation by the mysterious Chord who claims to be her manager and informs Nick that the dinner has been cancelled. Chord activates a spy camera hidden in Jill's cellphone that reveals the real reason for the cancellation is that she is having a tryst with her press agent in an adjoining hotel room. Chord has left a videocamera and gets Nick to activate it and spy on them. Spotted by the agent, Chord activates a pre-planned course of action that involves Nick tasering the agent and fleeing the hotel. As he reveals that he has video footage that now implicates Nick in a crime, Chord gets Nick to follow Jill to her home where she is forced to undress for the camera at threat of the agent being electrocuted on a live feed. At the same time, Nick is contacted by a trio of French hackers who believe that he is the criminal mastermind and hacker known as Nevada and has engineered all of this. With Jill abducted by Chord/Nevada, Nick races to save her at the same time as Nevada leaves him blamed for his actions and pursued by police.
---
Spanish director Nacho Vigalondo made an international splash with his feature-length directorial debut, the time paradox twisting Timecrimes (2007). Vigalondo followed this up with Extraterrestrial (2011), a head-scratchingly odd comedy set in the aftermath of the arrival of flying saucers. Following this, Vigalondo has become a regular in the modern series of multi-director anthology films, delivering episodes for The ABCs of Death (2012), The Profane Exhibit (2013) and especially the madcap Parallel Monsters episode for V/H/S Viral (2014).
Open Windows was Vigalondo's first English-language film and was made as a co-production with Elijah Wood's Spectrevision company with Wood also taking the lead role. (Vigalondo himself can be briefly seen as the director of Sasha Grey's film in the press conference scenes at the start). Vigalondo subsequently went on to make Colossal (2016) wherein Anne Hathaway develops a strange symbiosis with a giant monster, as well as wrote Paradise Hills (2019) about a strange re-education institute.
Open Windows is a unique and original film. Although perhaps I would say that in even more of an amazed regard if I had not seen the more high-profile Unfriended/Cybernatural (2014) a week before I sat down to watch Open Windows. Both films take place in real time, although Open Windows makes several cuts during that whereas Unfriended far more adventurously has the entire film take place in a single unbroken take. On the other hand, while Unfriended is merely focused around a group of friends engaged in a Skype video chat, Open Windows has a much wilder plot that involves moving around multiple locations, an abduction and rescue plot, police and vehicle pursuit and a series of sensational twists involving elaborate scams being perpetrated and the jerking around of what the audience thinks is going on.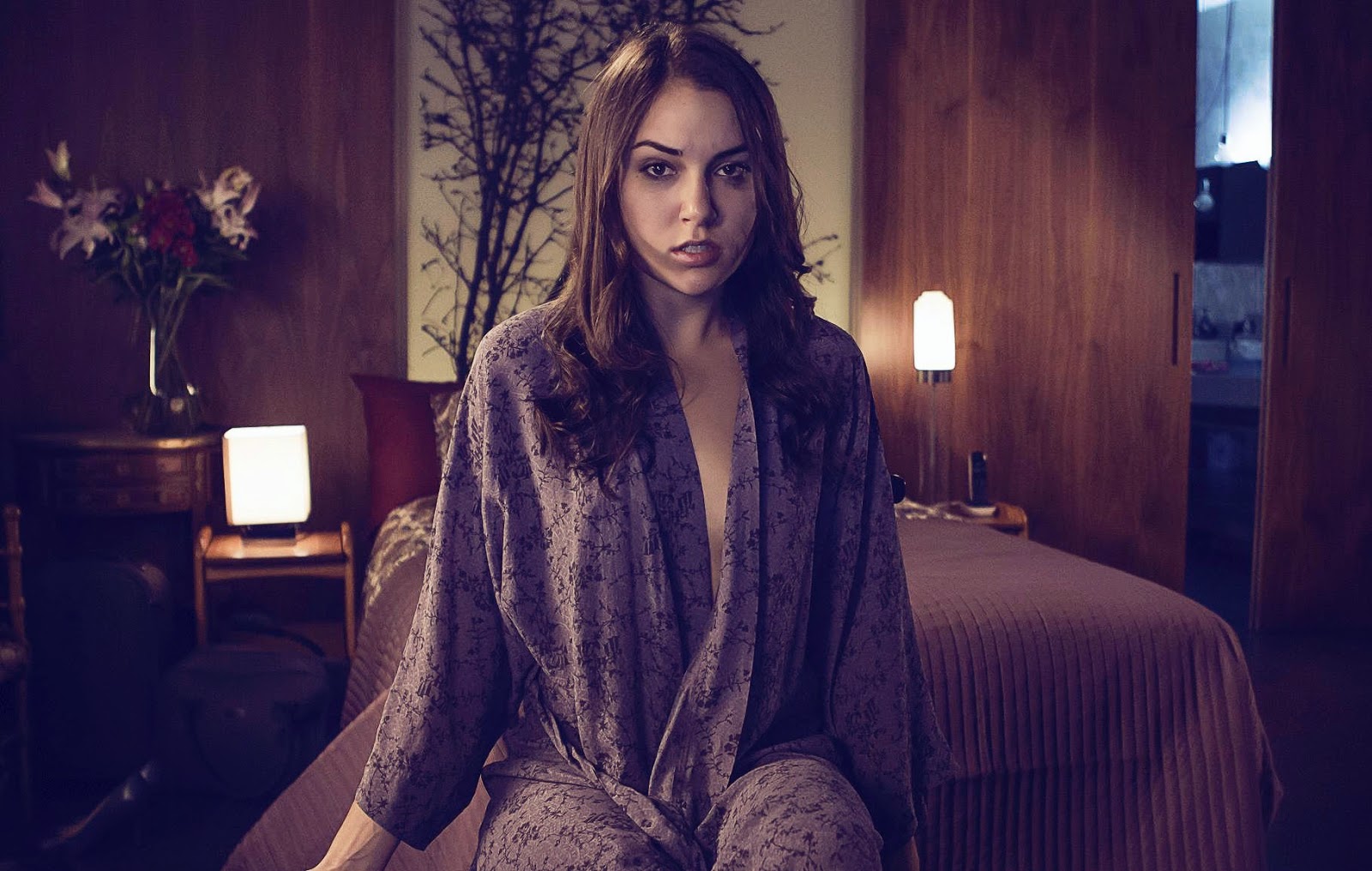 Open Windows is immensely pleasurable. Part of me was reacting at just how improbable some of the technology on show was from Nevada's ability to hack almost any computer system and especially one scene where a bag full of cameras that are not even turned on are somehow able to be transformed into a remote 3D imaging device. It is one of those films where you just have to accept the improbable ideas that are being pulled over your eyes and go with what Vigalondo is serving up to you.
The joy of the film are in its wild twists and turns – especially the ones that come towards the end where the script starts twisting our assumptions about who is who and what is going on. Nacho Vigalondo says that he wanted to make a film that dealt with surveillance and celebrity, which he does effectively, although the film eventually gets sidetracked from this by the more improbable twists. As such, former porn actress Sasha Grey does a fine job in looking frightened and tormented as a Milla Jovovich-alike action star.
Spectrevision have also produced other horror films such as Toad Road (2012), Cooties (2014), A Girl Walks Home Alone at Night (2014), The Boy (2015), The Greasy Strangler (2016), Mandy (2018), Color Out of Space (2019) and Daniel Isn't Real (2019).
---
---