---
Crew
Director – Jag Mundhra, Screenplay – Carla Robinson, Story – Burford Hauser, Producer – Raj Mehrotra, Photography – Stephen Ashley Blake, Music – Gregory T. Haggard, Makeup Effects – Kimberly Dominguez & Tracy Shuttleworth, Prosthetics – David Cohen, Production Design – Thomas Atcheson. Production Company – Spencer Films.
Cast
Hy Pyke (Grandpa), Gregory Scott Cummins (Tommy Drendle), Katina Garner (Amanda Drendle), Carla Baron (Vera Drendle), Jeff Brown (Roger Drendle), Patricia Christie (Beth), Michael Potts (Bill Drendle), Larry Coven (Brian), Angel Rush (Nora), Bryson Gerard (Young Tommy)
---
Plot
Young Tommy Drendle is given a Halloween pumpkin by his grandfather. However, Tommy's mother smashes it when she finds it comes from his grandfather. Tommy's father goes off to confront Grandpa, finding him in the midst of a Satanist ceremony – only for Grandpa to kill him and set him alight in his car. Several years later, Tommy has grown up. Grandpa has groomed Tommy so that he can take part in the Satanist ceremony this Halloween. At the same time, friends of Tommy's sister Vera and brother Roger are being killed by a figure in a Halloween mask.
---
Jagmohan Mundhra (1948-2011), billed as Jag Mundhra, was an Indian born director. After directing a couple of films in India in the early 1980s, Mundhra moved to Hollywood and found a career there. He started out making low-budget horror films with the slasher film Open House (1987). Hack-o-Lantern was his second Hollywood film. After having a hit with the erotic thriller Night Eyes (1990), Mundhra spent most of the 1990s and 00s making a good many erotic thrillers with the likes of Eyewitness (1989), The Jigsaw Murders (1989), Last Call (1991), Legal Tender (1991), The Other Woman (1992), Tropical Heat (1993), Wild Cactus (1993), Improper Conduct (1994), Sexual Malice (1994), Tainted Love (1995), Irresistible Impulse (1996), Shades of Gray (1997), Perfumed Garden (2000) and Natasha (2007). In later years, Mundhra had an arthouse hit with the serious dramatic film Provoked: A True Story (2006) about a Punjabi woman jailed for setting her abusive husband on fire.
Hack-o-Lantern feels like a film made without any clear script. There's a devil worship plot in the background where Hy Pyke's Grandpa is grooming Gregory Scott Cummins for some pre-destined purpose (exactly what is never made clear) when he comes of age. All of this seems to have something to do with Halloween, meaning that Grandpa in his day guise travels around with a pick-up truck filled with pumpkins. The malevolent influence on Tommy has caused him to turn brooding, possessive of his sister including flying into a rage when he finds her with a guy, and secretly worshipping the Devil. The plot runs around all of these elements, building up to Tommy's coming of age rituals without ever really going anywhere.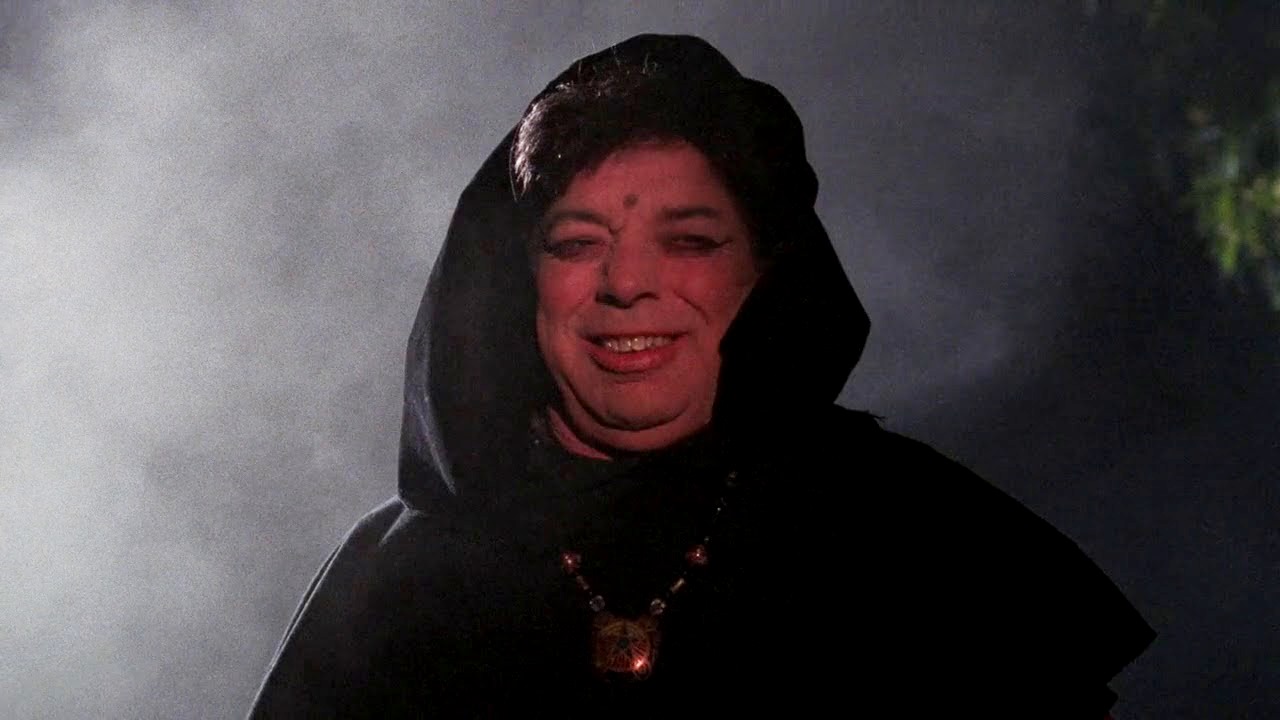 All of this is interspersed with a series of killings of various girlfriends and boyfriends of the other siblings, although it is not clear how these are tied to the devil worship plot. The most ridiculous of these is a dream sequence had by Gregory Scott Cummins involving a posturing rock band where a scantily clad back-up singer wields a pitchfork and rips off a completely fake-looking severed head. Typically, Jag Mundhra likes to get most of the women in his cast undressed before or in the process of killing them off. In a completely confusing ending, it is revealed [PLOT SPOILERS] that the killings are conducted by the children's mother (Katina Garner) for reasons unclear.
By far the most bizarre aspect of the film is the performance given by Hy Pyke, the only thing vaguely approaching a known actor that the film has to offer. Pyke was a horrendous over-actor who had minor parts in films ranging from Lemora, A Child's Tale of the Supernatural (1973) to The First Nudie Musical (1976), Blade Runner (1982) and Vamp (1986). Pyke is an incredibly bad actor. He delivers all his dialogue with overwrought stress as though he has to melodramatically emphasise every syllable at the same time as turning it into a wide-eyed leer. In the scenes where he conducts the occult ceremony, he turns up with rouged cheeks like a bad impression of a drag queen.
It is this ghastly over-acting that gets in the way of even basic plausibility in the film. Although the bad acting is not limited to Pyke and extends to fairly much the whole cast (all unknowns) who seem stiff and awkward in their parts. Gregory Scott Cummins plays his part as all psychotically hyped intensity – he reminds of the classically bad performance given by Eric Freeman in Silent Night, Deadly Night Part 2 (1987).
---
---